"If you can light the spark of curiosity in a child, they will learn without any further assistance." ~Ken Robinson
Children are naturally curious. And, if you have children in your home, you know there is nothing out of their reach. That's why child safe blinds and shades are such a priority.
Cords dangle, loop and tangle.
Cords are tempting for children & pets.
They can be incredibly dangerous.
At Home Blinds & Decor is committed to helping you create a safe environment for your children and grandchildren to play without worry. They deserve a safe place to explore, and you deserve peace of mind. We take child safety very seriously, and we'd like you to know all of your options in child safe blinds and shades.
No Cords, No Hassle
Is your child's play area safe? What about the bedroom? Being naturally imaginative, children can create playtime out of everyday objects. Don't let dangling cords be one of those things. The best child safe blinds and shades are cordless ones.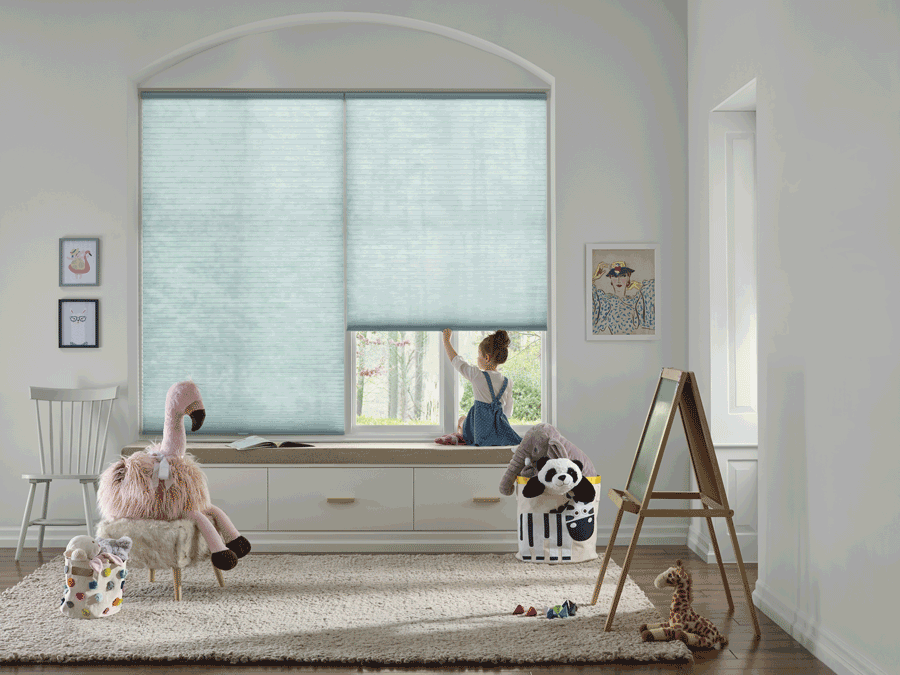 PowerView® Automation takes it one step further. Not only cordless, this operating system for child safe blinds and shades adds tremendous convenience. And, with children in your home, it's easy to set and save your favorite settings for the rooms in your home. They'll adjust automatically so there's no muss, no fuss. You can focus on taking care of your family and your life without concern for hidden, and not-so-hidden, dangers.
Cordless Choices: Blinds, Shades & Shutters!
It's simply not enough to think kids will stay away from cords. It's not even enough to tie cords up in a tangle and throw them on top of the window. At one time, I believed that a solution such as that would have worked…and then, I had children. For child safe blinds and shades to be effective, cordless is the safest option. Hunter Douglas cares about the safety of your your family.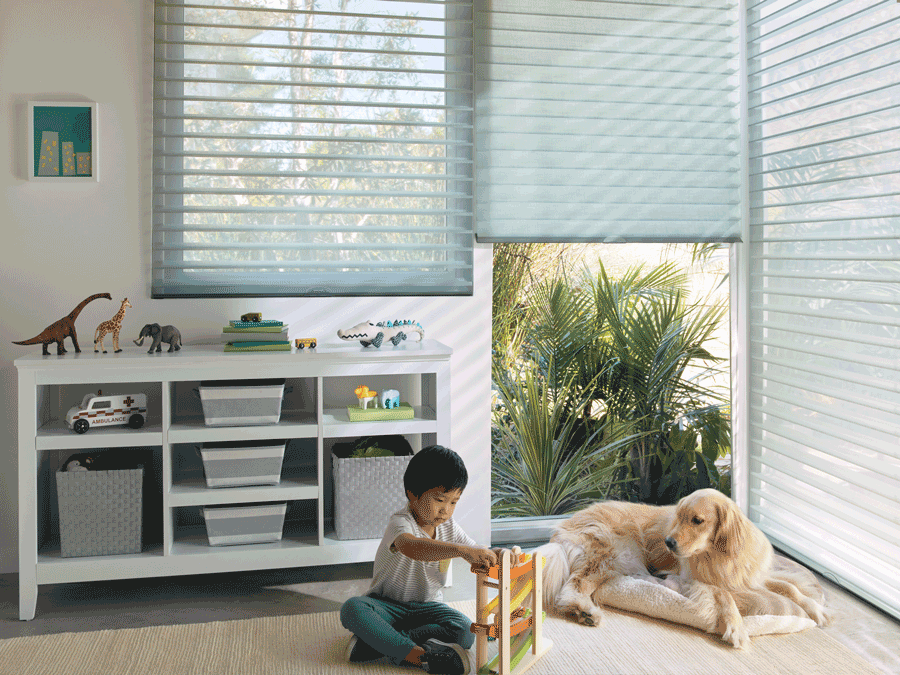 LiteRise is the cordless operating system that uses the bottom rail to activate the opening, closing and adjustment. And these child safe blinds and shades stay right where you put them. Simple and effective. Perfect for when you have curious little ones running around. That's why plantation shutters can be a great option for your home as well. The child safety features provide peace of mind for your home.
Need a Cord? Choose Safety.
Sometimes, the layout and furnishings within your home keep cordless from being the best options for your lifestyle. If cords are a 'must' in your home, you've got choices for child safe blinds and shades. We already mentioned motorization. Not only does it let you have full access to hard-to-reach windows, but the enormous child safety is the biggest benefit. If that's not an option, Hunter Douglas has gone above and beyond to ensure safety features.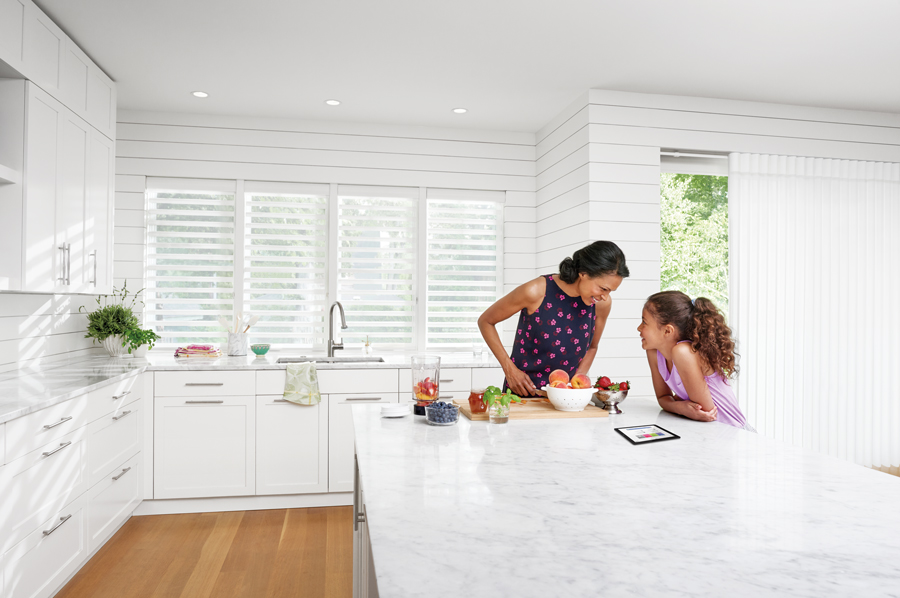 One choice is a cord tensioner that secure the cord tightly against the window frame. It's locked in place, nothing dangles. There's nothing to play with. Another choice to add a cord cleat that you can use to tightly wrap the cord. For child safe blinds and shades, with a cord, you might consider the retractable cord of UltraGlide. It's short, and it hangs just at the top of the window. When you gently pull to activate, it simply retracts back in, keeping it well out of harm's way. And, just one more way to add safe control of your window coverings is to forgo the cord and use a wand.
Peace of Mind with Child Safe Blinds
A place for rest, a place for play, a place to feel safe. Your home should be a safety haven for your family. With child safe blinds and shades, you can get the peace of mind you deserve with all the benefits and beauty you need. With At Home Blinds & Decor, you can rest assured that safety is a priority. We'll come to you for a free, in-home consultation to offer suggestions and advice. Contact our team to get started today!