Window Treatments for Sliding Glass Doors
Do you have glass doors in your home You are probably looking for a solution to cover them. With so many options, it can feel overwhelming. We have window coverings for:
Glass Pane Doors
Sliding Glass Doors
French Doors
Patio Doors
Tilt Turn Windows
Because of the expertise of our window covering specialists, we can help you discover the best options for window treatments that look beautiful, but also make life easier! From fabrics, to operating features, and from horizontal to vertical orientation, we'll help you cover your doors!
More to Know about Window Treatments for Sliding Glass Doors, French Doors & Patio Doors
When trying to outfit your home with window treatments for sliding glass doors, french doors or patio doors, you need as much information as possible to make the right choice.
What are some considerations?
The door handles
It's obvious that you need to be able to use your door handles, but many homeowners do forget to figure this into the process. Some window coverings are customized with door handle cut-outs, like shutters. Other shades can be selected based on covering only the glass pane so the handle is free, or if the glass goes right up to the handle, you'll want a low profile shade.
Each door can be different. 
Even in your own home, you can have a variety of doors that need to be covered. The glass panes in your doors can all be different sizes, and the way the light interacts with that glass can depend on the direction it faces.
Are there specific window treatments for sliding glass doors?
There are blinds, shades and shutters that adjust open and closed with the same movement as your sliders. Vertical blinds and vertical shades both open to the side, stacking at one side. Honeycomb shades can slide sideways, but where they stack can be chosen when you order–to the left, right, or even in the middle! Shutters can open sideways by sliding or folding. And, of course drapes are a great option with movement that matches the sliding doors.
Can you use window shades on sliders?
Yes! Many homeowners like horizontal shades as window treatments for sliding glass doors. Roller shades, roman shades and sheer shades are some of the popular choices. These shades would attach on the window trim at the top of the door frame, similar to the outside mount of typical window shades.
Which window treatments are best for covering glass panes in doors, like patio doors or french doors?
Much of this can depend on your personal style preference, what solutions you need and the makeup of your door. But, in general, most blinds and shades can be outfitted for doors. As mentioned, the handles can get in the way of using one type of shade over another. The other consideration is how much space there is to attach the window coverings. Some doors have a limited area, which makes it more challenging. The latest innovation for covering doors is the TrackGlide system. This operating system features a narrow track–one on each side of the glass. Those tracks adhere to the edge of the frame–not on the glass, and the window shade adjusts up and down along that track. No drilling necessary.
Do all the window treatments need to match?
We like to call it whole house coordination–where everything flows together, but doesn't have to be identical. The key is choosing coordinating fabrics in shared spaces, so everything looks good together, but each and every window and door gets the functional control they need.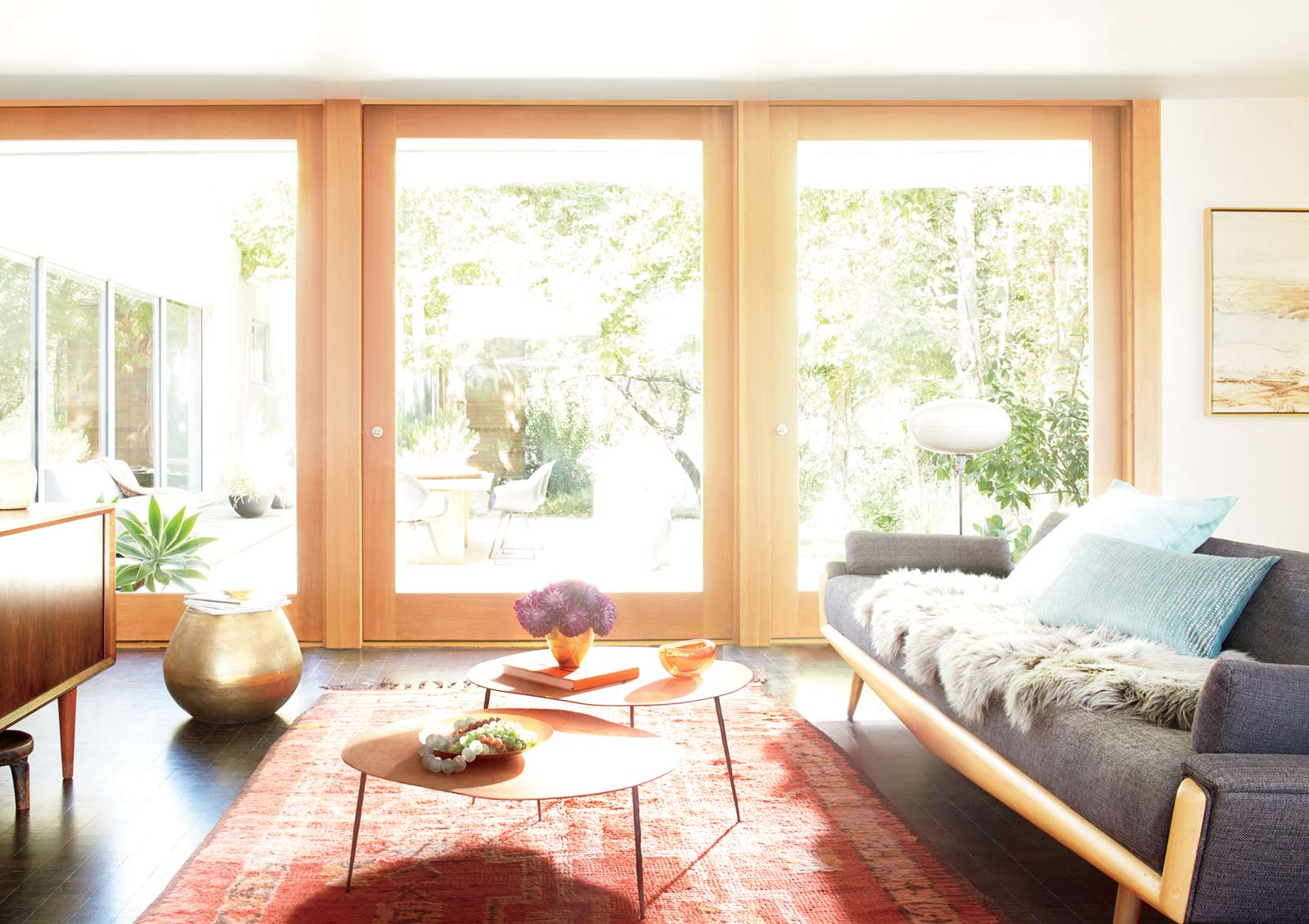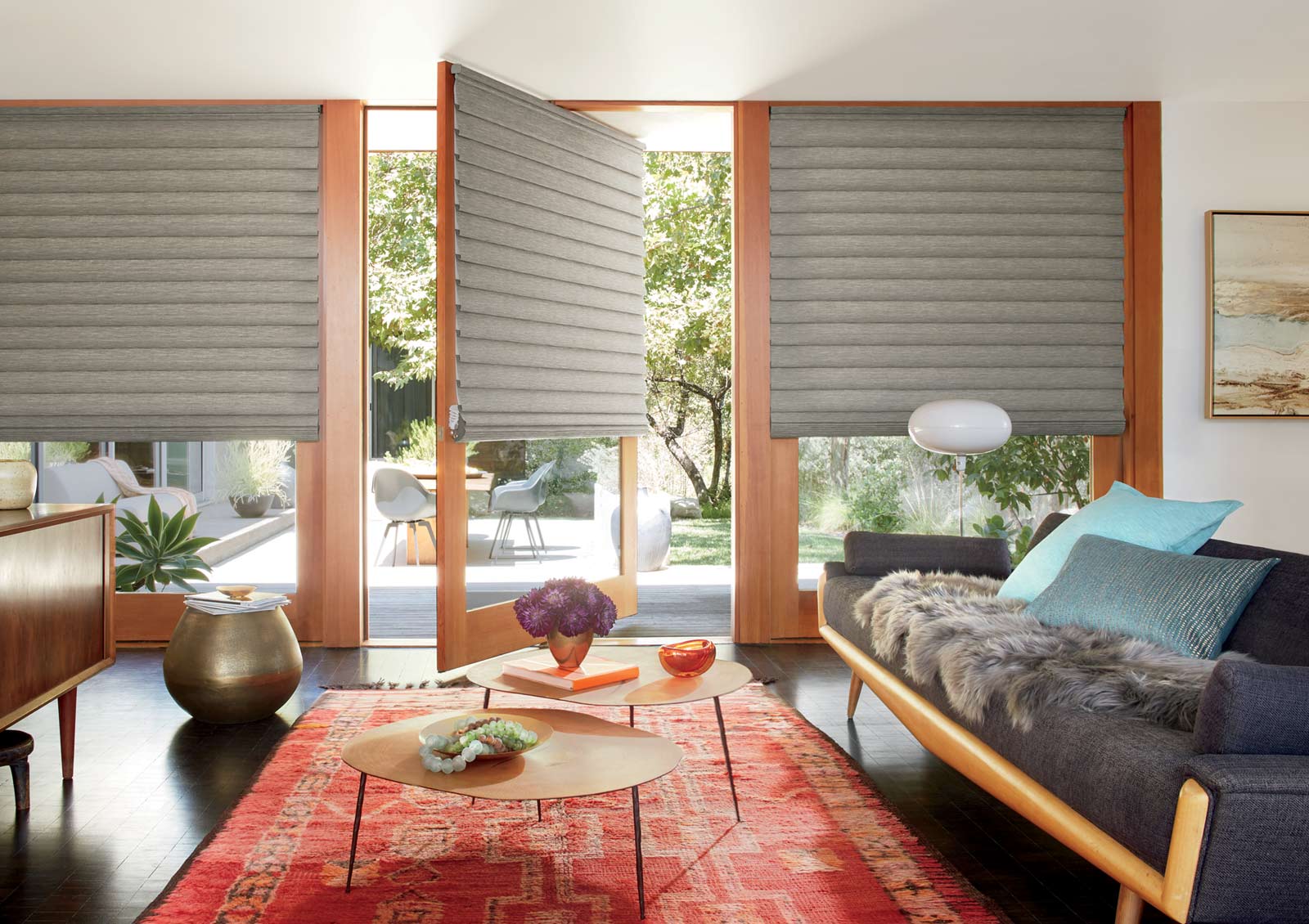 Vignette® Modern Roman Shades & Design Studio™ Drapery