Grandchildren are one of the greatest gifts life gives us. Making memories, sharing our knowledge from over the years, and creating the perfect summer destination for our little ones to visit is something we look forward to. However, with the joy and excitement they bring to our lives also comes their imagination and eventually trouble. Children can turn any and everything into a toy, play time or not. Even the most unexpected trinkets can assist them in their magical adventures, including your decor and furnishings. What child-proofing techniques do you have in place? Here's why child safe blinds should be something you add to the list…
Child Proofing Priorities
Nowadays, even before our little ones are home from the hospital, childproofing the home becomes  a main priority for parents. From covering every outlet, to installing corner and edge bumpers, parents have it covered. However, childproofing isn't something that grandparents should neglect. Keeping our children safe even on a getaway to grandma's house should be a priority as well. Children's curiosity gets the best of them. Before you know it, the harmless cords on grandma's blinds becomes their new favorite toy. Child-safe blinds eliminates the dangers of cords, so children can enjoy exploring.

Cords: Why Are They Dangerous?
You might think there are more dangerous things in the home than blind cords, such as steep stairs or sharp corners. But, statistics show that two children are seen in the emergency room each day due to blind cord injuries. Parents or Grandparents having eyes on their little ones at all times of the day is simply unrealistic. Accidents can happen in the blink of an eye. And, let's face it, the majority of the time you won't be there when they happen. Thinking of every dangerous incident that your children can get into can be overwhelming. So, why not start by eliminating one of them with child-safe blinds. New designs can completely get rid of cords with motorization or tuck the cords away in a single position to prevent tangling.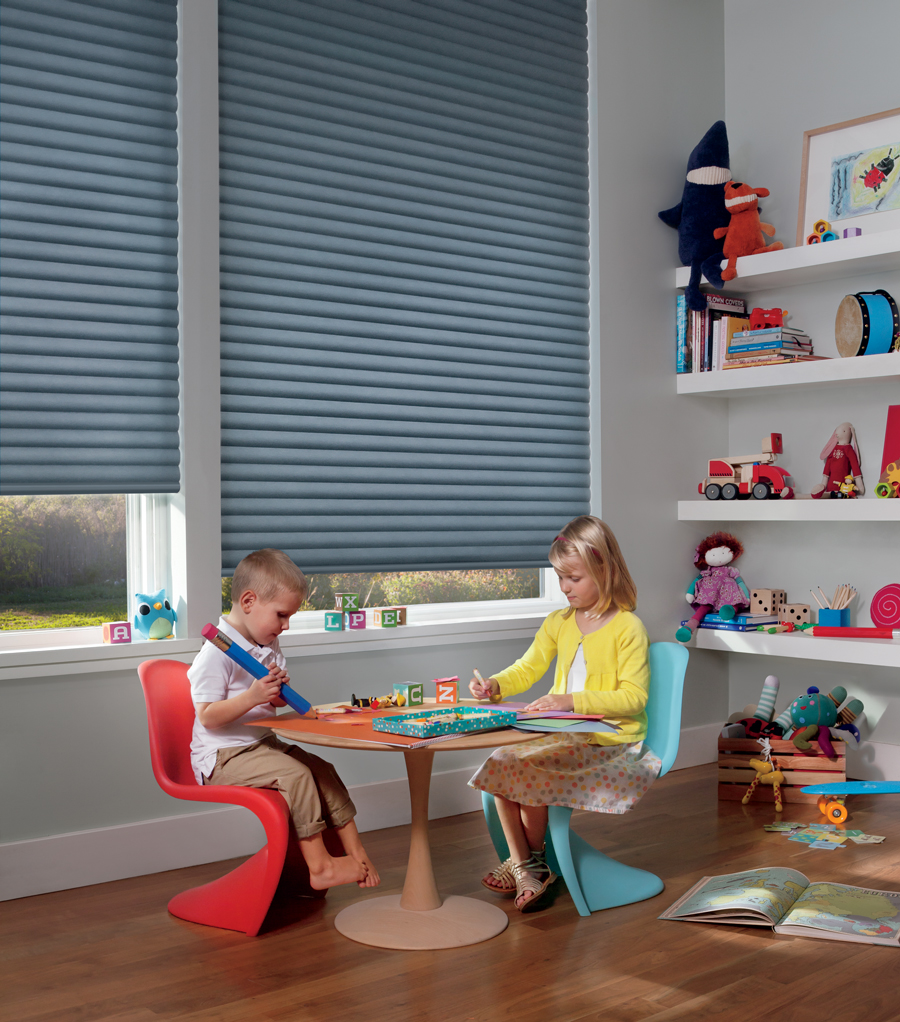 The most harmful features of the home are the ones deemed hard to reach, and cords are considered one of them. By removing the temptation of playing with these dangling pieces of magic, children don't have to resist them on their own. With a new awareness for safe home appliances through social media, child-safe blinds are moving their way up the lists. The safety they provide for children is a given. And, the added convenience is a bonus for both parents and grandparents.
What Are My Next Steps?
I'm glad you asked! There are three main options to ensure safety. You could go with a cordless design offered with our motorized operating system for ultimate convenience and safety. Hunter Douglas PowerView® Automation gives you the power to control your window treatments through your mobile device, a remote control, or voice command. If your prefer cordless blinds or shades with a manual operating system, a great option would be LiteRise. A cordless system that holds your blinds and shades in any position you prefer. Push down to lower and pull up to raise–your blinds or shades stay put, even when your little ones don't.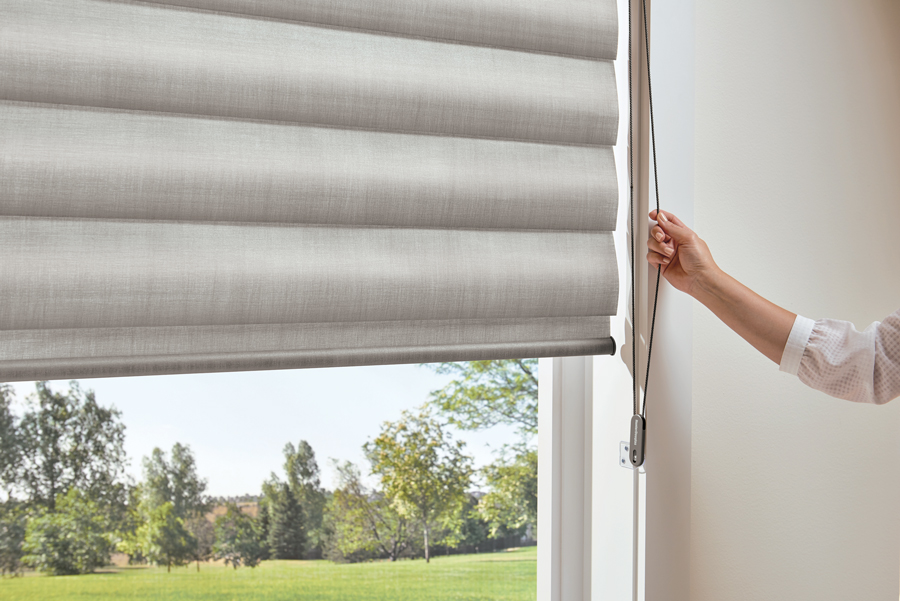 If you simply just need a cord, we've got you covered.  We offer an operating system without loose or looped pull cords that are tucked away and elevated to be out of reach of children. Our At Home Blinds & Decor team are here to help you choose the best operating system for the grandchildren and your home. Contact our team for your free shop-at-home appointment. We'll get you started on the road to child safety today!