Experience the Difference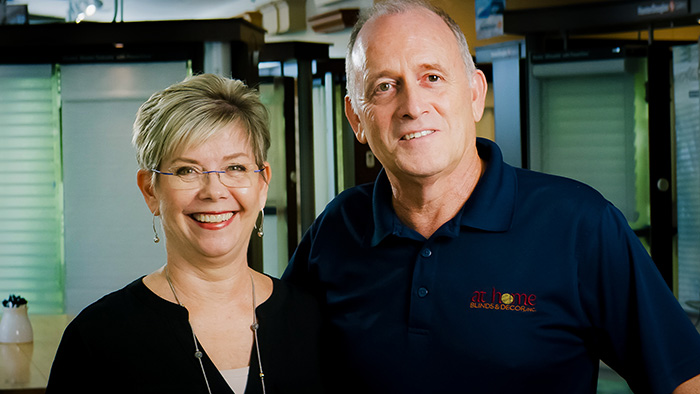 Visit our Hunter Douglas Window Treatments Showroom to experience everything in person.

Your FREE design consultation allows you to shop from the comfort of your home.

We work to fit your schedule & arrive on time.

Find the best window treatments for your home with the help of an window coverings expert!
At Home Blinds & Decor


15881 S Tamiami Trail #2
Fort Myers, FL 33908


Monday – Friday 9:00 to 5:00
Saturday 9:00 to 3:00
Debby Dorr
16 October 2023
My blinds look beautiful! Excellent installation and service. Would definitely recommend!
William Moynihan
16 October 2023
I needed some replacement 3.2mm by 4 foot cord loops for my Hunter Douglas honeycomb shades. I was impressed with the layout and lighting of the showroom. Shaela was very helpful and brought out a tray of 4 foot cords for me to make sure the thickness and color were correct. When I got home the cords fit perfectly and now the shades go up and down easily. Thank you Shaela for your help. Bill
Janette Burgess
16 October 2023
At Home Blinds & Decor was incredibly helpful and had exactly what I needed. Very friendly service and so easy to work with. I highly recommend!
Eloise Frey
13 October 2023
I'm happy with my blind installation. Max came and measured my windows and gave me the best options for my needs. I didnt have to wait too long for the blinds to arrive and the installation was quick and seamless. Jose and Chris were courteous and professional with their installments. Thank you very much!
Pamela Wilson
13 October 2023
Joanne was a pleasure to work with in helping us find the perfect coverings, which took some creativeness for our window placement. The installers were very nice and did a great job!
ron kveton
12 October 2023
I broke a plastic battery pack holder and Ginger found the part and gave it to me Looking forward to buying more blinds there with that kind of customer service Ron
Sharon Matthews
12 October 2023
Excellent service and quality of product. Everyone was kind, courteous and professional. It's a little more expensive but well worth the price when you are pleased with end result
David Rhinehart
6 October 2023
Went above and beyond what was necessary and what others would not even attempt to help with. My MIL had an older system that is difficult to find replacement motors for. After Shaela helped me figure out the part, year, etc…she hunted down some options to help us out. Others told us flat out no unless we wanted to buy a whole new system. Doing small things to help customers…that do not have immediate returns…is how you create long term success.

Great customer service both from Ginger and Shayla and from the guys who installed our cornice boards.