The biggest windows in your home can offer stunning views and abundant natural light. However, we understand that they may also cause some frustration. Although you would like to appreciate those large windows, you may be conflicted. At Home Blinds & Decor has some ideas to share that can help you maximize the benefits of your largest windows while also addressing the common problems you may encounter!
So Long Fishbowl Effect
If you've ever stood in front of your home's large windows and felt like your private life was on display, you know how uncomfortable it can be to feel like you're living in a "fishbowl." If you desire privacy without sacrificing the beauty of natural light, consider using top-down shades. These shades allow you to enjoy different levels of light while still maintaining privacy. An added benefit is that you can still enjoy a partial view by adjusting the shades downward to see the sky, treetops or skyline!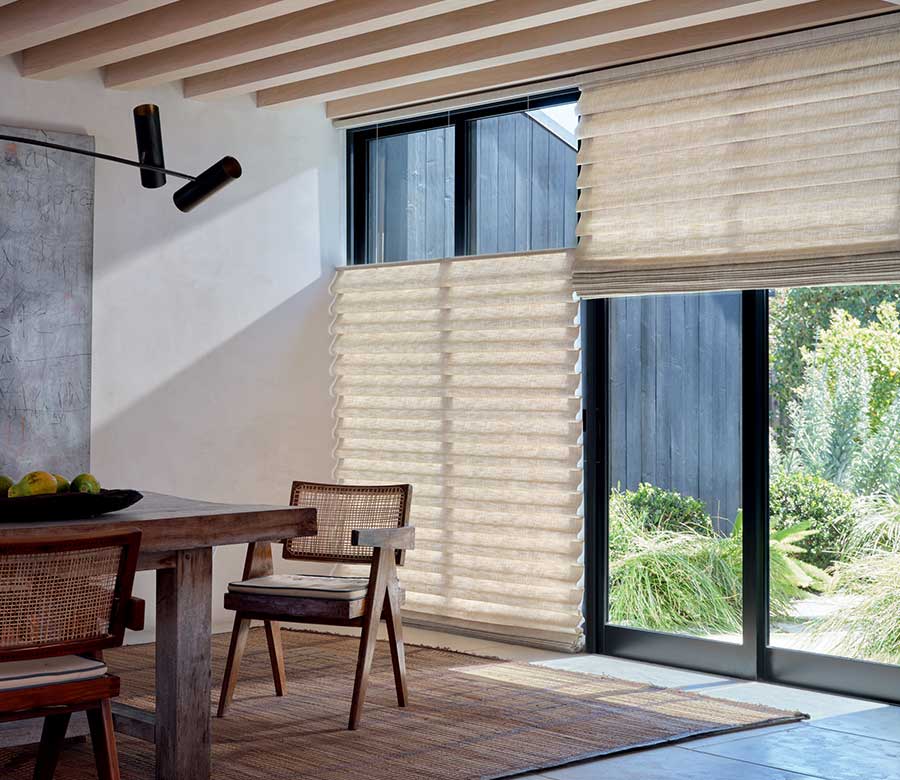 Optimizing Your Open Floor Plan
If you have an open floor plan in your home, it is safe to assume that it probably features those large windows. You may be grappling with how to cover them while maintaining the functionality of the space and the style. The good news is that we have ideas about using window coverings in an open floor plan home. It's important to note that you do not have to settle for function OR style. You can have the best of both worlds. With the right window treatments, the shades can mirror the movement of the window. This way, your lifestyle flows as it should!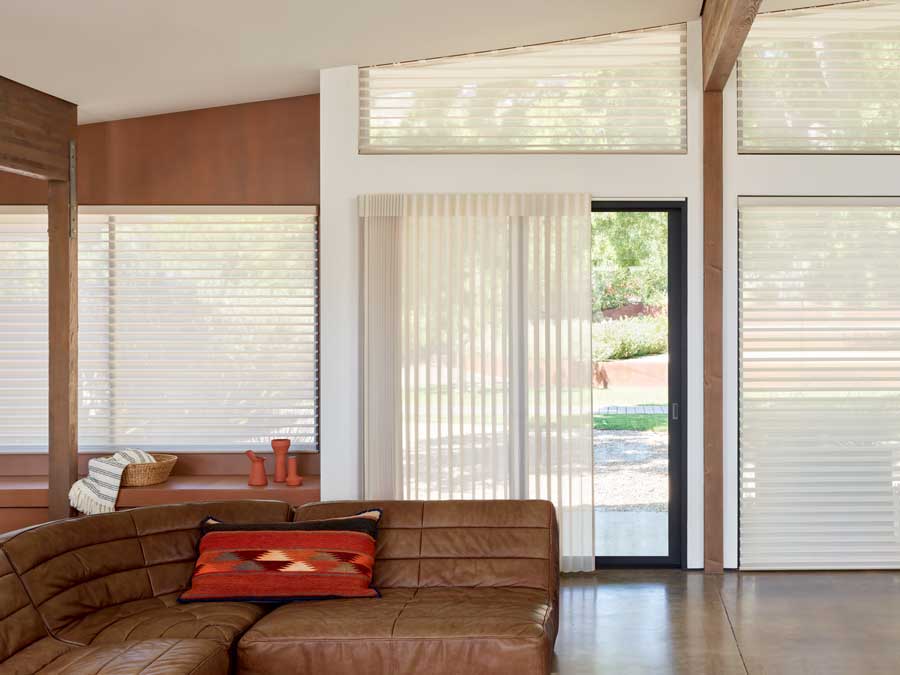 Customize Your Coverage
As you continue reading, you may be thinking, "Do I need to cover the whole window?" Our answer is that you definitely do not! By choosing to customize your window shades, you can ensure that the design will enhance the look and feel of your home while also covering what you want. In some cases, clients have arches or angles in their windows that they prefer to leave uncovered. Other times, those large windows are just a part of a wall of windows that can include transoms. With custom window shades, you can leave the windows bare or maintain a level of control by covering them.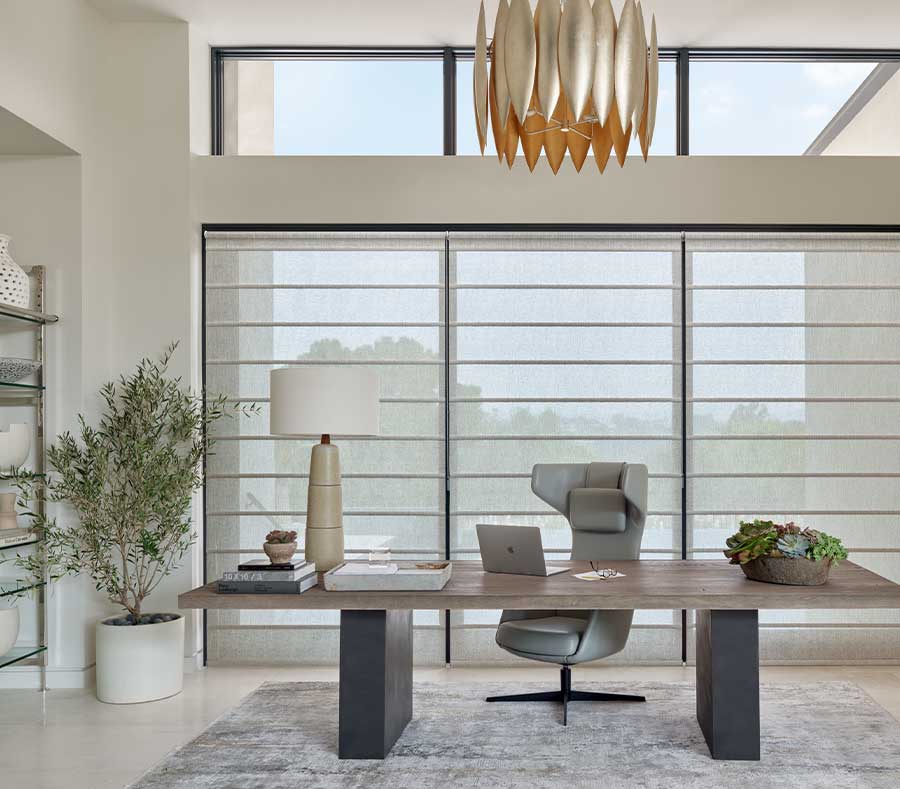 Enjoy Your View 
If you have floor-to-ceiling windows, you probably have a view that you don't want to sacrifice. Thankfully, you don't have to. You can easily reduce the direct light and glare from these windows while also enjoying the view outside. Check out our list of the top 5 best shades that will help you enhance your view!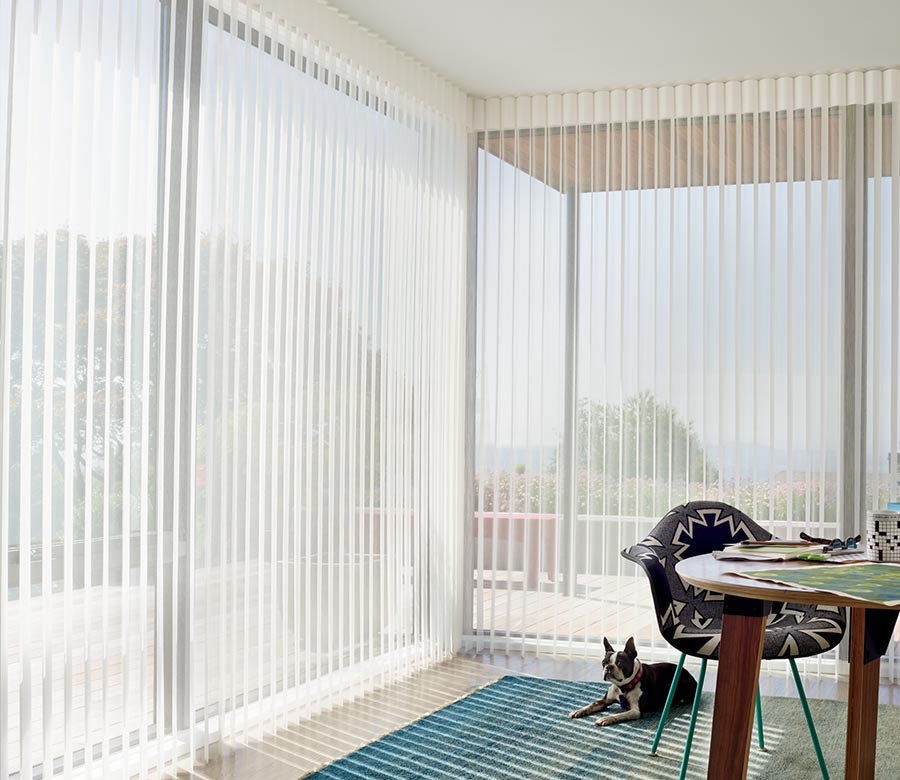 The Ease of Adjustments 
We are all looking for functionality in our lives. This includes our window coverings! Make sure you choose an operating system that allows you access to a wide range of privacy and light control. The best way to do this for those large windows is by utilizing smart shades. You will have no cords dangling and nothing is out of reach. Simple. Convenient. Perfect. A nice feature of smart shades is that you can set a schedule for opening and closing your window coverings. You can even do this with a voice command!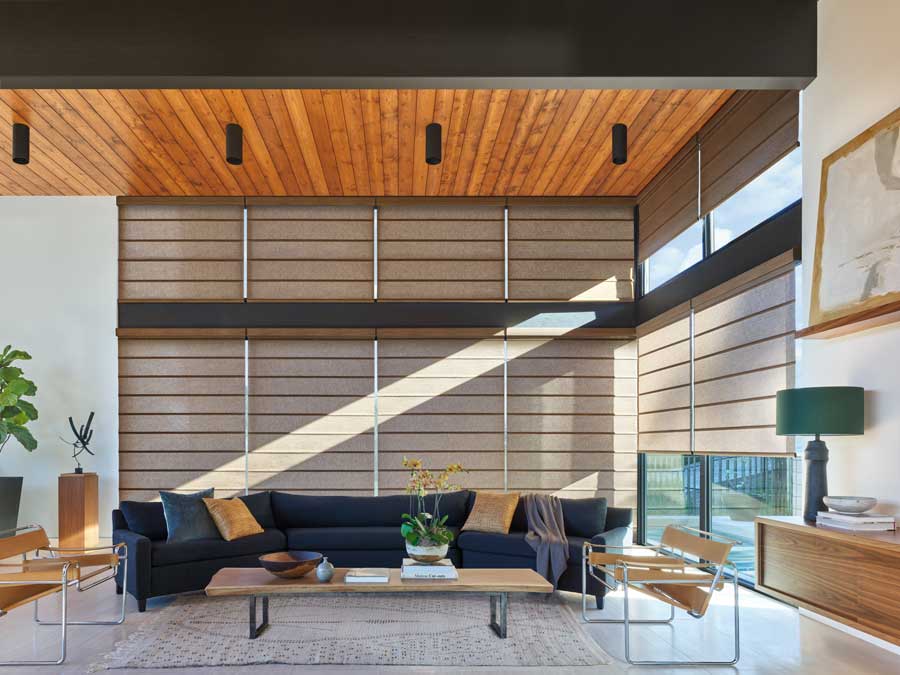 Love Your Large Windows
Loving those large windows in your home has never been so easy! If you have a set of specific needs like energy efficiency or you're wanting to soften the look of your home, At Home Blinds & Decor is here to help. Contact our team to schedule a FREE in-home, virtual or showroom design consultation with one of our expert designers. Let's get started today!