Open concept and open floor plan homes are consistently one of the most popular home layouts in current day. They have a way of making the home feel larger, while also keeping it cozy, by providing more space to be together, even from a different "room". Day to day life can easily flow from one space to another, making this layout excellent for cultivating quality family time. Where life flows seamlessly through the open floor plan, so do design elements… Not to worry, our team is here to help you curate and design a space that you love–and just as functional!
Separate the Spaces
Even with an open floor plan, it's important to separate the spaces a bit and make their purpose clear. After all, you don't want to end up putting your dining table in front of the television. Creating defined rooms within the larger space allows it to stay feeling open, yet functional and comfortable. When considering the perfect layout, furniture position and area rugs help to ground a space.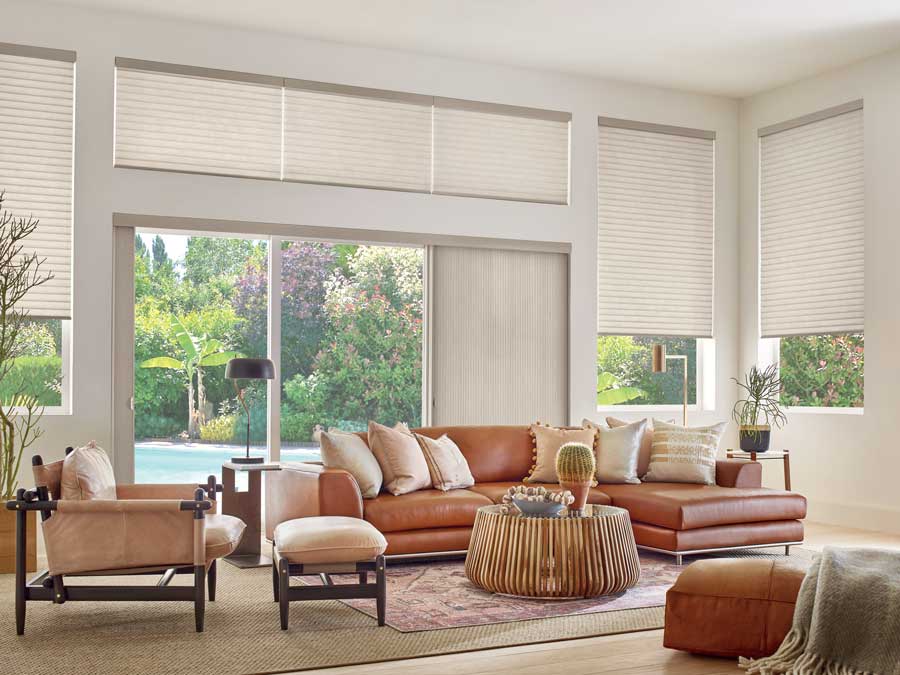 Leave the Open…Open
It can be tempting to see an available space on the wall or an open side of a sofa and think that it needs to be filled. However, one big design tip we have is that not every nook needs to be filled! Overcrowding your open concept home will just make it feel cluttered rather than intentionally open.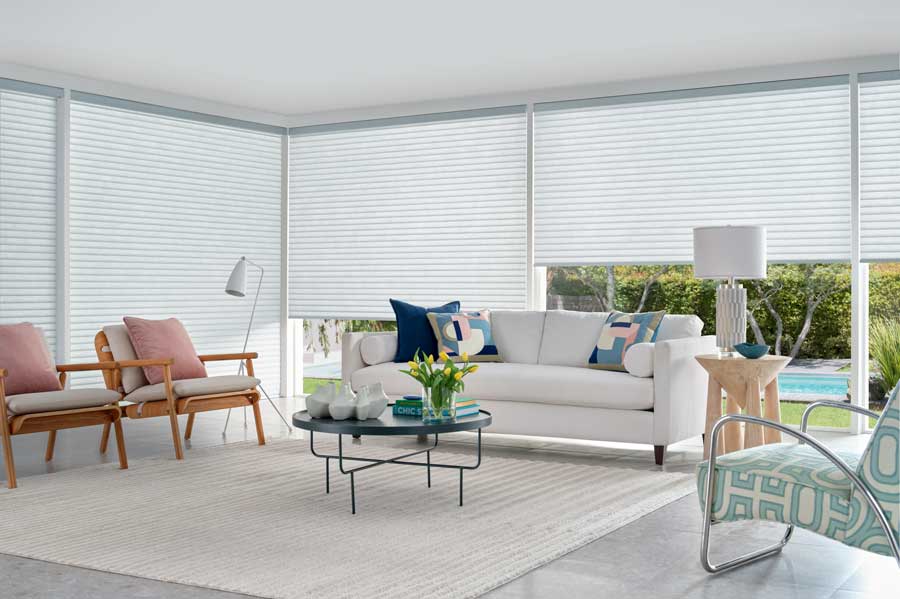 Be Consistent
An open concept area isn't necessarily the space to change up flooring options or paint colors. That doesn't mean the space has to fall flat and be boring! We just recommend remaining consistent throughout the area to ensure everything feels welcoming and cohesive. Curating a collection of furniture, decor, and art that all works together will make your home look beautiful and feel even larger.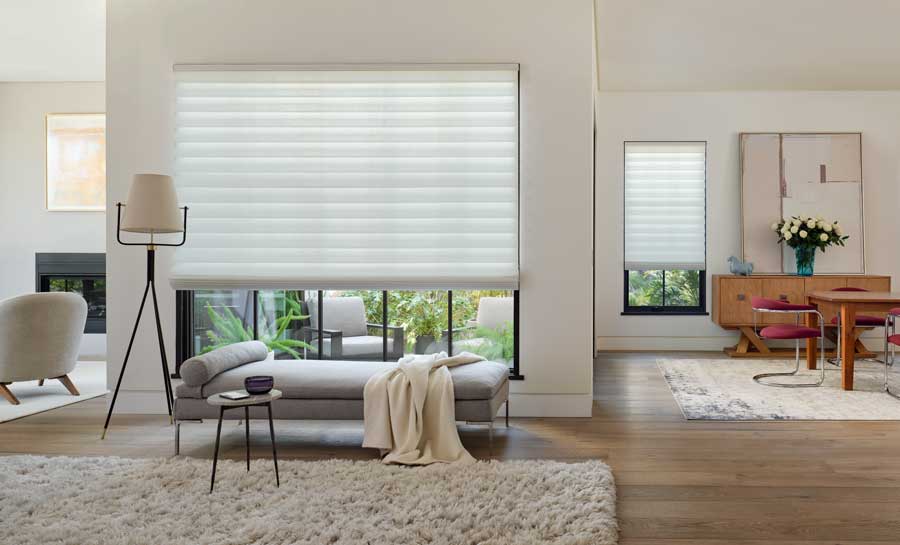 Consider Different Lighting Options
Sometimes an open floor plan home can be a bit trickier to keep the cozy mood alive. Adding in different lighting options allows you to pull a lot of coziness back in! Having several different lighting options means you can create a custom atmosphere throughout the entire space.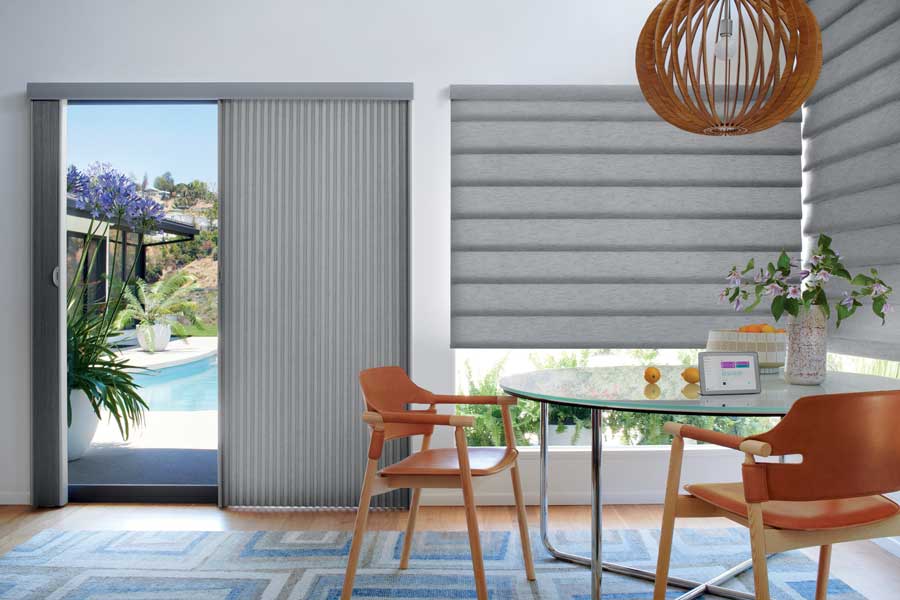 Choosing Window Treatments for an Open Floor Plan
One big design aspect to consider when working with an open floor plan is the window treatments. Oftentimes, we see people leaning toward all one treatment to make things simple. However, with our vast array of window coverings, we recommend coordinating treatments rather than exclusively matching them. This allows you to take each window or door's function and direction into consideration, and choose the shade that will make them work best for you.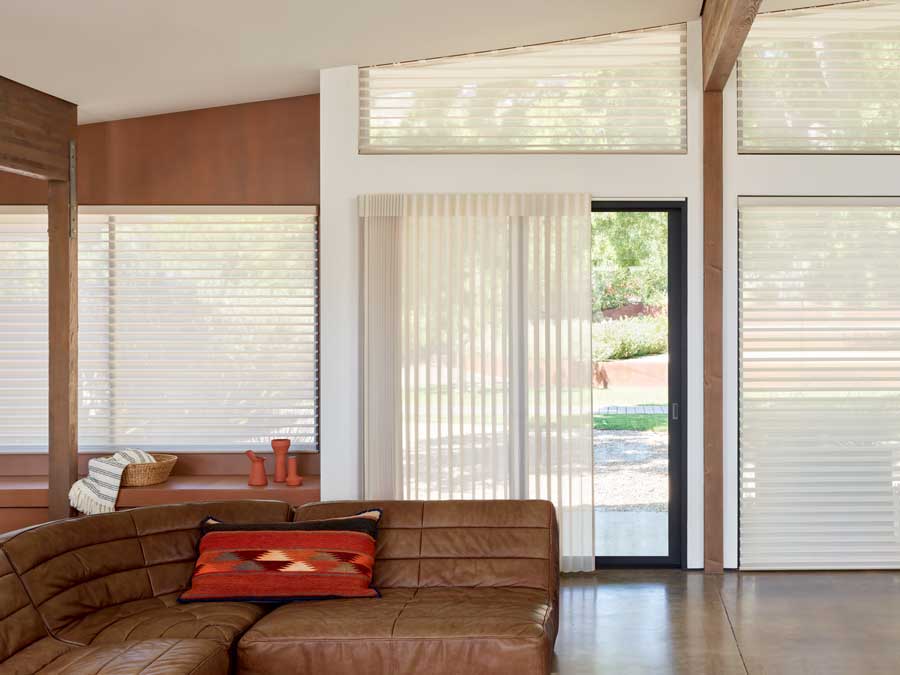 Energy Efficiency
It's no secret that open floor plan homes are beautiful, and many families love their practicality. Achieving coziness is one of those factors that is still doable, it can just take a little extra thought! Having a large open space can make it more difficult for your vents to heat or cool the entire area, and if you have a lot of windows or doors, you may experience drafts on cooler days or harsh, hot rays during the long days of summer. The right window treatments will eliminate glare, reduce drafts, and even help to lower your electric bill!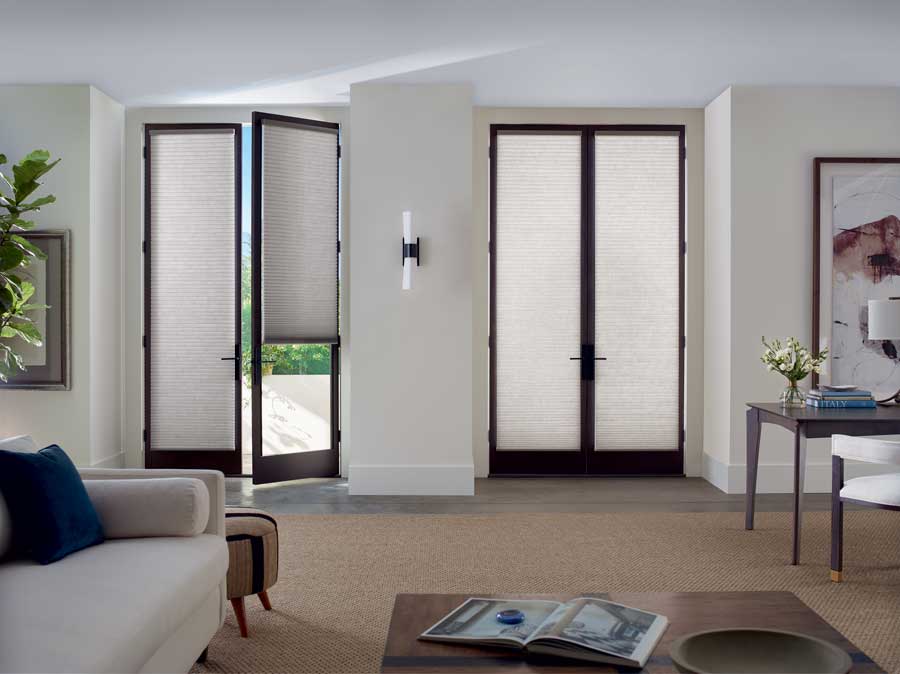 Here at At Home Blinds and Decor, our experts are eager to help you transform your open floor plan home. Window treatments will elevate your space–design and functionality-wise! Contact us today to get started with your FREE in-home consultation.