How great would it be to simplify your daily routine? With smart home technology, you get simple automation, and it's really easy. It may seem difficult to keep up with all the technological advancements, but it doesn't have to be. You don't need to buy the newest, most expensive computers or gadgets in order to benefit. In fact, with Hunter Douglas, you get to use the technology you know and already have in your home.
It's not about changing your entire life, but simplifying the most important parts of your schedule. From the moment you wake up to the second you get home from your busy day, simple automation will help enhance your routine. Take a look at some of our ideas…
#1 Enjoy Every Morning
Sometimes, it's hard to get out of bed, especially for those who aren't morning people. With simple automation, you can make your mornings so much better. Do you wake up to the sound of a loud, annoying alarm? Whether it's set on a phone or an alarm clock, it's something pretty much everybody dreads hearing in the morning. Why not enhance the way you begin your day? PowerView® Automation is a great start.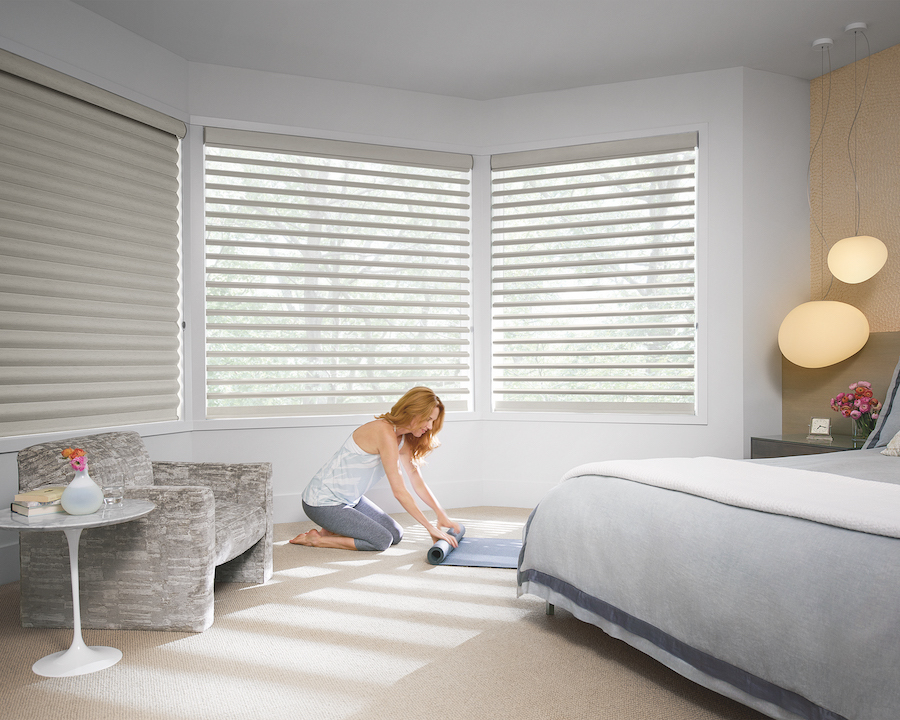 It's hard to get out of bed when your room is dark and cozy. Use the PowerView app to create a schedule so that your motorized blinds lift up with the sunrise. Soft, natural light will illuminate your room, giving you a chance to wake up to the morning sun. Did you know that the sunlight can even be a mood booster? You can wake up happy every morning! But, there are going to be days you want to stay curled up in bed…we understand. All you have to do is reach over to your phone or call out to Siri to close your motorized shades. If you fancy voice control, your favorite system is compatible–Google Home, Apple HomeKit, Amazon's Alexa & more–to shut your window treatments. Simple automation makes it easy to control the environment in which you awake–all from the comfort of your bed.
#2 Simplify Your Daily Routines
Once simple automation has helped you start your day, consider the other parts of your routine that could use some help. Leaving your house every morning can become a task in itself. Did you grab your purse? Keys? Phone? The kids? Simple automation may not be able to help you with everything (yet), but it can make getting out the door easier.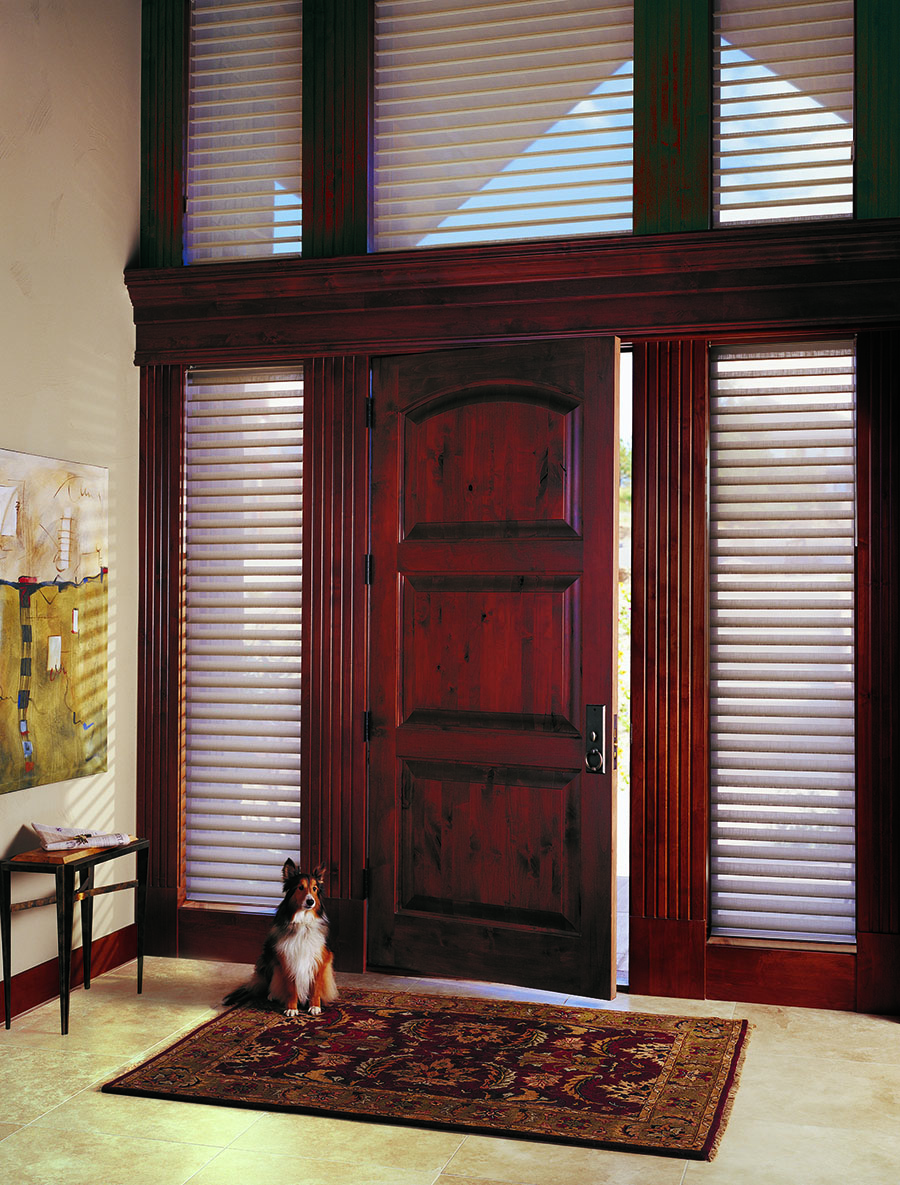 Use your Apple Watch to ping your phone, then open the PowerView app to shut your blinds. PowerView lets you create "scenes." By making a "Gone For the Day" scene, you can adjust your shades in a matter of seconds, leaving your home exactly how you want. Do you want your blinds shut so that your home is private and secure? Do you have a furry friend at home that likes to have a certain window uncovered? It's your home, you know it best. Use simple automation to your advantage, and maintain a comfortable environment even when you're not there
#3 Savor Your Evenings
What's the first thing you do when you get home after a long day? If you're like us, you want to kick off your shoes and relax. Let simple automation set up the perfect environment–before you even get home!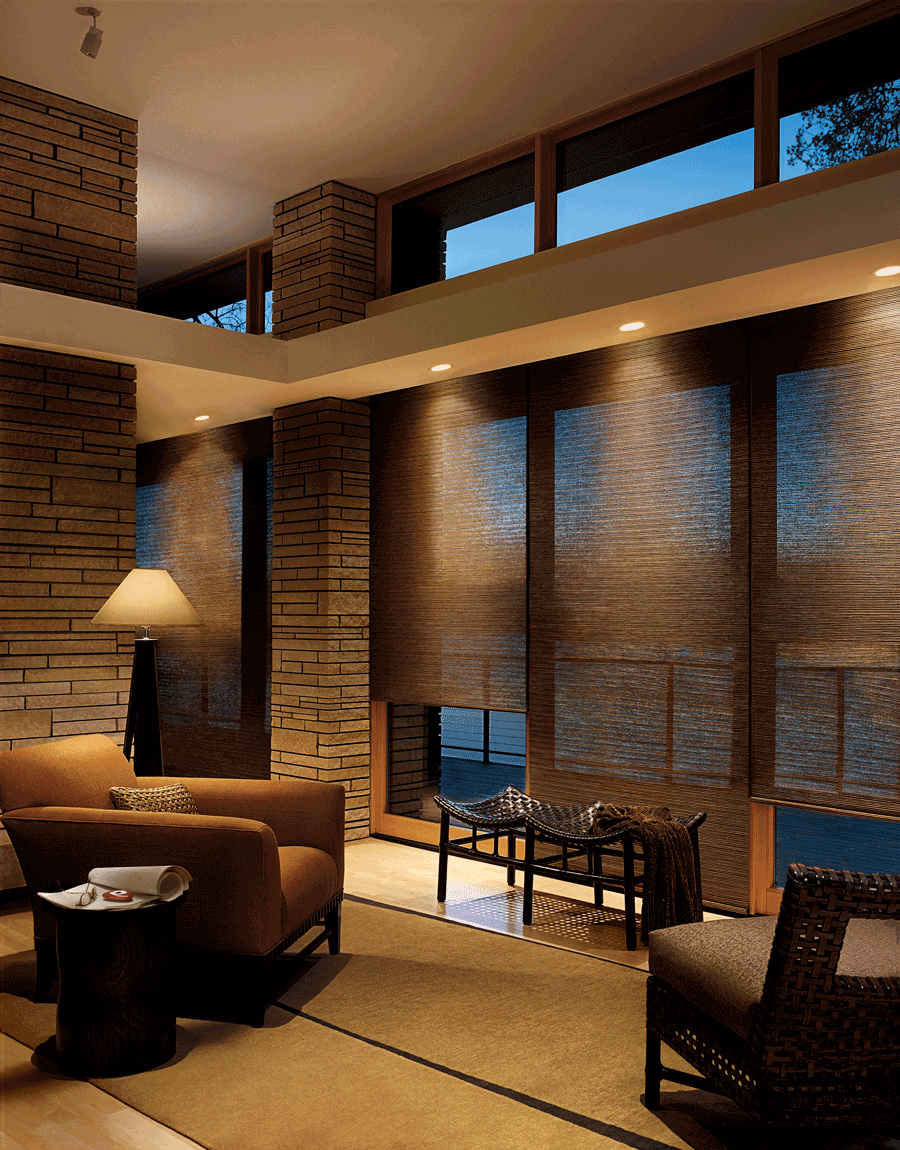 Do you like to watch the sunset as you eat a warm meal? Program your shades to open right at dinner time. How about heading to your bedroom for some rest? It should be private and comfortable. PowerView will make sure your blinds are shut and your room is dark for a good night's sleep. Consider your weekends. Are you having game night? Watching a movie? Inviting the neighbors over? Create as many scenes as you'd like, and adjust your space in seconds. Simple automation makes it easy to create the environment you want.
Simple Automation: Take Control of Your Home
How do you want to use simple automation? A remote? Phone app? Voice control? Whatever it is, we're here to help you set up and get started. Embrace new technology by finding ways in which it can benefit your personal schedule. Start and end your day in comfort and control.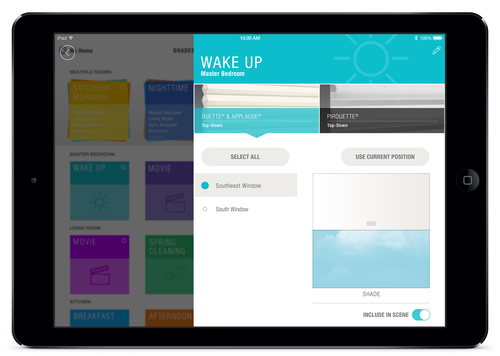 Are you ready to get started? At Home Blinds is ready to help. Contact our team today for a free, in-home consultation.