There's an ongoing debate between two different styles of shades. Today we're weighing in on the Romans VS Rollers discussion to present you with information on both so it makes it easier to narrow down your options.
Roman Shades
Roman shades have been around since the earliest days. The simple cord system is used to raise and lower the folding fabric into place. With the shades raised, they gather into beautiful folds at the top of the window, keeping the view fully visible while adding an extra touch of style. Depending on your preference, there are different type of folds that will fit in nicely to any space… knife pleat, balloon, hobbled, cascading, flat front, you name it. Roman shades come in countless colors, patterns, and textures. And, we're here to show off three of our favorite varieties.
Vignette Modern Roman Shades
A cascading look where the fabric folds overlap slightly
Fabrics gather together when shades are raised up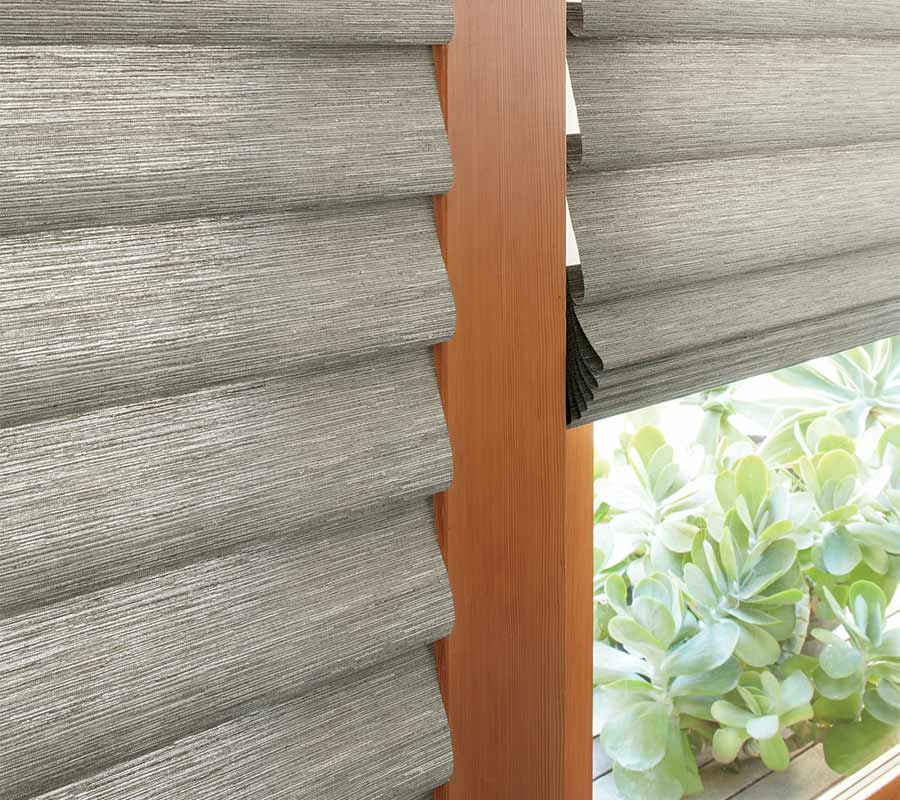 Woven Textures Roman Shades
Carefully curated fabrics add a high-end look
Fabric stacks tightly at top when not in use
Fabric lowers to flat front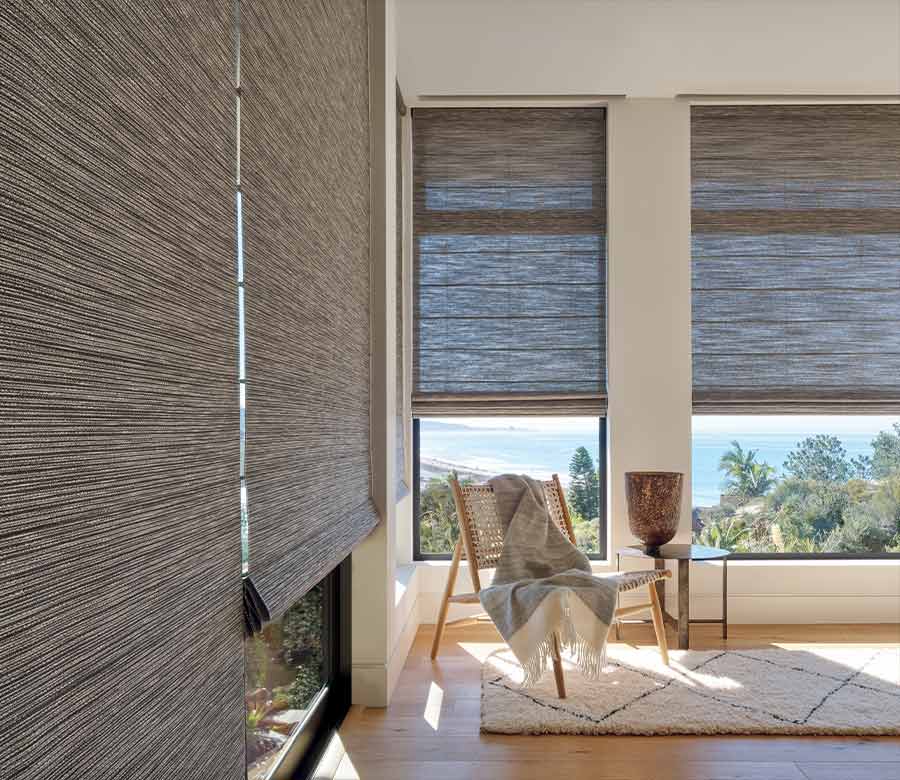 Custom Roman Shades
Offered in many designer fabrics, including colors, patterns, and prints
Gathers into folds at the top
Optional details for additional dimension
Flat front means they lie flat when in use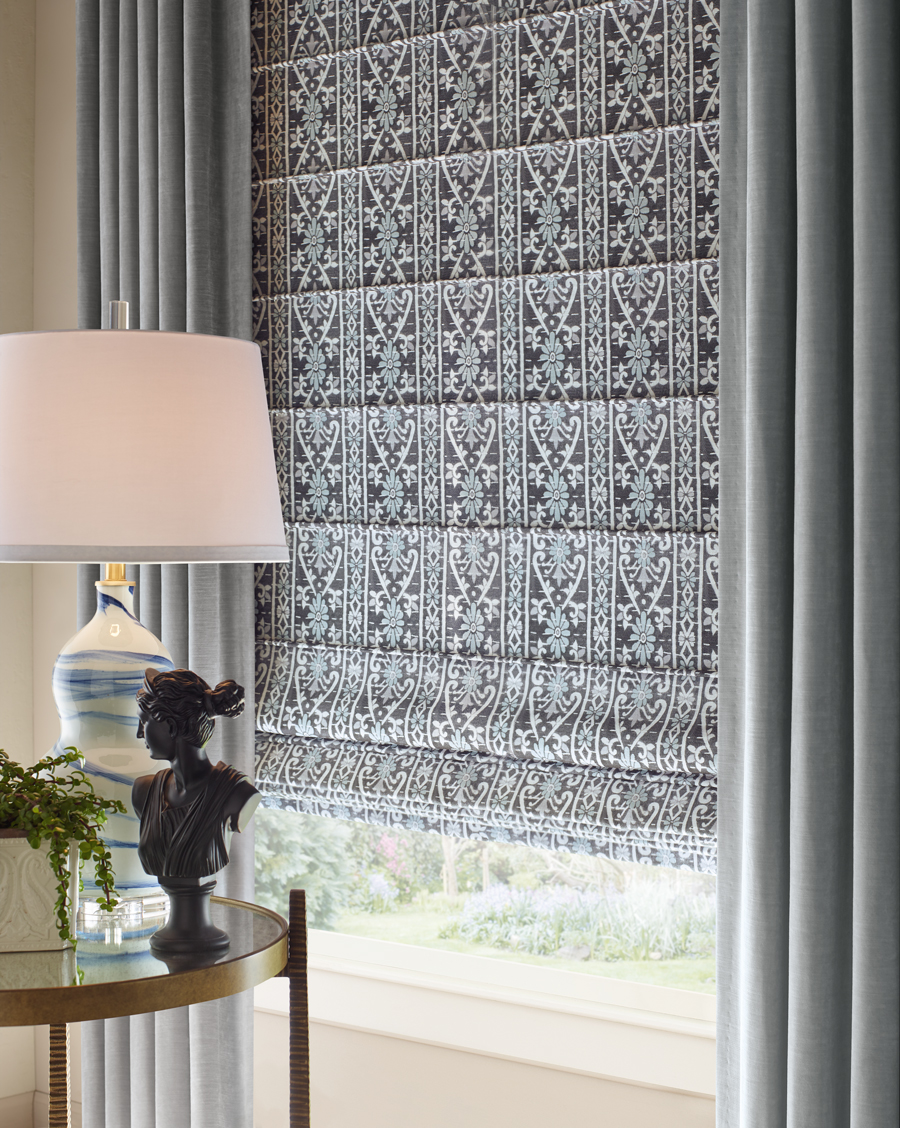 Roller Shades
On to roller shades…these are a popular shade option for many reasons. They are simple to use, not distracting to the eye, and add many benefits to a space functionality wise. Roller shades today are now more upgraded than ever before, come in many colors and styles, and are sure to transform your space. Adjusting the shades could not be simpler! They easily roll up into the headrail when not in use, meaning they won't hinder your view at all.
Designer Roller Shades
Several opacity levels from light filtering to room darkening
Simple to use, roll up and out of the way of the view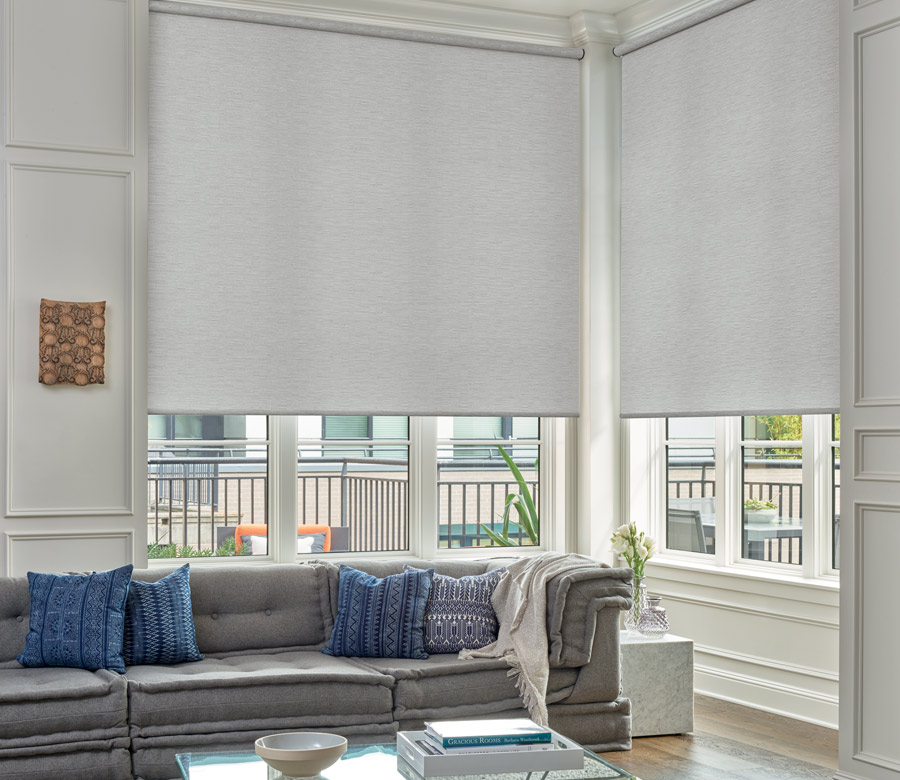 Designer Screen Shades
Low profile design
5 different opacity levels
Meant to preserve view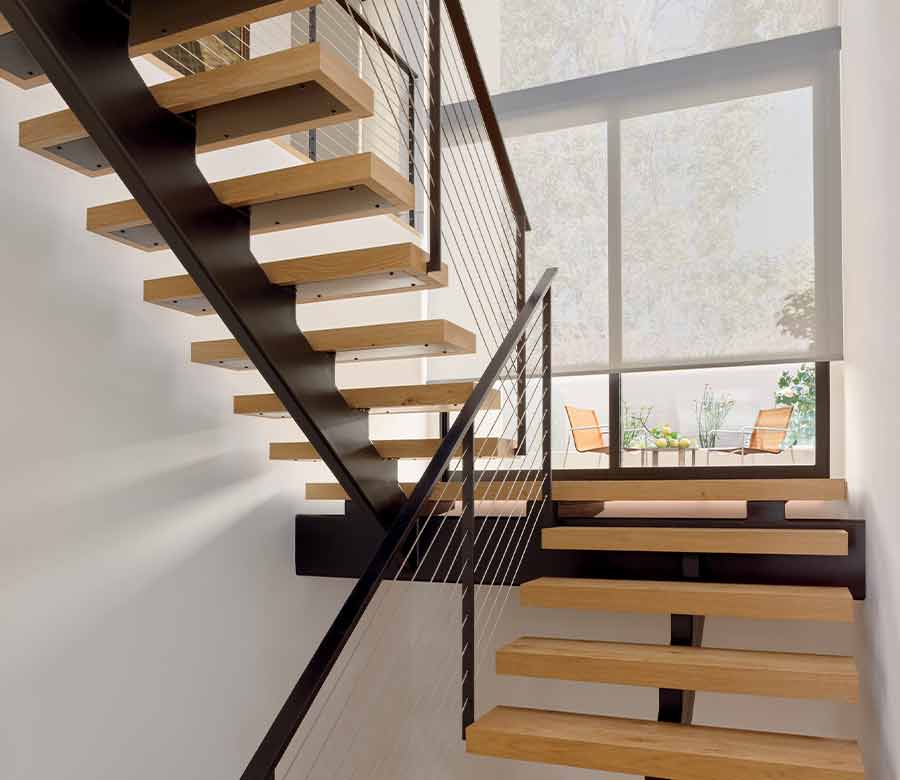 Custom Roller Shades
Offered in custom designer fabrics
Varying patterns and prints sure to match every style
Keep your full view when raised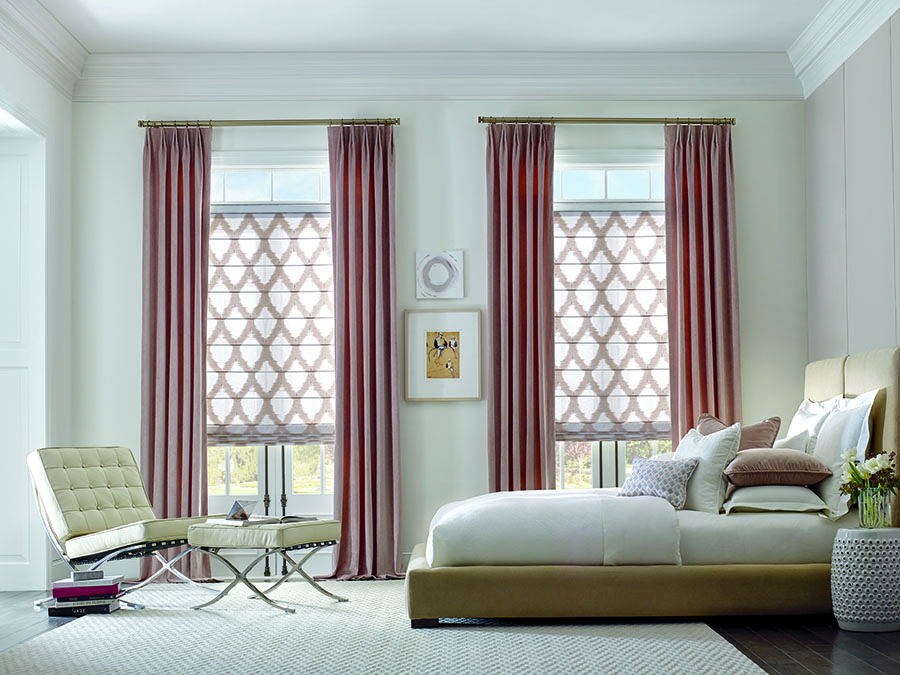 Romans VS Rollers: A Closer Look
Which are you leaning more toward? You simply can't go wrong! When it comes to window treatments, especially romans VS rollers, it's important to keep in mind the functionality of the space.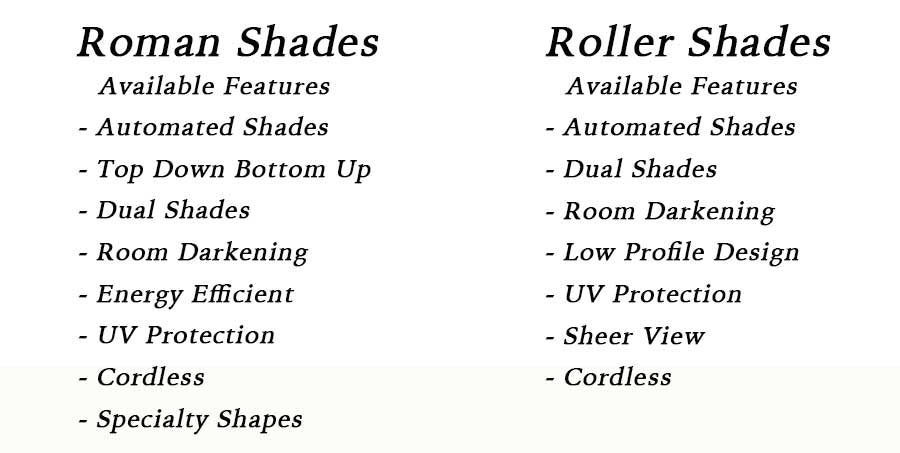 So, What About Rolling Romans?
Have you heard the saying, "Have your cake, and eat it, too?" That's what rolling romans are in the romans VS rollers debate. They marry the concepts of both types of shade to create an innovative design that rolls up and down like roller shades while looking like roman shades when in use. If you're particularly drawn to rolling romans, we recommend taking a look at The Vignette Collection.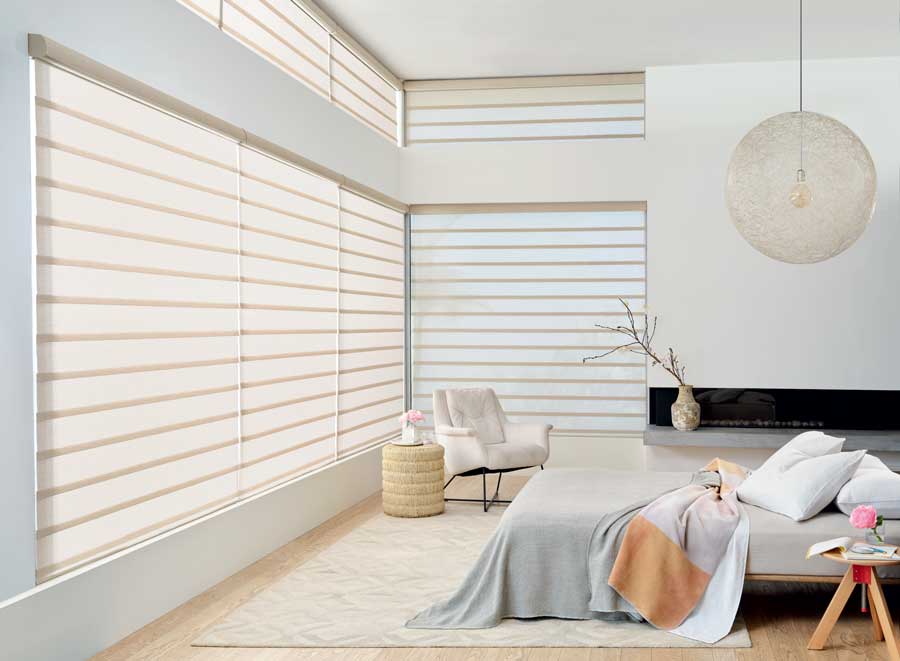 Purely Your Choice!
This information on romans VS rollers wasn't to sway you into choosing one over the other. Rather, our intention is to educate you on the options available in both styles so you can ultimately find the perfect treatments for your space! Stop in to our showroom or contact us today to get started with your FREE in home consultation.