Doors are an important part of the structure of your home. But oftentimes, they can be difficult to cover. You may find that custom door coverings are the only answer. Doors act as both a stunning window feature and a practical way to enter and exit the home. By choosing the right treatments, you can have both. 
Contemporary Verticals
Let's explore options together. There's no need to skimp on style when covering doors. With vertical blinds, you can achieve a modern look without missing out on function. Our Skyline collection of verticals has reimagined traditional vertical blinds. By adding wide sliding panels, custom fabrics with on-trend colors, you can upgrade the look of your current windows and keep true to your own personal style.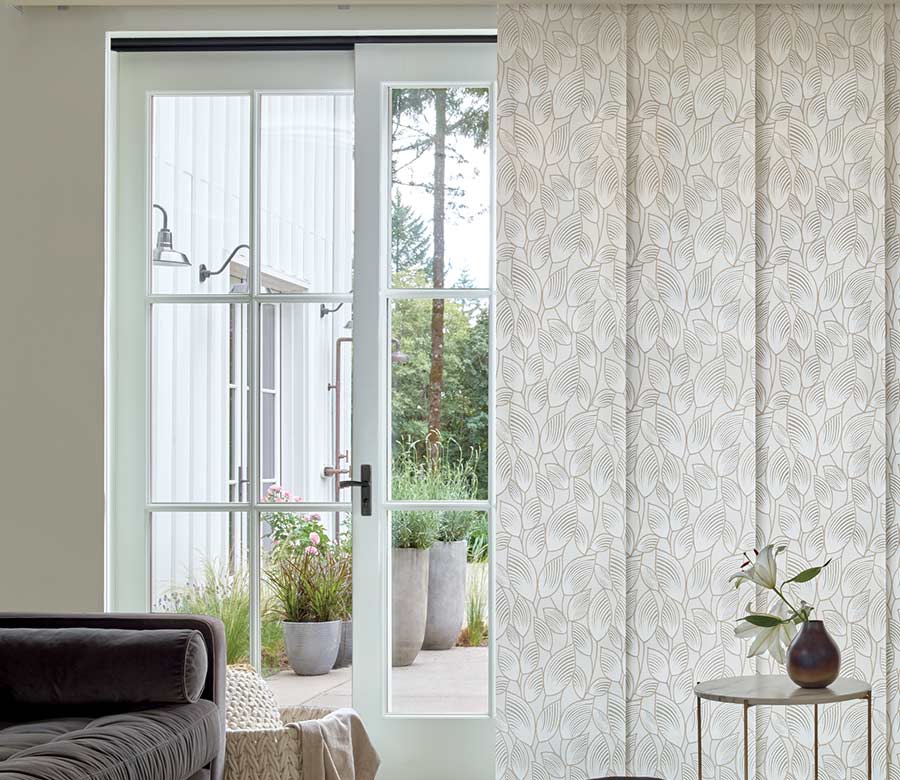 When covering your doors, one of your main concerns may be light control. The Luminette® Privacy Sheers collection will accommodate any lighting issue. As a combination of vertical shades and draperies, these window coverings can provide a range of light control. By simply rotating the built in vanes, your treatments transition from view-through functioning to room darkening with ease.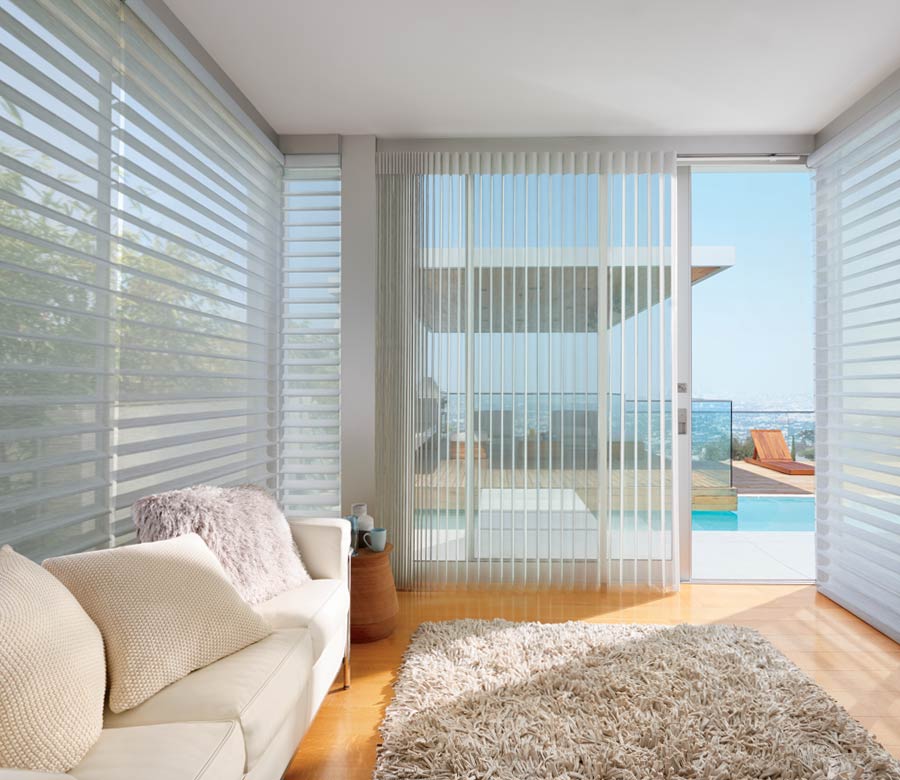 Consider Custom Shutters
This fan favorite can be considered for even the most seemingly difficult doors. With a custom fit, plantation shutters never disappoint. Shutters offer many of the functional needs desired in a family home. If privacy, ease of operation and light control are your requirements, look no further. Now, with customizable door handle cut-outs, shutters can fit any door and bring a finished look to your space. Problem solved.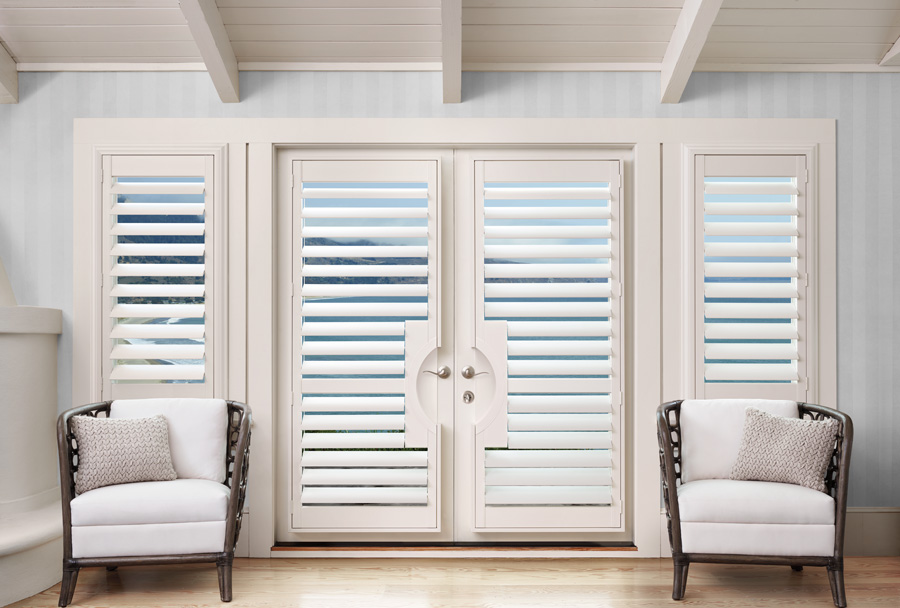 Why Not Drapery Panels?
There's no better place than your doors to make a design statement. Think about a picturesque backyard view being framed by gorgeous drapery panels. By adding custom draperies that frame French doors, you are elevating the look of your home. There are a wide range of designer fabrics to choose from, and we can fit them to your space. Allow our designers to take your home to the next level by adding custom drapes to your glass doors.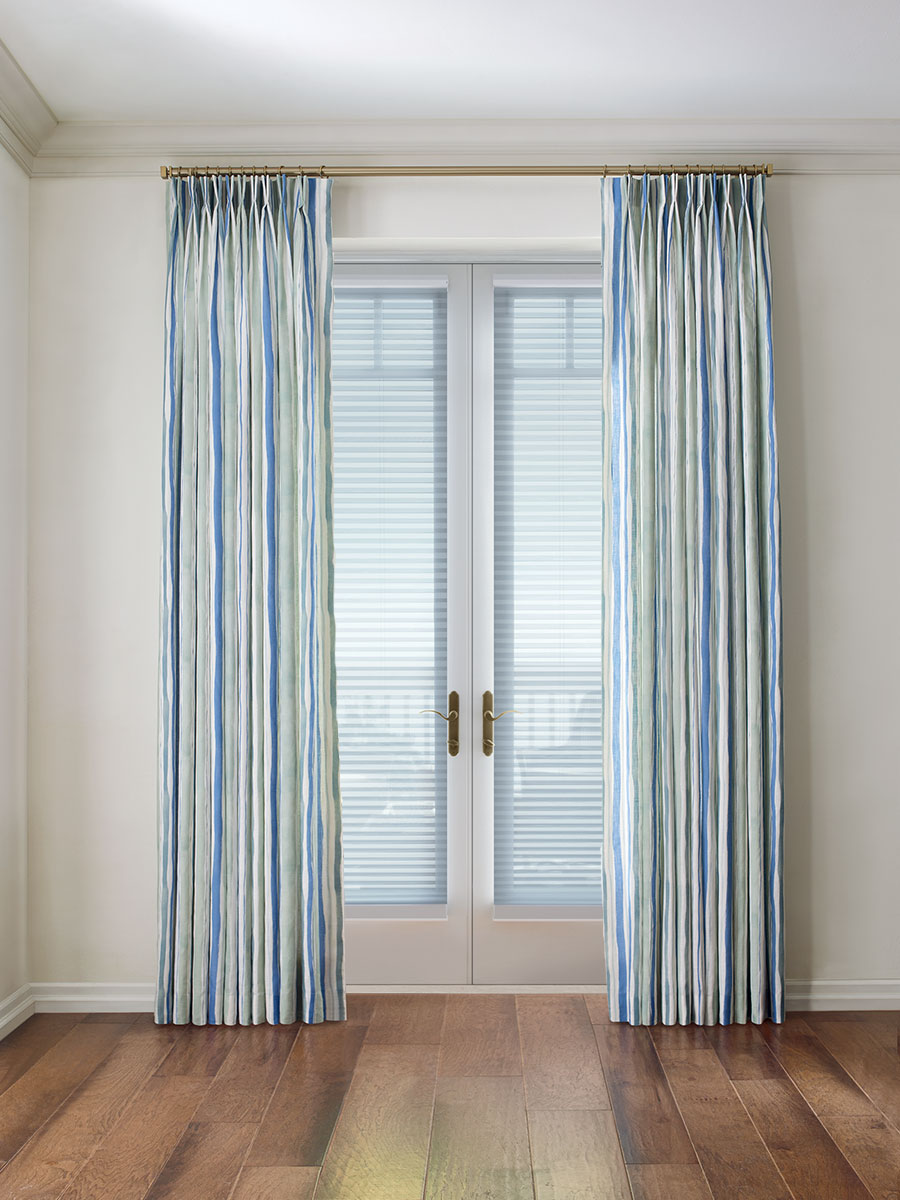 With draperies, it's not only your home's style that you're upgrading but you can improve function as well. Full draperies can cover the area and provide lighting and privacy solutions. No matter what your needs are, there is a window treatment that will work for you. Custom door coverings are often accomplished by the layering of treatments, shades first then drapery panels. Ask an expert for ideas on how to cover your doors in a functional and stylish way.
Specialty Shades
Custom door coverings have been revolutionized by the TrackGlide™ System. This unique and custom shade system provides seamless coverage to doors with glass set inside, like your patio and French doors. With no drilling for the install of this system, the shades glide up and down on a track that adheres to the very edge of the window frame. The shade moves along the track without interfering with the function of your door.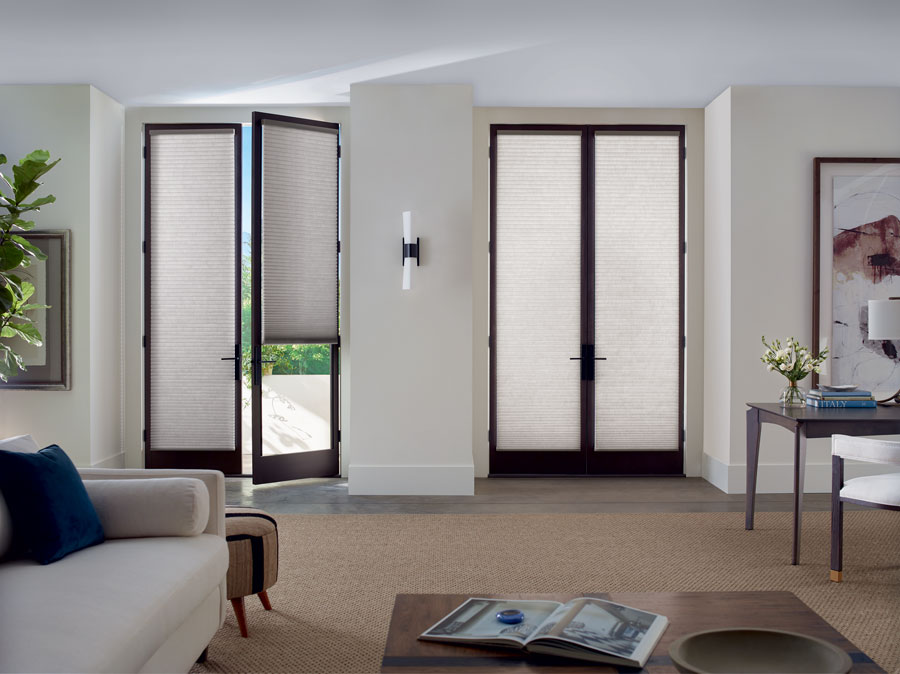 Find Your Favorite Custom Door Coverings
Doors are your chance to add character to your space, but there's a lot to consider. Discover how custom door coverings can improve the function of your home with specialty functions only found in the most sophisticated homes. Whether it's a tricky spot that needs a solution, or you'd like to add a design element with draperies, we can help you get started. We offer FREE consultations. Begin the process today and remember anything is possible with custom door coverings!