As a pet lover, you're aware of the mess, the hair, the dirt. But, at the end of the day, we'd never want to live without them. The key is–how do you design your home with pet friendly window coverings? You need to create an atmosphere that suits the whole family…even the furry ones. Let's go through some of the most often asked questions…
Which Ones Are Easy to Clean?
Oh, the messes of our pets. It's no surprise that most pet owners are searching for easy to clean, durable window treatments. For pet friendly window coverings that maintain a "fresh" look, or are simple to clean up, we recommend materials that are wipeable. Shutters are a great example.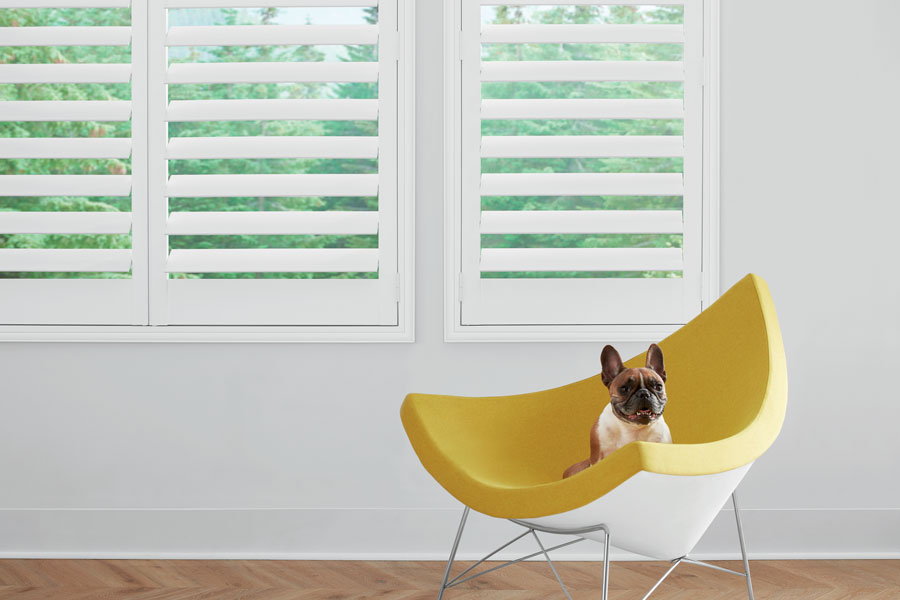 We also recommend identifying the location of the messes. If it's in the same area all the time, you can pick and choose window coverings for that area that work best for pets, while other areas can feature shades in more delicate fabrics.
What to Do About Jumping or Climbing Pets?
The window sills are a common area for pets to dwell. Whether it's just their paws, or their whole bodies, keeping the bottom portion of the window free of treatments can be important. Sometimes, this is as easy as covering the majority of the window, while the bottom of the shade stays elevated.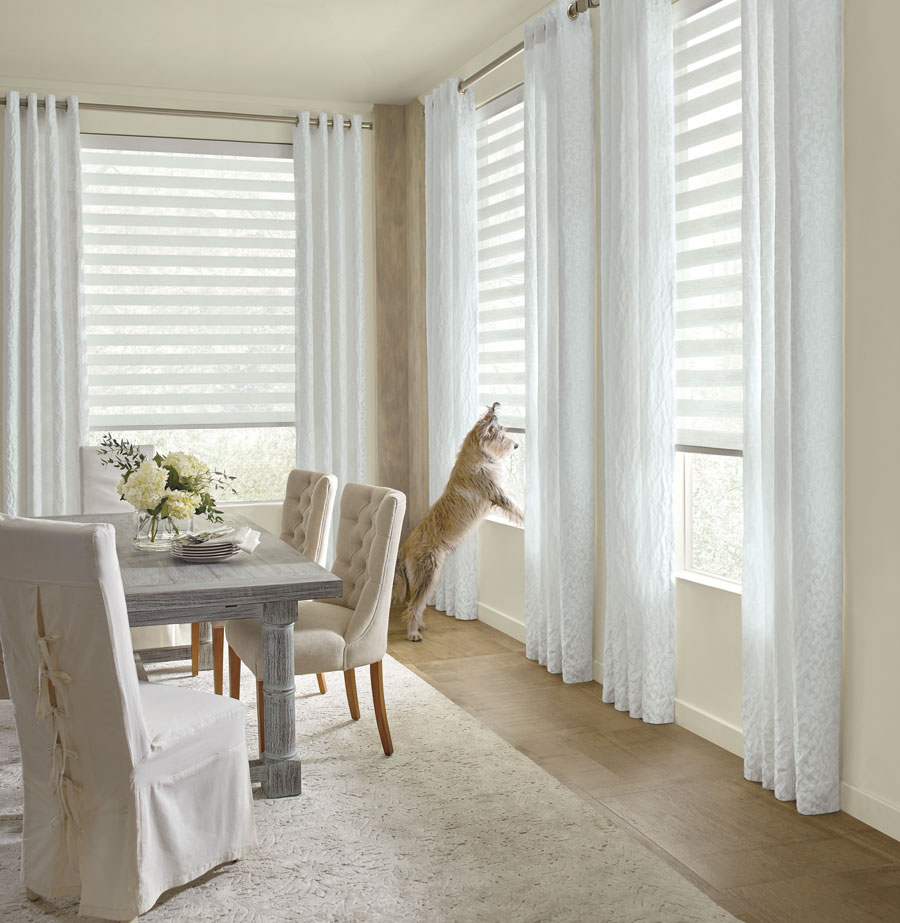 The most important aspect of pet friendly window coverings is safety. Because of this, you'll want to choose a cordless system, avoiding cords that dangle for "fun," or tangle your pet up before they even know they've gotten themselves in a dangerous situation.
The Sun Is Too Hot, But Our Dog Loves Their Hot Spot.
Do you ever wonder how they can lie in the sun for hours? They look so cozy, but you start sweating just looking at them. And, you can feel the rest of your home heating up from the uncovered windows. Let's talk balance.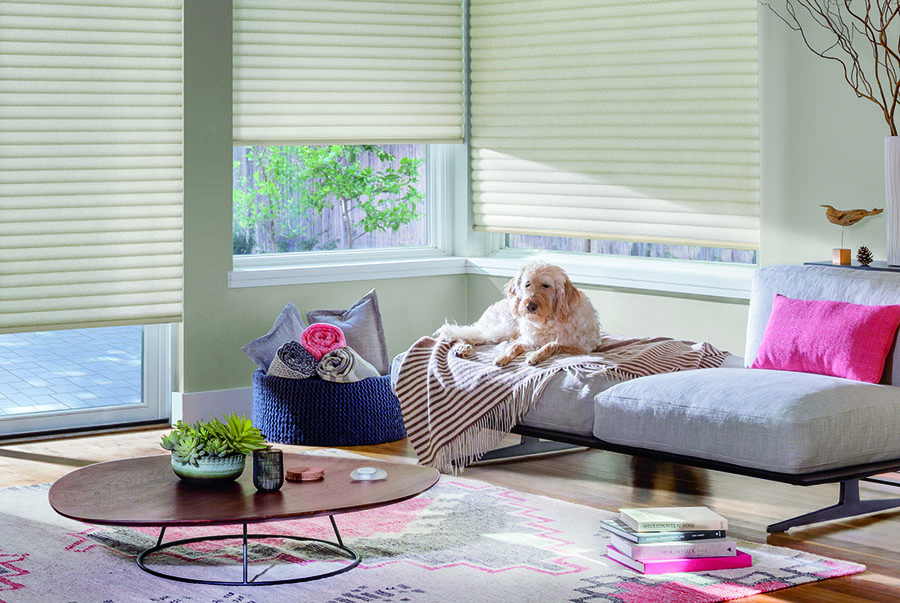 If your home has windows that bring in a ton of heat, cover them with energy efficient shades, like cellular shades or romans. You'll tailor it to your pet–covering much of the window while preserving that hot spot they love. 
From Active to Anxious: Pet Friendly Window Coverings
They've got to know what's happening. What they want is a view, but what you need is control. With the right window treatments, you can achieve both. They'll have the view, but the lighting is controlled to keep the atmosphere pleasant.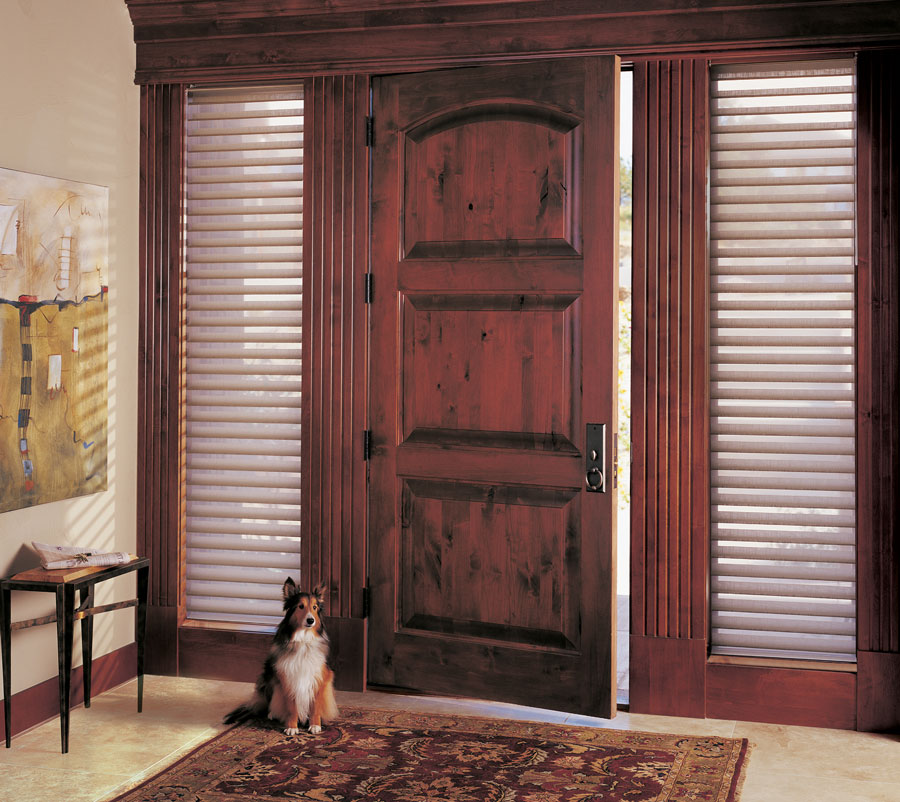 And, what about pets that need the view blocked to stay calm? For pet friendly window coverings that create a tranquil environment, choose those that have a wide range of function, from view-through to complete privacy. Automation has been found to be a great asset in these scenarios. The schedule is tailored to your pet's day, ensuring they feel comfortable even when you can't be there.
Design Happiness for the Whole Family.
Not sure which pet friendly window coverings will be best? That's where we come in! Our team, from At Home Blinds & Decor, would love to talk this over with you. We can guide you to the right materials and operating systems to help keep the whole family happy, including the furry members. Contact us for your FREE consultation!