The bathroom is oftentimes one of the last spaces in the home for decorating. We understand why, it's not a main living space. But, while you might not spend too much time in there, it has an effect on your day. We've got some important bathroom features to keep in mind when styling the space. When creating a relaxing sanctuary, think beauty, privacy, natural light. In addition, there are other factors that come into play. Here's our tips for navigating those…
Combining Privacy and Light
Privacy and light both play a huge role in bathrooms. On one hand, windows need to be able to be covered when the time comes, but letting the light in first thing in the morning while doing your makeup is a great way to wakeup.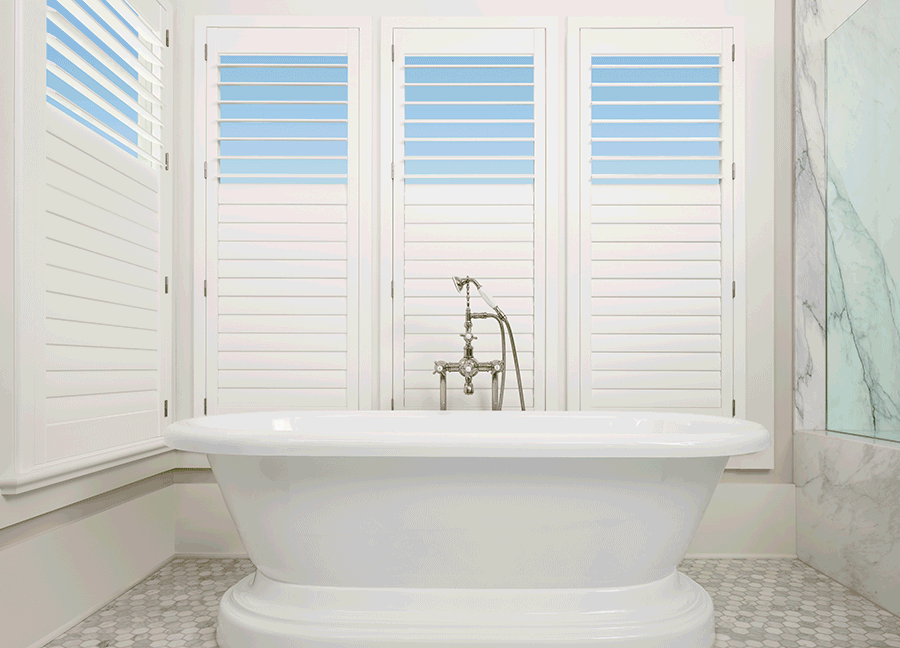 Top down bottom up treatments may just be the "have your cake and eat it too" coverings that are perfect for the bathrooms in your home. They allow for the privacy at the bottom of the windows while still letting that beautiful natural light pour in the top. This feature is seen above with "split tilt" shutters–controlled by automation.
Which Way Do Your Windows Face?
Keep in mind: Window direction is also a key factor. We covered this once before and wanted to capture its importance by including it in this post too. Depending on which ways your windows face, you may face different benefits and challenges than others you know.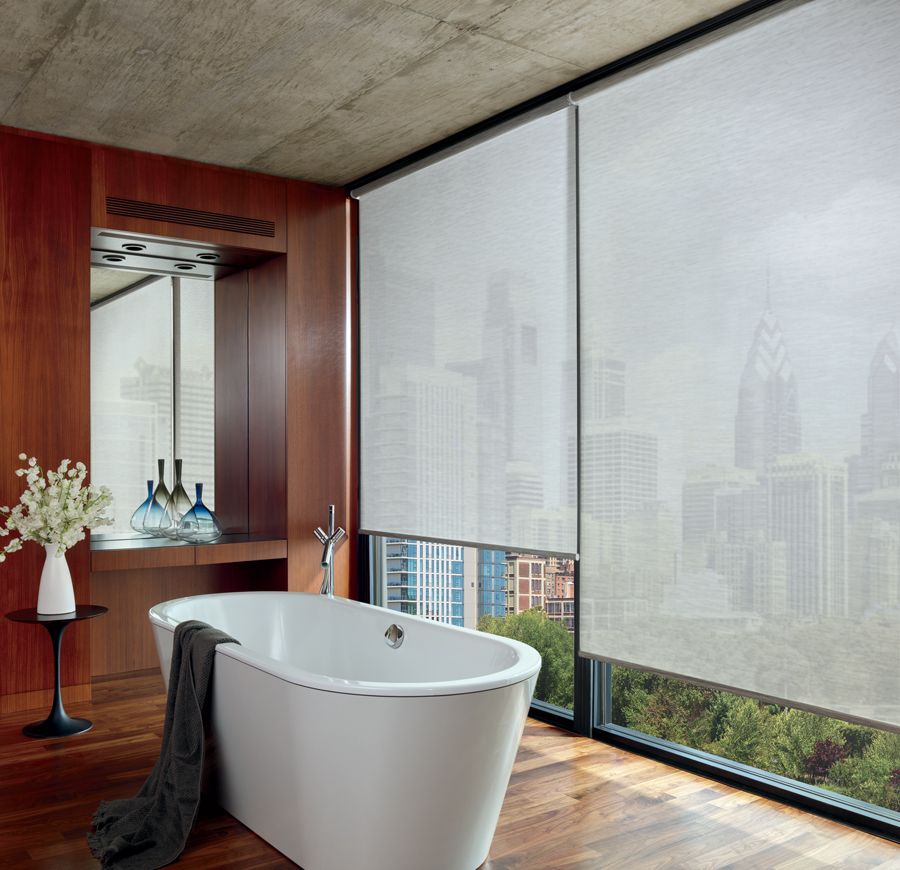 When prioritizing window direction in your bathroom features design plan, you will reap the benefits of:
Less glare and harsh UV rays beating in
Privacy
Interior temperature (energy efficiency)
Ideal atmosphere via light control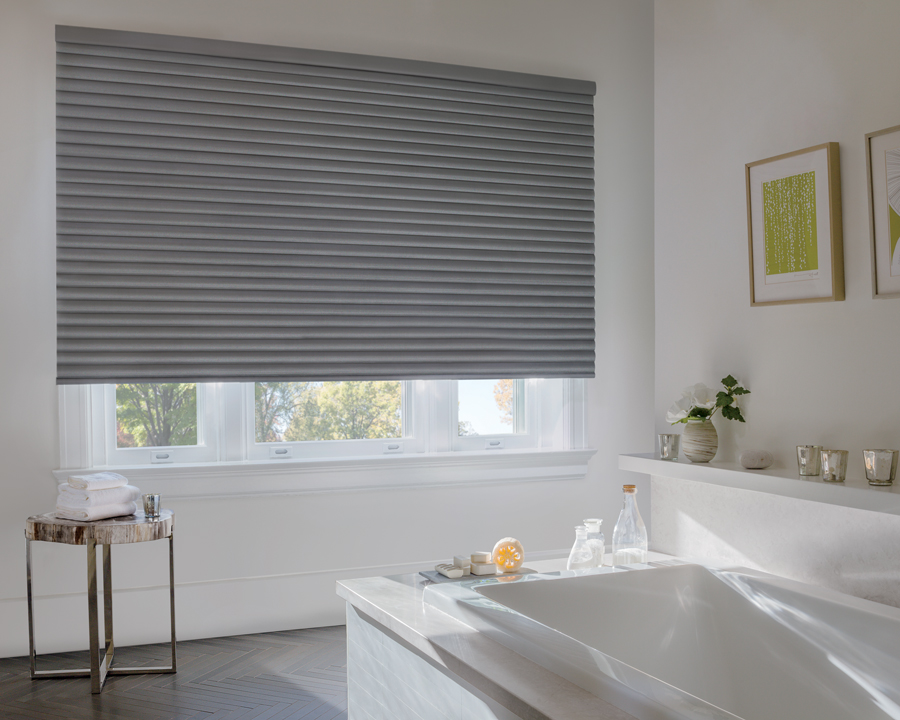 Coverings for Large Windows
Large windows have the opportunity to be picturesque both when they are open to the view and when the right shades are in place acting as functional artwork. Window treatments for large windows are a great option for incorporating the shade right into the existing decor you already have!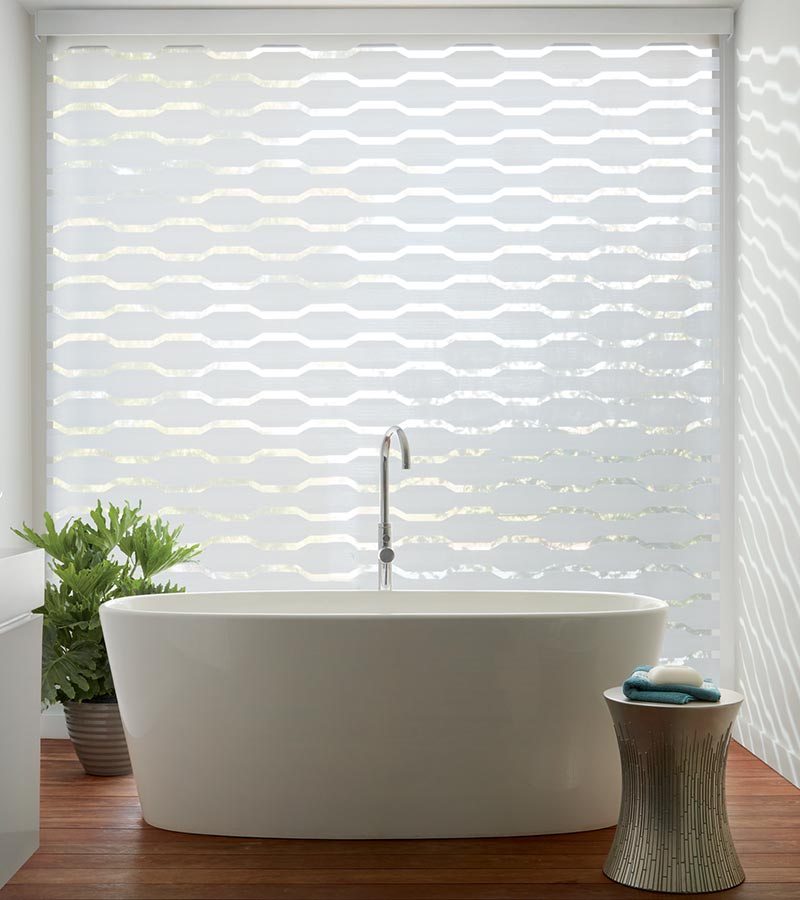 Another option we're seeing gain popularity are smart shades, even in bathrooms! They are one of the bathroom features that can help add style, convenience, and privacy all in one, what could be better for these spaces? Smart shades make is simple and quick to close up the window at the drop of a hat, or in their case, the tap of a button.
Working with Small Spaces
Some bathrooms are on the smaller side, and some windows in those bathrooms are also on the smaller side… but they still deserve all the same bathroom features! Sticking to neutrals can keep your space clean and tidy while still adding the functionality you need.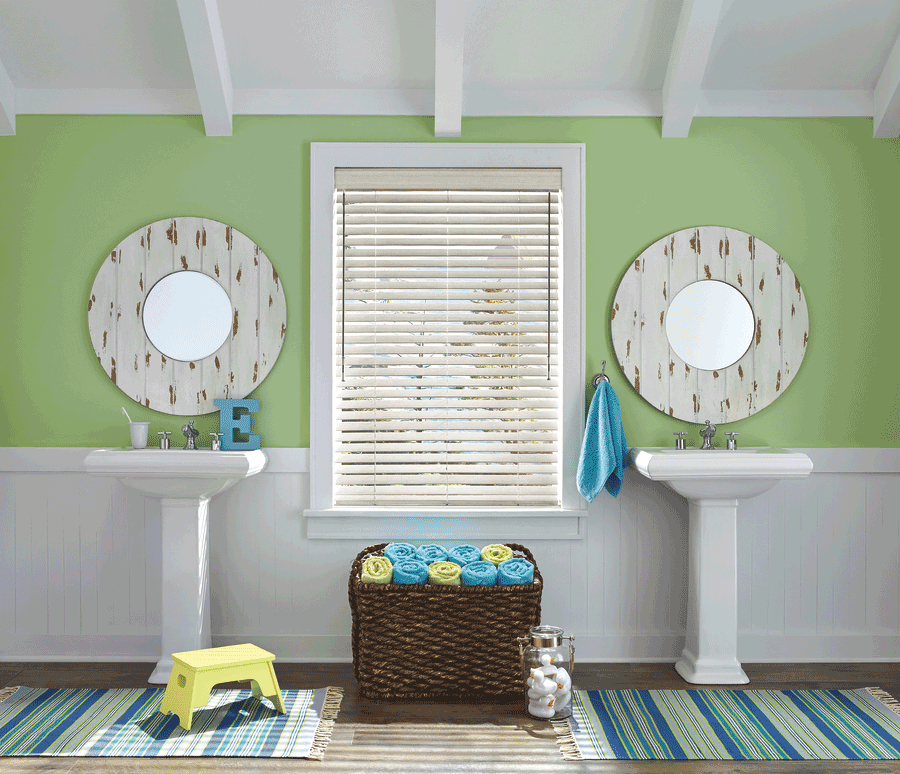 One thing we look for in bathroom window treatments is simple adjustments. Being able to quickly and easily adjust shades makes them ideal for a guest bathroom, a child's bathroom and powder rooms alike.
Add In Those Bathroom Features You Desire
Which of these bathroom features stands out to you the most? Ensuring that your space will have privacy while still keeping the natural light is important, and our team here at At Home Blinds understands that completely! Contact us today for your FREE consultation.