When evaluating your home for comfort, it's important to consider balanced light. Which direction are the windows in your home facing? East/West? North/South? We know the sun rises in the East and sets in the West–that's simple. But, how about other directions or a room with a combination of light sources? How can you manage the light exposure in your home to create the perfect atmosphere? Let's find out.
East = Morning Light
Good morning, sunshine! Literally. We can always rely on Mother Nature to bring the morning's first light from the East. But, sometimes she brings way too much! Especially if your bedroom windows face East. A blackout shade or room darkening solution will keep you comfortable until your alarm sounds off.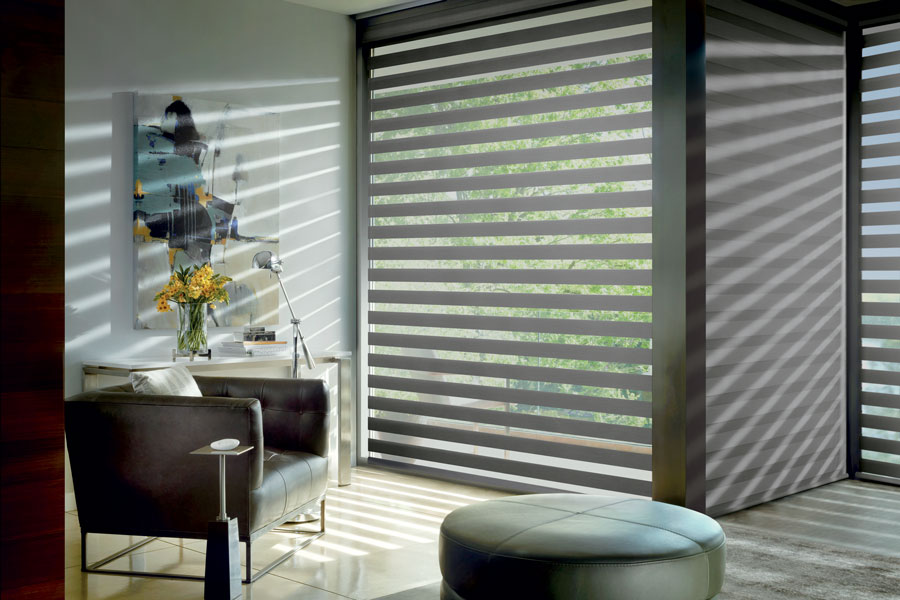 But, you may have East facing windows in other rooms of the home as well. To achieve balanced light, light filtering shades are a great choice. These shades allow you to soften the entering light, customizing the feel of the space, making it naturally well-lit and comfortable.
West = Hot Days, Bright Evenings
It's not the early wake up call we worry about with West facing windows. It's the intense sun that finds us in the afternoon. With hot temps in our area, windows act as magnifying glasses, adding even more heat to our homes. Window treatments offer balanced light and will prevent the sun from blinding you at the kitchen sink!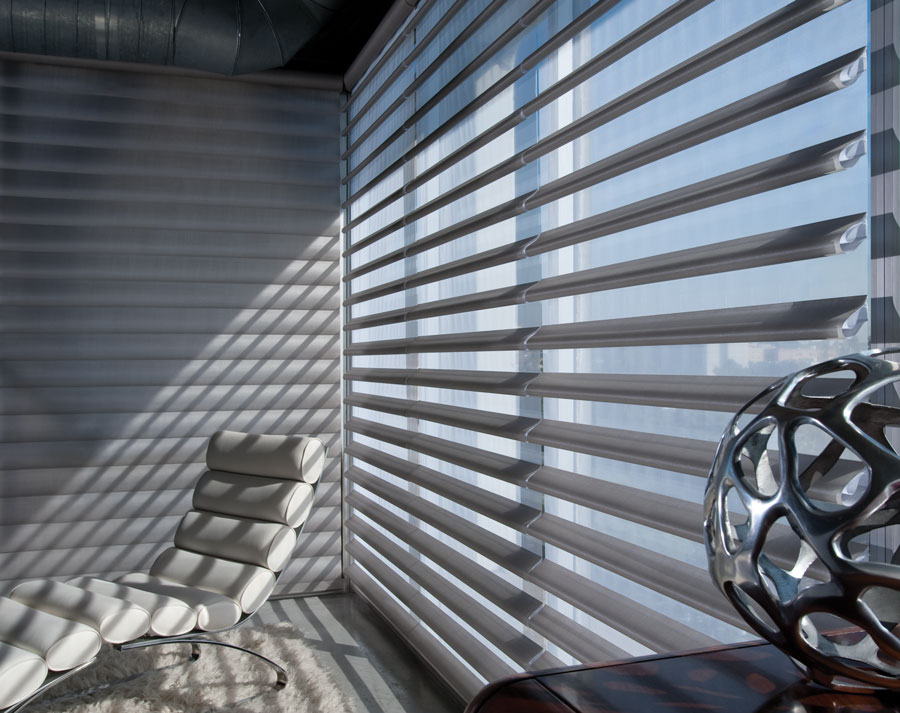 Having the option of customized window settings for your West facing windows makes life a bit easier. By adding smart shades to windows, clients have found themselves comfortable all day. The shades can be adjusted according to your timeline and provide balanced light throughout the day without even a thought. Program your shades to open in the morning, for indirect sunlight, closing in time to protect your interiors from intense afternoon rays. 
South = All Day Long
Undesirable light can be caused by South facing windows as well. Unlike the sun from the West, windows that face South struggle with sunshine all day long. While we appreciate the sunshine at times, the warmth can be oppressive if it isn't controlled. Because the sun moves across the sky, we get no relief. Windows need solutions to provide balanced light under these conditions.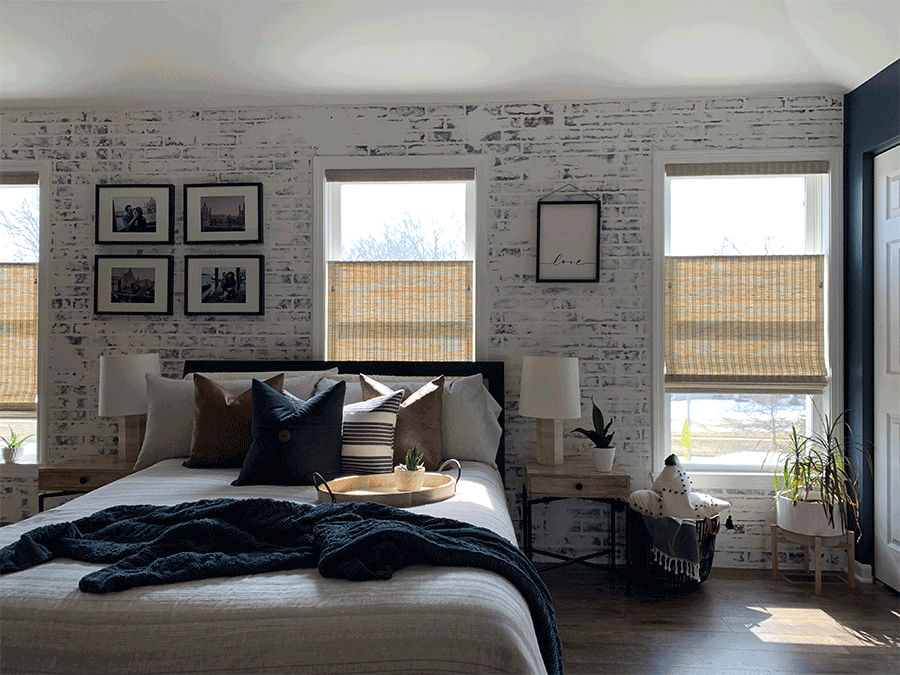 Strong sunlight can be exhausting, think about a day at the beach! The heat and intensity of the sunshine can wipe you out! At home, we can remedy this situation by using custom adjustments with a popular feature. Our top down bottom up blinds allow for light to spread across the ceiling but prevent the heat and direct rays from causing discomfort.   
North = Glare, Glare & More Glare
The idea of North facing windows is that you'll also have access to all day light. But, unlike South facing windows, the direct rays are probably less. However, if these windows annoy you, you have good reason. North facing windows bring constant, blinding glare. The continual light can carry with it harsh UV rays which fade your flooring, as well.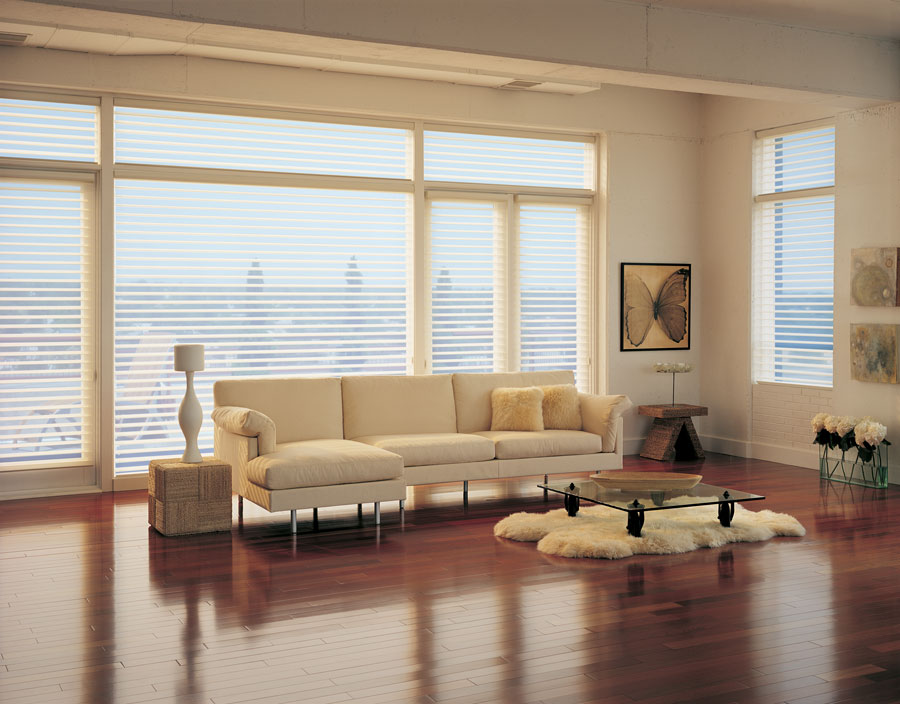 In order to control the power of the North facing window, we need balanced light solutions. Window shades with a sheer option will work best in this scenario. They can transform light from harsh to glowing instantly. As an added benefit, the softened light will protect your home from UV rays. 
Combination Windows…
There's a good chance you have a room, or rooms, with windows that face more than one direction. After all, living in Florida means beautiful landscapes to enjoy. Combination windows need custom solutions, with special attention to detail.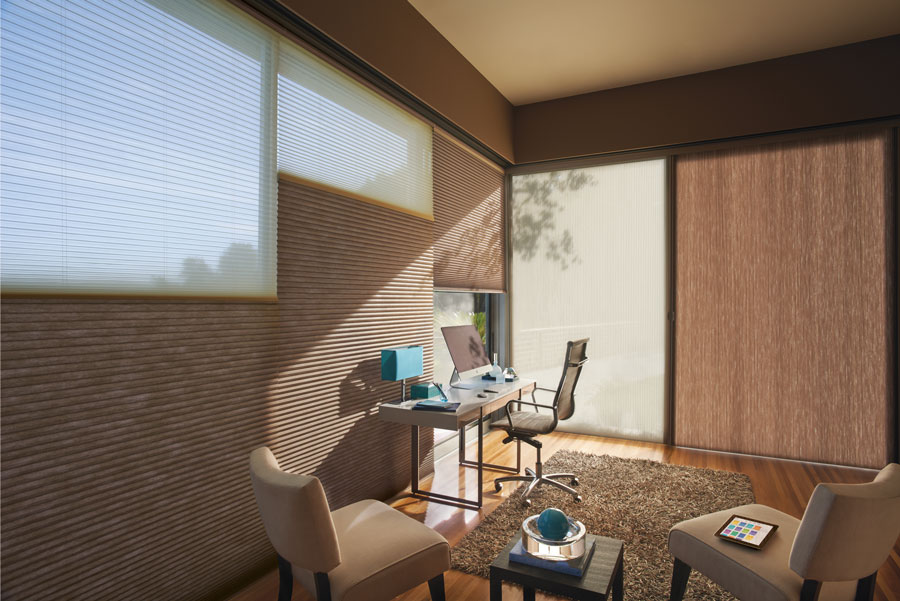 When light is entering from two different directions across the course of a day, dual shades can be your saving grace. Balanced light can be achieved with a range of light control, from soft filtered light to room darkening, and your shades can be adjusted differently to provide the light you desire. Take a look above, while some windows have the shade down to filter the light, other windows utilize the secondary blackout shade. Complete control anytime of day. 
Balanced Light Is the Answer!
Thinking about window direction is important when creating a comfortable atmosphere at home. Understanding how directional light can affect the experience in your space is key. Let our experts evaluate your Fort Myers home to determine where you need the benefits of balanced light most. Contact us for a FREE Consultation.