First impressions are so important. Your home is no different. As the holidays approach, if you're thinking of having guests visit, consider enhancing the entry of your home. It sets the tone, and it's bound to create a welcoming atmosphere. Need ideas? Both inside & out, this entryway inspiration is bound to get you thinking about how to create the right scene in your home…
A Seasonal Welcome
When styling the entryway, don't hesitate to start at the front door. The key is to use neutral planters as the foundation, allowing you to showcase florals and greenery, while bringing in seasonal accents. In Florida, of course we don't get much chance to experience the seasons, so setting a scene with seasonal accents is a great way to bring "change" to your home.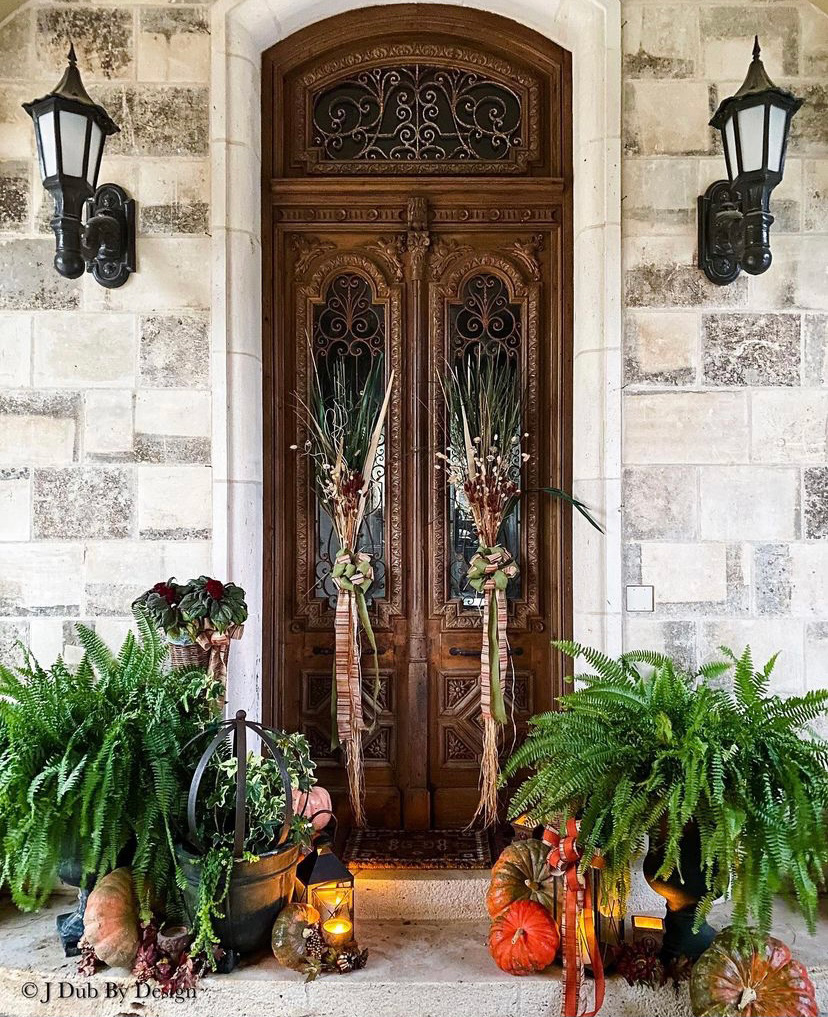 We love how Jennifer of @jdubbydesign on Instagram styled this entryway. The lively green of the ferns and ivy give nod to our beautiful landscape, while the touches of fall–in ribbons, pumpkins & lanterns–offer a cozy vibe just in time for holiday celebrations.
Clean & Contemporary Style
There's a reason that entryway inspiration often includes a narrow, well-styled table. It's the perfect design element to add texture, color & dimension without taking up a lot of space.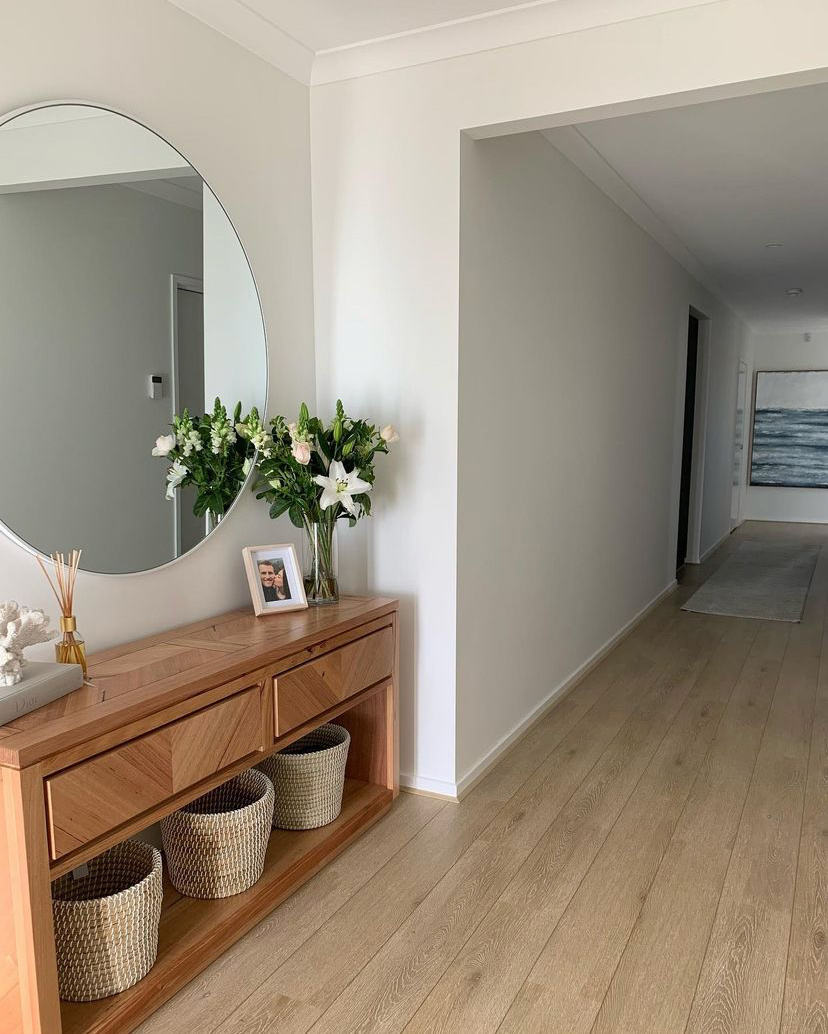 This mid-century modern table, from @shorelineway on Instagram, brings design into this space. The round mirror is an ideal focal point–the width just short of the table itself. Three woven baskets add style and function to keep your home tidy. An element of greenery, like the fresh florals seen here will breathe life into your home. We love the clean, minimal style with intentional pieces.
Wide Open Spaces
Welcoming your guests into an open floor plan home can seem ideal. But, it can also feel overwhelming to style open spaces. Our best tip? Don't overdo the design. Keep it simple by adding seating in one area and an entry table to style in another spot.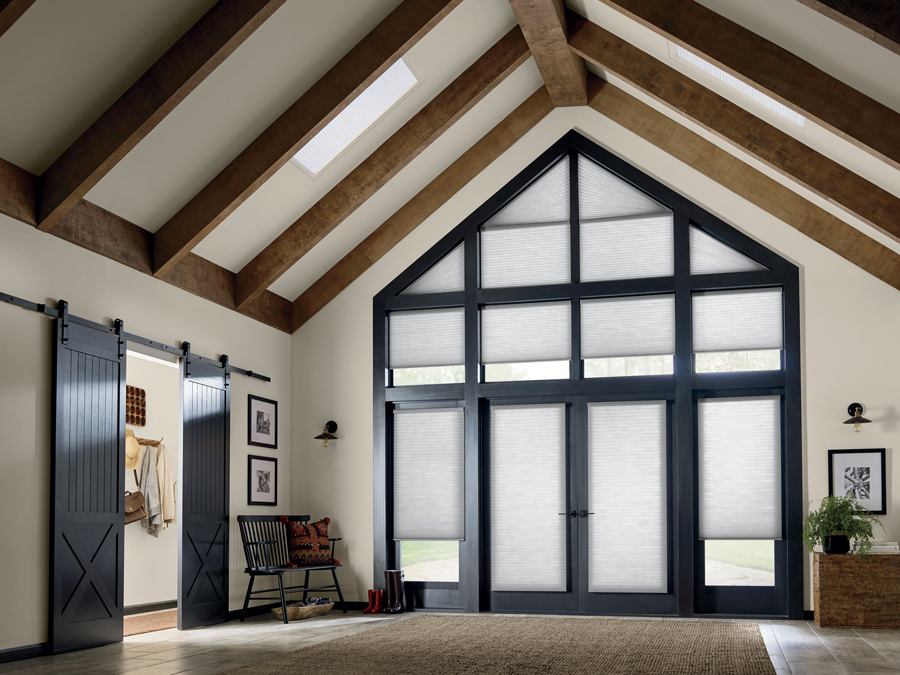 For those large foyers, the right lighting can be key to creating a comfortable atmosphere. Automated window treatments will be life-changing as they adjust to meet the changing sunlight across the day.
Window Covering Style
Beyond decorative accents, the functional aspects of your entry are incredibly important. With the right window treatments, you can create the ideal balance of:
Adjustable Light

Privacy & Security

Energy Efficiency 

Custom Style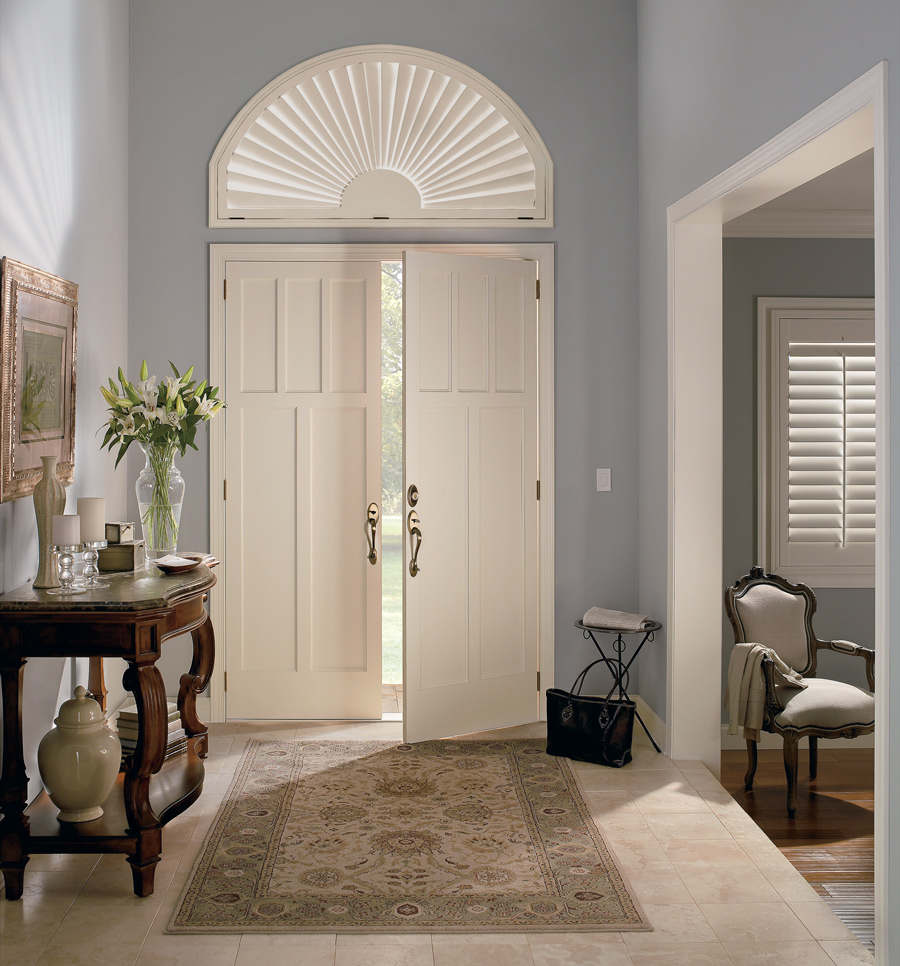 And, don't forget, with custom window coverings, you're taking care of the exterior as well as the interior. The right window treatments offer a uniform appearance, for a clean, well-designed home.
Need Entryway Inspiration?
If you're looking for more entryway inspiration, we can help! The windows and doors of your home can be tricky to style with the right solutions. We can guide you with advice and photos to help you decide which look is right for you and your home. Get in touch with the At Home Blinds & Decor team for your FREE consultation.