Out of all of the window treatments we offer, the Pirouette collection is a long-time favorite. They have the "wow" factor, superb level of functionality, and endless style. These shades offer view-through and natural light control all-in-one. We're here to showcase this beautiful shade, with the latest enhancements and sought-after characteristics. 
Soft or Crisp? You Choose Your View.
The newest update on the Pirouette collection allows you to choose between an ultra crisp view or more of a soft, filtered look. Clearview® features a sheer black fabric which allows for the more defined view.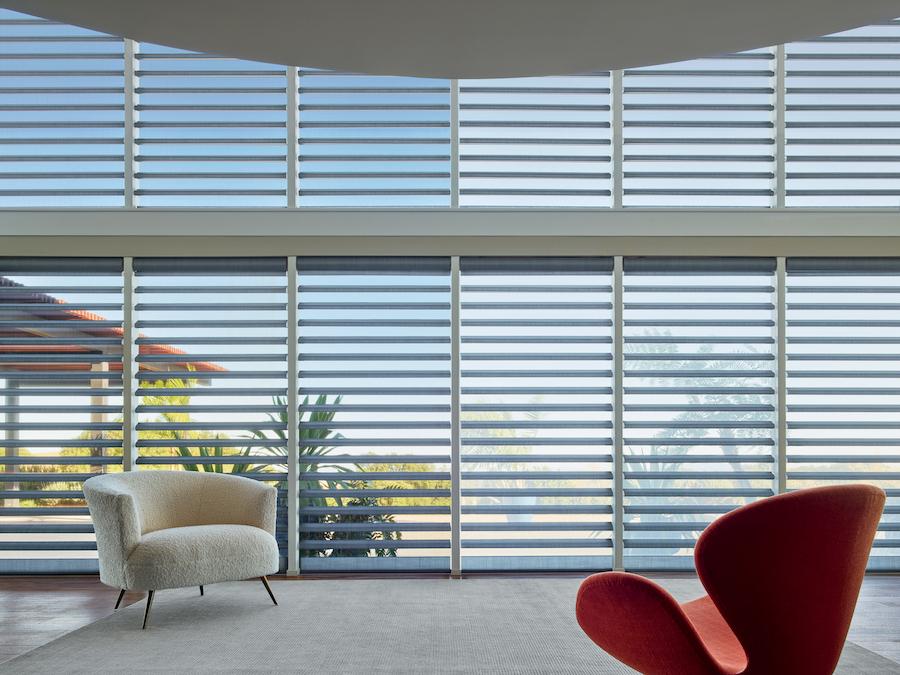 Here is a side-by-side of both fabric options. The left side is Clearview® and the right side is showing the original sheer fabric. Both options leave you with a great amount of natural light and a stunning view, the choice solely up to your preference! 
Coordinate the Window Treatments Throughout Your Space
One of the most common difficulties our clients struggle with when choosing new shades is how to get them to coordinate throughout an open floor plan. Not to worry–our designers have thought all of this through! No matter the function of your windows and doors–or the style of your rooms–you're sure to find shades that will be cohesive and functional.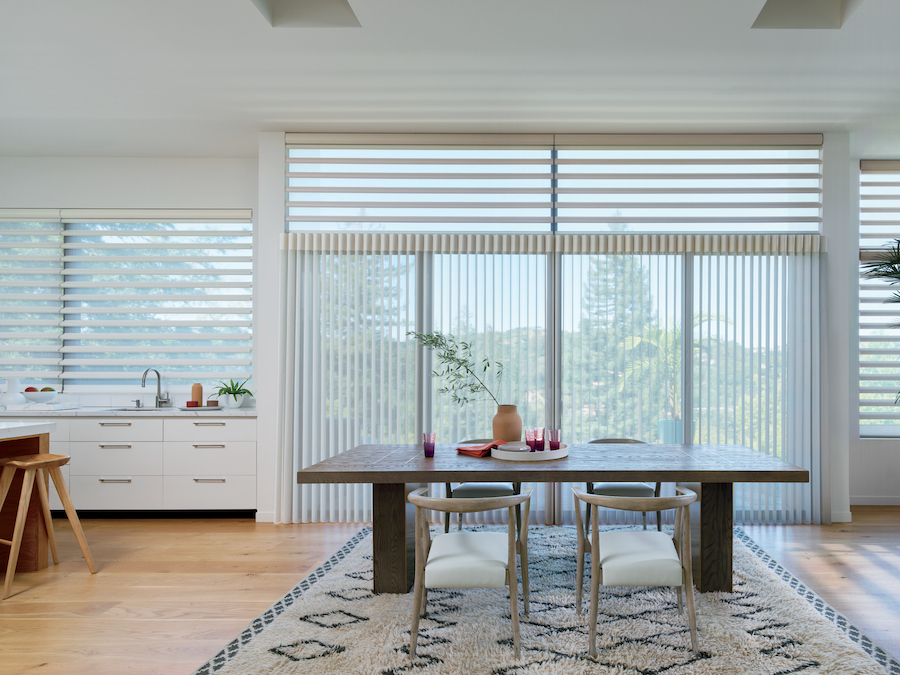 Our product collections flow and coordinate whether you're looking for horizontal or vertical shades, or probably both in the case of an open floor plan! Another added benefit is the UV protection. The sheer portion of the shades will block 81% and the vanes will block 99% when they are closed. 
The Pirouette: A Large Window's Best Friend
Large windows are such a focal point in any space, but they are sometimes the trickiest to outfit with shades. The Pirouette shade is often chosen for large windows because of their size, functionality, and overall look. These shades make it easy to adjust the natural lighting of a room, which is a huge benefit in a room that has so much sunlight pouring in.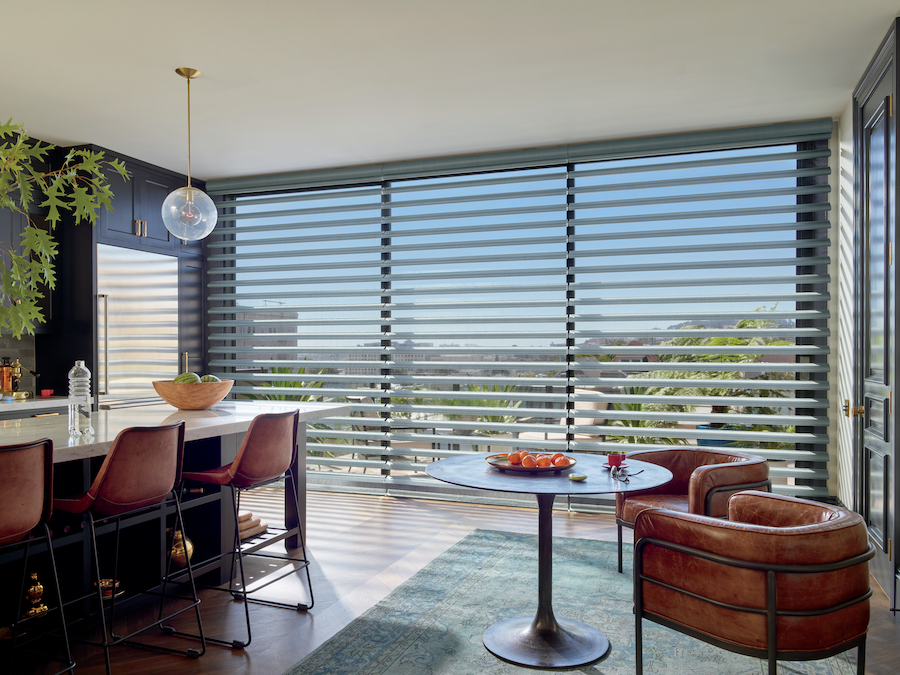 The largest Pirouette shade we offer is 144 inches by 144 inches, meaning you can effortlessly cover up floor to ceiling windows. If you need even more width, these window treatments mesh so well from set to set that they create an almost seamless look. Just take a peek at this wall of windows, you can hardly tell they're separate shades! 
Easy to Control 
Our most popular operating system is automation. We get it! Anything you can do to streamline your home and make tasks a bit simpler is something we can get on board with. All it takes is a simple tap of a button on your remote or smartphone. There is also the motorized option of SoftTouch™ which gives you the ability to simply open or close your shades with a wand.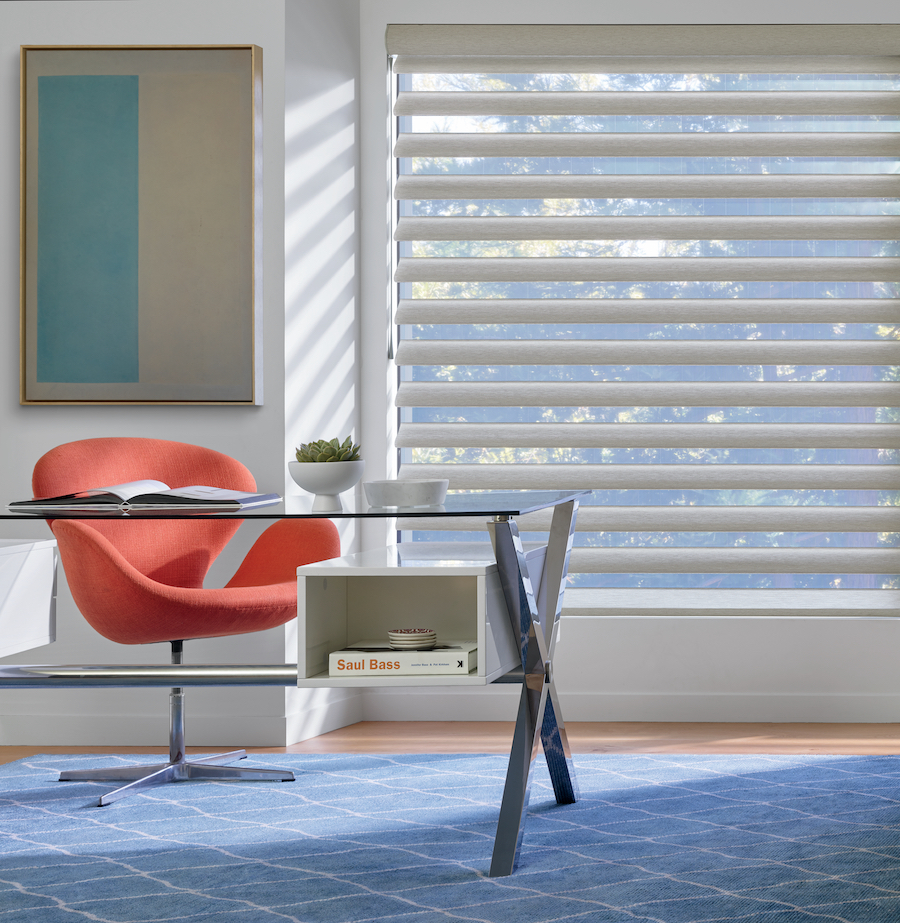 We also offer child safe cord systems as well. There are two options for the Pirouette. Ultraglide uses a short cord that retracts. And, EasyRise features a continuous cord loop that is secured into the window frame.
Can you tell how much we love these shades? We know you will, too! Our team here at At Home Blinds & Decor is here to provide you with more info and help you throughout the process, all the way through installation. Contact our team today for your FREE design consultation to see how these shades will transform your home.