Designer style, smart features, and everyday solutions…do your rooms have this trio? If not, your home may need a room transformation. It's easy to find furniture and decor that you love, but the design of your space isn't always enough. The key to creating a great atmosphere in your home is light control. Think about all of the rooms in your home. Do you have control over the light everywhere? If not, you know how frustrating it can be. Take a look at this before and after room transformation to see what a difference it can make when you gain light control.
Before: Beautiful Design, But One Issue…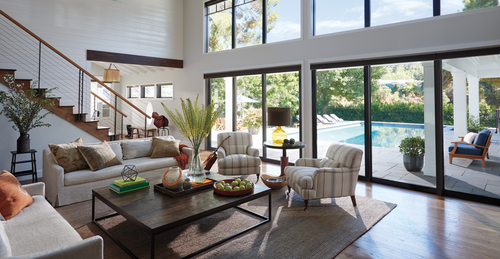 How amazing is this room? The decor is gorgeous. The layout is perfect. The pops of color revitalize this space. Oh, and that view… who wouldn't want to see that everyday? So, why does this need a room transformation? There's no light control. Take a look at the windows…they're completely bare! Here are the problems caused by bare windows…
The Problems of Bare Windows
1. Harsh UV Rays: Natural light is great, but too much can damage furniture and decor.
2. Unbearably Hot: Without protection from the sun, the windows let in the heat. How uncomfortable!
3. Glare, Glare…And More Glare: Forget about watching a movie or working on a computer. Plus, you'd have to squint to see anything.
4. No Privacy: You can see everything outside, which means people outside can see everything inside the home, leaving little to no privacy.
After: Beautiful Design, No More Issues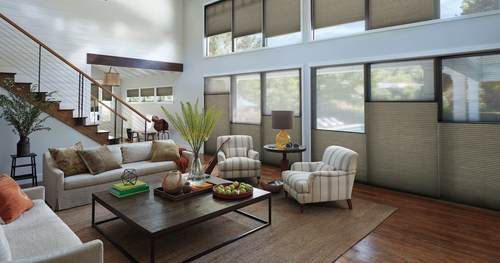 It's easy to spot what was changed in this room transformation…the windows. No longer bare, these homeowners now have complete control over their environment. They chose dual functioning shades, called Duette Duolite. The incredible light control offered by these shades made them the perfect solution for this room transformation. This is how…
The Benefits of Covered Windows
1. Protection from the Sun: Those harsh UV rays are now blocked, protecting the beautiful furniture and decor.
2. Gorgeous Light: The sunlight is no longer flooding this room; it's illuminating this space with soft, filtered light…say "goodbye" to glare!
3. Temperature Control: Because the sun is blocked, so is the heat, leaving this room feeling comfortable.
4. Privacy: With the right shades, you can hide your interior from the outside world for privacy and security.
Need a Room Transformation?
How much time do you spend in your home? Your home should be a place of relaxation and comfort. Do you need a room transformation? Gain control over your environment; add privacy, gorgeous style, temperature control, and so much more. Do you know which shades you'd like for your room transformation? Are you still wondering about your options? Let us help. Contact our team at At Home Blinds today. Come visit one of our galleries in Naples or Fort Myers, or invite us over for a free, in-home consultation.