Struggling with how to solve common issues of bathroom windows? You're not alone. Finding the right bathroom window treatments can make it seem like you'll have to give something up. Great privacy might make you feel like you're in a cave. Enough natural light probably leaves you nervous about too much view in. And, the last thing you want to do is feel closed off from the world. How about humidity? Florida is humid enough–do you need bathroom window treatments to save you from worry about what the additional bathroom humidity will do? Never fear. We have some fabulous choices for you that will solve these common problems without making you sacrifice.
I want privacy, but light is important, too.
Privacy is important for you to feel comfortable in your bathrooms. But the daily activities of the bathroom mean you need natural light for shaving, getting dressed or applying makeup. And, no one wants to feel like they're starting their day, or ending it, in a cave.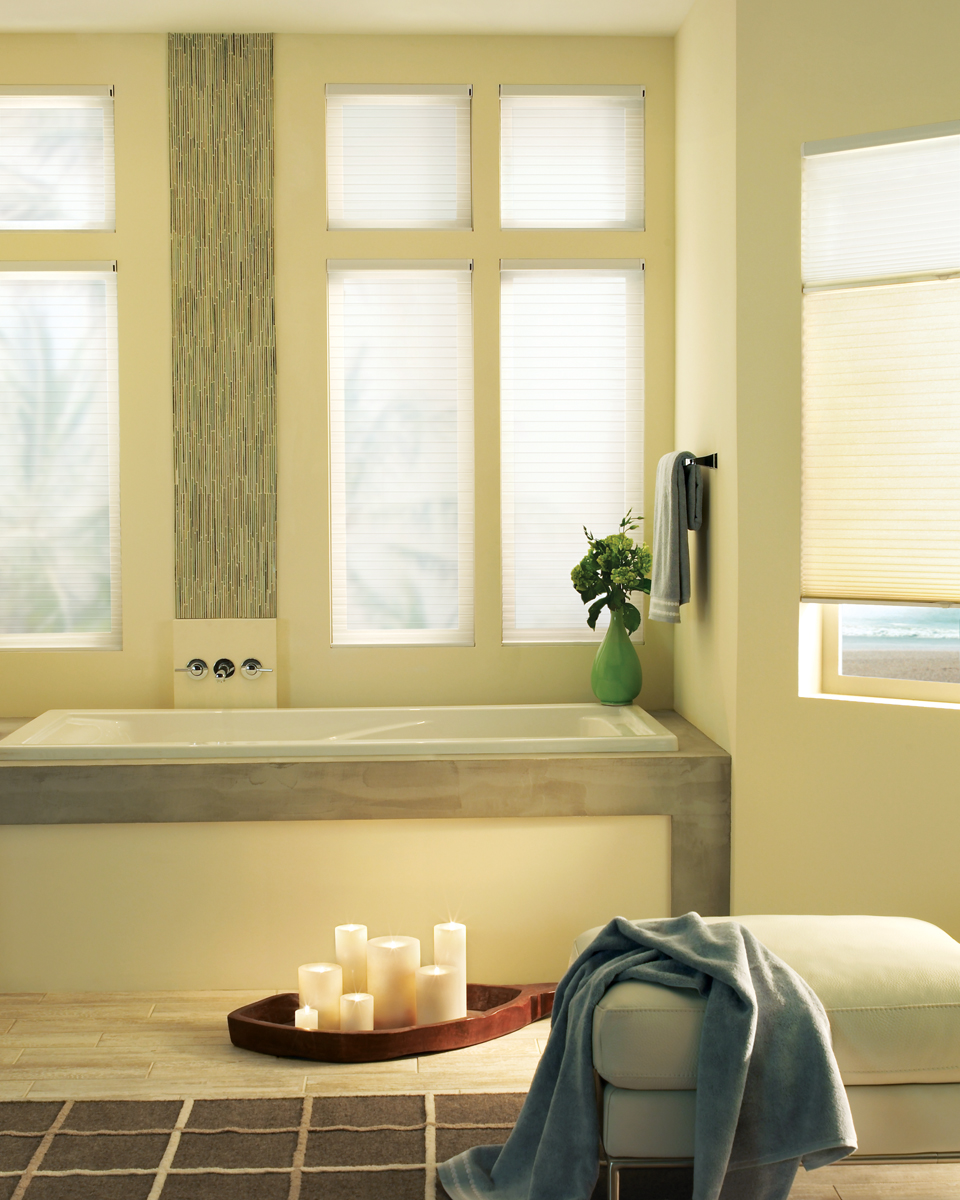 For bathroom window treatments, light-filtering honeycomb shades, like our Applause shades, let you have it all. Complete privacy with gentle natural light brightening the space. Available in top down bottom up, and Duolite, you can customize these shades to suit your levels of comfort while bringing in just the right amount of natural light. And, with Applause shades, innovative fabrics offer mildew resistance if you're worried about humidity. It's a win, win, win for these bathroom window treatments.
I love my view out, but I can't have bare windows.
If your view looks out over a gorgeous landscape, you won't want to cover it up. But shielding the view back into your home is important. Bathroom window treatments in sheer fabrics can offer levels of privacy without cutting off the view.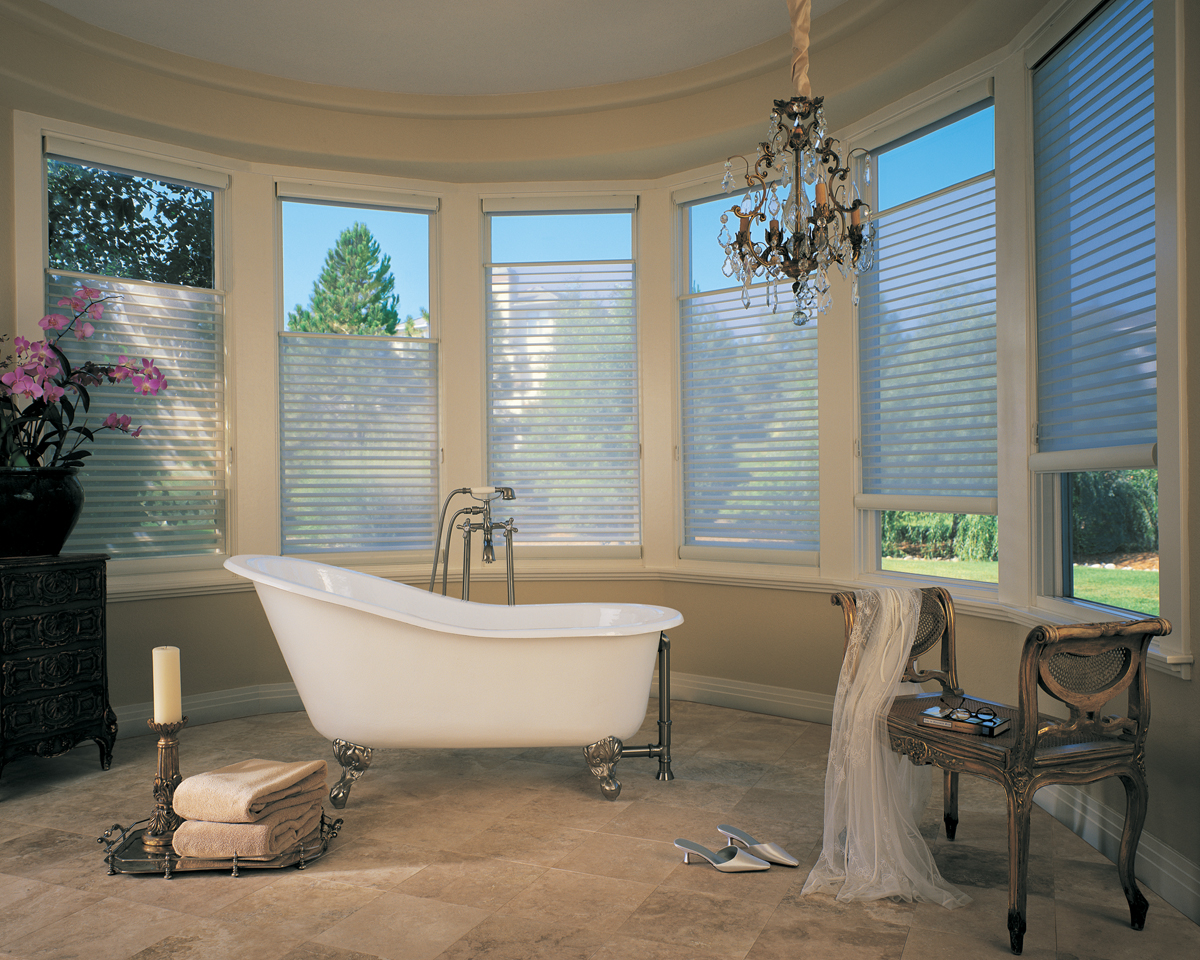 The wonderful thing about sheer shades is how they reflect direct sunlight to prevent your bathroom from heating up. At the same time, those sheer fabrics invite in diffused light for the right balance of natural light. The invisible vanes of sheer shades can tilt to give you the custom experience you want. Is getting access to your windows a problem? Motorized shades can easily solve that. From the palm of your hand, you can control the adjustments of your bathroom window treatments to meet your needs.
I want light, privacy, and view, but it's too humid.
One of the best bathroom window treatments for humidity, beautiful views and directional light control is plantation shutters. The designer style is timeless, and the clean lines offer the perfect look for the bathroom.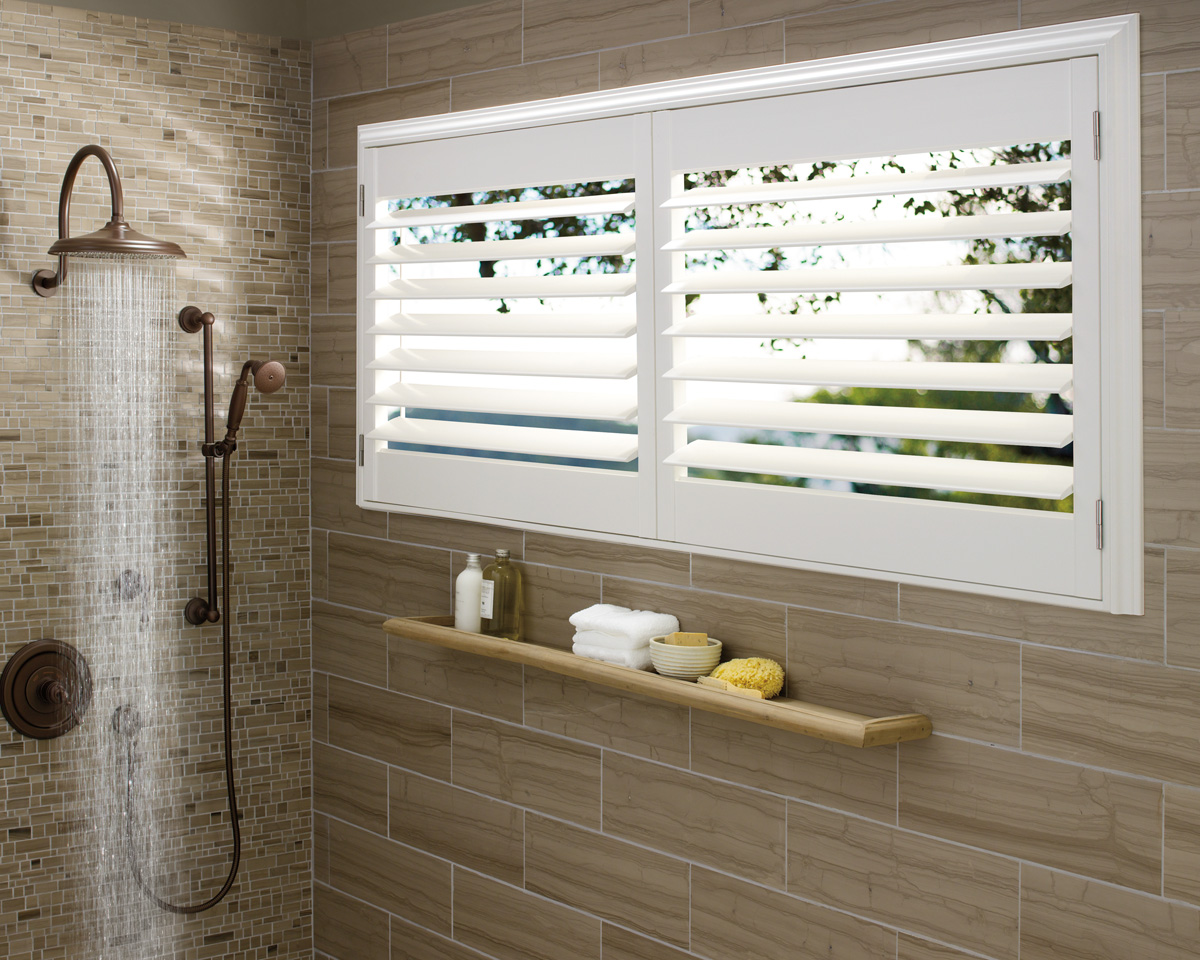 The slats adjust for the right amount of view through and natural light, while maintaining privacy. And the humidity? With Hunter Douglas shutters, you can't go wrong. Palm Beach Polysatin shutters were created with humidity in mind, and they are guaranteed to last through humidity and heat.
Ready for Bathroom Window Treatments?
You shouldn't feel like you have to sacrifice anything to gain the solutions you deserve. You can have it all. The perfect balance of privacy, light control, beautiful views and protection against humidity can be yours with the right bathroom window treatments. Our team can help! With expert advice, we can provide you with the best options to give you everything you need. We'll even come to you for a free, in-home consultation. Contact At Home Blinds & Decor today!