First impressions are deeply affecting. When it comes to your home, the first impression is made at the doorway. Does your entryway give off a stylish, sophisticated feel? Does it hold the kind of atmosphere you want to set the tone of your home with? Door shades, blinds, and shutters help to achieve the perfect entryway setting for your visitors and guests, but they also enhance everyday life inside your home. Offering light control, privacy, energy efficiency, and designer styling, door shades and other window solutions are just what you need to manage common door problems and create a gorgeous space for you, and everyone who comes into your home, to enjoy.
Step Into Comfort
When you come home after a long day at work, relaxing is probably at the forefront of your mind. When guests stop over, it's likely that you'll sit back and chat awhile. Stepping through your door, are you and your visitors greeted with a comfortable and soothing atmosphere? Or, are you inundated with discomforts? Too much light (or not enough), lots of heat, glare that gives you an instant headache…the list goes on.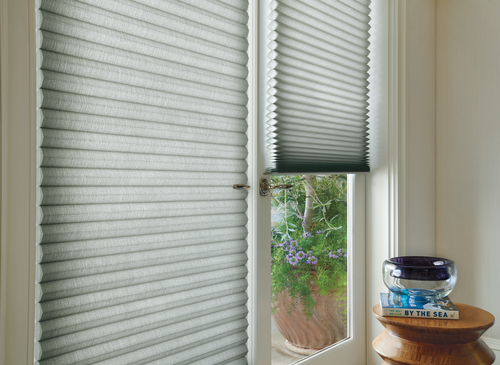 Entryways are known for their issues, but the right window and door shades make all the difference. They can pull light into dark spaces or diffuse overwhelming sunshine. They can insulate at the window to keep your entryway from getting too hot and offer the kind of privacy you deserve. Each time you enter your home, you should step into comfort, and so should your guests. Customized shades that take care of your specific entryway issues will make that possible.
Walk Into Beauty
Comfort is a top priority in your home, but what about style? When you invite guests over, you want them to walk into a beautiful scene and experience an elegant ambiance that takes their breath away. Not only that, but you should love the look of your home as you leave and return day in and day out. The textured fabrics, stylish colors, and stunning patterns of door shades are design elements that'll bring exquisite beauty and style to your entryway.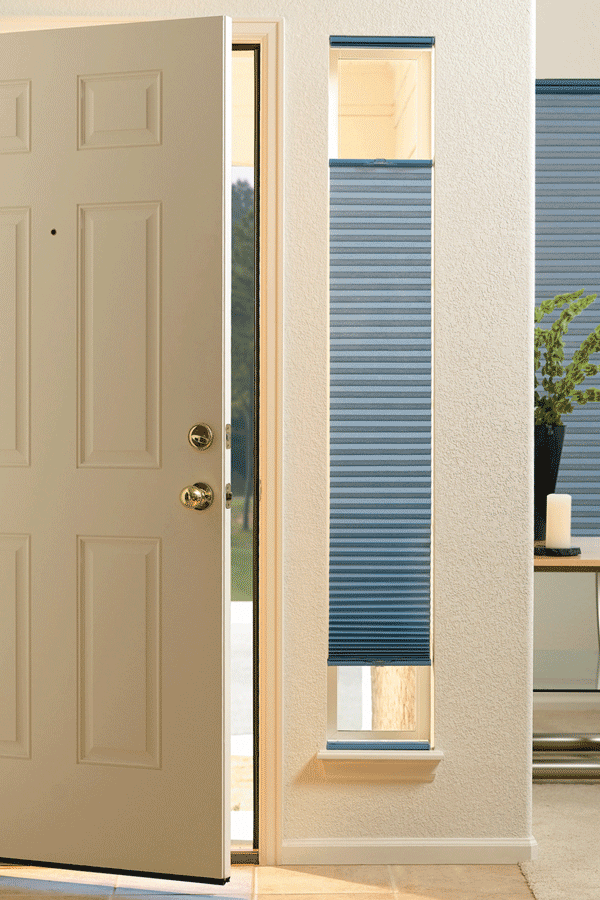 Foyers are often a mix of windows and doors, so our window coverings for doors are available in coordinating fabrics to make creating a consistent, designer look easy. Let beauty surround you with customized window and door shades for your entryway.
Put Control in the Palm of Your Hand
Hard-to-reach windows and beautiful skylights are staples of many entryways. Most likely, you need light and energy-efficiency solutions for them just like you do for your doors. But, how are you supposed to get at those windows high up in your foyer? With PowerView® Automation…that's how!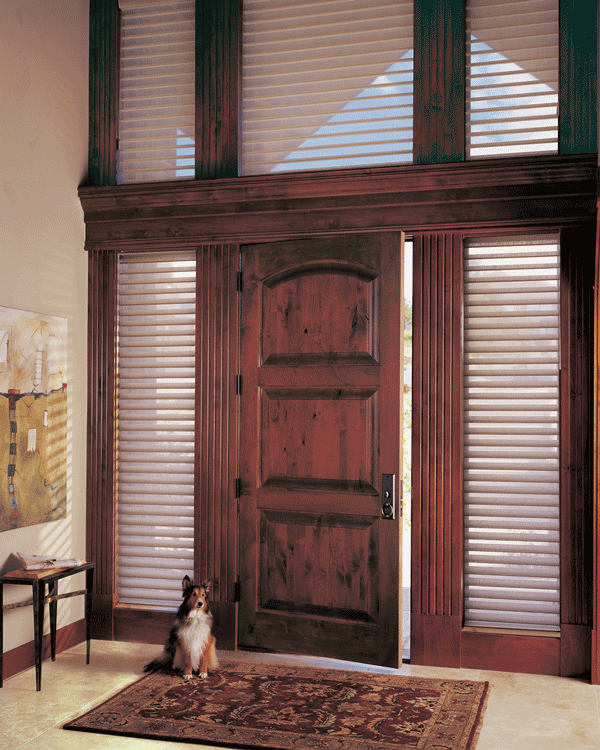 PowerView puts control of your door shades, out-of-reach window blinds, and skylight shades in the palm of your hand. Adjustments are a breeze with one tap from your favorite device or your stylish remote. They get even easier when you schedule them to happen automatically! Set, save, and program your shades to create the perfect atmosphere of light, privacy, and comfort all throughout the day. PowerView® Automation gives you the benefits of the solutions you need with convenience that'll transform your lifestyle.
Customize Window and Door Shades For Your Home
Your entryway is unique. Customizing window and door shades is the key to getting the look you want and the functional solutions you need. Comfort, beauty, and convenience will take center stage in your entryway with the right window coverings. Our team can help you make a gorgeous statement at your doorway. Have specialty shapes or need a mix of vertical and horizontal orientation? No problem! We'll work with you to customize window and door shades, blinds, and shutters to fit and function perfectly. Let us come to your home with ideas, inspiration, and a listening ear. Contact At Home Blinds & Decor for your free, in-home consultation to get started today.