There is no better time than now to revamp your home. Bringing in natural light is one of the best ways to refresh your space. Do you have the best shades possible for bringing in ample light? There are so many benefits to having the right shades in every room: light control, privacy, UV protection–not to mention the refreshment of sunshine streaming through your windows. Finding the best shades will allow you to create the environment you want, depending on your lifestyle and function of each room. You pick the design, function, and ease of use. Do you like new technology? Home automation controls your motorized blinds and shades at the touch of a button. If you're ready to rejuvenate your environment, we're ready to get you started. Take a look at our ideas for finding the best shades for your home.
Your Bedroom Oasis Awaits
When it comes to finding the best shades for your rooms, consider the ways in which you use each space. Your bedroom is your place for getting a good night's sleep. You want it to be private and comfortable. The temperature should be just the way you like it. With the best shades, you'll be able to control all of these important aspects.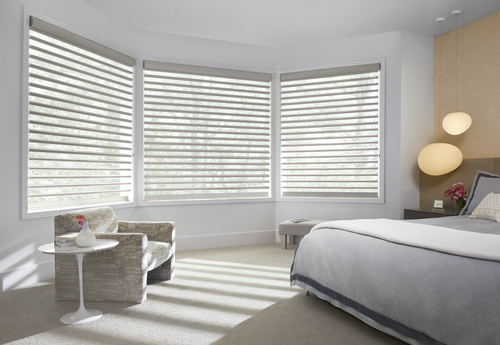 Do you live on a busy road? Say goodbye to annoying car lights entering your room in the middle of the night. Are there houses nearby, giving your neighbors a view in? Not anymore! With the best shades for your bedroom, you'll block incoming light, adjust the privacy to your liking, and control the temperatures, giving you the sleep you deserve. Are you looking for the best shades for your child's room? You'll find comfort in knowing your child's room is fully equipped with the safety innovations of cordless shades. Depending on your personal style, you can match your window treatments to your decor, adding beauty and function all at once.
Control Your Space: Bathroom Essentials
Along with your bedroom, your bathroom is another room that requires privacy and comfort. When looking for the best shades for your bathroom, consider natural lighting and easy adjustment. Do you want the morning sun to stream through your window as you get ready in the morning? You still need to feel comfortable, which is why finding the right shades for each room is important.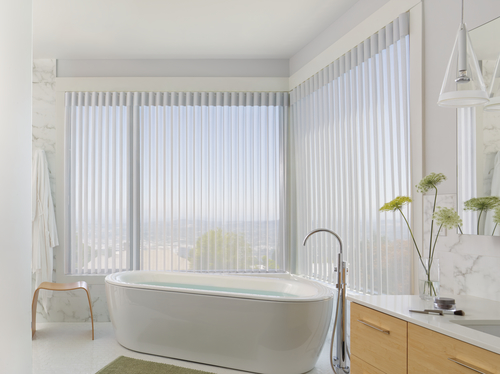 Window coverings are not "one size fits all." In order to avoid creating a cave-like environment, your other bathrooms might require different levels of lighting, meaning the best shades for your master bath aren't the right choice for your guest bathroom. We're here to help you find the right window treatments for every room, giving your home the balance it needs.
A Successful Environment: Home Office
The best shades for your home office will create a well-lit environment, allowing you to be productive. Natural light can be revitalizing, which is what you need when working! Unfortunately, without the right light control, annoying glare from the entering light will cause frustration and squinting. Sometimes you need a break from working so hard. How is the view from your home office? You deserve to take a minute to soak in the sunshine and beautiful view.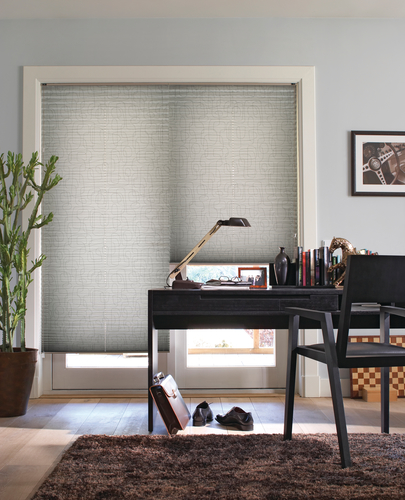 With the right window treatments, you can enjoy all the benefits of your view and natural light. The best shades for your office will take away that annoying glare, give you the exact amount of light you're looking for, and allow you to take a second to enjoy the view–not to mention the added style, making your home office a beautiful, successful space.
Gather in Comfort: The Living Room
One of the most functional rooms in many homes is the living room. What do you use your family room for? Starting your day with a cup of coffee and the news? Folding laundry? Watching your little one play with toys on the carpet? Relaxing after a hard day at work? Whatever it may be, the best shades will create the environment you want at any time of the day.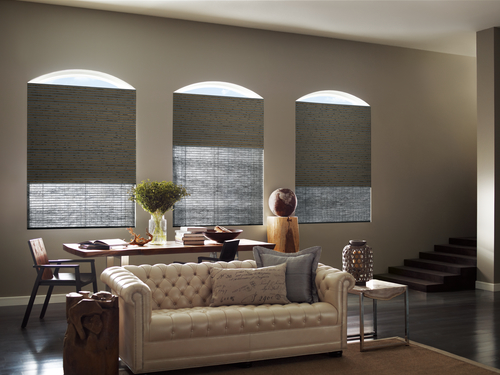 You'll want the right lighting for your morning routine, as well as an easy way to adjust the light when you want to relax. You can control the temperature while protecting your furniture from the harsh UV rays. The best shades for your living room will also add a touch of style. Do you want to add convenience? Motorized blinds will adjust at the touch of a button. You can create a personalized schedule, and your shades will automatically adjust. Function and beauty: What more do you need?
Find the Best Shades for Your Home
Like we said, there is no "one size fits all" window treatment. Your lifestyle is unique. Finding the best shades for your home will revamp your environment, giving you control of light and privacy. The added style of beautiful window shades will revitalize your space. Are you ready to get started? At Home Blinds & Decor is ready to help. Contact our team today for a free, in-home consultation.