There's nothing quite like the classic beauty of plantation shutters. While they've been around for generations, their unmatched style, clean lines, and beautiful view-through are just a few of the reasons they remain at the forefront of interior design. Encapsulating tradition and elegance, plantation shutters are a lasting investment, and Hunter Douglas provides the high quality and warranty you deserve. You can count on the craftsmanship, durability, and enduring style of Hunter Douglas plantation shutters. Trusting in the company and product, you just have to decide which type of plantation shutters will work best for you. To help, we have answers to the questions our clients ask most as they make their decisions.
Why Are Heritance Hardwood Shutters So Popular?
Heritance Hardwood plantation shutters are the epitome of sophistication and high-end beauty. Plus they offer the most customization. A vast selection of stain and paint finishes, along with custom color matching, guarantees that they'll coordinate perfectly with your decor. You can choose from six artisanal techniques, such as distressing or glazing, to enhance the natural beauty of their genuine hardwood. With a number of different louver sizes available, you can select the one that works best for the size of your windows and doors. Heritance Hardwood plantation shutters are so popular because they add top-of-the-line style and function to your home and to your life.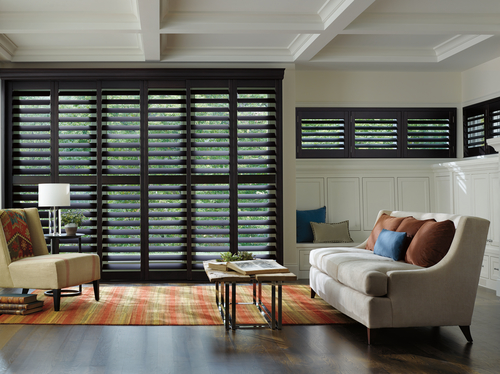 Will Shutters Work For Windows That Are Different Shapes?
Plantation shutters are ideal for windows that aren't the norm. Adding them to your specialty shaped windows creates a distinctive and alluring look. Whether you have curves, angles, or arches, plantation shutters can be customized to fit. They'll stand out as a unique and stunning feature while providing you with important function.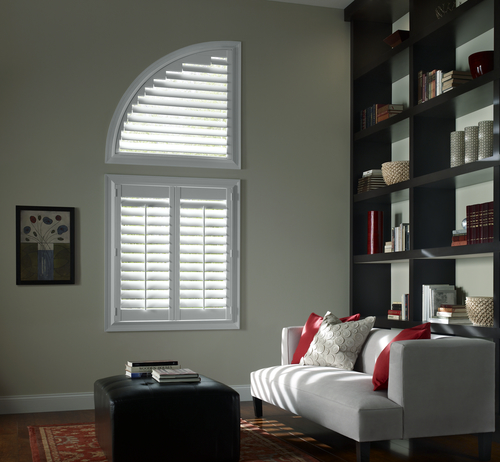 What Plantation Shutters Would Be Best In The Bathroom?
While you'd love the look of plantation shutters in your bathroom, you're probably worried about moisture wreaking havoc on them. Hunter Douglas anticipated your concern and specifically designed their Palm Beach Polysatin shutters to withstand intense damp and humid conditions, including the climate we experience here in Florida! They're even backed with a guarantee against warping, cracking, fading, chipping, peeling, and discoloring–common problems associated with window treatments in areas of high humidity. So, for a clean look with phenomenal function, we typically recommend Palm Beach plantation shutters for bathrooms.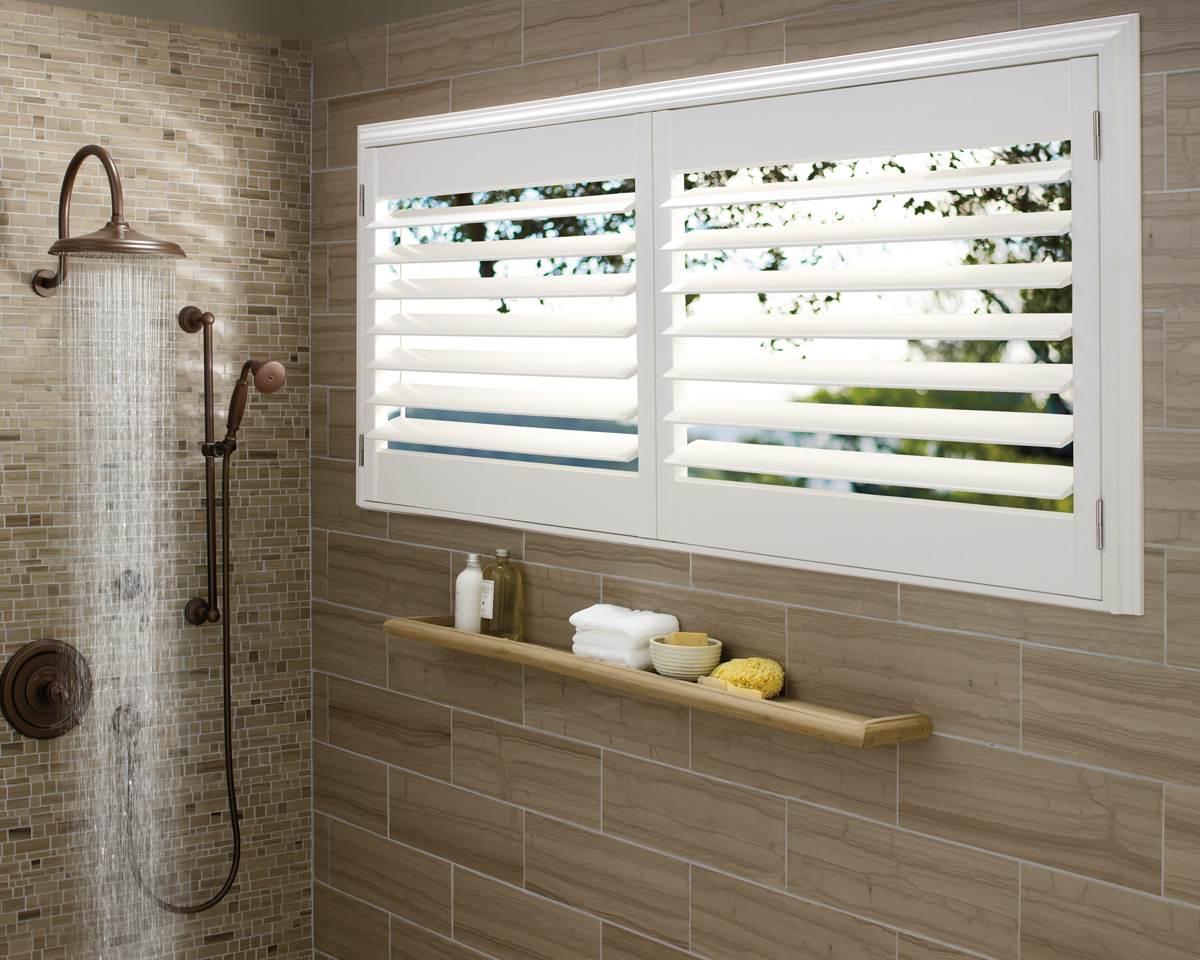 Front Tilt And Rear Tilt–What's The Difference?
Traditionally, shutters have a tilt bar that runs down the center. We call this front tilt. Many of our clients prefer it over rear tilt because it lends itself to that classic shutter look. Rear tilt, or perhaps more aptly named "hidden tilt", on the other hand, appeals to those looking for a more contemporary feel. The tilt bar is hidden behind the shutters, out of the way, so that it can't be seen. This gives you a clear view-through. Both tilt options allow you to adjust the louvers simply by moving them with your hand. If you have windows with a grid, rear tilt is a great option because it gives you a more uncomplicated view.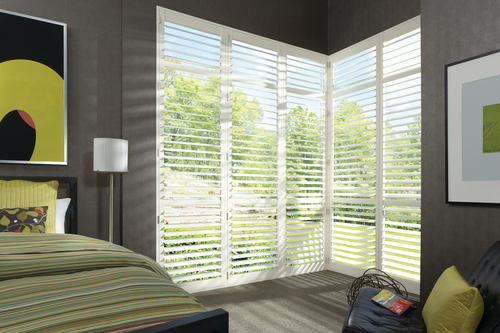 Why Are NewStyle Shutters More Affordable?
Outfitting your home with window treatments is an important investment, and we like to offer our clients a range of options. If you're looking for a quality product that's a little more budget-friendly, NewStyle Hybrid shutters are ideal. Crafted from modern-day materials to look like real wood, they boast long-lasting durability and beauty, while a streamlined selection of choices to meet your needs makes them easier on your wallet. Choose from paint and woodgrain finishes for a stunning look, and count on man-made materials for the resilience your home deserves.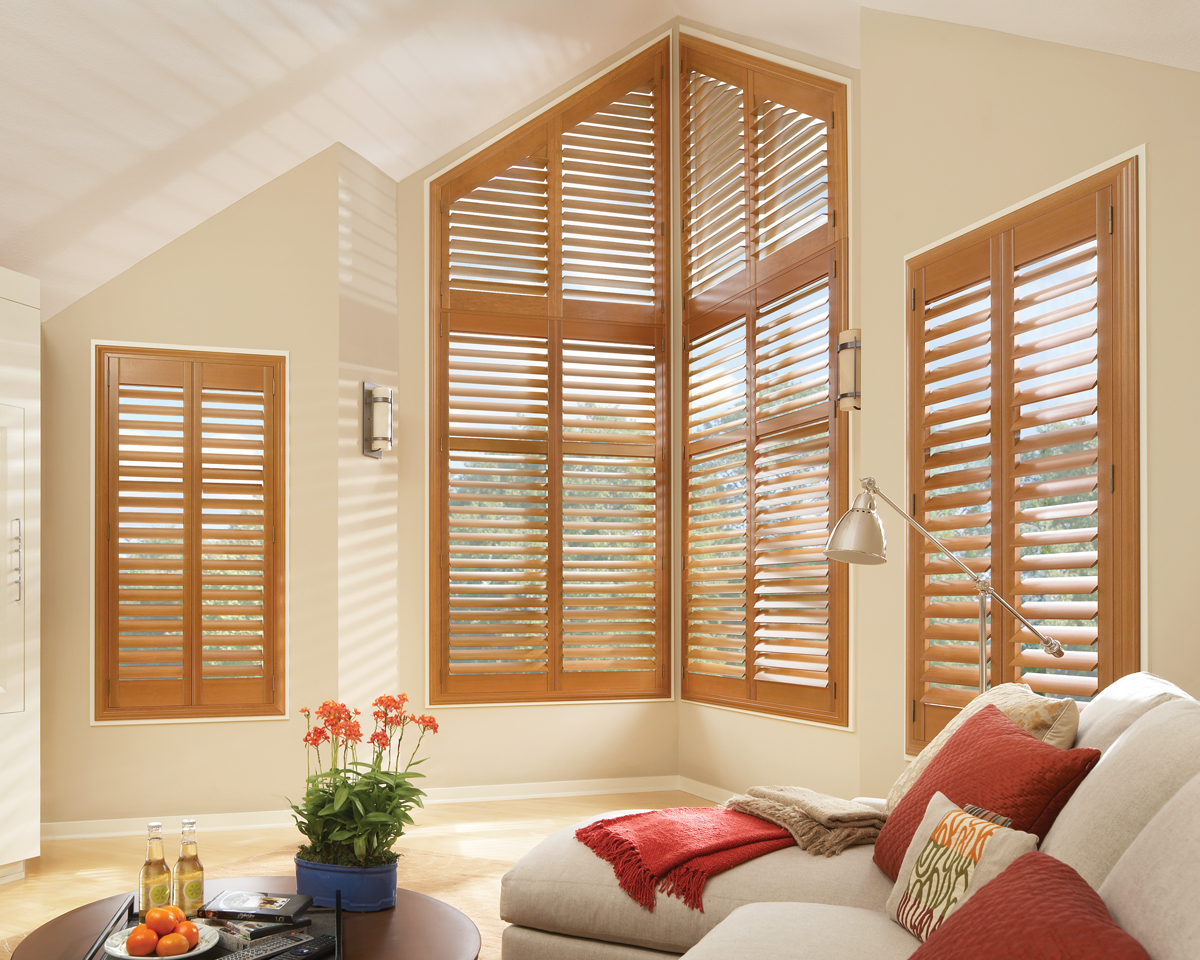 What Are My Choices For Operation?
You can choose from three operating systems for your plantation shutters: Hinged Panel, Bi-Fold Track, and Bypass Track. For a traditional look, the Hinged Panel operating system hinges the panels to a frame or window opening. The Bi-Fold Track system connects up to six hinged panels and moves them along a track. This gives you a hinged panel look with excellent function for large windows or patio doors. Another option for large windows and patio doors is the Bypass Track system. Here, panels of shutters slide back and forth, one over or behind the other. All three operating systems are available with each type of our plantation shutters.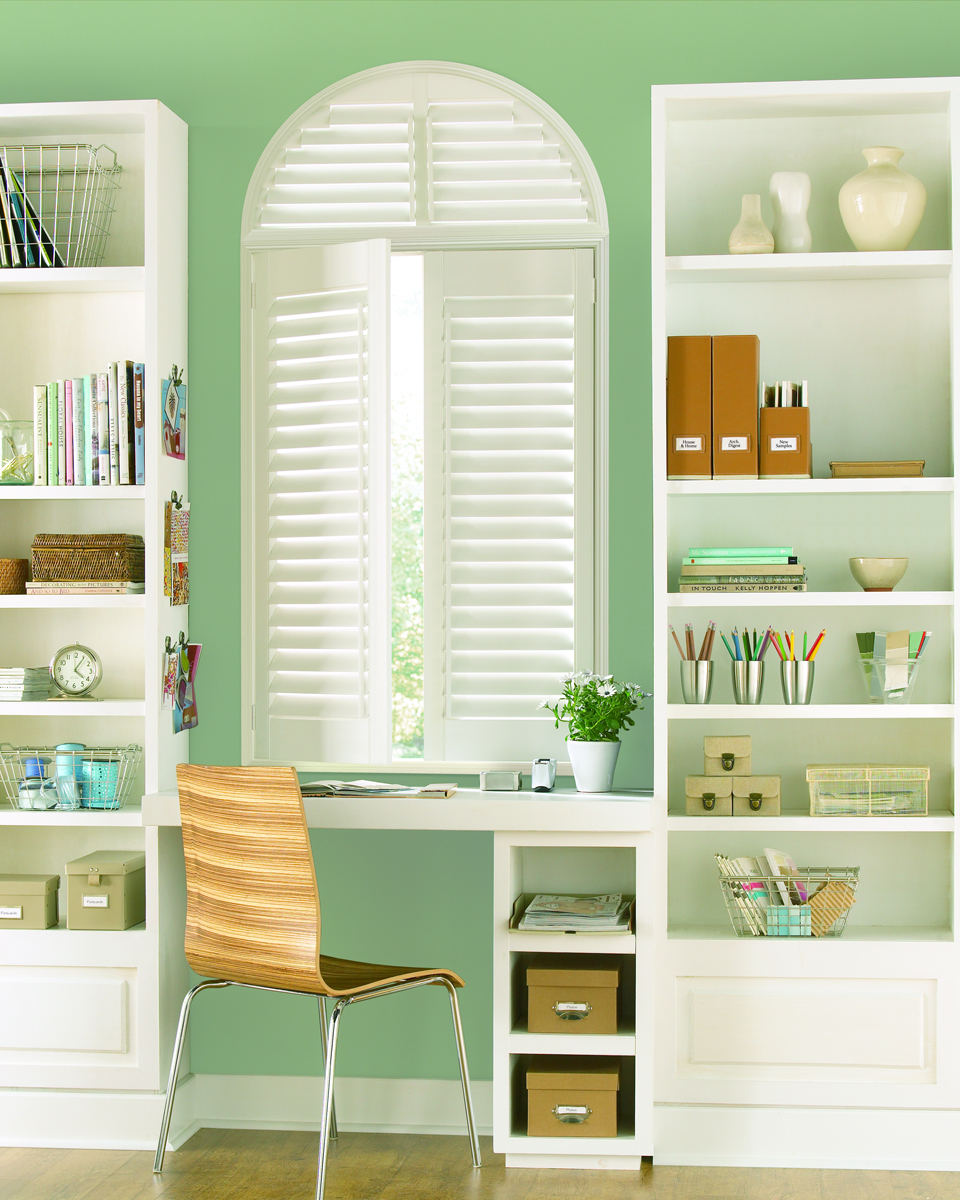 Plantation shutters will truly add beauty and distinction to your home. They'll make a style statement while providing the functional benefits of light control, UV protection, and privacy. As you decide which type of plantation shutters will work best for you, we're here to help. If you have more questions or are ready to customize, contact our team at At Home Blinds & Decor for a free-in home consultation.