The kitchen is the heart of the home. Not only is it the center of all communication, but it is the busiest room in the house. So, why not set it up to shine? Kitchen window coverings are a great addition to any kitchen. They help determine the atmosphere of the room, are energy efficient, provide light control and bring your style together. 
A Sink with a View 
When you go into most houses, you will see a window placed behind the kitchen sink. This window lets in natural light and allows you to enjoy a scenic view if you are washing the dishes.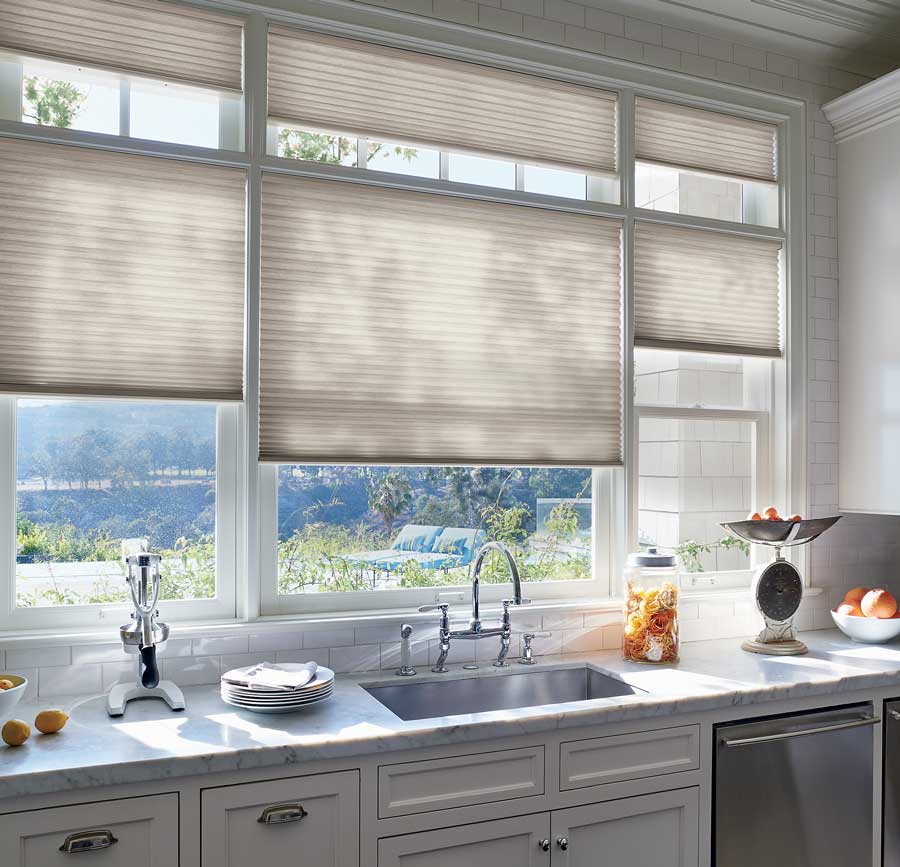 Nowadays, we do not spend as much time at the sink due to the invention of dishwashers, but the window over the sink continues to be popular in home designs today. However, we do see homeowners place window treatments over these windows due to privacy, glare or the heat of the sun.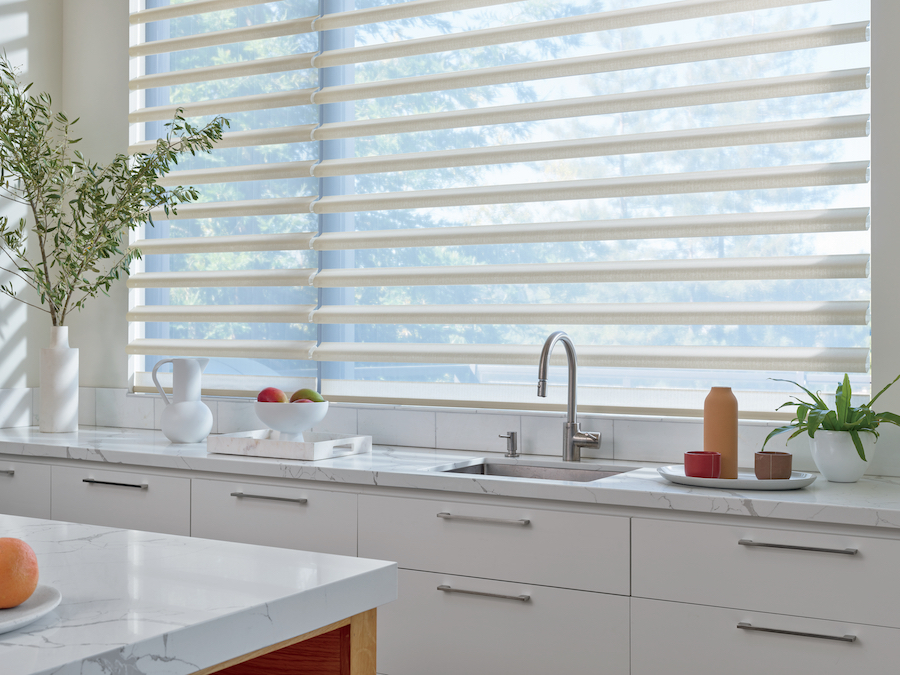 Coordinate Your Windows and Doors 
In kitchens, windows and doors are often in the same shared space. If you have a sliding glass door, patio door or a set of french doors, you may be left wondering which style of kitchen window coverings will look good while simultaneously being functional.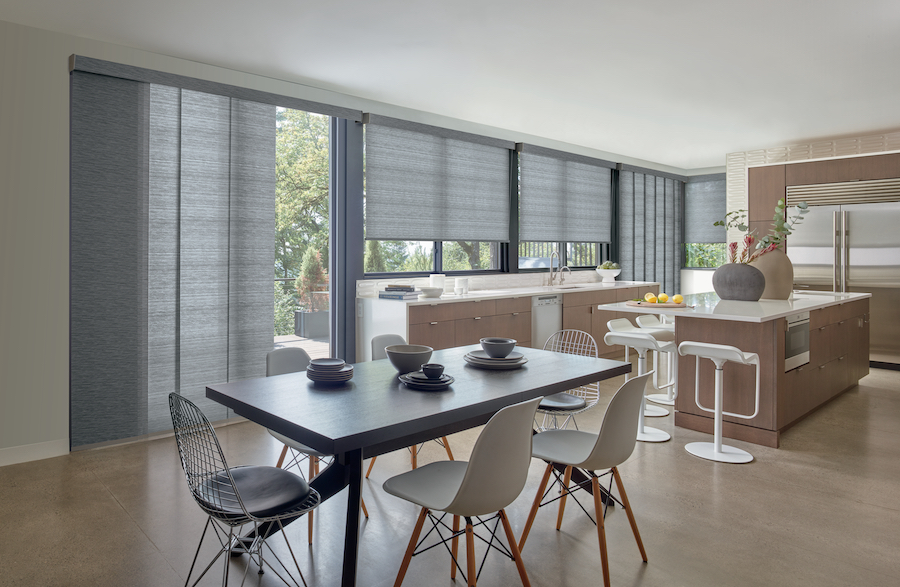 Using the same window coverings for both the doors and windows is always a possibility. However, homeowners prefer the movement of the shade to match the movement of the door. Consider using similar or matching fabrics that can be paired with horizontal and vertical shades. This will provide an excellent look to any kitchen space!
Dine In 
If you have a dine-in eating area, it is most likely surrounded by windows. You know that this can be positive or negative. As you gather around for a meal, looking outside seems like a great idea.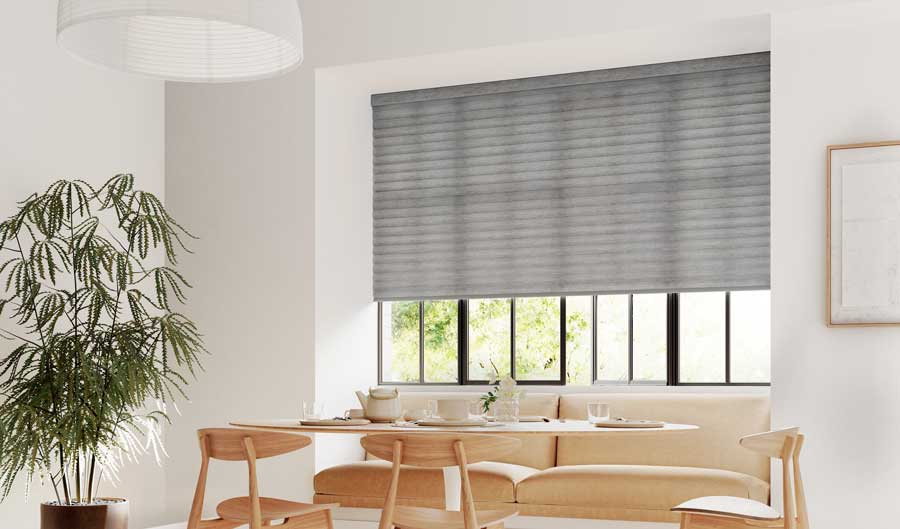 However, depending on the time of day and the direction of your windows, the sun may be in your eyes for the duration of your meal. It can also cause the space to warm up quickly. By deciding on the right kitchen window coverings, this part of your kitchen is sure to rise up in the ranks of favorite spots. 
Keep It Clean 
The kitchen is the hardest working room in your home. As you prepare meals or clean up afterward, a mess can happen. This can occasionally be seen in your kitchen window coverings. One of our designers can help you determine which shutters, blinds or shades will stand up to the conditions of your home kitchen.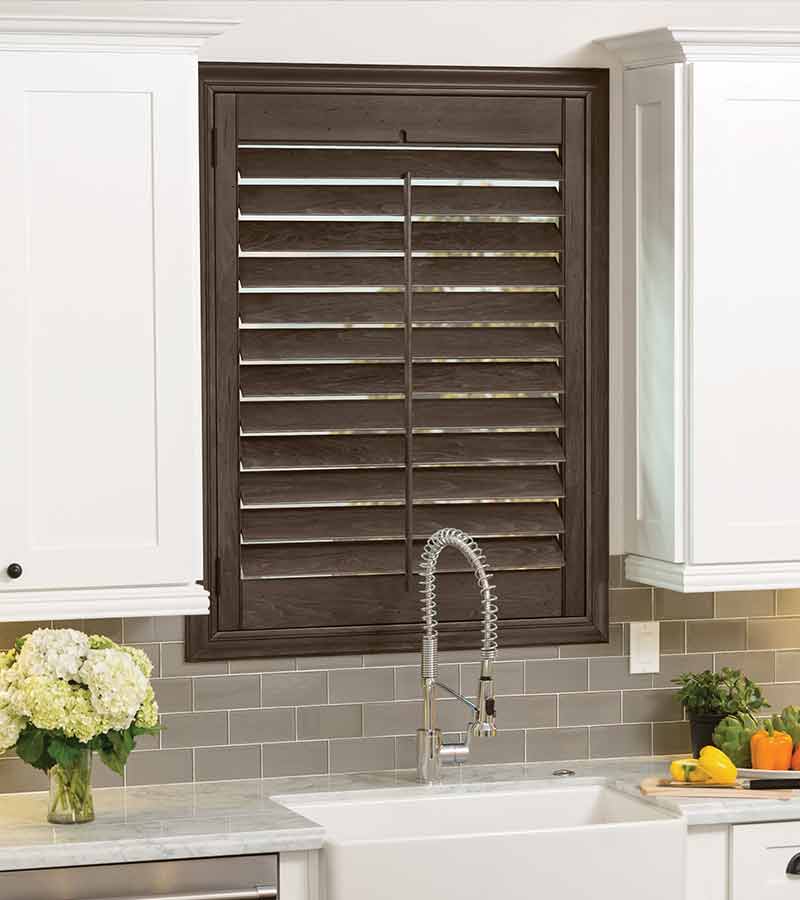 Let's Get Started 
At Home Blinds & Decor is ready to assist you in making your home functional for your daily life. Contact our team today and one of our expert designers will work with you one-on-one during a FREE in-home or showroom consultation. We are eager to help you as you begin searching for kitchen window coverings that will control the heat, glare, privacy and light in your home!