Hunter Douglas has a gorgeous line of motorized blinds and shades. Now, they are offering Palm Beach Shutters with power! They are bringing classic styling and modern technology into one incredible, innovative window treatment. Using your voice, remote control, or smart device, you can instantly change your home's environment. Do you have a smart home system? Easily integrate your motorized shutters for the ultimate experience. Want to see them in action? View Hunter Douglas' latest video! We'll tell you all about the amazing benefits here. Take a look.
Customize Your Look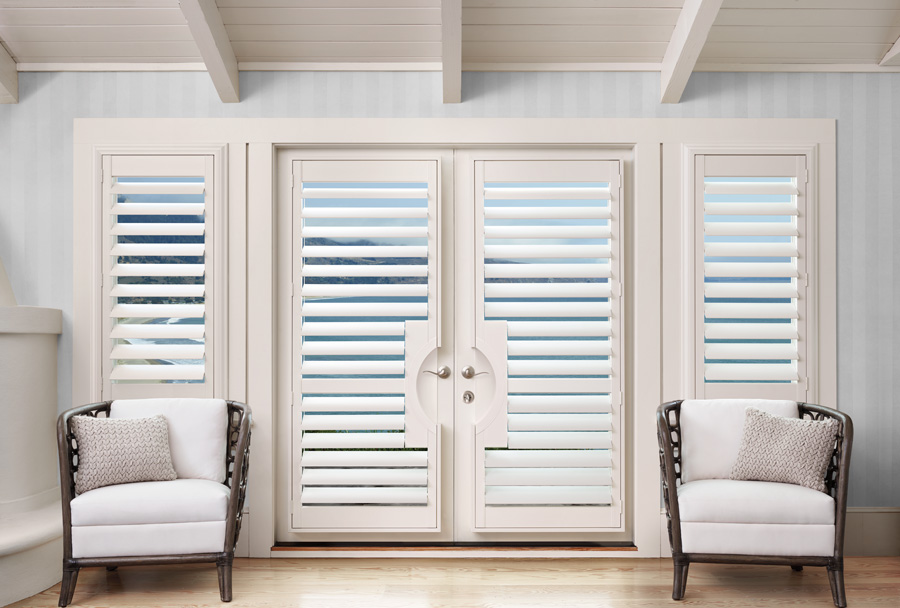 Plantation shutters bring a classic style to any home. The door handle cutouts and split tilt design allow for a custom look. And, now, adding motorization will allow for even more customization. From daylighting to blackout, your environment will be exactly how you like at all times of the day. Create your custom look with the split tilt design; close just the bottom for privacy or adjust for ultimate daylighting. You'll create the environment you want…all from the comfort of your couch!
Enjoy Your View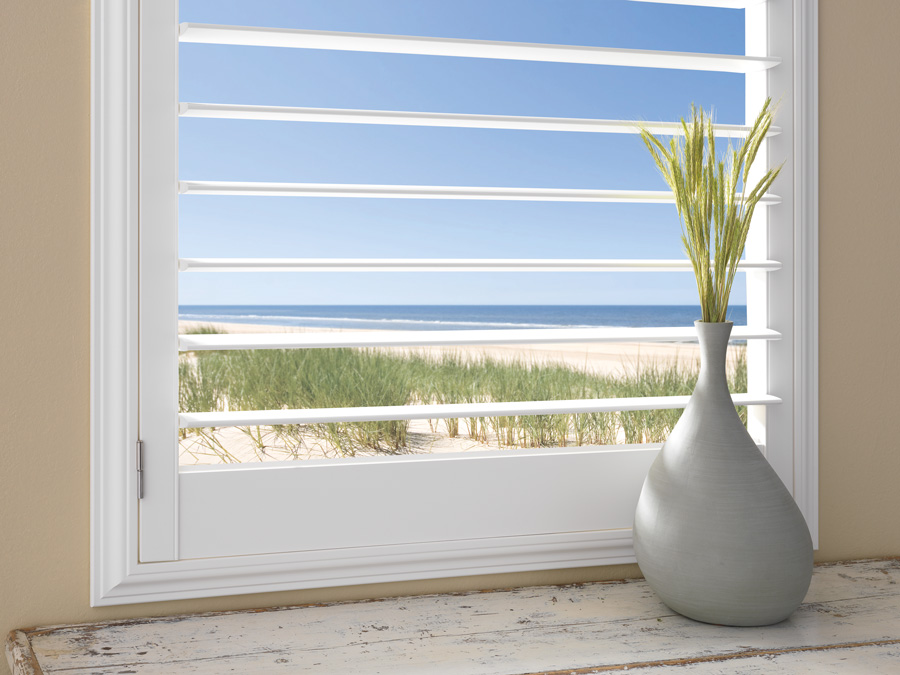 Plantation shutters are loved in the design world, and for good reasons. One great benefit to shutters is the incredible view. Not only do they create a dynamic backdrop for your design, but they let you enjoy your landscape. Motorized shutters will make it even easier to enjoy the outdoor scenery. Want to see the sunset every evening? Create a schedule with the PowerView app. Your shutters with automatically open at the same time every night. Personalize your settings to meet your needs for privacy and light control.
Upgrade Your Lifestyle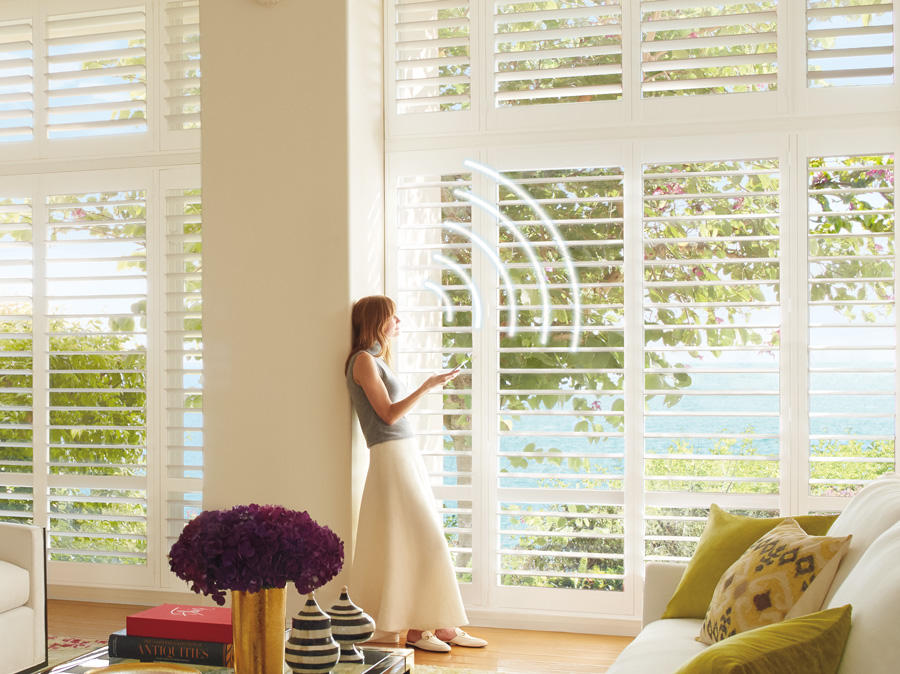 If you've already "gone smart" at home, you know of the incredible benefits. From creating a grocery list to scheduling appointments, technology has improved our lives by making everyday tasks that much easier. Now, you can use your voice to control your home's ambiance and environment. Adjust your motorized shutters to your ideal position with smart home integration. Save your favorite settings, then tell your smart shutters to move–it's that easy.
Beautify Every Room

Most likely, there are spaces in your home that are difficult to decorate. Moist environments, like bathrooms, and areas with high humidity call for durable solutions. Look no further than motorized shutters. They are designed for a multitude of environments, including tricky areas. Don't worry about water splashing or the intense sunshine. Your shutters will protect your home and look amazing while doing so!
Get the Right Fit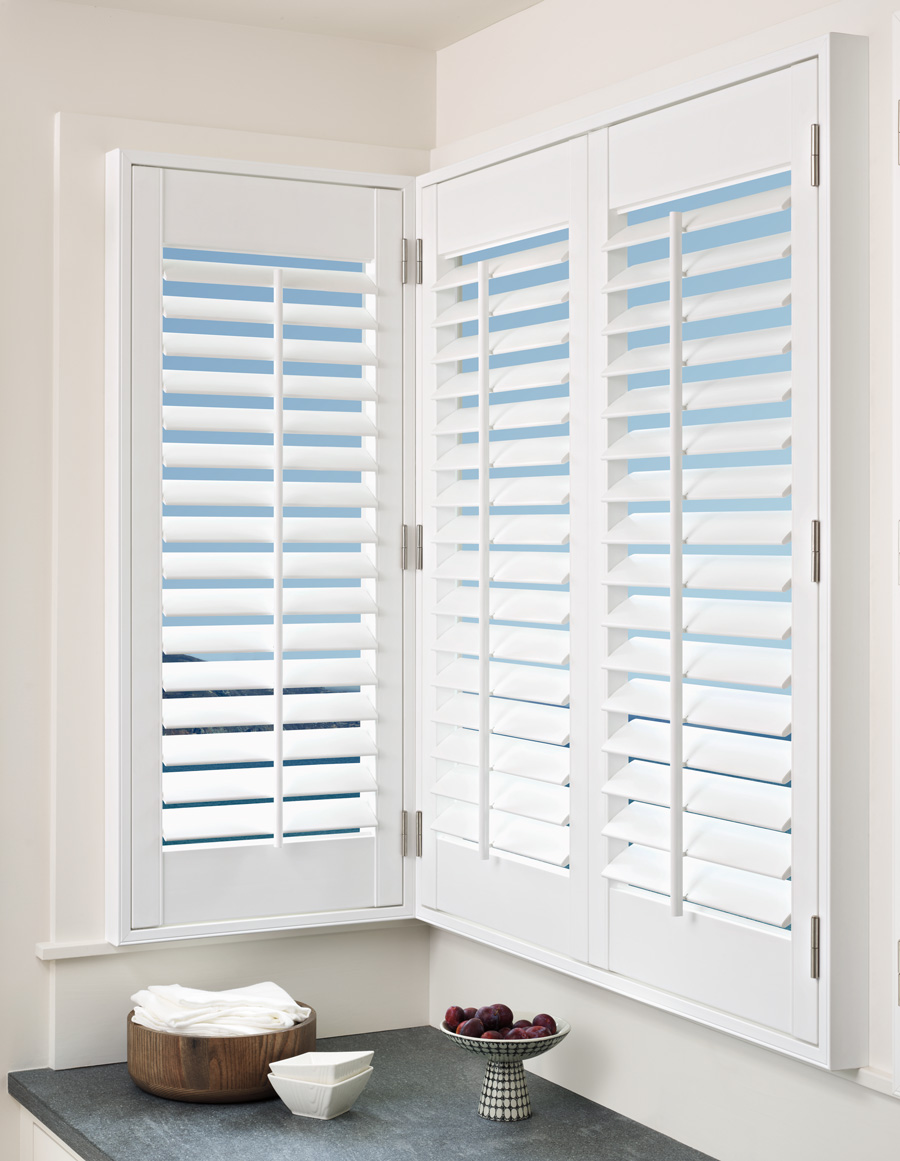 Just like your home, your windows are unique. There isn't a "one size fits all" window covering. But, our motorized shutters are custom crafted to fit your windows perfectly. Are there obstacles in your home? They won't be an issue. Let the power of motorization simplify your life. A simple tap on your device or vocal command will adjust your window treatments. You can also move them manually without damaging the motor. Control has never looked so good!
Experience the Benefits of Motorized Shutters
Plantation shutters have always been a design favorite, and now we're taking them to the next level. The classic style paired with today's technology will transform your home and lifestyle. Want to see them in action? Let our team show you. Contact us at At Home Blinds for a free, in-home consultation, or stop by one of our showrooms. We can't wait to get started on your transformation.