A new trend is making its way into the interior design space, and we are eager to share it with you! This trend is layered fabrics. They act as the art of the window. When you see layered windows, you get a firsthand look at how they are the perfect final touch to any room–and how they add a great amount of dimension to a space… 
Soft Neutrals 
Soft neutrals are a popular choice amongst homeowners. These shades are quiet, calm and gentle to the eye. They are a great backdrop for any design choice because they do not compete, but complement the room very nicely. Colors like natural linen, champagne tones, grays and off-white are great options for soft neutral colors. This living room does an excellent job highlighting what soft neutrals look like as layered fabrics. It creates the depth you wish you had in your space while simultaneously adding in height. The best part of this design is that it's not overwhelming to the room.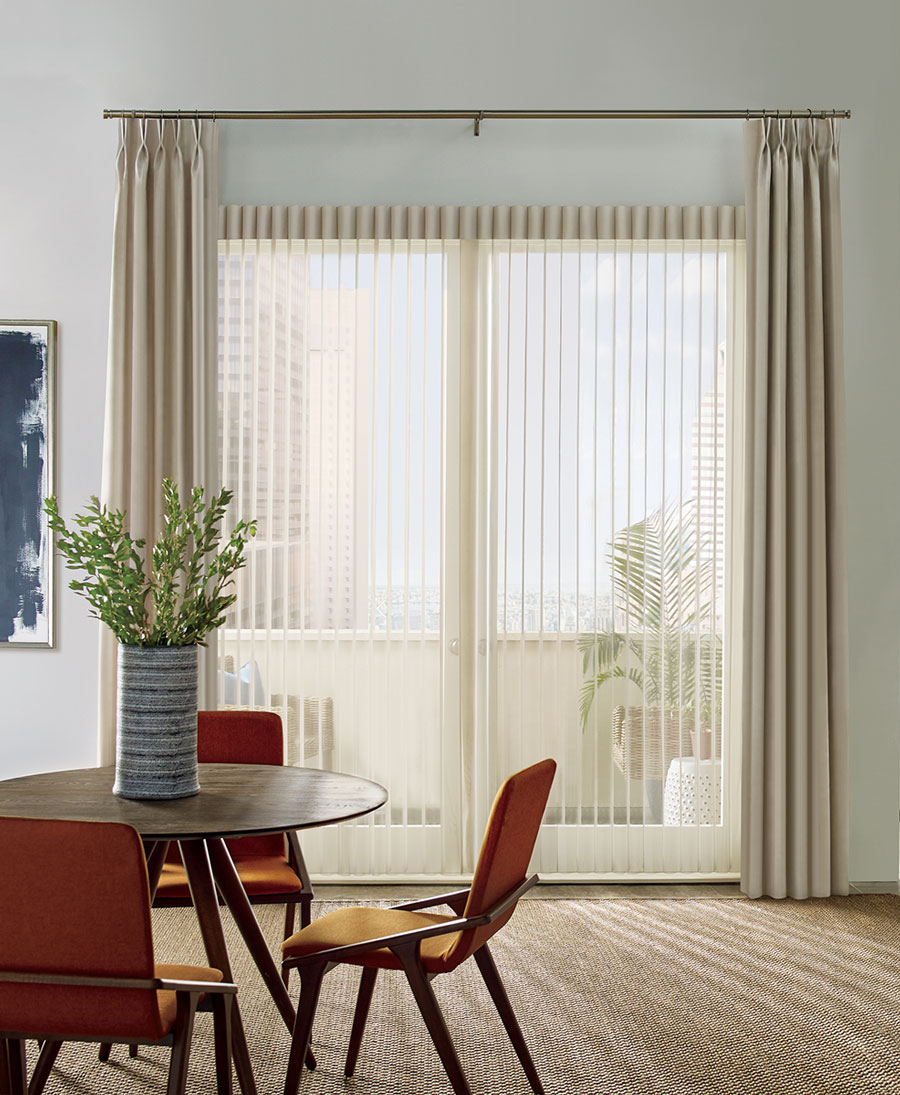 Moody Designs
If dark and moody designs are more up your alley, you may find yourself leaning more toward dark grays, purples, rich greens and bold reds. While this is an excellent alternative to soft neutrals, there is an essential caveat. You must realize when enough is enough. Begin by picking out the colors you favor, and style your layered fabrics from there.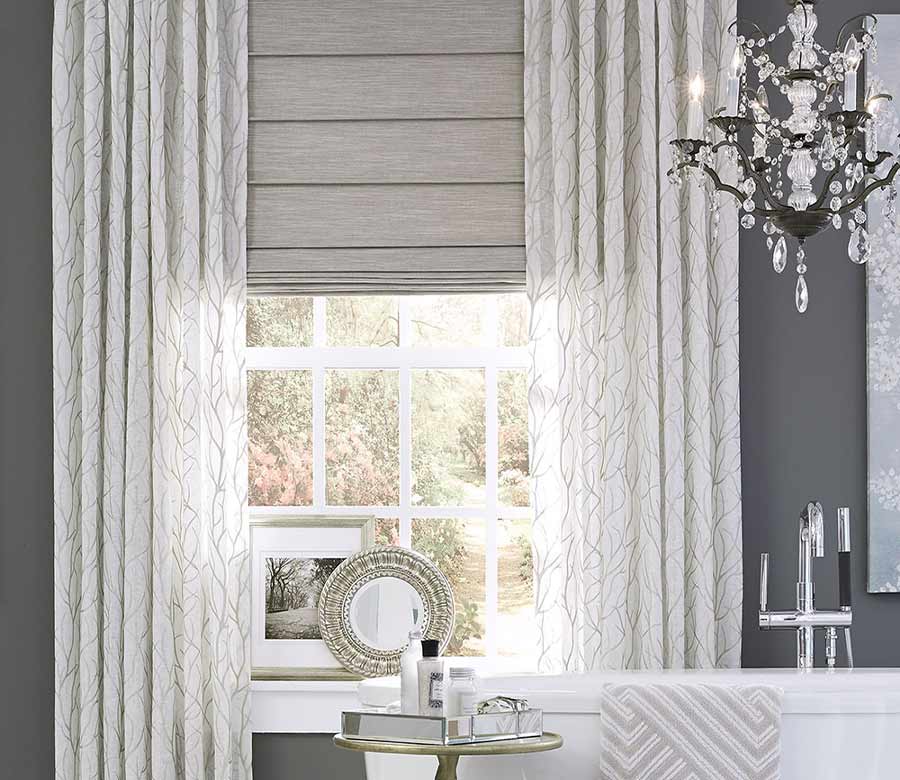 If you're thinking of mixing solids and patterns, make sure you have ample lighter colors to balance it out. Decor that ranges the color spectrum will be visually exciting and will keep the eye moving. You will have that moody and dark design that you are wanting, the functionality you need and a design that will stand the test of time. 
Where Functionality and Style Meet
Before you start picking out fabrics, it is important to determine the function you need in the space. This will greatly help you determine your base shade. Now, your base shade will be the first design decision you make. There are many options to choose from! Let's say that you decide to go with roman shades. This is an ideal option because they are energy efficient, protect against outdoor elements and offer light control as well as optimum privacy.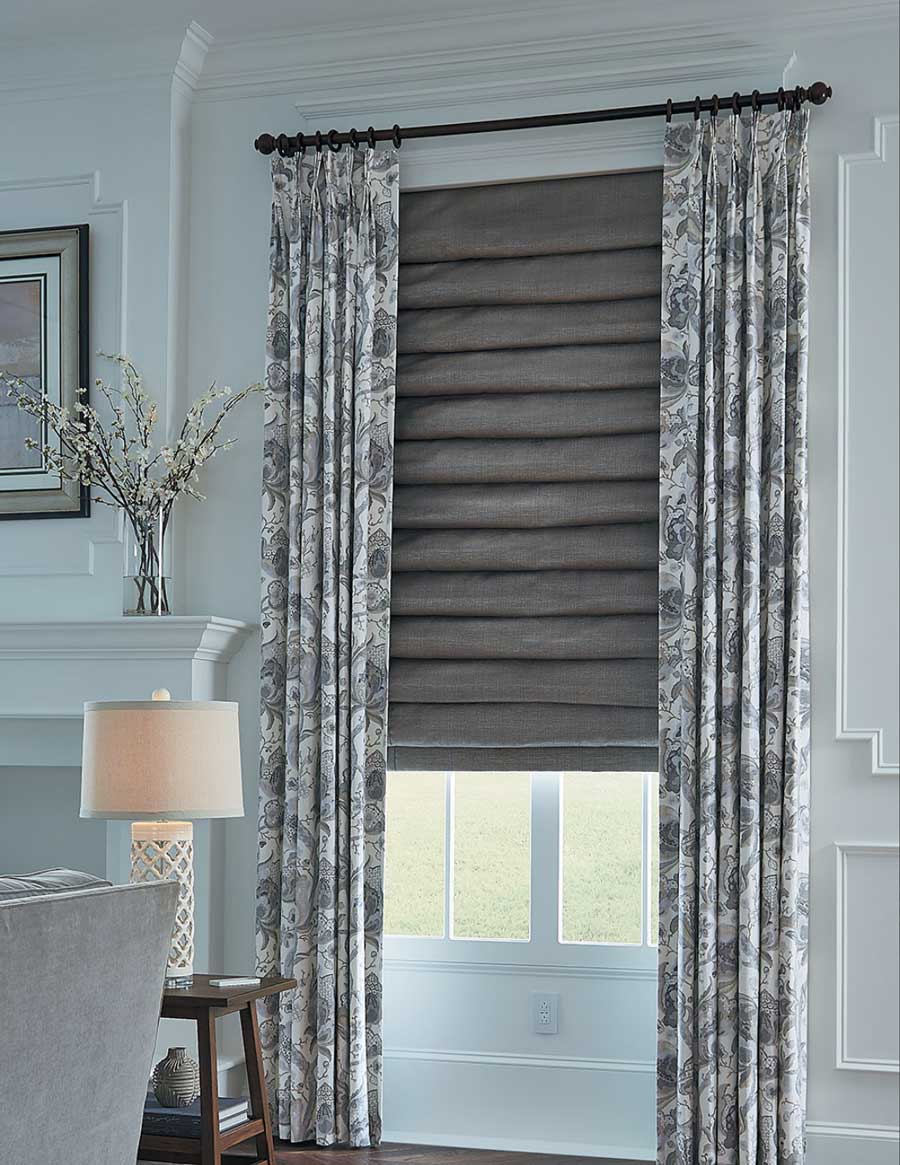 Once your base shade is picked out, you can start playing around with different colors and patterns. This window, for instance, highlights how you can take a solid base shade to the next level. This is done by adding patterned draperies. When your layered fabrics come together, you will love the space you are in even more. 
Let's Layer!
If you are looking around your space, and feel like you need to switch up your window coverings, maybe layered fabrics are calling your name! Our expert designers with At Home Blinds & Decor will personally help you pick out items that will best fit your home and style. Contact our team today to schedule a FREE virtual, in-home or showroom consultation. We can't wait to help you with your Fort Myers area home!