New York Fashion Week was nothing less than incredible this year! The Pantone Color Institute's top ten color palette 2024 showcases the colors seen, and it's simply inspiring. This year's colors are filled with vibrant hues, plus a top 5 classic palette of some beautiful neutrals. The latest color trends always find their way into our homes. Let's create some space for them again this year….
Sneak Peak Colors
Oftentimes, the evolution of color represents a cultural movement. With the release of each year's new palette, an original vibe emerges. This year, get ready to experience a feeling of "inspiring personalization and freedom" as you browse through the top ten colors. They are, for sure, lively and full of optimism. Let's see how these new colors can influence change in your home.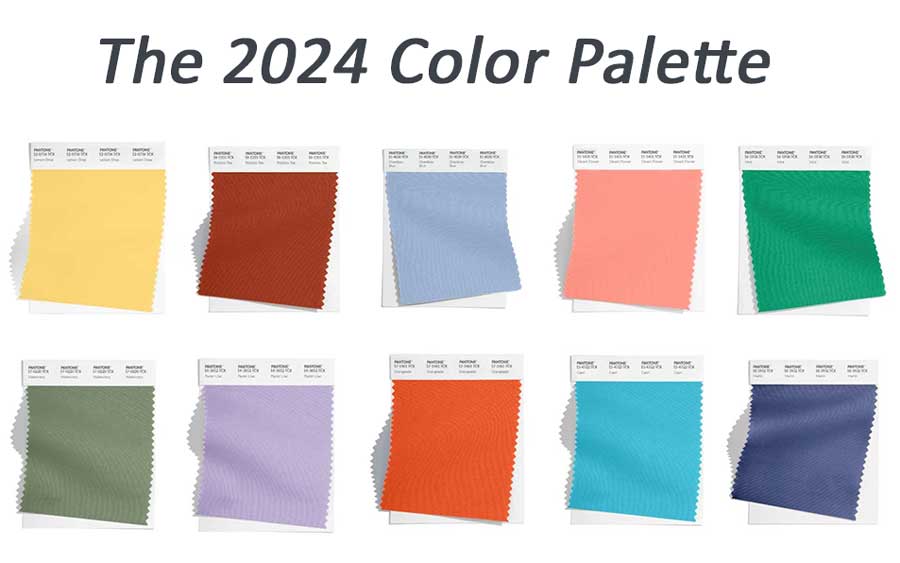 While these vibrant colors can fuel self-expression, a more subtle message can be sent with the classics hues below.

This quiet palette represents a new way of thinking. Grays and browns can now live in harmony, there's no need to choose sides. Adding warm brown tones to a cool gray palette creates your own unique expression. Grays and browns are no longer mutually exclusive–what a relief.
Introduce YOUR Color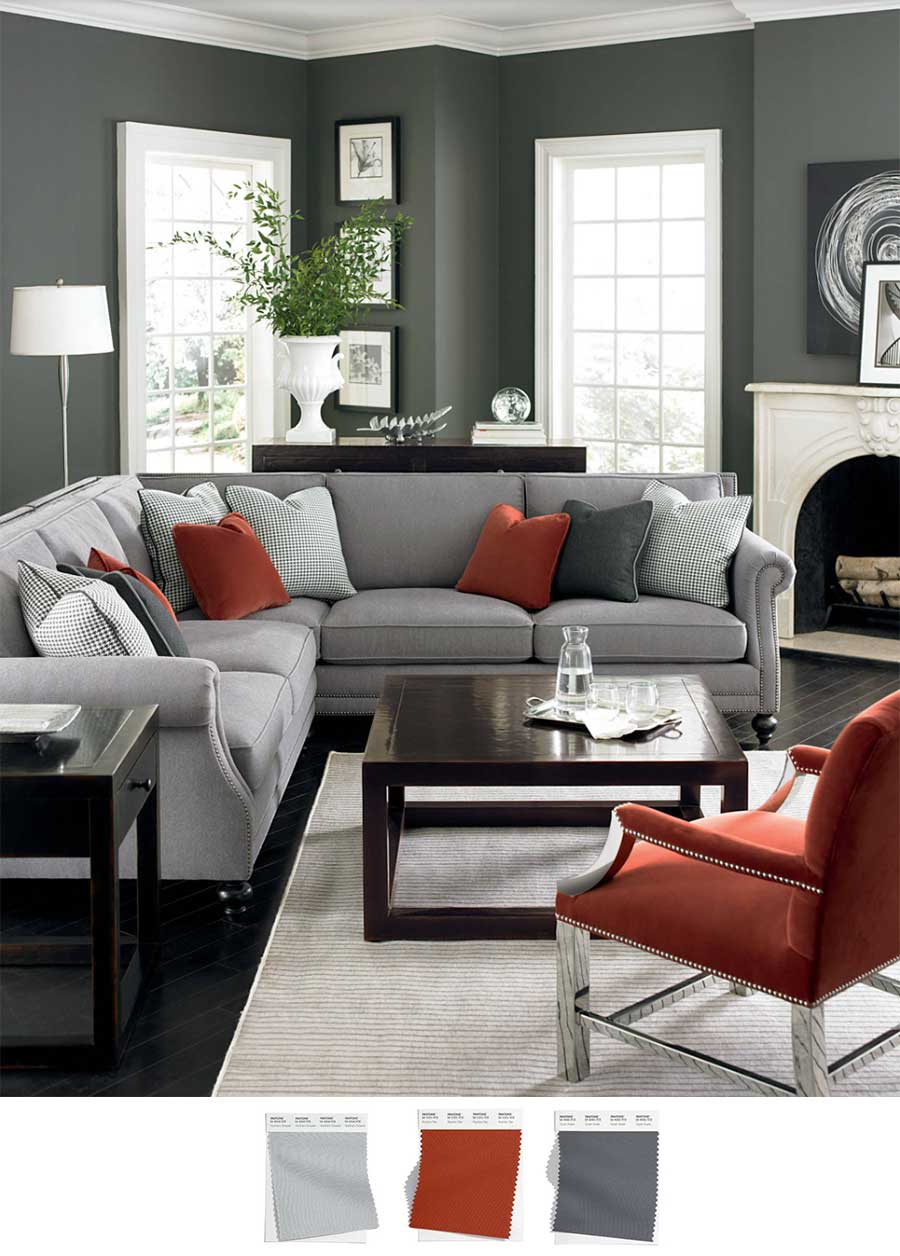 Many of us have succumb to the "less is more" design style. Sure, a neutral color pattern looks beautiful throughout the home– cohesive and upscale. But, what's missing? Individualism. The latest color trends make it simple to add personality to your space. Let's experiment with colors and patterns. Small accent pieces such as pillows, blankets, art work, and vases can infuse color into your space. Then, you can decide if you're willing to commit to a more permanent change. After all, it is YOUR home, not everyone else's.
Standout Color Partners
Pairing colors within home design is an important exercise. Some colors just go well together. But, it's important to consider which color combinations appeal to you personally. Opposites make an eye-catching statement, this blue & orange combination is incredible. When pairing colors, allow one color to hold the majority of the space, the other acts as its side kick.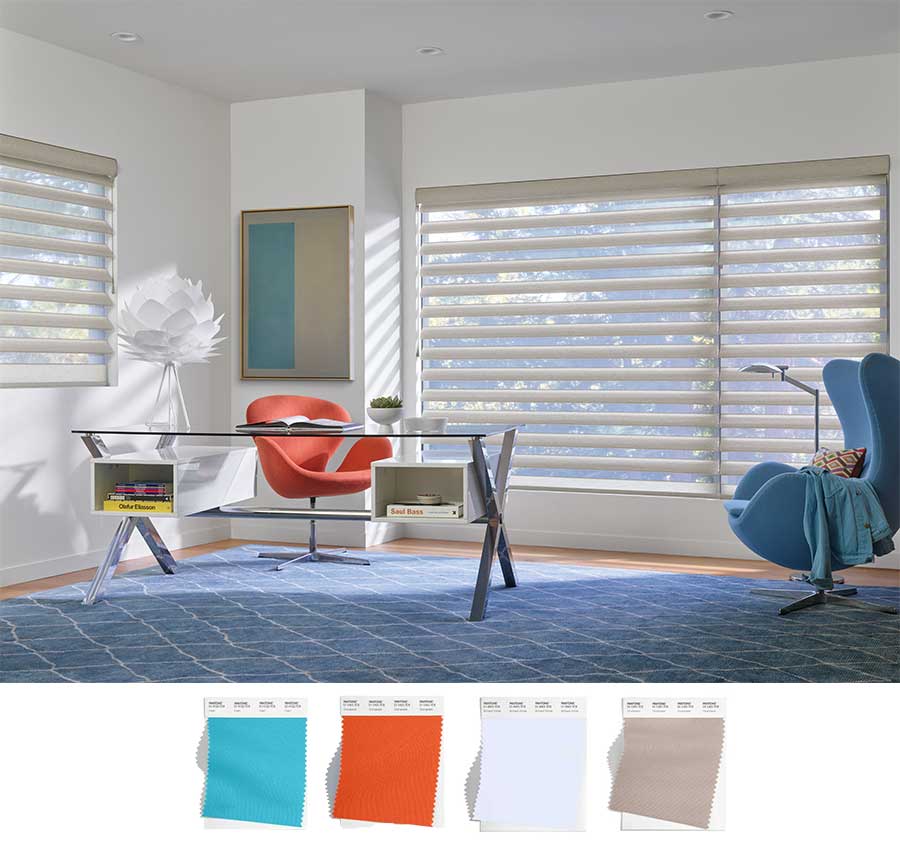 When designing a space, window treatments are an important consideration. Here, the home features soft white walls and light brown flooring-a neutral palette. Use window treatments to either cool down the space, think grays and blues, or warm up the atmosphere with browns and greens. This home chose to warm their space with soft, beige-colored Pirouette Shades.
Promote Peace
If you're like most clients, choosing color can be a difficult task. Don't worry, our designers know the "color rules' and can guide you in the process. If you'd like to achieve a calm, serene atmosphere, one designer secret is to choose colors close to each other on the color wheel. For example, the pairing of blues and greens work well in the same space, they blend together and share the stage. This dining room design represnts colors living in harmony, they blend well with both the cool tones of the wallpaper, ceilings and rug and the warmth of the wood flooring and furniture. Incredible design can be yours.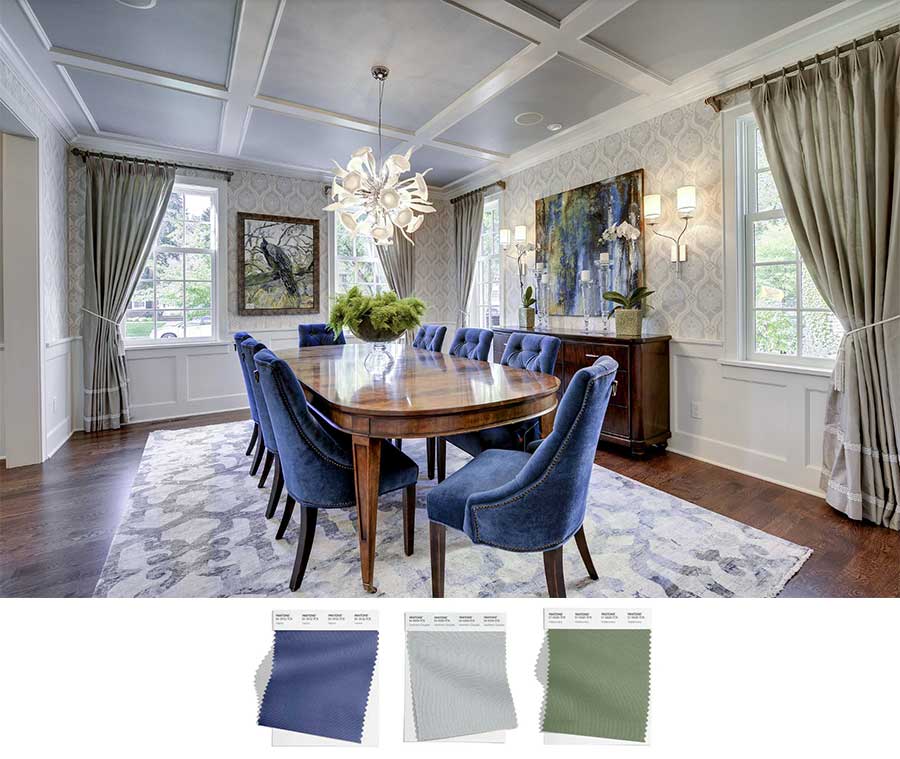 The "Wow" Factor
Every home needs its "Wow" factor. The latest color trends are meant to encourage self-expression and infuse originality into your home. Within each color family there is something for everyone. Here, layers of gray are highlighted with shower tiles in a vibrant accent color. The neutral black and white floors anchor the design without taking away from the "wow factor" of green subway tile. Choose a room in your home and take it to the next level with an accent wall featuring your favorite color or pattern.
Own Your Domain
Design your home with the latest color trends that bring YOU happiness. With this year's incredible new palette that invites individuality and self-expression, now's the time to expirement with a fresh wall color, art work or furnishings… break out of your comfort zone. The sky's the limit in design this year.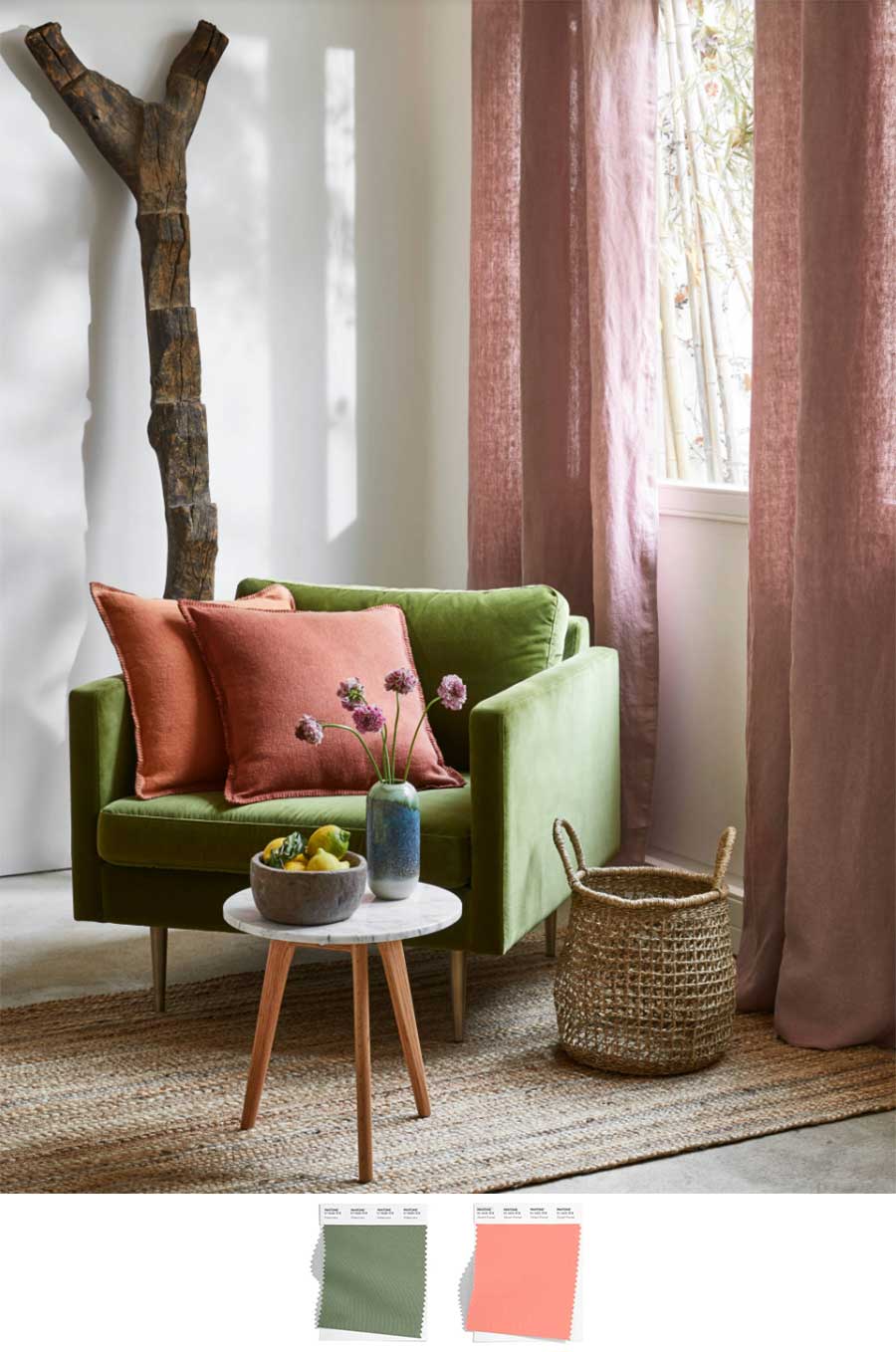 Be Inspired: The Latest Color Trends
If you're feeling inspired by the latest color trends but don't know where to begin, our experts will help you infuse color into your home. We can guide you to choose window treatments that invite new color, texture and dimension inside. Allow us to elevate the design of your home comfortably.  Whether you're ready to make a statement or prefer an updated look within your current decor style, we can help. Get in touch with our team to get started. We offer FREE in-home consultations.