Windows, in all their diverse sizes and styles, serve as blank canvases for our interior design aspirations. If you find yourself on the hunt for large window covering ideas, you've arrived at the right destination. These windows allow an abundance of natural light to come through, illuminating our living spaces. Due to their scale, they can also pose challenges. You may wonder which blinds and shades can shield you from excessive glare and sunlight. You may even be curious about which window coverings will elevate the look and feel of your home. We have four words for you. We've got you covered. The At Home Blinds & Decor team is prepared to provide guidance and assist you in discovering the perfect window coverings for your home.
Now, it is important to note that the specifics of sizing may vary. It is contingent upon the characteristics of your windows and the fabrics & features you choose.
Beating the Heat and the Sun's Rays
Most of us are familiar with the moment when we are relaxing in our living space and the sun hits that one spot that causes a significant rise in the room's temperature. This is most common with large windows that stretch from floor to ceiling. Escaping the blinding brilliance of the sun and the excess heat is an immediate action we take. As we dive into large window covering ideas, it is necessary to address these pesky concerns and seek solutions that will better your space. To kick it off, we are going to start with the popular honeycomb shades.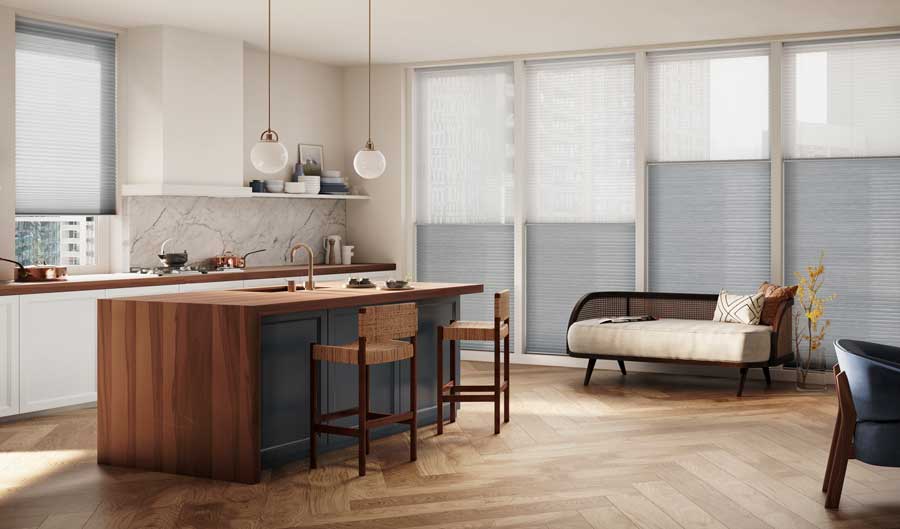 Honeycomb shades are perfect for concealing those large windows. They are known to excel at regulating temperature and insulating your space. They also allow gentle natural light to filter through. Cellular shades are versatile and easily address various concerns that you may be having. Furthermore, these coverings are available in both horizontal and vertical orientations, ensuring consistency throughout rooms where you have to cover both doors and windows. 
For horizontal windows, these shades can span up to 14 feet in width and 12 feet in height, while for vertical windows, they have the capability to cover expanses of up to 28 feet in width and 10 feet in height.
Privacy: The Must-Have Shield for Your Space
When choosing a home, factors like size, location, and outdoor views are important considerations. If you have large windows, enjoying those views often comes at the expense of privacy. This is especially true at night. It may leave you wondering if the outdoor views are worth compromising your privacy. 
Sheer shades are a solid solution that allows you to fully enjoy your surroundings while safeguarding your personal space. Let's explore some large window covering ideas that we have! These will help you find the perfect balance between showcasing your views and maintaining your privacy.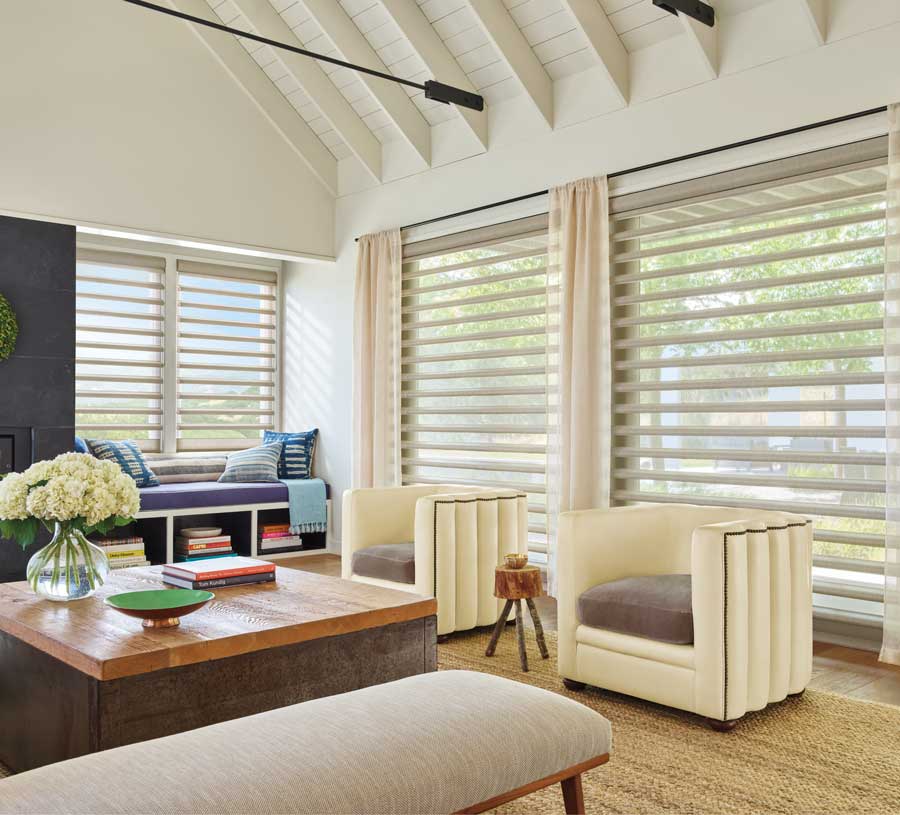 First up is pirouette shades. A favorite because they offer dual shade functionality that transitions between highlighting your views and providing privacy. Pirouette shades also recede into the background. Their sheer backing fabric invites filtered sunlight into your home while maintaining privacy. When the vanes close in place, room darkening can easily be achieved with certain fabrics.
For horizontal windows, these shades can elegantly span up to 12 feet in width and 12 feet in height.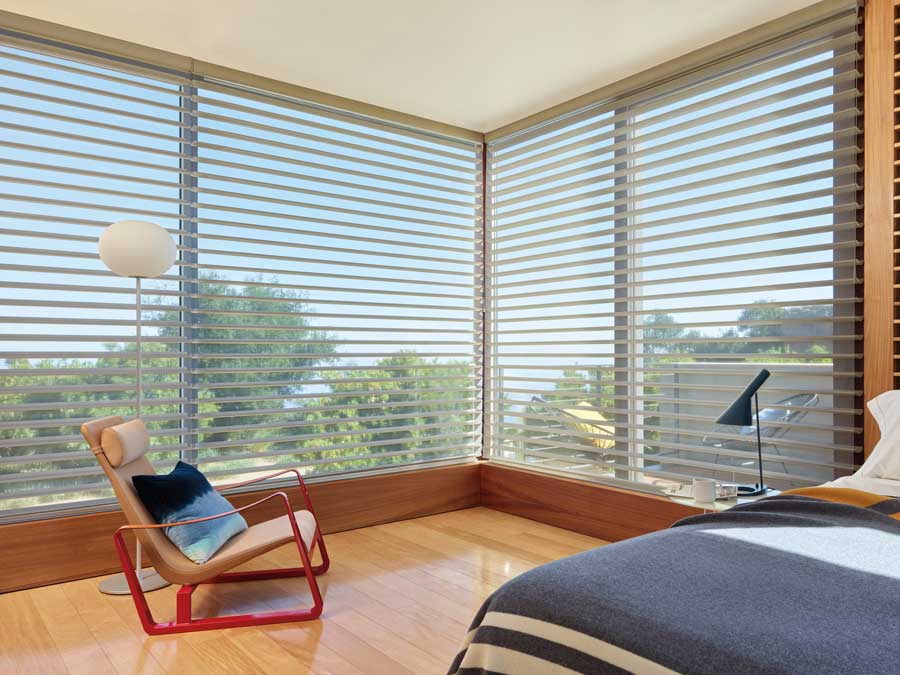 Do you like pirouette shades but are interested in other options? Consider silhouette shades! Although they do not fold in place, they still have a lot to offer. Instead of folding, picture the fabric vanes tilting, as if they're dancing between sheer fabrics. The result is that you get a wide, unobstructed view that is complemented by a soft light. Furthermore, they provide daytime privacy, as sheers reflect exterior views. Notably, a dual shade feature adds versatility. 
For horizontal windows, the maximum dimensions extend up to 12 feet in width and 11+ feet in height.
Along the same lines are luminette privacy sheers. However, these offer a vertical orientation. The solid vanes move to offer sheer views or can be tightly closed to regulate light. This is especially helpful during those days when sunlight is flooding through the home. Adjusting the vanes quickly provides total privacy while darkening the room. 
For both windows and doors, the vertical maximum measurements extend up to 16 feet in width and 10 feet in height.
Take Your Design to the Next Level
Large windows play a big role in shaping the overall look and feel of your home. Your space won't feel cramped and you have a more luxurious aesthetic. Consider adding in roman shades. The cascading fabrics seamlessly complement your existing color palette. Our collection of roman shades is guaranteed to help with your large window covering ideas. You may discover that roman shades are exactly what your home needs.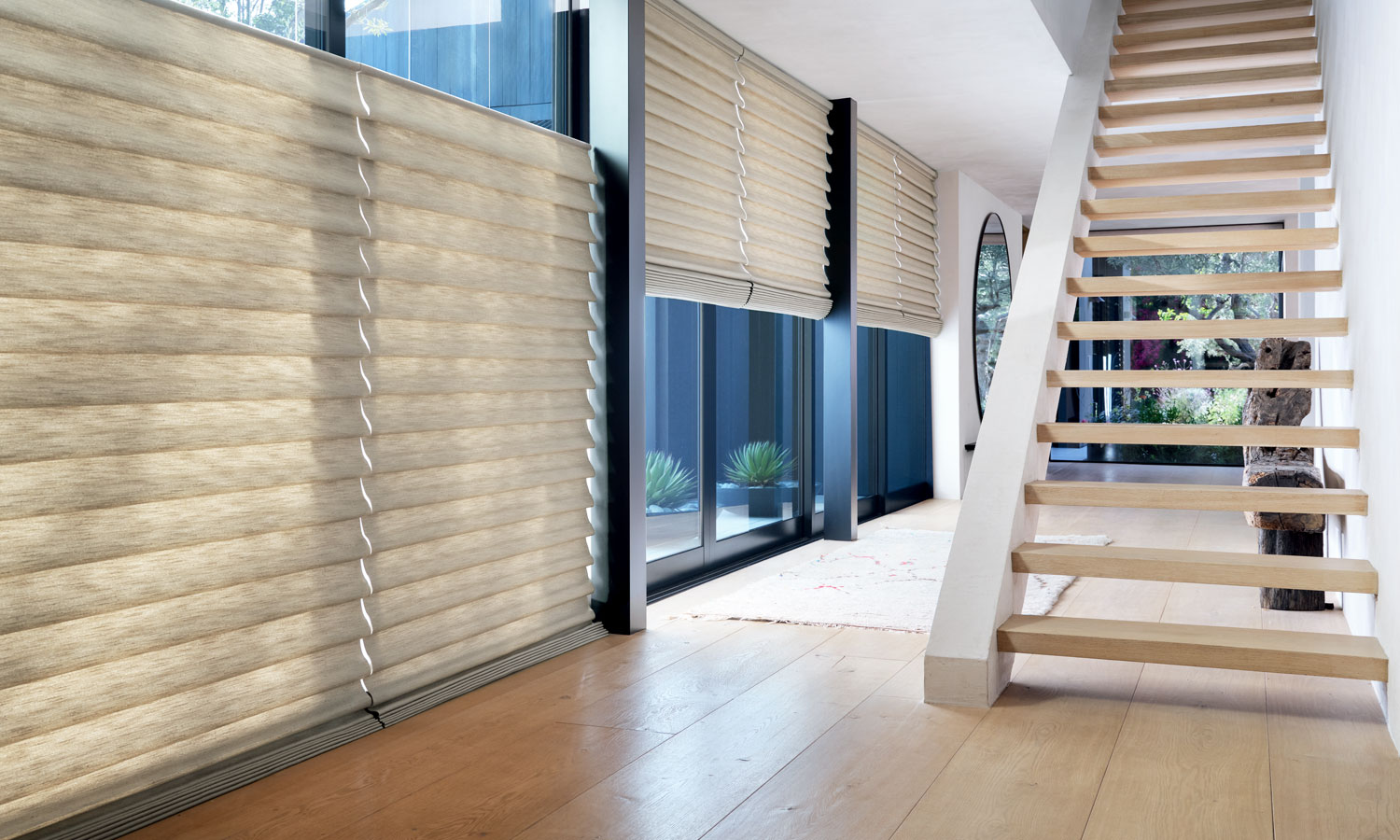 Vignette modern roman shades do a great job of marrying style, light control and privacy for those challenging floor-to-ceiling windows. You can manage light that is filtering through while ensuring that your furniture is protected from the sun's harsh rays. You can do this all while enjoying an unobstructed view or complete privacy. 
For horizontal windows, these shades can span up to 11+ feet in width and 12 feet in height.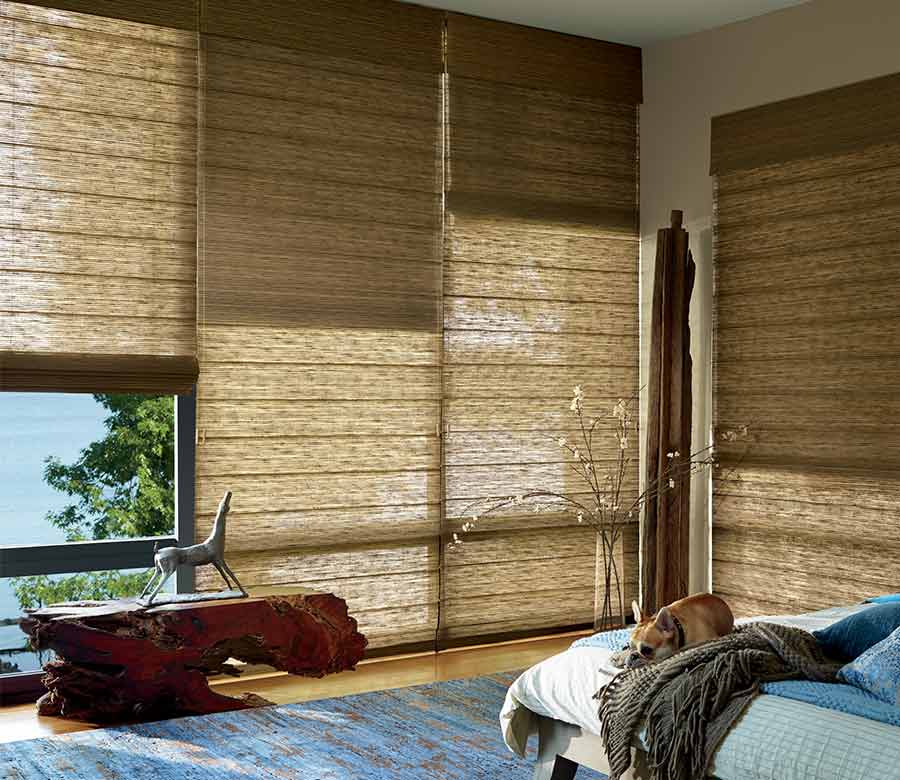 If you want to infuse texture into your windows of any shape or size, think of adding in provenance woven woods. They are crafted from woven materials and filter light. Fortunately, they are rather versatile. The color palette of these window coverings will complement your existing decor very well. The addition of top-down and dual shade features means that you can tailor the look and feel of your space. 
For horizontal windows, these shades can span up to 12 feet in width and 16 feet in height, while for vertical windows, they have the capability to cover expanses of up to 9 feet in width and more than 9 feet in height.
Creating a Subtle Atmosphere
As you continue to explore large window covering ideas, you'll find that there is no right or wrong choice. We strongly recommend that what you select aligns best with your home and your interior design style.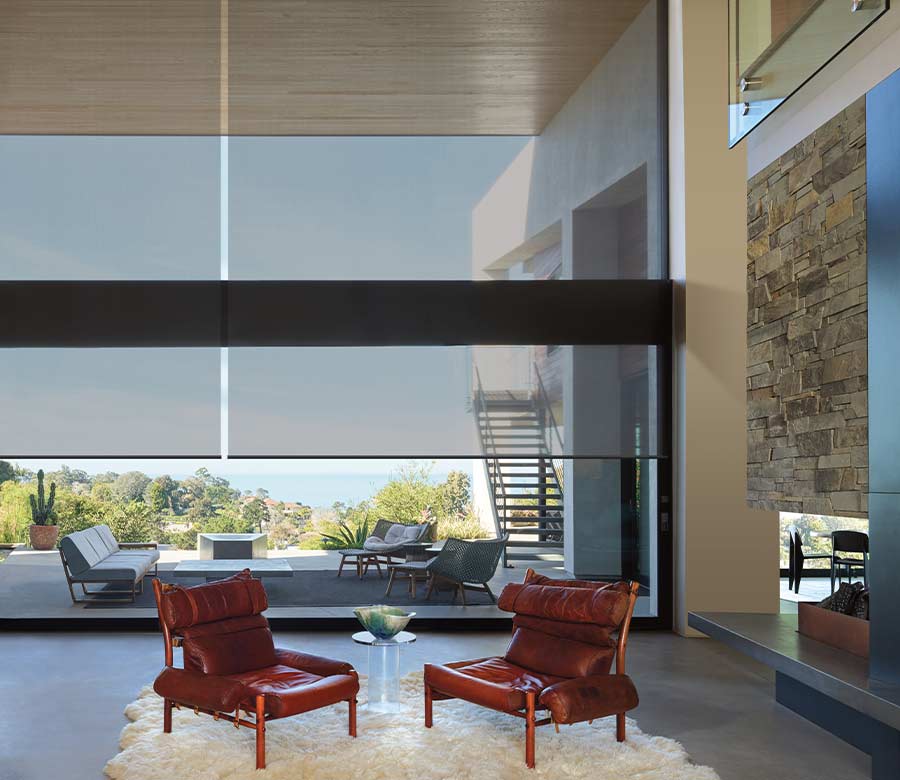 If you have been in a space where elemental exposure is apparent, it may be at the forefront of your mind. Consider solar shades to help with that. Solar shades provide an excellent solution by minimizing light and glare and offering UV protection. As a result, you will have created a comforting space. Furthermore, these shades offer a range of add-ons, including smart features and dual shades. 
For horizontal windows, the dimensions can extend up to an impressive 16 feet in width and 12 feet in height.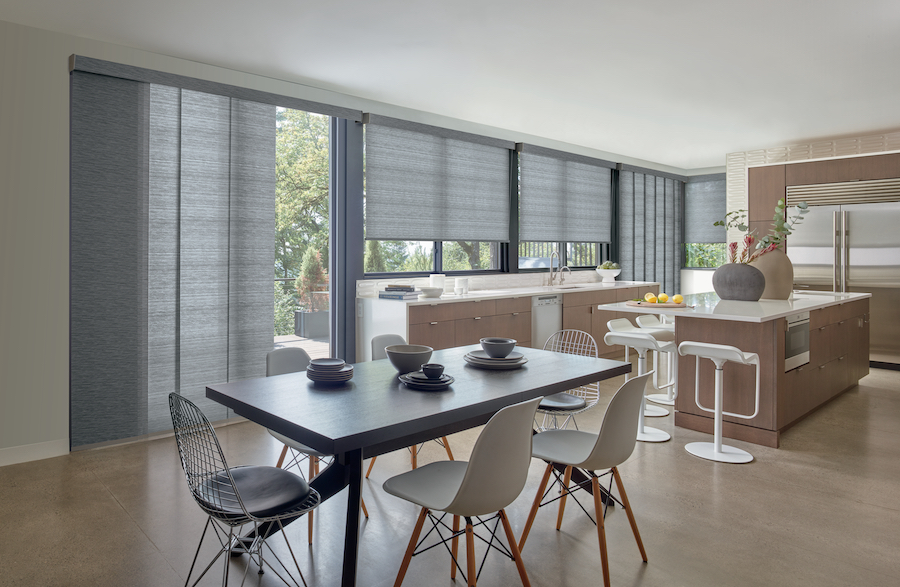 If you wish to explore different vertical options, the skyline gliding window panels will not disappoint. These offer ample coverage for both doors and windows. They also pair nicely with roller shades in matching fabric collections.
Want More Large Window Covering Ideas?
Our At Home Blinds & Decor team is overflowing with innovative concepts and eager to collaborate with you! Reach out today to arrange a FREE consultation, and together, we can find the best large window covering ideas for your spacious windows at home.