We like to believe that the key to happiness starts at the window. Really, when you think about it, windows determine your home's overall atmosphere. The incoming temperature and light can make or break your environment, but often times, window treatments are put aside. You deserve an ambiance that fits your lifestyle. We're here to help you achieve your ideal home and find happiness with sheer shades. Want to see even more photos? Visit our Houzz Sheer Shadings Project that shows features and benefits for your Florida home!
A Beautiful Disaster.
At first glance, this room is gorgeous. It's big enough for entertaining guests. It's the perfect place to enjoy a good book and cup of tea. But, when you take a closer look, you'll see the many issues of this beautiful space…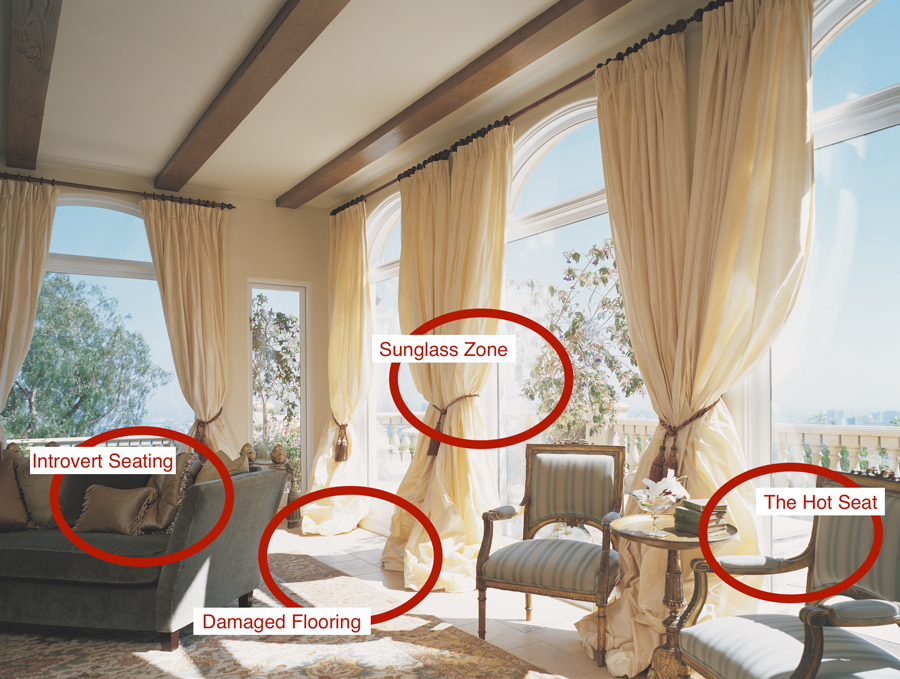 Picture yourself in this room. Sure, it's stylish, but there are a lot of problems to fix! It is a big room, but how much can we actually use?
Sitting in "The Hot Seat?" Prepare for ultimate discomfort! The sun rays are shining directly into this spot, heating it to unbearable temperatures. Forget about reading a good book in this seat; you'll be forced to squint from the glare. Talk about a headache!
There's a beautiful view, but can anyone even enjoy it? Chances are you'll need sunglasses to see outside…
Although there's natural light pouring through the windows, none of it reaches the couch. You'd need a lamp to balance the darkness and blinding light.
The UV rays are harmful to furniture and flooring. It's great to have natural lighting, but not at your decor's expense…
Problems Solved.
Ahhh, the sweet relief. Sheer shades are here to rescue this space from the problems caused by bare windows!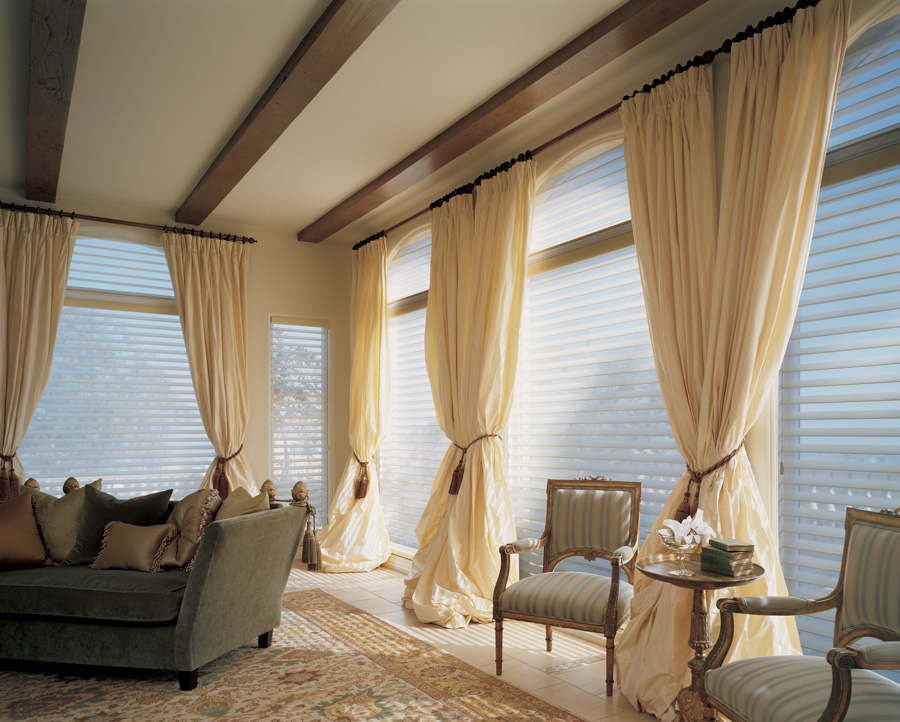 These shadings bring lifestyle solutions to this space. They balance the incoming light, help to maintain a comfortable temperature, and they protect the homeowners' privacy without compromising the view. Now, this space is ready to entertain and enjoy, no matter the time of day!
Customize Your Solutions.
Open concept living spaces are popular in today's homes. They also require multiple solutions to fit each area's needs. It can be a difficult task, but sheer shades make it easy. With their range of light control adjustments, you can customize every space in your home, no matter the layout.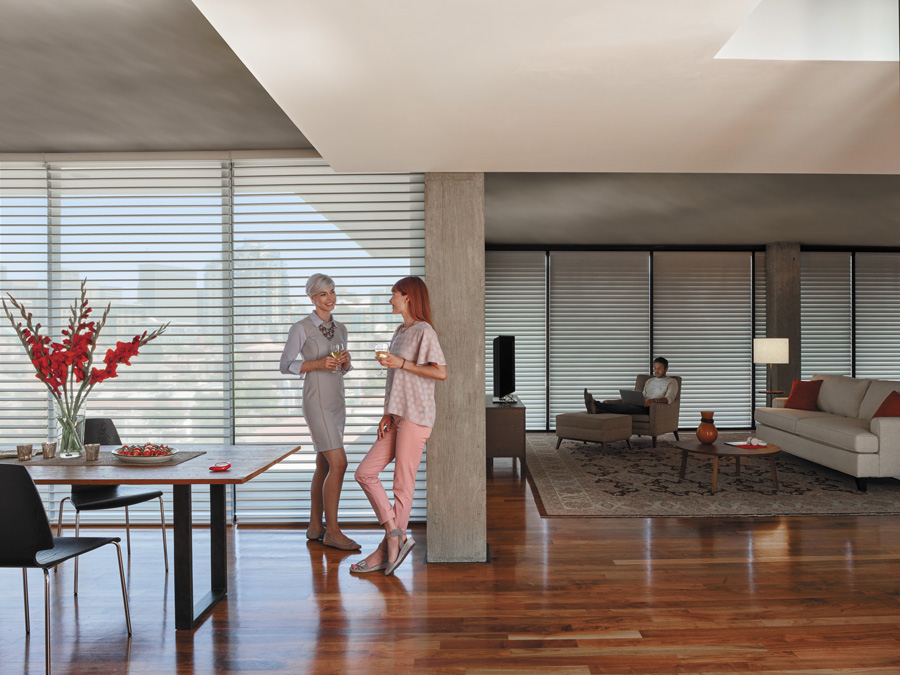 Just like this space, your home has unique needs. The dining area pictured here offers gorgeous, glowing light–perfect for entertaining. The media room needs to be dimmed and comfortable for movie night or working on the computer (no one wants to deal with glare!). Your shades adjust however you need. Want control at the touch of a button? Simplify your solutions even more with smart shades.
Even More Benefits…
Sheer shades offer whole house solutions–even for your bedroom. The innovative design will help you and your family get the sleep you deserve.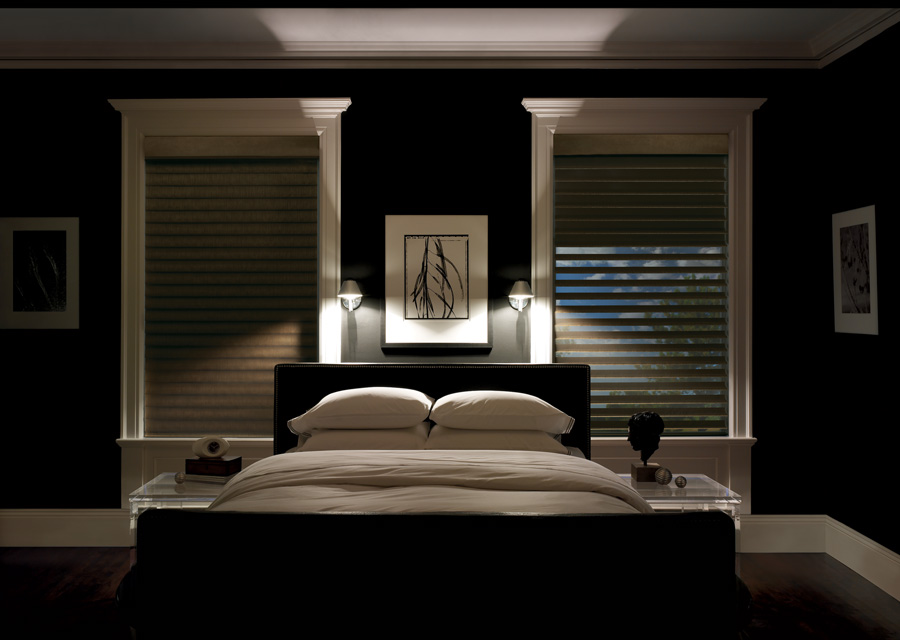 Our systems allow you to create your ideal sleeping and daytime environments. Dual shade systems are sheer shadings paired with a blackout roller shade, allowing you to adjust to your ideal darkness at night and enjoy filtered light during the day. Luminettes offer rotating vanes, with sheer in one position and blackout in another. Sheer shades are a stylish solution for all areas of your home.
Sheer Shades: Solutions You Deserve
Lack of privacy and too much light can ruin an atmosphere. Your home needs solutions that fit your everyday lifestyle. We can make that happen with sheer shades. Let our professional designers show you how. Contact our team at At Home Blinds for a free, in-home consultation, or come visit one of our showrooms. We can't wait to see you!