Are large-scale windows and gorgeous views centerpieces of your home? Do you wish you could enjoy them more? If you're living without the right window coverings, you probably can't stand to be in some parts of your house on sunny days. Florida sunshine is intense, and it can quickly turn a pleasant room into a space you'd do anything to avoid. If blinding glare and sizzling temperatures make your home unbearable, you need a transformation like this one. Take a look at the dramatic difference in this home before and after window coverings, and see what's possible for yours.
Before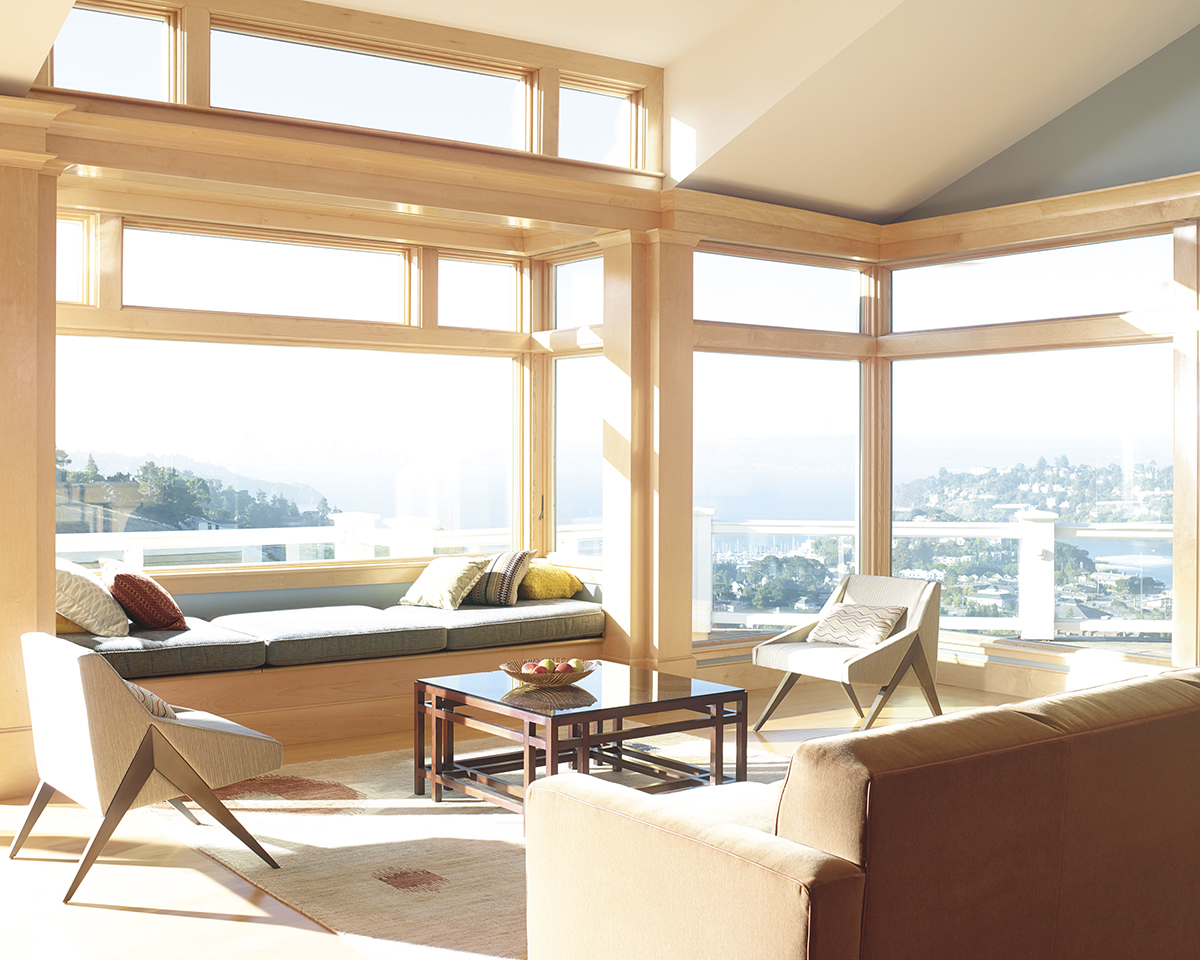 As your eyes sweep over this room, they're drawn to the expansive windows and outdoor landscapes just beyond them. But, what can you really see out there? With all the glare, not much. The interaction of the sun on the glass creates blinding light that not only inhibits your view, but also hurts your eyes and takes away from the beauty of the interior decor. Patterns, colors, and textures are lost in the sea of light flooding this space. Over time, they'll be gone for good because along with all that sun comes fading UV rays. Then, there's what you can't see: the temperature. It's hot…miserably hot. You can bet the air conditioning is working overtime, and for what? There's no way you're going to spend any time in this space. It'd be way too uncomfortable. Can you relate to the "before" of this before and after transformation? If so, get ready to be amazed at how window coverings changed this home and how they can change yours.
After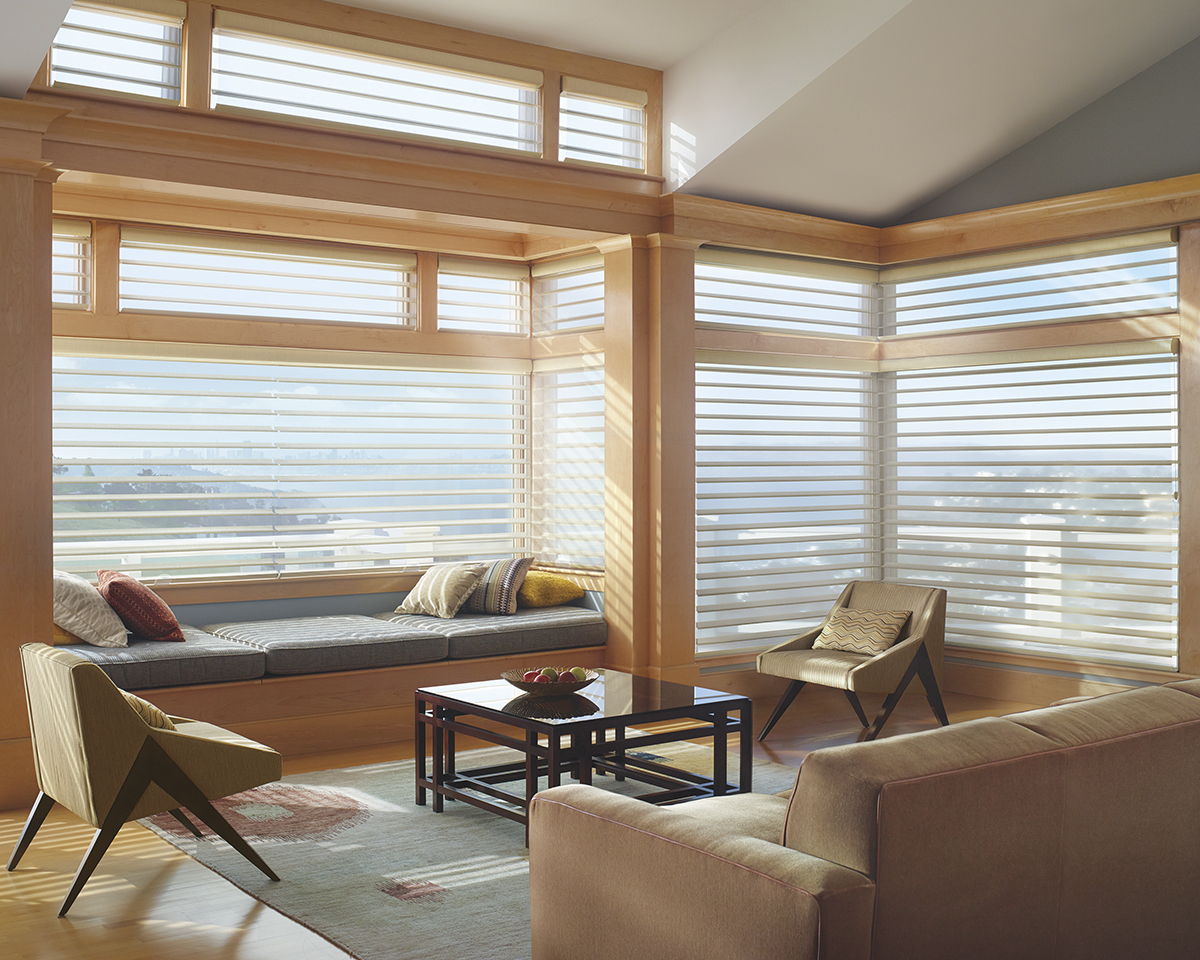 Incredible, isn't it?! Everything has changed: the lighting, the atmosphere, the temperature, the design. That's the difference window coverings can make. The homeowners opted for Silhouette window shadings in this space, and it was a phenomenal choice. No longer bleached out by the sun, all of the interior pieces stand out with stunning beauty. Even the shadings themselves become part of the room's look. Soft, fabric vanes seem to float between two sheer fabric panels for a gorgeous effect. What's more? All that beauty is protected. The sheers filter out harmful UV rays and eliminate harsh glare–all while providing a view-through. Now, glowing natural light spreads evenly throughout the room and the outdoor panorama becomes a breathtaking backdrop. Beyond just the look of the room, though, the feel has been transformed too. Without direct rays heating up the space, it's cool and comfortable inside. Instead of always being exposed, there's now options for privacy control. The homeowners can simply tilt or close the vanes for a more intimate setting. Finally, with PowerView® Automation, operation is a cinch. One touch of a button makes any adjustment needed, and being able to schedule the shades to move on their own adds a whole new level of convenience! The "after' of this before and after transformation is truly amazing, and your home can be too!
Ready for a before and after transformation of your own?
You should be able to enjoy every room in your home no matter what the weather's like. If the sun makes some of your spaces off limits, it's time for a change. With the right window coverings, you can have the light control, privacy, energy efficiency you and your home deserve. Your own before and after transformation will give you an atmosphere of true beauty, comfort, and consistency all year long. We want to help you achieve these amazing benefits. Contact our team at At Home Blinds & Decor for a free, in-home consultation to get started today.