The holidays are upon us, and we're enjoying spending time with friends and family. Do you want to make a lasting impression on your guests this year? Start with the space that's meant for gathering, sharing memories, and indulging in holiday food: the dining room. We have different styles and designs to help you find your dining room inspiration.
#1 A Modern Twist on Classic Styles
Interior design has a way of bringing back old, classic styles and putting a fresh, modern twist on them. Wallpaper has made it's way back into the world of design, but this time there are trendy patterns, like the geometric design featured here. Gold accents are also a traditional choice, but this dining room inspiration has a modern gold hue.
#2 Freshen Up Your Space
Neutrals are in, and this dining room inspiration will show you why. The backdrop makes it simple to add personal touches and pops of color. Bring in your favorite flowers for a rejuvenating feel to your design. We especially love the happiness that yellow brings. Go above and beyond with multiple bouquets. You'll see–and feel–the difference.
#3 Design with Contrast
Glitz, greenery, and gorgeous colors: this dining room inspiration has it all. This space is surrounded by dark blue walls, which contrast gorgeously with the black and white photos on the wall. The chandelier adds a hint of sparkle, while the wooden table and fresh greenery make this room inviting and warm.
#4 Fashion and Function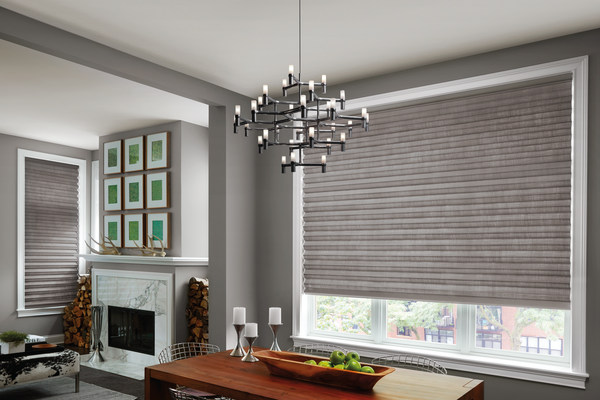 Your dining room should create the ideal environment. Do you want to enjoy your view but have control of the lighting? What about your privacy? Outfit your windows in window treatments, like the Solera Roman Shades by Hunter Douglas featured here. They're eye-catching and allow for control over light, privacy, and ambiance.
#5 Trendy Lighting
This dining room inspiration shows one of the most popular choices in lighting this year. The lights are encased in glass and surrounded by a minimal metal frame. This particular space features zinc. Choose from your favorite metal, like steel, brass, and wrought iron to illuminate your space in style.
#6 Personalize Your Dining Room
Let your dining room inspiration come from your personal styles! We love how this space shows off the homeowner's taste: the geometric wallpaper, the contemporary upholstery, and the blue accents make this dining room unique. And, we can't forget about the dark blue accent wall. What looks do you want to incorporate into your own home?
#7 Simplistic Design, Stunning Results
"Less is more" applies perfectly to this dining room inspiration. If you love the look of minimalist designs, this is the space for you. Featuring nothing but the necessities, this dining room is full of style and offers a chic vibe. The greenery, in varying heights, brings a rich, green color and creates a fun visual centerpiece.
#8 Always in Style: Black & White
Do you need dining room inspiration that's timeless and foolproof? Look no further than the incredible color combination of black & white. It's so simple to mix and match patterns, textures, and design elements to pull your black & white space together. Bring in different colors for an instant "pop," or try the modern look of metals.
#9 Bold + Eclectic
As much as we love minimalism and neutral color palettes, there is something so extraordinary about eclectic, colorful designs. This dining room inspiration does it so well; every piece is planned perfectly, making this space a feast for the eyes. The bold colors and metallic elements make this a whimsical, comfortable area–perfect for spending time with loved ones.
#10 Pure Elegance
Back to neutrals: this space looks tailored, elegant, and comfortable. The custom draperies soften the space, allowing for control over the natural light. The contemporary chairs and bits of purple add a contemporary feel to this overall traditional space. There is so much to love about this dining room inspiration.
What's Your Dining Room Inspiration?
Let your dining room show off your design style to your guests this holiday season. Incorporate elements from your favorite dining room inspiration photos or try something of your very own! We want to help you create the ideal dining room atmosphere. Contact our team at At Home Blinds to get started.