Are you craving color in the interior design of your home? Look no further than the sophisticated styling of the color blue. Whether you love dark shades, such as midnight blue and navy, or softer pastels, like cornflower or powder blue, the choices are endless. Decorating with blue is among one of the hottest style trends, due to the range of colors within the family of blue. Inspired by the most soothing aspects of nature, you can bring peaceful harmony into your home. Feel the breeze of the ocean with aqua, or invite the essence of a cloudless night sky with celestial blue. Whichever you choose, decorating with blue will bring color and charm to your home.
Harmony & Inspiration
Nature can be soothing, and when you're decorating with blue, there's no better place to find inspiration than right outside your door. Living in Florida, we have plenty of 'blue' inspiration, from the peaceful daytime sky, to oceans and lakes. Water is an incredible source for decorating with blue, as it blends the complementary color of greens for a unique look. The skies of blue fill our lives with soothing harmony, especially during the quieter parts of the day, such as sunrise and sunset. Contrasting colors, like orange and pink, swirl in the sky, evoking powerful emotion and soothing tranquility.
Touches of Color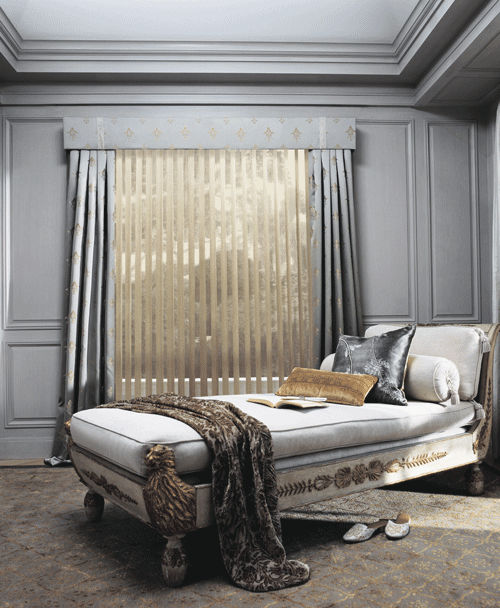 The stunning look of blue, in any shade, can add just the right look to your home. You don't need much. It's statement-making and stylish, even in small amounts. Accent pillows, a few small decor pieces, and you'll be on your way. We love the way these window treatments tie in the elegant decor of the room with the matching top treatment and side drapery panels. Frame your windows in the sheen of silk, adding a soft, subtle blue that will take your breath away. Paired nicely with Luminette Privacy Sheers, this bedroom window showcases the layered look with perfect results. We also love how Luminettes allow you the range of functional control from gorgeous view to room darkening privacy.
Mix Shades of Blue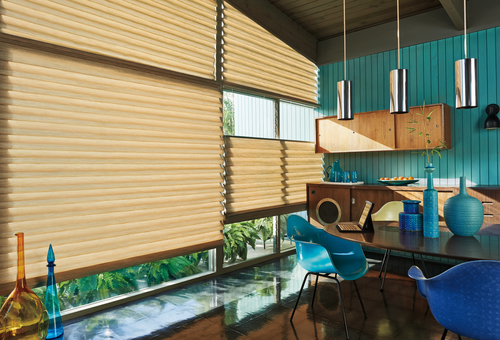 What blue has to offer, that not every color can, is the ability to mix several different shades in the same shared space. Where other colors might find conflict, it works with blue. When decorating with blue, you can pair light and darks in different elements throughout the room, and it's almost as if they were meant to go together. This goes for patterns, as well. One shade of blue simply makes the other shade seem like it belongs there. One shade can be the backdrop, the paint color for your walls, while the other shade of blue decorates your home.
Decorating With Blue…Choose Your Hue.
Do you have a favorite? Do you love the soft hint of purple in indigo blue, or the green tones of turquoise? No matter your preference, decorating with blue will bring the perfect pop of color and sophisticated design to your home. In the Naples and Fort Myers areas, our showrooms are a great place to start. With a huge selection of fabric samples and window covering displays, you can plan your next project. We can also come to you! Invite one of our design consultants into your home for a free consultation to get inspiration, ideas and advice. You'll be glad you did!