It seems that tricky windows only reveal themselves at the most inconvenient times-when you go about covering them! Otherwise, they provide an abundance of light and add a custom look to your home. What makes them tricky windows? Their shape, size or location. Because some clients consider their unique style to be the focal point of their home, it's difficult for them to even consider covering up their beauty. But, we have solutions.
Specialty Windows
Angled and arched windows tend to be the most common of the tricky windows variety. These specialty shapes are often used to add variation to a home and make it stand alone in a neighborhood of similar architecture. Indoors, they lend a custom look to great rooms and entryways alike. But, specialty windows can become problematic if they allow too much light or heat into the home. And, what about privacy in the evenings? Custom window treatments can accommodate these needs. 
Angled Windows 
Angled windows are a unique way to add character and enjoy the landscape of your Ft. Myers home. Yes, these angles can be tricky windows to work, with but we've got them covered. You can add window treatments for function while enhancing the decor of your home. Try window shades, plantation shutters or blinds-each option will function well and give angled windows an amazing upgrade.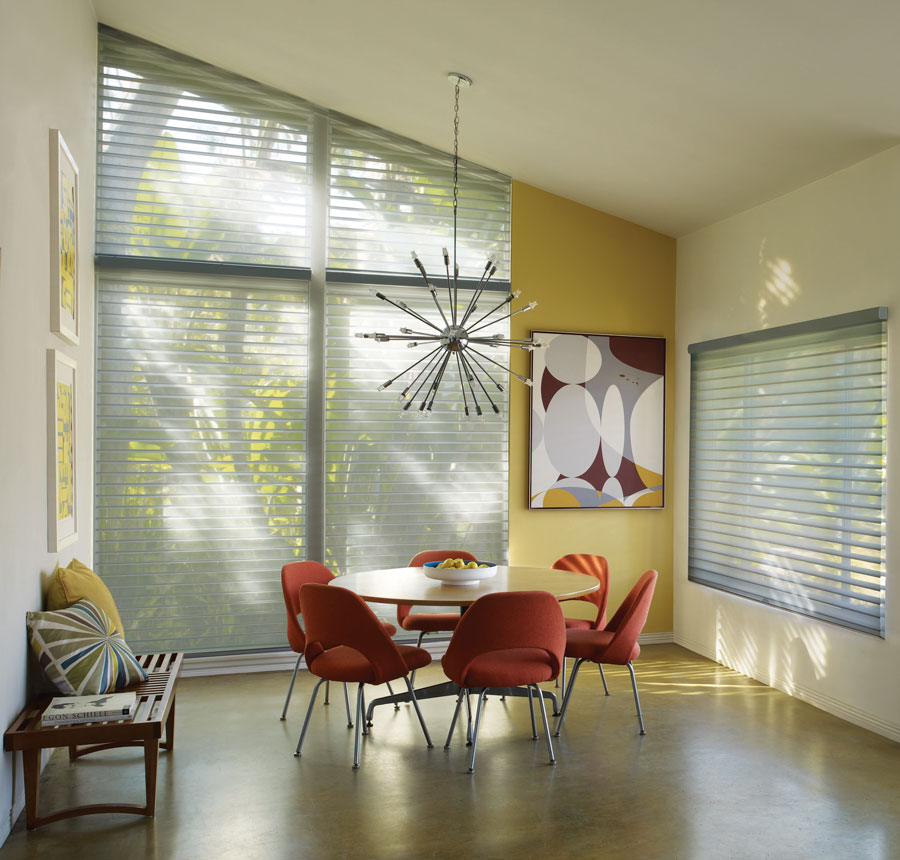 Arched Windows
Arched windows can also be covered with custom window treatments. Don't be discouraged, we can add a covering that will maintain their look AND give you the control you need.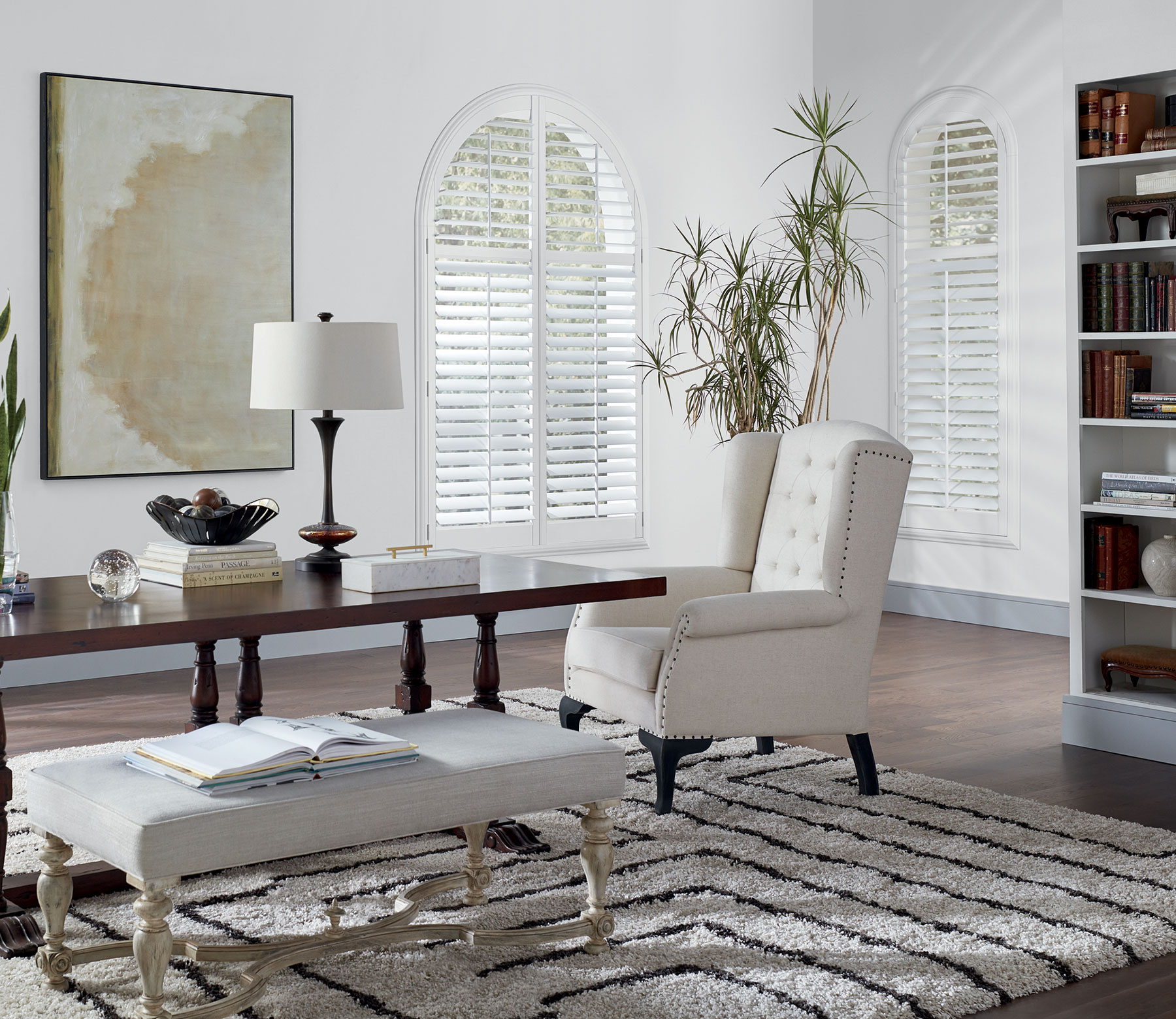 When you add window coverings to tricky windows you have choices. Sometimes, the entire window is covered. But just as often, the arched section is left bare and only the bottom covered. This allows daylighting to illuminate the room, but privacy and light control are under your control. What's your preference?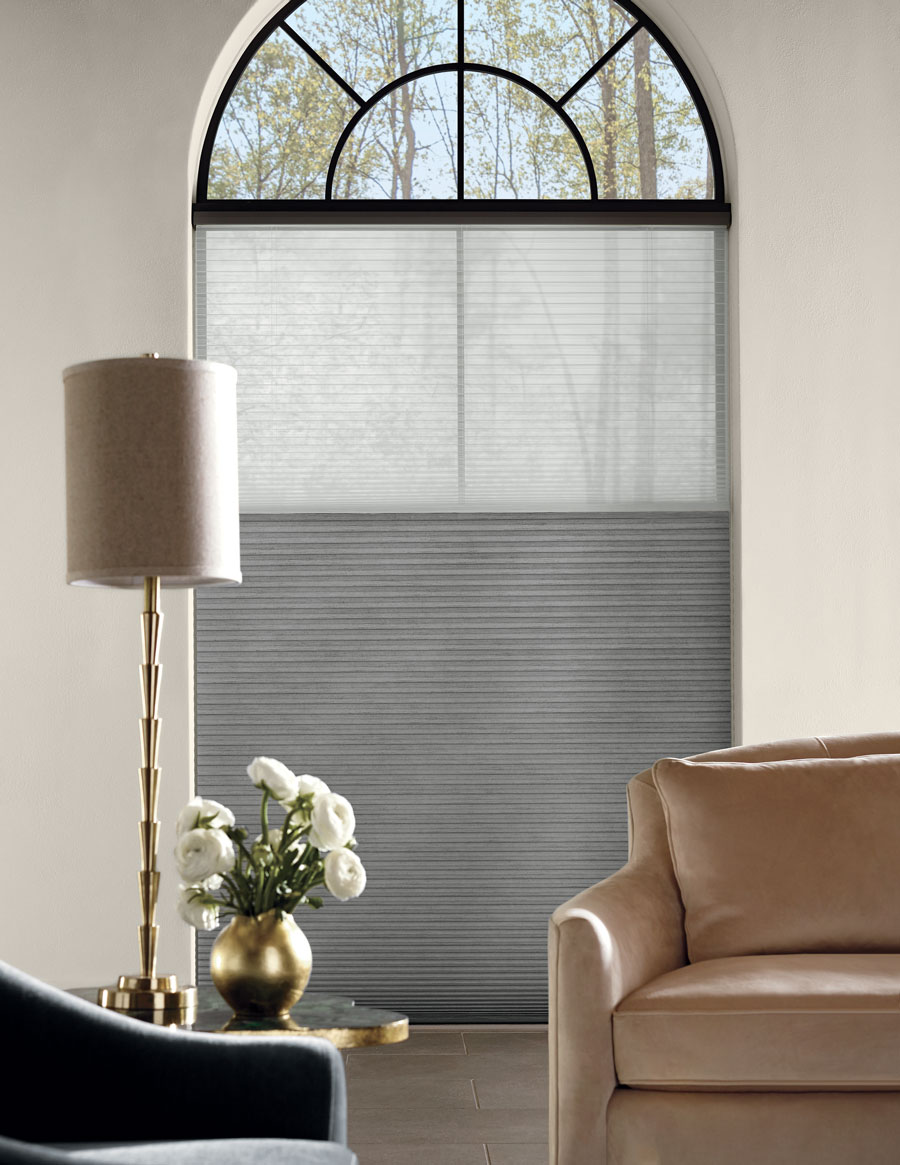 Tilt Turn Windows
European style windows have crossed the pond! Known simply as tilt turn, these tricky windows can add tremendous personality to your home. They operate by tilting in on an angle, as shown below, or opening like a door. Tilt turns create an open, resort-style feel with quick access to the outdoors! And, we can cover them!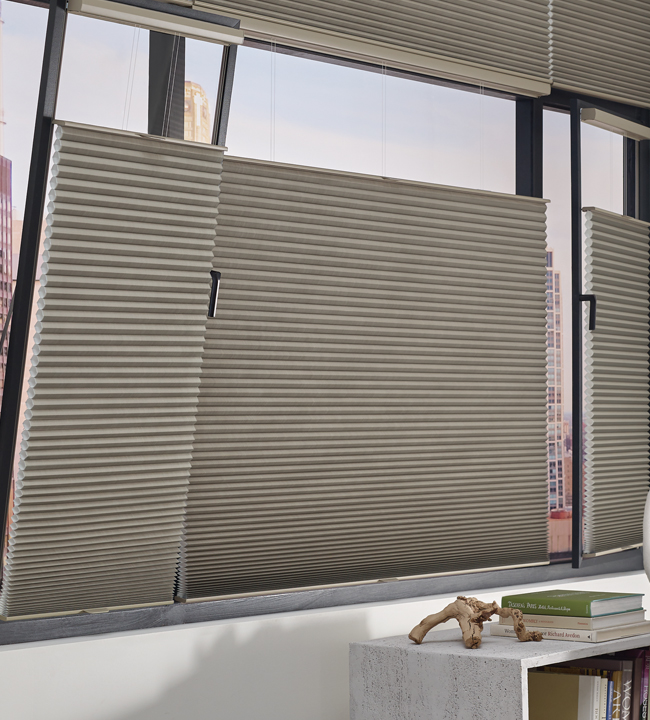 Tricky windows are no match for the TrackGlide™ System. Gaining light control and room darkening is possible. TrackGlide™  runs on the very edge of the window frame offering the ease of adjustment by sliding up and down. A window fit with this operating system can also take advantage of their top down option.  Learn more here.
Window Placement sets the scene for
Tricky Windows
Window placement does matter. Even standard windows can easily become tricky windows once you decide to cover them. If they are too close together it can be challenging or if you are attempting to control the overall feel of the space you may need to consider which windows need coverage. Layout and placement of windows can cause a hiccup, but our window covering experts will design a custom solution perfect for your home.  
Bay Windows
Specialty areas in the home that feature a bay window make a home unique. When adding window treatments to this style window, consider the design of your home and extend the look. Maybe a breakfast nook or sunny spot off the living room needs coverage, use this opportunity to upgrade the space. If the windows are tightly mounted next to each other, use a treatment with an inside attached track. Seamless beauty.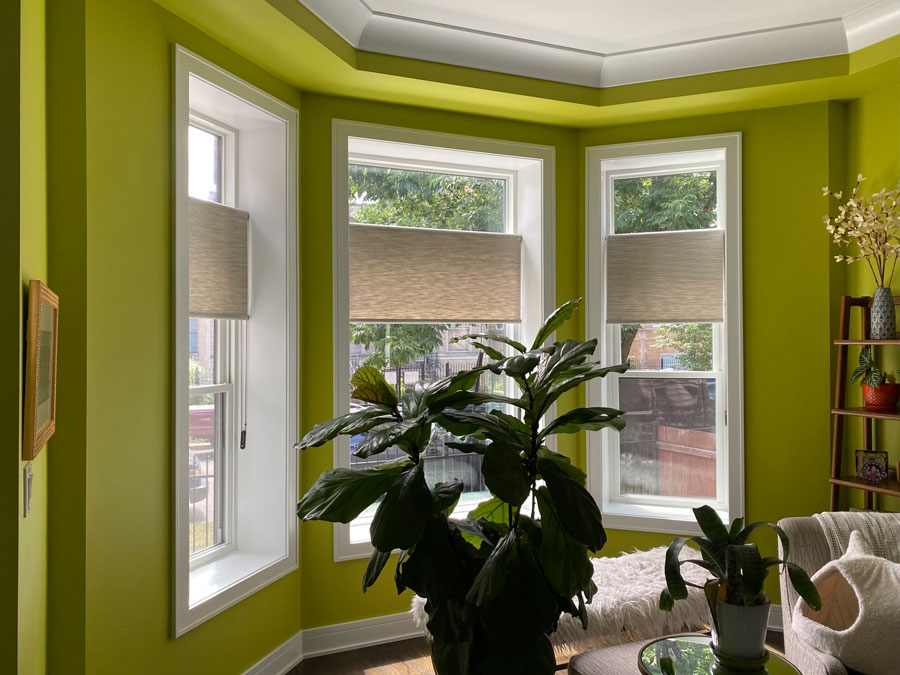 Extending the beauty of your home should not be the only consideration when adding treatments to tricky windows. What about creating the right atmosphere? Let's address the comfort of your space. Are your bedrooms cozy enough? Media room dark enough? Our window covering specialist can help you achieve the perfect feel in each room, with a little help from the right window treatments of course.
Corners
Corner widows can provide a studding vantage point, but we are also left with an abundance of sunshine and an open view from the outside. We don't want to altogether cover these windows but we do want the option to block the light, diffuse the sunshine and add privacy to our home. With custom window solutions this is not a problem. Even corner windows can be treated with a product that offers style and function. Enjoy your home to the fullest!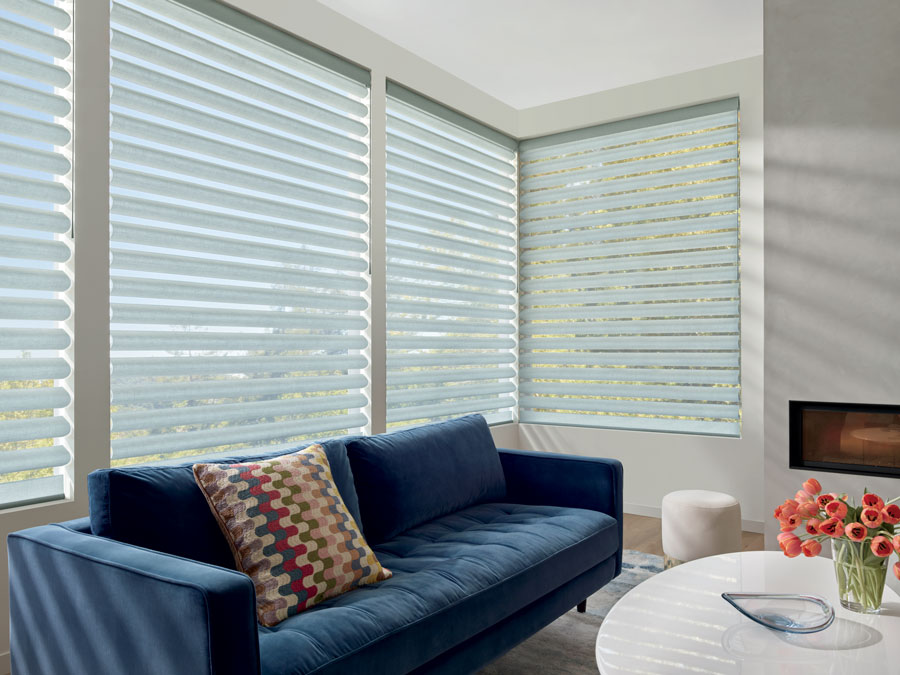 Transoms
Love top down shades? Transoms are very similar in that they provide daylighting. These short, wide rectangular windows deliver a blanket of light across the ceiling to illuminate your space all day. Should you cover them? It's your choice. But, before you decide, consider insulation benefits, light and privacy.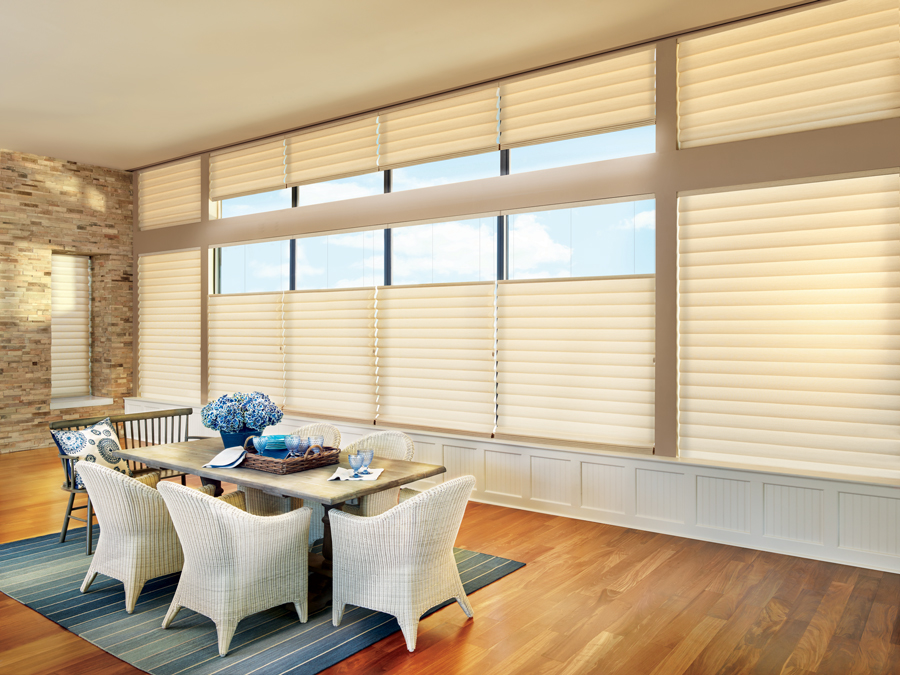 Be aware of your surroundings. In the home below, the outside tree provides shade and the dark ceiling helps with light control as well. Leaving the transoms uncovered allows just the right amount of light into this room. But not all situations are the same. Your home, style and preferences should determine the treatments you choose. Ask a window specialist for help.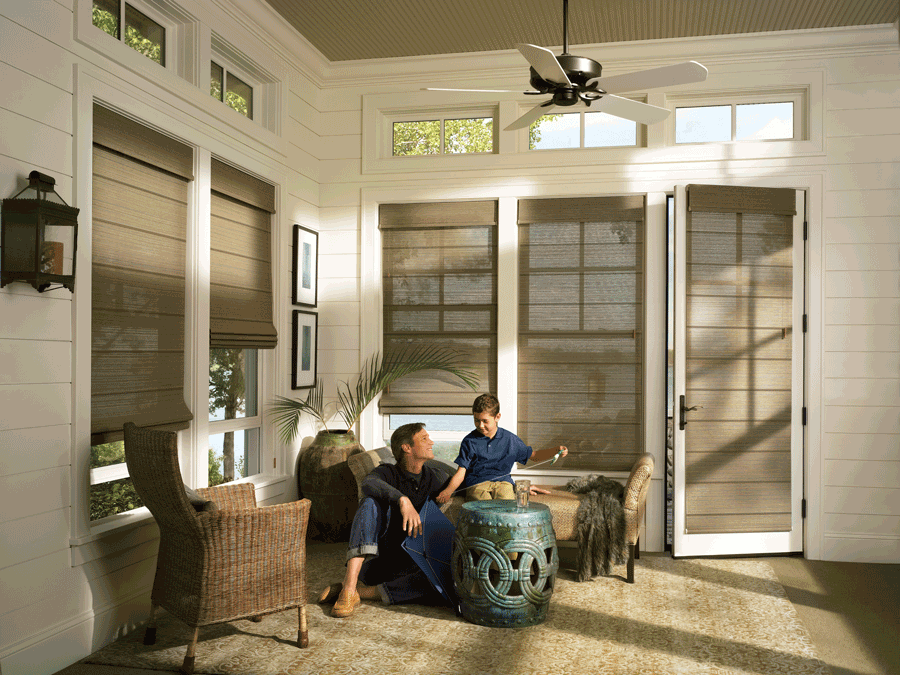 Skylights
Skylights can illuminate a space beautifully-the sun and the stars create a natural ambiance. But sometimes the sunshine is too much in the South East, and the heat that comes along with it can be oppressive. Even hard to reach tricky windows like skylights can be covered. Explore now.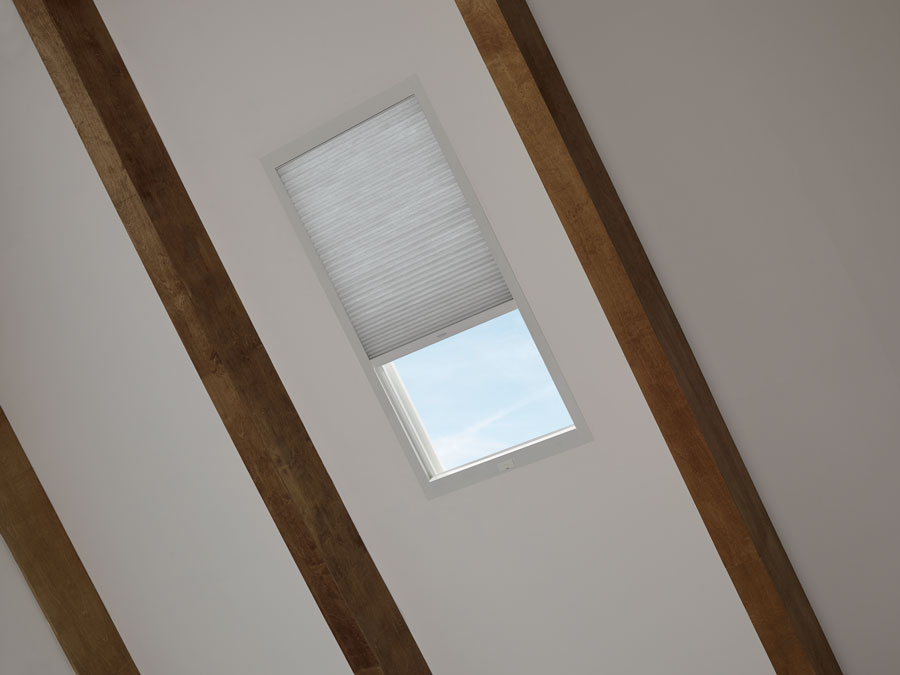 Getting Starting…
Now's the time to begin the process of tackling those tricky windows. Our team at At Home Blinds & Décor can evaluate your home and design custom solutions that will benefit your family's home. With your vision and our expertise, we can create the perfect atmosphere for each room. Contact us today for your FREE Consultation.