Now that spring is officially here, we're starting to see some of the best weather: warm temperatures, sunny skies–and not too much humidity. It's just perfect for getting outside and enjoying all that there is to do here! Have you noticed an uptick in how much you, and your furry friends, are using your outdoor space? Are your patio doors seeing tons of action these days? Has that made you realize that you really need to cover sliding glass doors in your home? If you don't have the right solutions in place, all the in-and-out, open-and-close, activity can leave you feeling frustrated. Not to mention the toll bare glass doors can take on your home's environment. If you're thinking about how to cover sliding glass doors, you probably have some questions. We have answers to the most frequently asked questions we get about finding the right coverings for sliding glass doors. Check them out…
Will I lose function?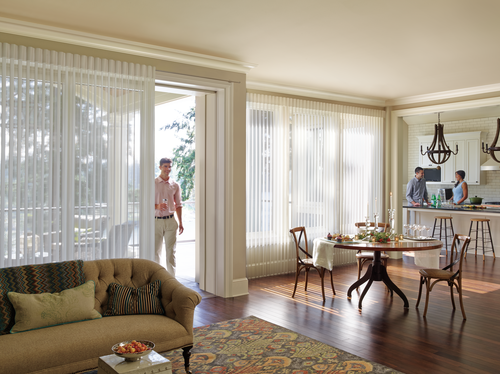 This is one of the most common concerns our clients have when they're looking to cover sliding glass doors…and rightly so! Patio doors are seemingly in constant use. The dog and kids are forever going in and out, and guests are sliding the doors all the time when you host get-togethers. No one wants to fuss with complicated door coverings. The good news is that the right window treatments for your sliding glass doors will make function simple and safe. When it comes to operation, push/pull control and motorization are our favorite systems for these window coverings. Push/pull control uses a wand or cordless LiteRise depending on the orientation of your blinds and shades. A simple push or pull moves your coverings right where you want them. As for motorization, you can't beat the ease and convenience. Touch a button for instant activation, or set a schedule so your blinds and shades automatically adjust based on your family's lifestyle. Easy peasy! 
How do I coordinate with windows near my doors?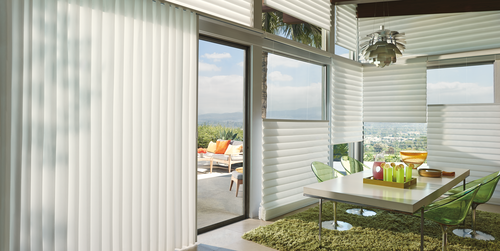 The look and feel of your home matter. You deserve stylish spaces that fit together in beautiful harmony. So, what do you do when you need to cover sliding glass doors in a room with surrounding windows? Well, you have two basic options: you can use the same window coverings on everything or you can coordinate different window treatments. If you'd like to dress your windows and doors with the same shades, our Vignette Modern Roman Shades and Duette Honeycomb Shades are available in both vertical and horizontal orientations. If you want different window treatments, consider pairing Silhouettes with Luminettes or roller shades with gliding panels, and match the fabrics. This will give you the coordinated, designer look you're going for. And, Hunter Douglas makes this easy because their collections of gorgeous fabrics are available across a variety of products. 
What benefits can I expect?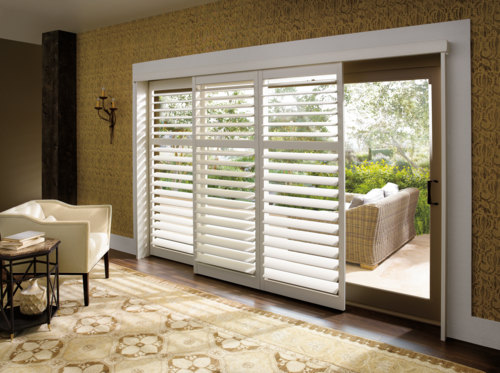 When you cover sliding glass doors, you bring out the best in your home and in your life. On top of adding stunning style, window coverings for your doors accentuate your view, offer privacy, and welcome in glowing natural light. You're no longer plagued by glare, direct sun, and UV rays. Instead, you're surrounded by beautiful filtered light, and your interiors are protected. Plus, by controlling the light, you help maintain a comfortable temperature throughout your home. With the right window treatments, you can also expect durability and easy cleaning. There's no question that the areas leading to your sliding glass doors are high-traffic. Dust, dirt, muddy paws, and sticky fingers are sure to be passing through. Thankfully, Hunter Douglas window treatments are designed with durable finishes and easy-to-clean materials. Talk about benefits!
Cover Sliding Glass Doors: We're Here To Help!
Do you have more questions about how to cover sliding glass doors in your home? Are you ready to get the right solutions in place? Let us help! Our team is here to guide you toward the best window treatments for your style and your home's unique needs. We'd love to greet you at one of our showrooms, or even in your own home. The At Home Blinds & Decor team can bring samples and advice to you with a free, shop-at-home consultation. Contact us to get started today!