Have you heard about dual shade systems? Are you wondering what all the fuss is about? The unprecedented innovation of a dual shade system brings a whole new range of possibilities for light and privacy control to your home. With two shade opacities on the same window, you can completely customize your home's atmosphere. Plus, your options are continually expanding. Hunter Douglas just added roman shades to its ever-growing list of collections available with a dual shade system. So, which ones is best for your home? Use our guide to help you decide.
Do you need to keep your windows covered but long for daylighting?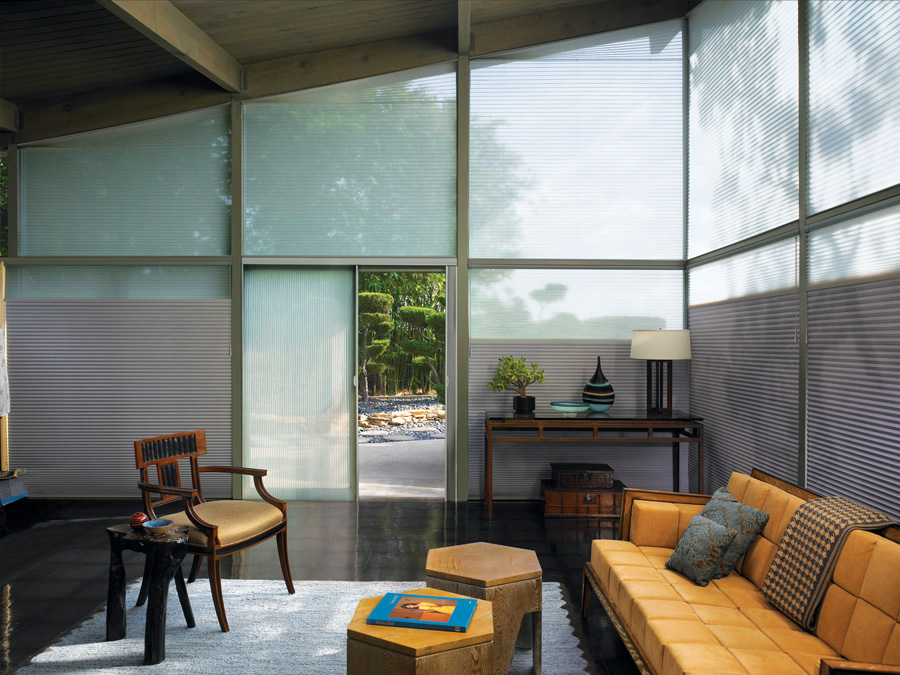 You need to check out our Duette or Applause collections with Duolite. They allow you to savor the benefits of daylighting while providing total coverage of your window with insulating cellular shades! How is that possible? A top, light-filtering shade brings in soft, glowing light. And a bottom, room-darkening shade adjusts up or down to meet your needs. This dual shade system protects your home's interior from the elements and takes your comfort to a whole new level! Think you need vertical shades? Don't worry! Duolite is available for that orientation as well.
Do you need a range of control from blackout to view-through?
You'll love a dual shade system that features two independent shades on the same headrail. The front shade provides a glare-free view and welcomes soft, filtered light all the time. And, when you need to block the light, a secondary room-darkening shade rolls right into place. We love this system for west-facing windows because blocking the sun is an absolute necessity during certain parts of the day. It's also great for bedrooms where you want privacy and blackout in the evening and early morning but otherwise prefer a clear view and natural light. If this range of control sounds appealing, ask us about our collections of Silhouette Shadings, Designer Roller Shades, and Designer Screen Shades to find the best fit.
Do you want to have it all: light-filtering, daylighting, and blackout?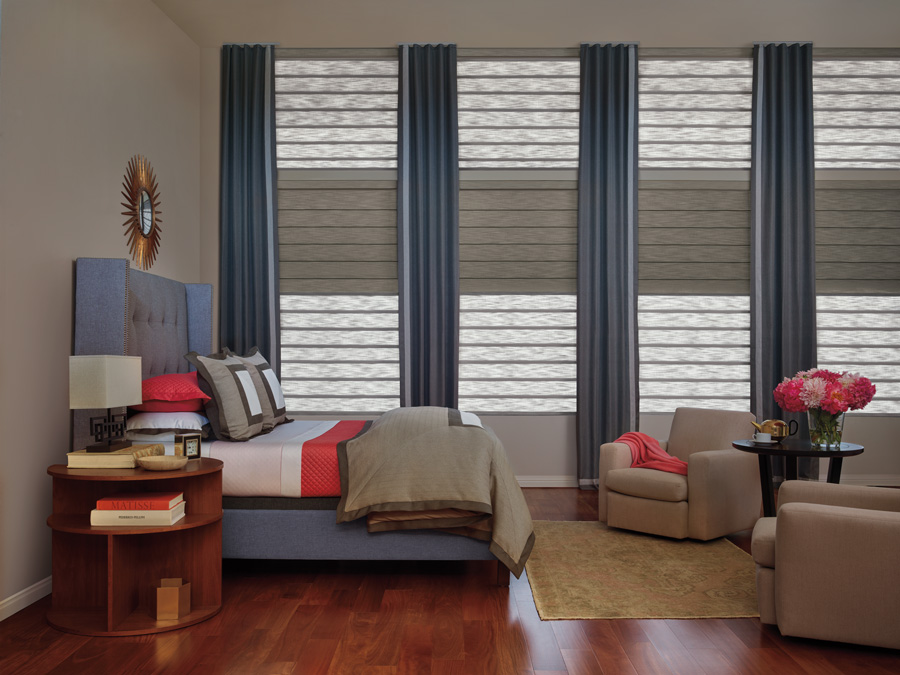 You can…thanks to Hunter Douglas's newest addition to the dual shade system family: Vignette Modern Roman Shades with Duolite. A front sheer or light-filtering roman shade allows you to invite beautiful daylight. And, for customized light-blocking, a room-darkening back panel rolls into place wherever, and whenever, you need it. Plus, as a PowerView® Automation exclusive option, your home transforms automatically throughout the day according to your schedule and also at the touch of a button!
Which Dual Shade System is Right For You?
Have you decided? Do you still have questions? The At Home Blinds & Decor team is here for you! Our designers would love to help you discover the best dual shade system for your unique home and lifestyle. Invite us over for a FREE, in-home consultation. Contact us to get started today!