You already know how valuable large windows can be to the overall beauty of your space. Whether they provide beautiful landscape views, exposure to natural light or give an open airy feeling to your home- covering them can be important too. Here's our chance to provide helpful information about covering large windows so they can function to their truest potential.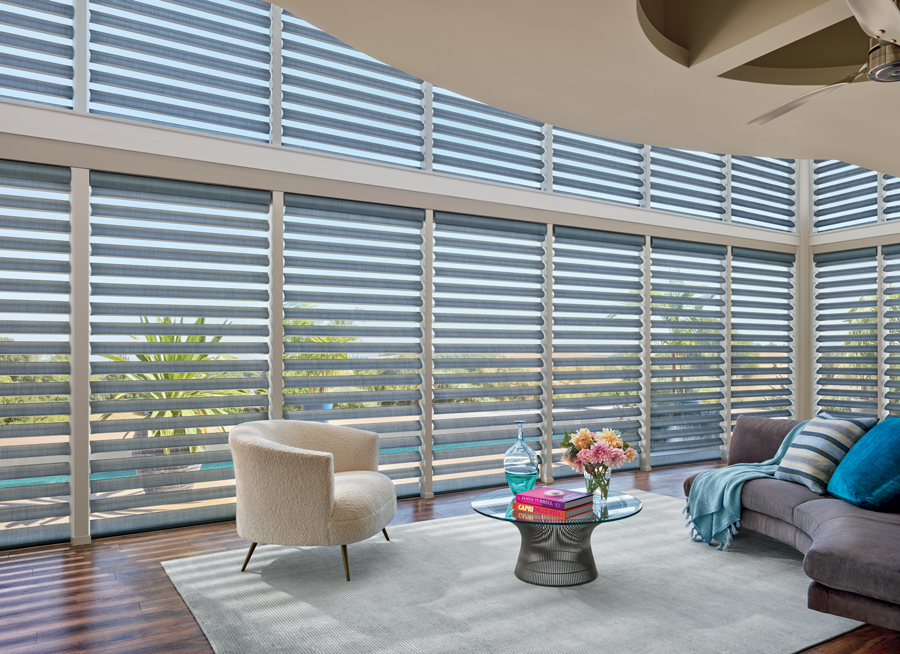 Your Lighting Needs
Large windows are an amazing source of natural light, but some days it's just too much. First, you must evaluate your light control needs. That depends on which direction your windows face and the function of the rooms they are in. Once you've determined your lighting needs, you can choose how to cover large windows. For example, Western-facing windows call for a more substantial light blocking solution than Eastern-facing windows. And, bedrooms need room darkening shades more so than other rooms in the home. Without window coverings, large windows can leave rooms over exposed to light and the glare becomes unbearable.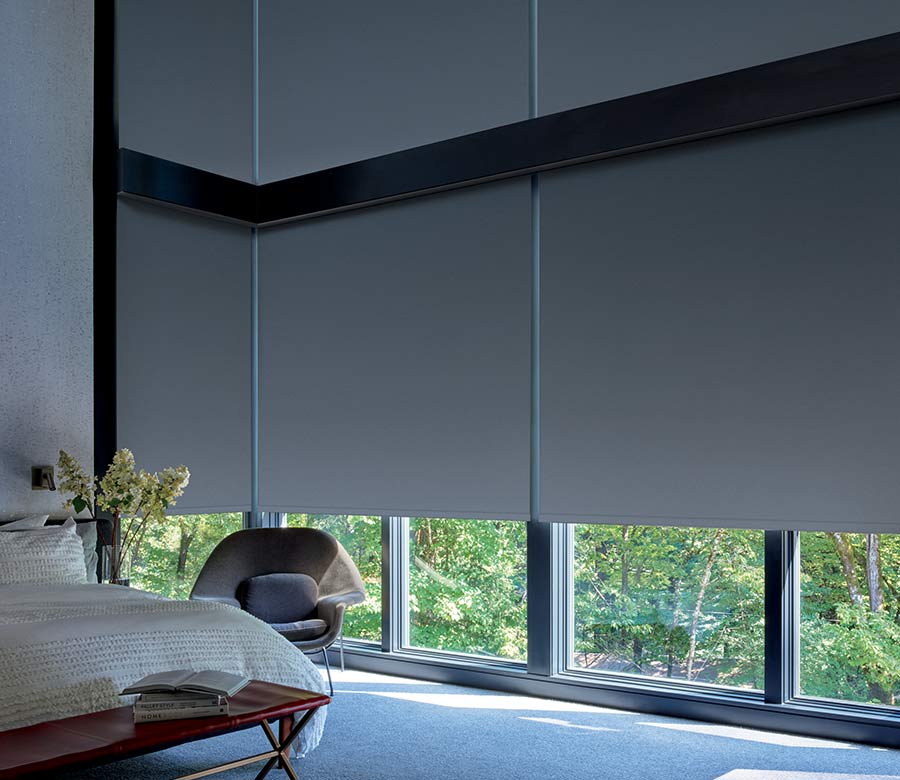 How's the View? 
Let's take a minute to reflect on the large windows in your home. Do they provide an incredible view? Maybe they do, maybe they don't. If you have large windows that highlight your property and its golf course view-you'll want to enjoy it. On the other hand, if large windows overlook your neighbor's driveway? That view doesn't matter as much. No matter the scenario, when covering large windows always keep in mind the importance of light control and your own personal comfort. And remember, window treatments allow you to customize the atmosphere inside your home.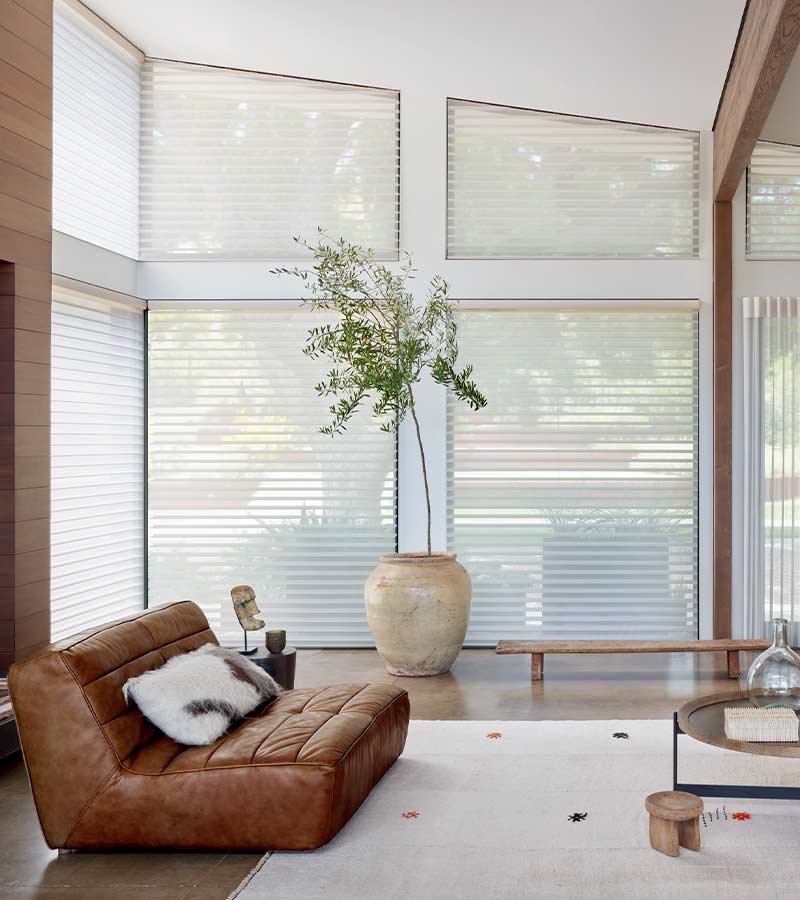 The Privacy Factor 
Privacy is a huge consideration when covering large windows and by adding window treatments, you'll add to the comfort of each room. If your largest windows are in rooms such as bedrooms and bathrooms where privacy is most important, you'll need complete privacy sometimes and the ability to allow light to enter at other times. In the case of first floor living areas, those large windows allow for natural light all day, but at night, with your lights on, you'll need coverage to protect an unwanted view into your home.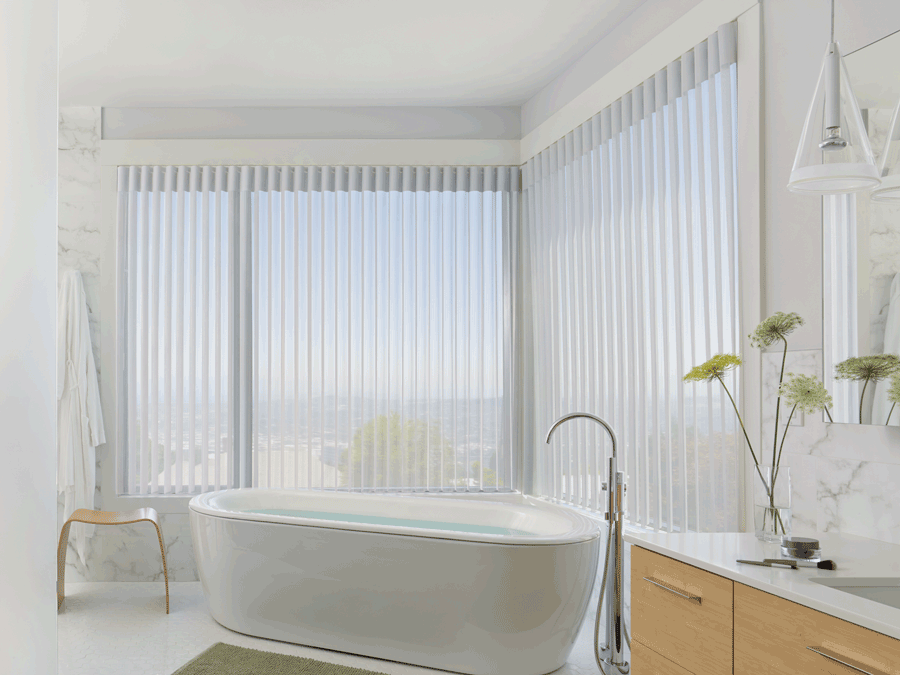 How often will you adjust your window coverings?
Now that you've decided to add window treatments to your large windows, consider how often you will need to adjust them. We have both manual and automated window treatments. Which type will serve your needs? Some large windows will not need adjusting very often, but some will. Think about the rooms of your home and how much time you spend in them. Just as the sun's position changes in the sky, so will the atmosphere of the room. Beautiful morning sun may lead to afternoon glare in which you'll be adjusting shades often to achieve a comfortable atmosphere. Why not add smart shades that adjust for you? With the tap of a button or a voice command to Alexa your shades will spring into action. You could even set a schedule and never have to think about it again.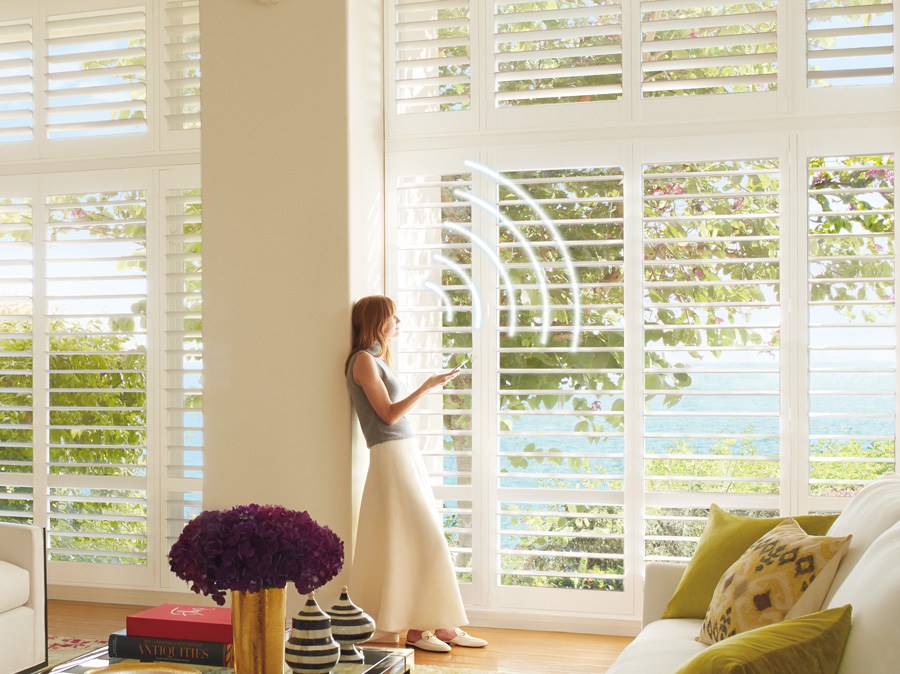 Why does energy efficiency matter?
Energy efficiency is a hot topic in the southeast–it's only right to do our part. Summer's intense heat can drive energy bills up, up, up. By covering large windows you can insulate those openings and help keep high temps at bay and bills too— the best part is energy efficient window treatments work in the cooler months too! Prioritize the rooms that are most affected by extreme temperatures, learn more about  energy saving options.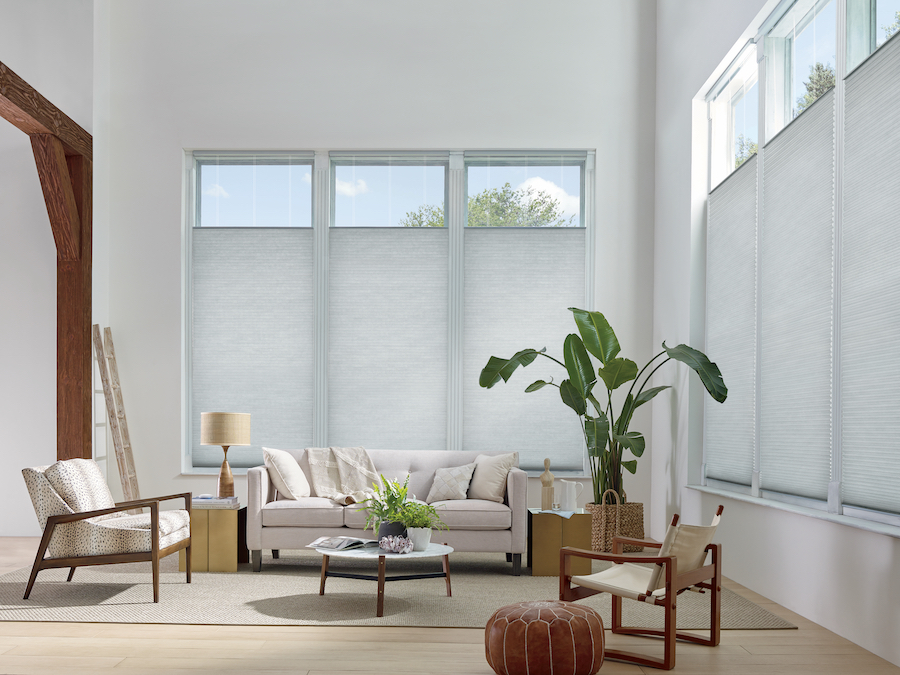 Time for Covering Large Windows?
It just may be. If you've been experiencing loss of energy efficiency, privacy or light control due to your large windows-we can help! All homes have different needs and unique circumstances. Together we can develop a plan with the style, comfort and atmosphere of your home in mind. The professionals at At Home Blinds have years of experience in covering large windows and will help you determine what products are best for each room of your home. It's what we do. Contact us for your FREE consultation.