Over the years, technology has improved our quality of life in countless ways. We're always looking for innovative ways to integrate it into our routines. Smart technology solves problems and makes life simpler. Hunter Douglas PowerView motorized shades accomplish just that while giving your home a modern lifestyle upgrade! Enjoy more of your time at home with the ambiance of perfect light control, the security of worry-free privacy, and all day protection from UV rays with no hassle. Just like other great home automation technologies of the past–such as dishwashers and washing machines–once you've experienced motorized shades, you'll wonder how you got along without them! From hard-to-reach windows, to areas that need frequent adjustments, motorized shades provide solutions so you can get the most from your window treatments.
Effortless Control
PowerView motorized shades are so easy to operate! Use the stylish Hunter Douglas Pebble remote, or download the app on your favorite device. Just like that, you'll have instant control over your natural light and privacy! Adjust your shades from across the room, or across town.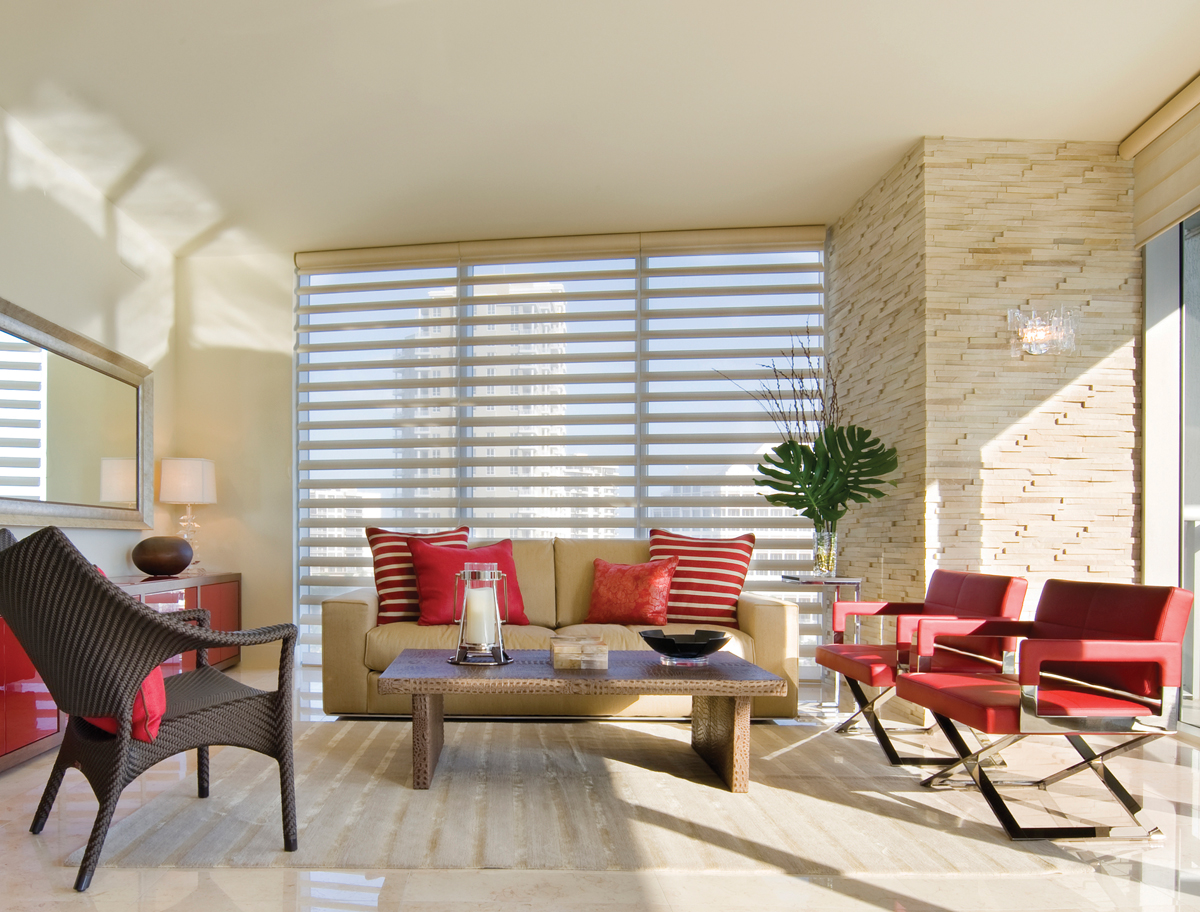 And motorized shades are the perfect compliment to top down bottom up shades! Lower your shades from the top instantly. With ease, adjust even the most difficult to reach window treatments effortlessly. No need to avoid rooms prone to glare. With the instant control of motorized shades, you can enjoy every room in the house when you want to, without any hassle!
Teach PowerView Your Routine
Not only do PowerView motorized shades let you adjust on the fly, but they also include an amazing scheduling feature! Set your shades to automatically close all the way at bedtime to block outside light. Wake to the glow of morning sunshine as your shades move to wake you with perfectly managed natural light. Watch as your bathroom shades seem to anticipate your needs, and adjust for privacy as you prepare for your day.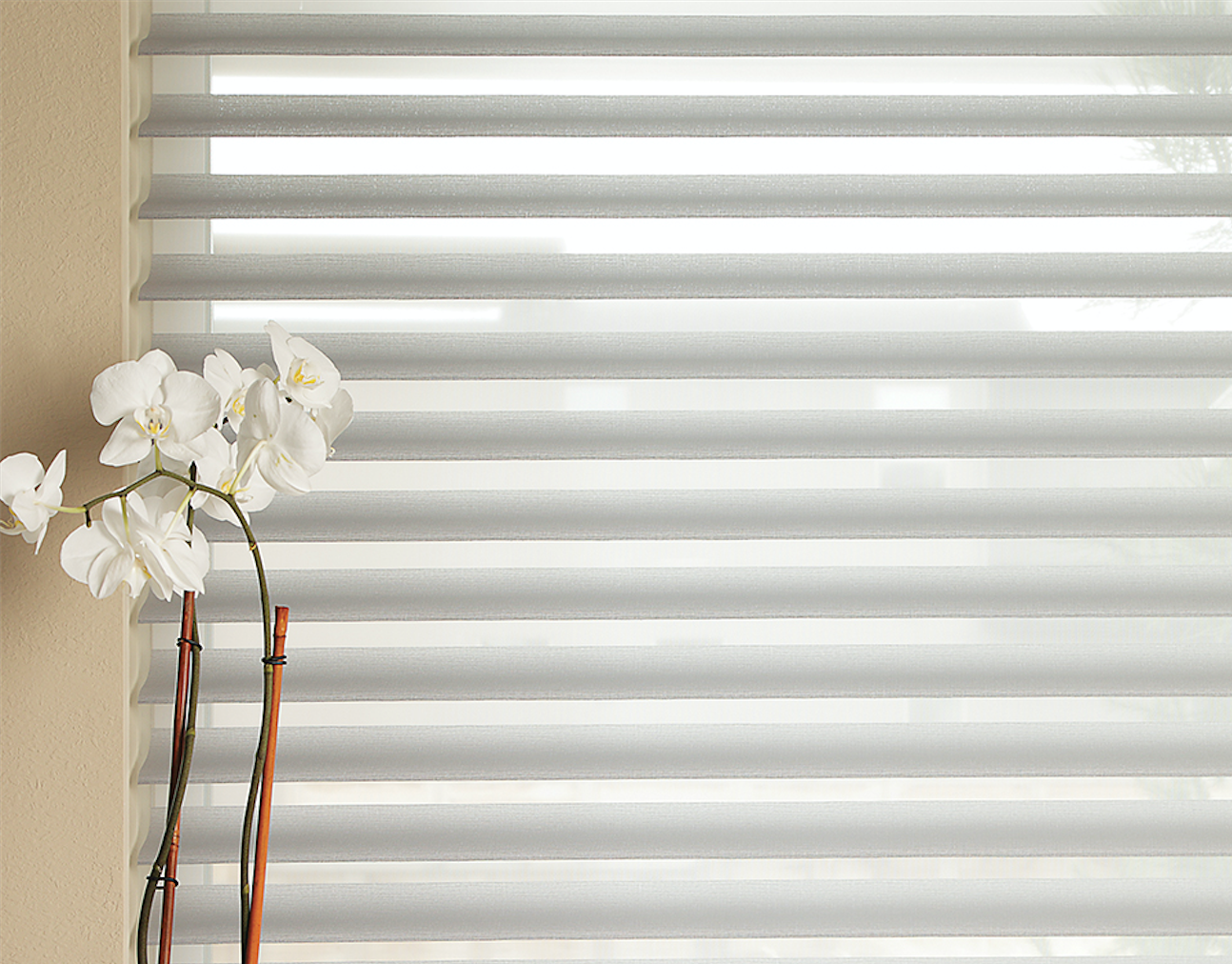 Do you have rooms that get overwhelmed by too much natural light at certain times of the day? Set your motorized shades to filter light at just the right time to keep your rooms from overheating. Protect your furniture and decor from damaging UV rays–all while you're going about your day! PowerView motorized shades give you peace of mind, knowing you're getting the best function and efficiency from your window treatments.
Partners in Technology
Hunter Douglas PowerView motorized shades are a fantastic way to add modern solutions to your home. With all of the new innovations in smart home technology, Hunter Douglas has partnered with integrated home automation systems to bring you whole home control with one easy device.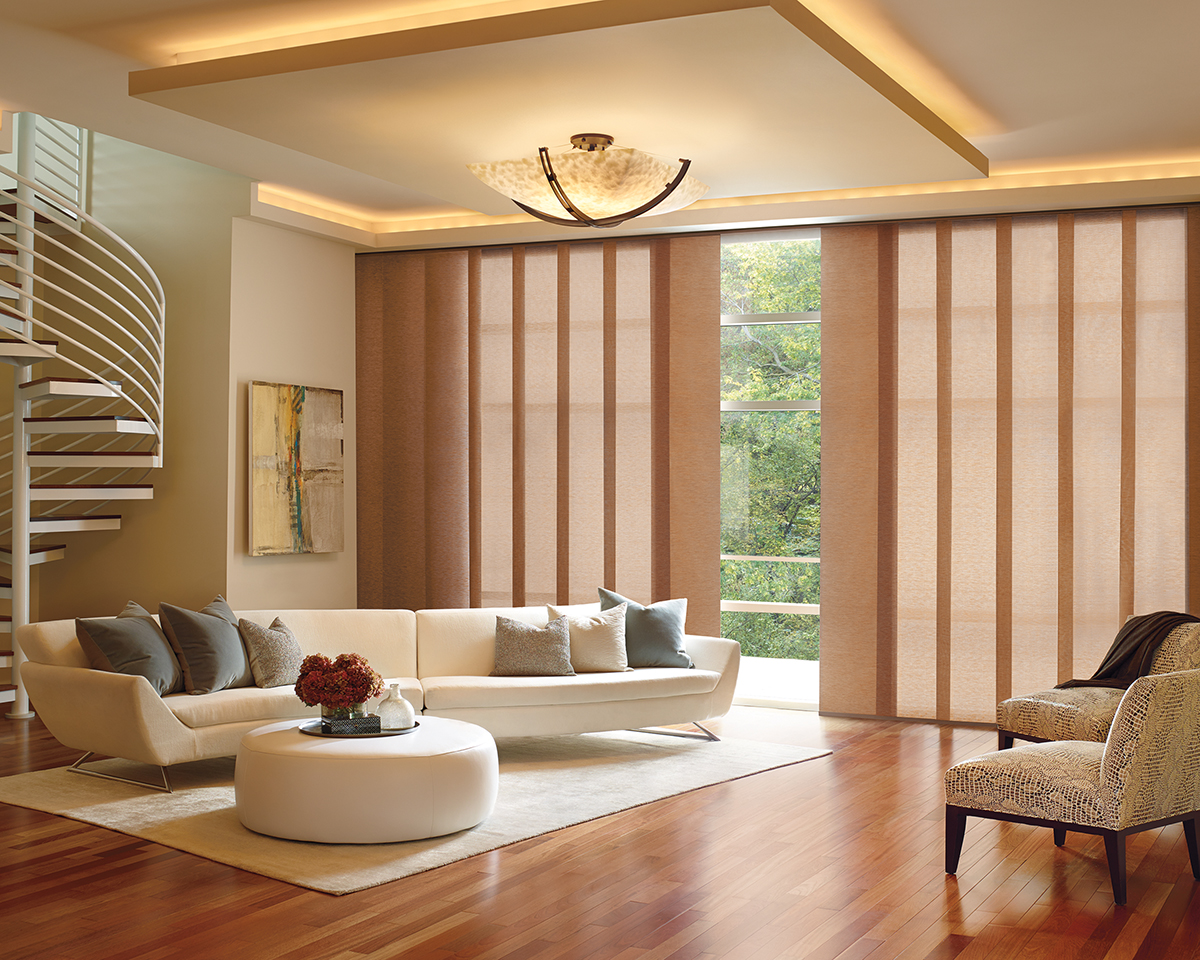 If you're thinking of adding more smart home innovations to your home, this is a great way to have all your controls in the palm of your hand at once!
Enhance Life with Motorized Shades
With automatic scheduled adjustments and easy, instant controls, PowerView® Automation shades give you perfect light control, privacy, and UV protection all day long. Our team would love to show you the many beautiful Hunter Douglas styles that are available with PowerView® Automation. And, we can set you on the path to enjoying all the benefits of motorized shades! If you're ready to enjoy more of your time at home and enhance your modern lifestyle, contact us to schedule a free, at-home consultation.