When it comes to the ultimate in room darkening, we have the top choices available  – blackout curtains and blackout shades. Which is better? Both are great at blocking light and both have some great features. As for what's better, we've found that it depends on you! Your home and your style. Our design professionals are ready to help you decide which better suites your needs and your tastes!
Blackout Curtains: It's All About The Fabric!
Blackout curtains and/or drapery panels are great for those who love the look of flowing, dramatic fabrics and a simple "on/off" style operation. When the curtain panels are open, you have a continuous and unfettered flow of natural light into the room. When they are closed, all light is blocked out. You can also double up the layers. A sheer or semi-sheer panel on the inside and blackout on the outside will give you an additional level of light control, offering softer, more controlled natural light with the sheer panel closed and the blackout panels drawn.
Blackout Shades: It's All About the Control!
One of the best features of our blackout shades are the operating systems available. We have a variety of systems that are child and pet friendly and have varying levels of control – from manual to completely automated! If you want different levels of light control at differing times of the day, a top down bottom up system may be right up your alley! For the ultimate in control, we have PowerView motorized operation. It gives you the ability to transform your space via hand held or surface mounted remote control or completely automate your window coverings with the PowerView app!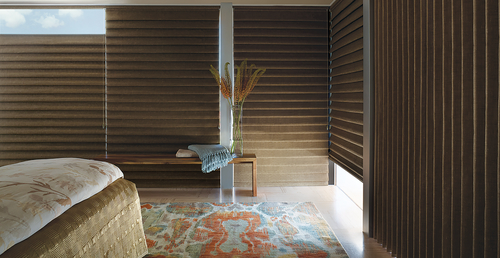 The Layered Look
Whether you prefer the flowing, layered simplicity of blackout curtains or the crisp, dramatic elegance of shades, we can give you the ultimate room darkening experience. It really all comes down to your style. Here at At Home Blinds & Decor, we have many different fabrics and textures in our shade collections as well as our draperies. We also have roller shades that offer bold designs and roman shades that offer voluptuous layering. And, our draperies can be custom-made and crafted as a one-of-a-kind to match existing home decor. Whatever style you prefer, we can deliver!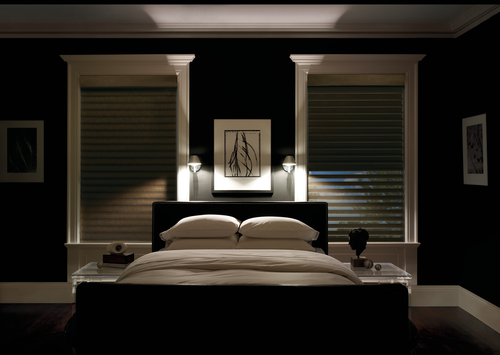 Contact us today to get started on your way to the ultimate room darkening experience. Our design consultants are ready to help you decide whether blackout curtains or blackout shades will best suite your taste and your home decor. We can't wait to get started!