It's almost here–Springtime in Ft. Myers! While others in the country are busy shoveling snow, Floridians get a head start to the season! The lucky ones are busy planting vegetable gardens and awaiting the beauty of new flowers–like poppies, pansies and petunias! This year, it's time to be inspired! Brighten up your home by adding the latest in colors, textures and fabrics. Make the transition into spring a rejuvenating one by personalizing your space with a fresh pattern to go along with your décor. It's just the spring refresh your home deserves!
Spring Colors for Spring Refresh
When we think of spring we think of pretty pastels and soft delicate colors. As the flowers begin to bloom, we are reminded of just how beautiful the colors of the season can be. Why not bring spring hues indoors? Fabrics can add a certain sophistication to your home along with color and personality. Allow your home to emerge by trying something fresh!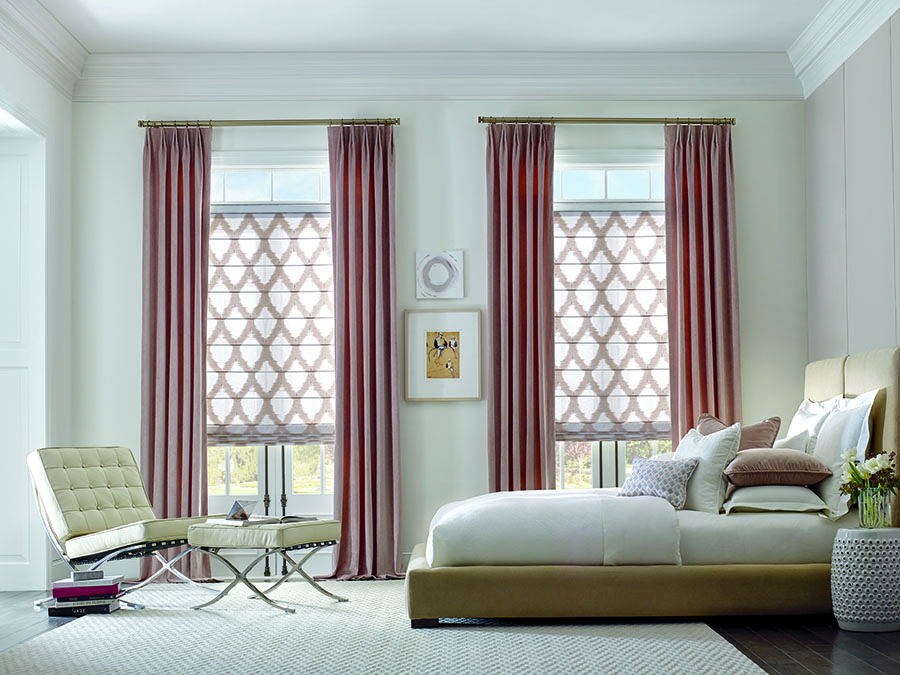 Spring is the perfect time to uncover the beauty of your home by trying a new design idea. A spring refresh gives reason enough to try something brand new. The featured window treatments above add pure elegance to the bedroom, with the addition of trendy gold hardware, the drapery rods modernize the look of the space and soften the feel. And, we are loving it!
Make it Personal with Patterns.
Layering fabrics is a simple way to breathe new life into a space. Let's take a look at how we can incorporate this idea into our spring refresh. We already know that patterned fabrics match well with solids, but let's think about setting your home apart! Designers have begun mixing patterns to achieve a customized look and we can help you do the same. First, let's set some ground rules.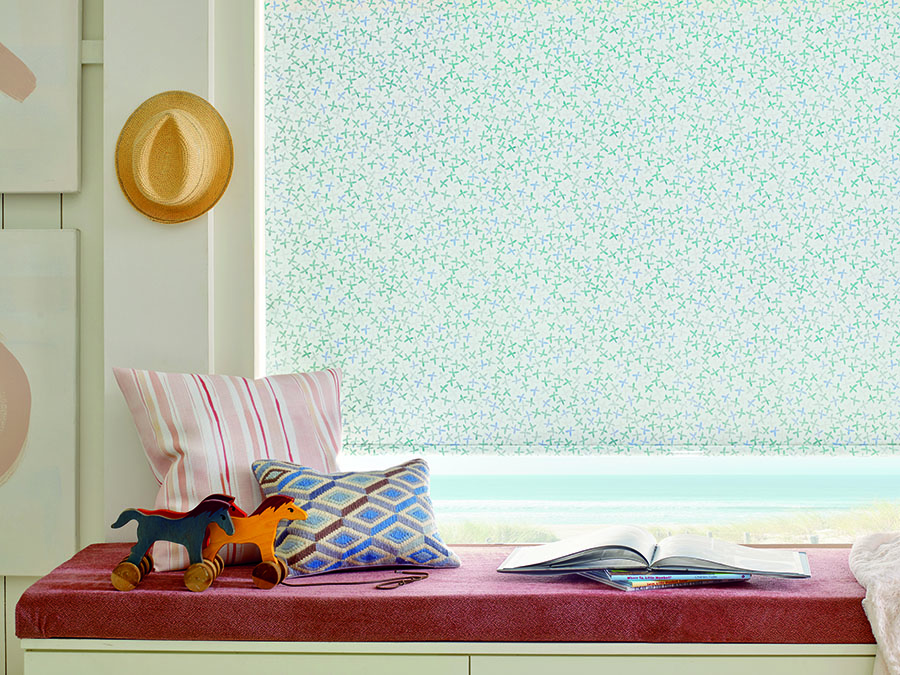 Unique Color Story

. Your story should be short, no more than three colors. Here, peach, blue and white begin to tell the tale, notice how the patterns are made up of only those 3 colors. 

Change the Hue

. Your colors have been chosen, now have fun with them! Light to dark shades of the same hue create great dimension and stay true to your theme.

Hit the Scale.

Size doesn't matter. By manipulating the scale of a pattern, you stay in the same style zone. Above, the roller shade fabric highlights a small, intricate pattern but the pillow features more of a bold look. It works! 

Mix Shapes

. As long as you stay within the color story you've created–the pattern world is your oyster–dots, diamond or damask! You get the idea.
Create Style with Textures.
When you add soft spring hues and delicate textures to your home décor, you can create the perfect springtime vibe. With the right window treatments, we can help add a peaceful feeling to the space and make your home feel like a day spa. A spring refresh can be easy and window coverings can help add that natural style element to your home.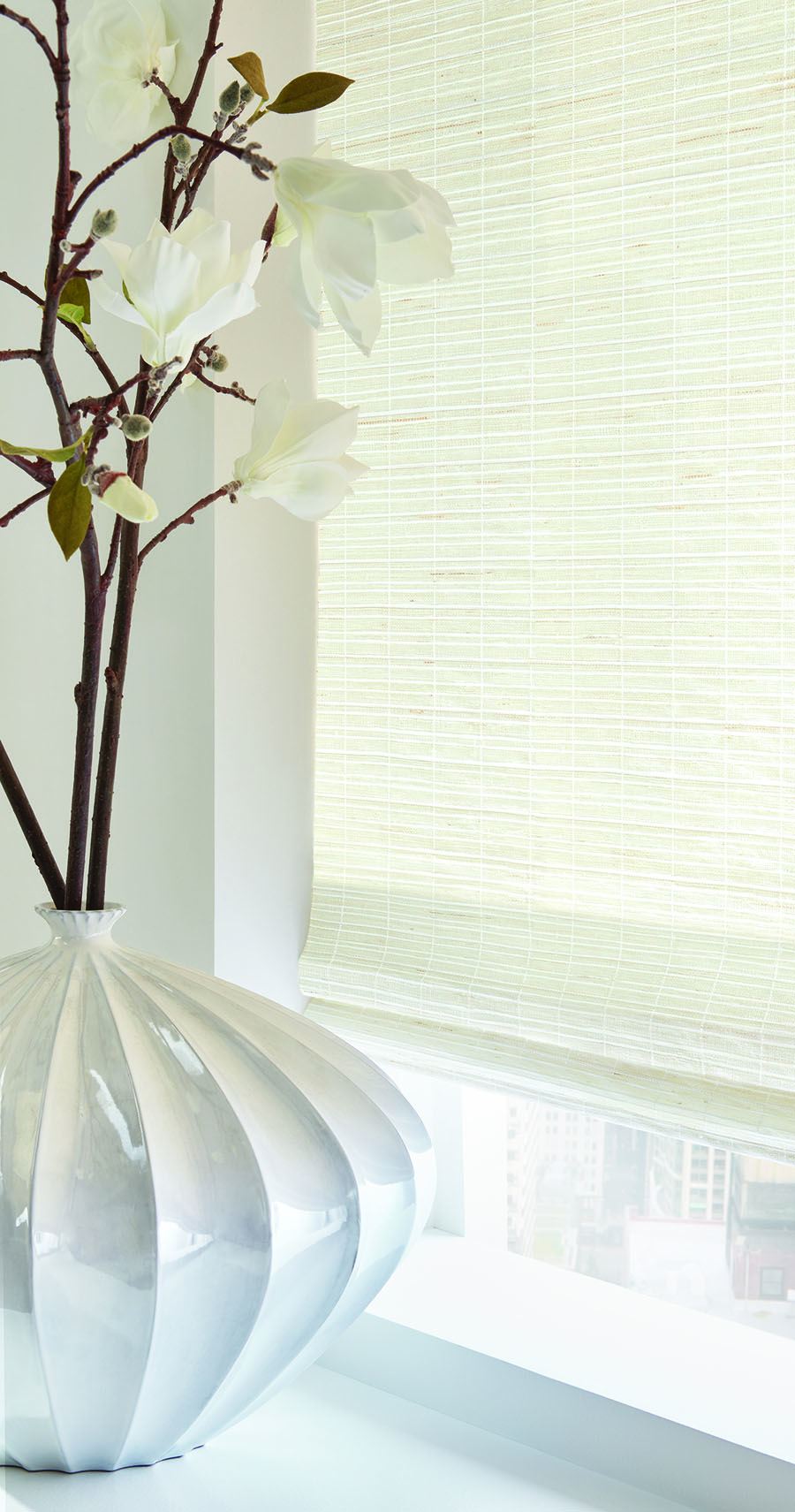 Some of our favorite window coverings include the collection of woven woods. Designed with nature in mind, these treatments are made with an assortment of reeds, grasses, wood and bamboo. The woven wood collection will also filter light and provide the privacy you need. Add texture to your space and realize your home's true potential.
Let's Begin Today!
Our experts at At Home Blinds & Decor can help get things started with your spring refresh! Make the most of your home by adding window treatments that bring new color, texture and patterns to your rooms. It's just the rejuvenation your home needs. Contact us today for your FREE design consultation.