Skylight windows are a coveted asset in any home. They make rooms feel bigger, give you tons of beautiful natural light–without sacrificing privacy–and improve the value and lifestyle appeal of your home. However, if you have skylights in your home, you know they also come with their own set of challenges. Energy efficiency issues, blinding glare and harmful UV rays can make your home unpleasant and unappealing. When it comes to the best shades for skylights–lifestyle function is the most important feature. But, easy-to-manage options can be hard to find. Thankfully, there is an answer! Both Duette and Applause honeycomb shades are fantastic options as shades for skylights–they have all the solutions you're looking for!
Energy Efficiency
The winter season, here in Florida, can be tough with skylights. That drafty feeling you have shows that as heat rises, it's escaping out the ceiling. During the chilliest time of the year, it's hard to feel warm and cozy. Honeycomb shades are constructed with a cellular design, meaning layers of fabric trap pockets of air, and act as a layer of insulation!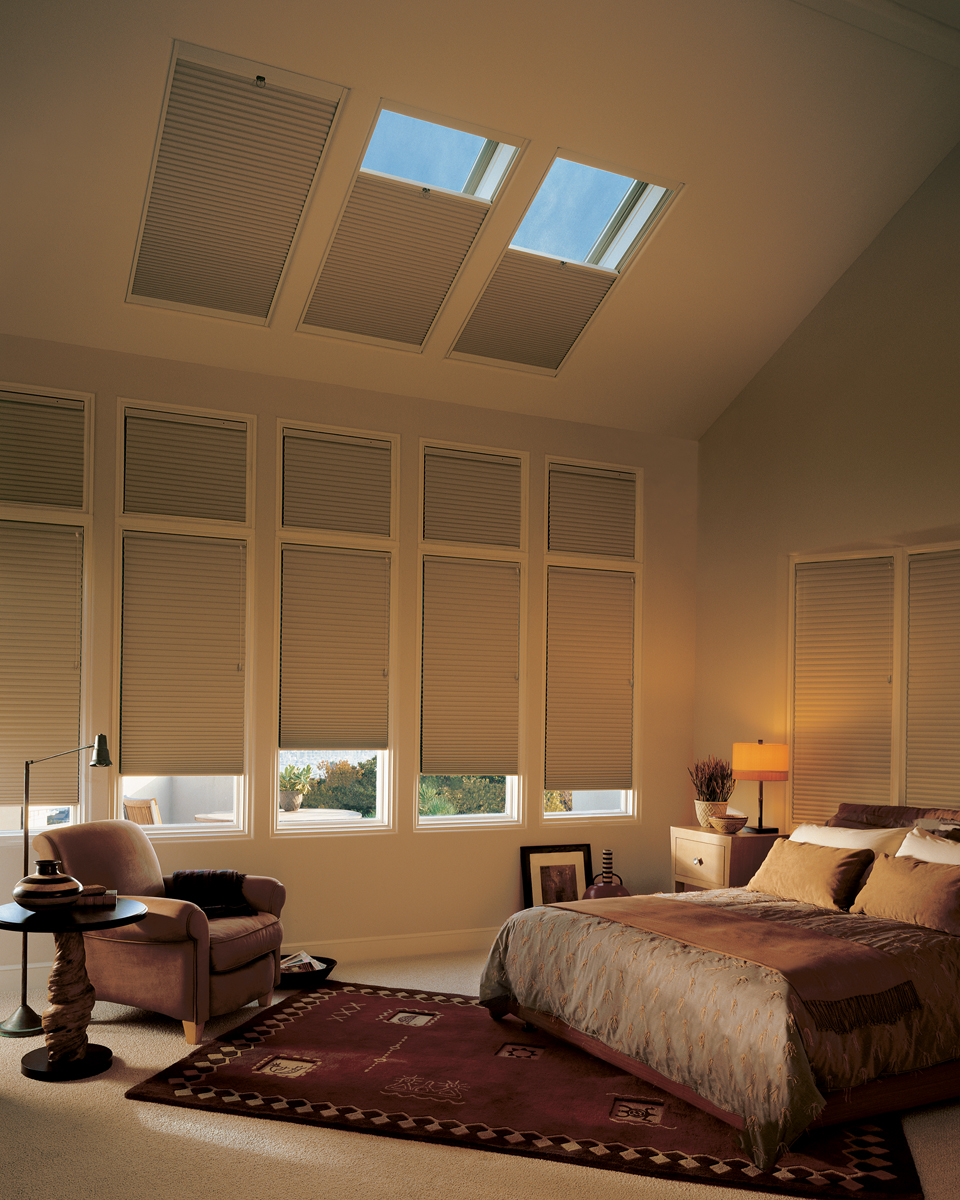 As the intensity of our Florida sun increases, especially during the summer months, too much direct light can overheat your room and have your A/C working overtime. You need shades for skylights! Duette and Applause both are available in opacities from light filtering to room darkening, so you can limit the direct light and keep your indoor temperature comfortable.
Glare and UV Rays
Obnoxious glare can be a real problem when you have skylights, making it difficult to see–and all but impossible to use your screened devices. Additionally, that bright streaming light in is bombarding your furniture and decor with harmful UV rays!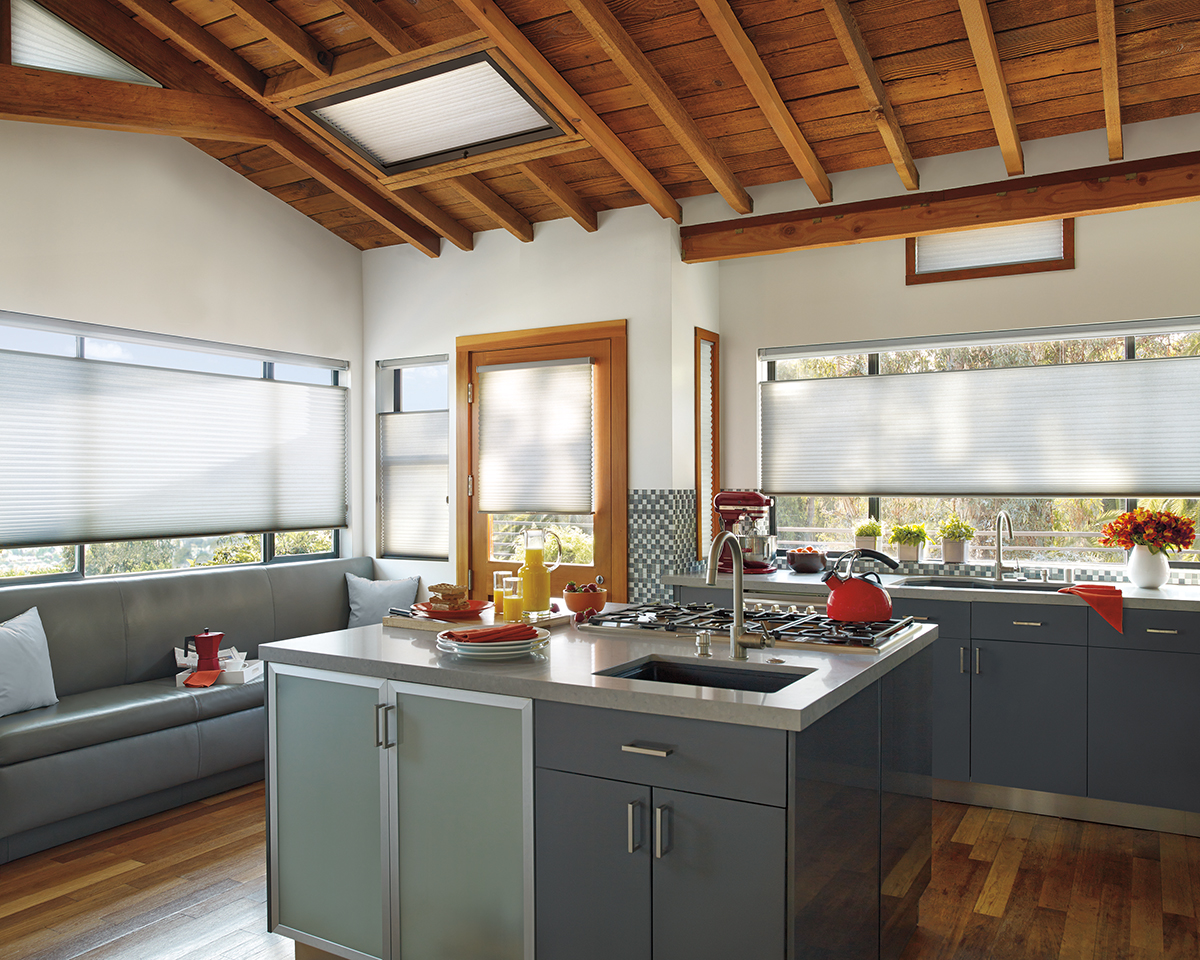 UV light damages furniture and dulls your paint and decor. Luckily, Duette and Applause act like a layer of sunscreen for your valuables! Both of these honeycomb shades are a fantastic choice for shades for skylights, blocking those detrimental UV rays, and turning bothersome glare into a soft, inviting glow.
Style
Finding shades for skylights that blend well with the ceiling is part of the beauty of Hunter Douglas–they know function must also accompany style. Duette and Applause shades make it easy! With a sleek design, and a low profile fit, these shades bring a smooth, tailored look to your skylights.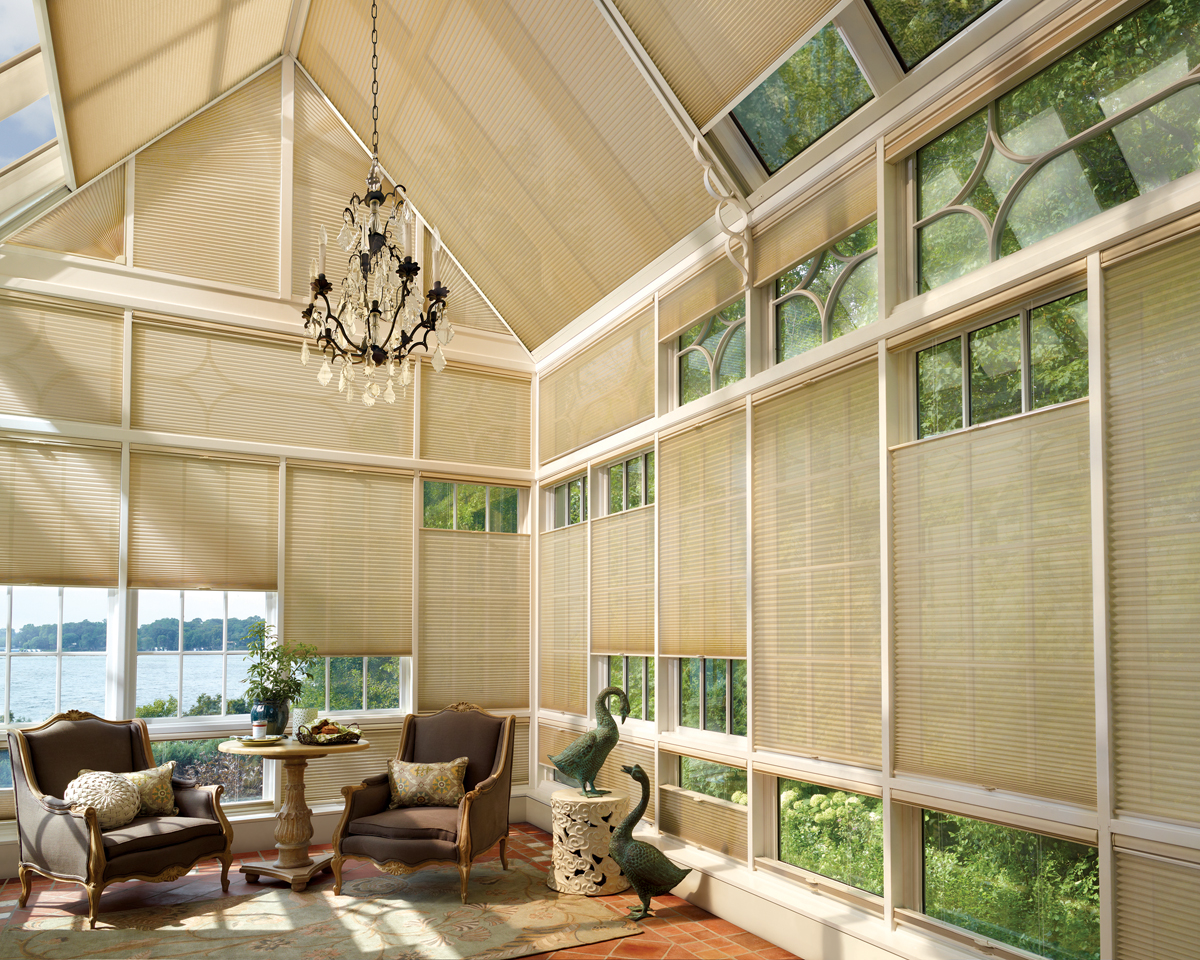 A vast selection of fabrics means your honeycomb shades will suit your style and blend seamlessly with the ceiling when closed!
Control Like Never Before
Their location makes skylight window treatments inherently difficult to manage. Adjusting them throughout the day can be quite a chore. This is why we say that function is one of the most important features of shades for skylights. Hunter Douglas has come up with a perfect modern solution–PowerView motorized shades! Both Duette and Applause are available with this innovative feature that gives you the ultimate in light control at the touch of a button.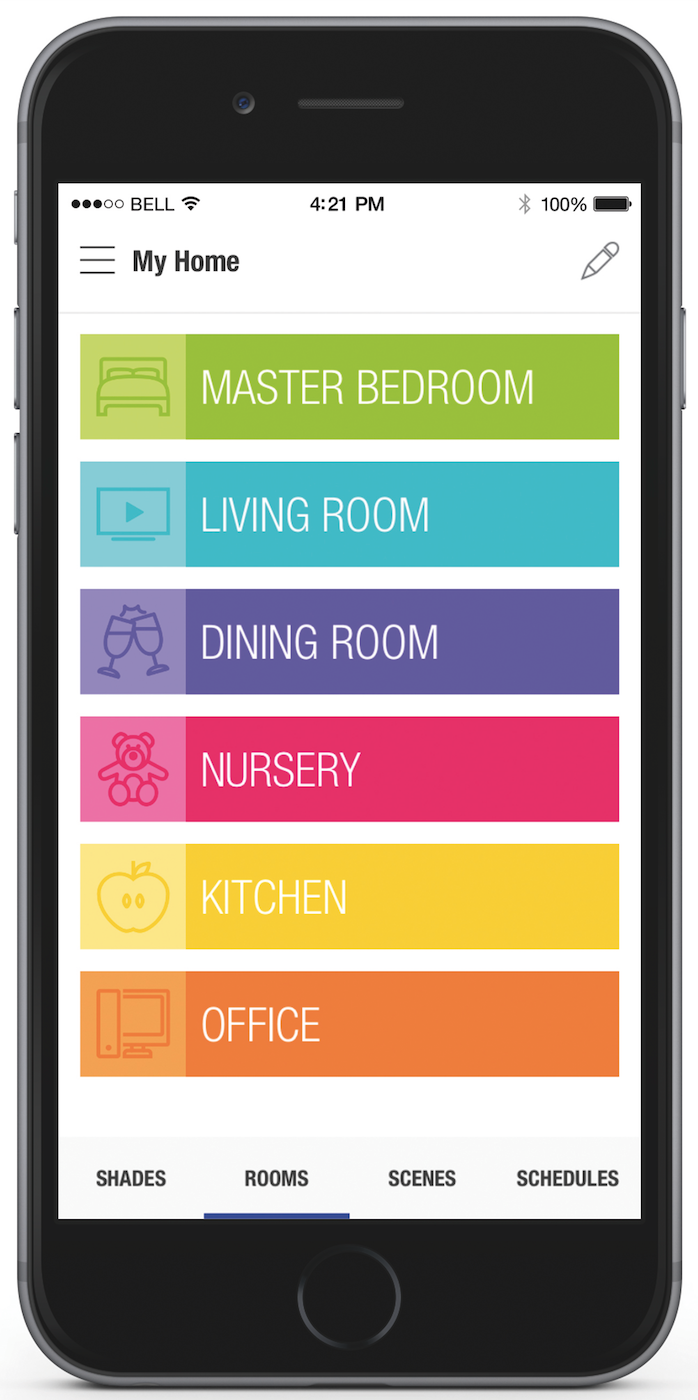 Use the stylish Pebble remote, or the PowerView App on your favorite device. Automate your shades, and schedule them to open, close and adjust–giving you the ultimate in effortless control. From efficiency, to function, and even beautiful styling, these honeycomb shades for skylights can handle your needs with elegance and ease. They will make your skylights feel like an asset again.
Shades for Skylights: Let Us Help!
Start enjoying all your skylights have to offer. Contact our team at At Home Blinds & Decor today! We'll come to you for a free, at-home consultation so you can see Duette and Applause for yourself, and choose the perfect shades for your skylights!