Privacy solutions are an important part of feeling comfortable in your home. You should be able to live your life and do what you want without feeling exposed. If you worry about your neighbors or curious passers-by seeing you in downward facing dog or, worse yet, your bath towel, you need solutions. You might be thinking, "I need more privacy, but I don't want to live in a cave!" In the past, ensuring privacy often meant you had to sacrifice your view out and the natural light you love coming into your home, but that's just not the case anymore. With today's innovative features, privacy blinds and shades really let you "have it all"–privacy, view, natural light, even energy-efficiency, high-end style, and convenience. Check out these top privacy solutions and what they can do for both you and your home.
Top Down Bottom Up
With top down bottom up privacy blinds and shades, you can position your window coverings exactly where you need them. Just imagine the possibilities! Bring the top down a little to experience gorgeous daylighting and sky views, bring the bottom up to let in light and landscape, or do both!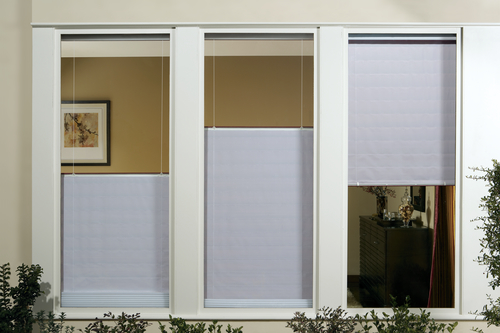 The best part…you can still keep most of your window covered to enjoy energy-efficiency, UV protection, reduced glare, and, of course, the privacy you deserve. No more living in a cave or sacrificing light and view for privacy. The innovation of top down bottom up gives you everything you need.
Opacity Options
You probably don't need the same level of privacy in every room of your house. Most people prefer a little more in their bedrooms and bathrooms with less needed in family spaces like the kitchen or living room. But, you probably do want a coordinated look throughout. The beauty of Hunter Douglas products is that you choose your opacity.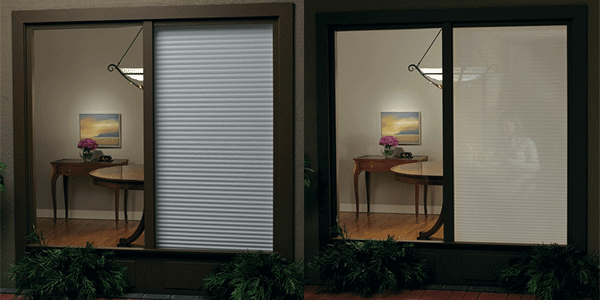 Being able to pick the opacity–from sheer to opaque–makes it possible to style your home with the same window covering selections, and get the level of privacy or view-through that best suits each window location and room function. Not only will your privacy blinds and shades bring you the comfort you're longing for in your home, but they'll add gorgeous styling and design as well!
Maximum Control
Only you know exactly how much privacy you want or don't want, and your preferences might change throughout the day or depending on the situation. You should have complete control. Did you know that there are privacy blinds and shades that give you various levels of opacity in one headrail? With blinds, shutters and the vanes on our shadings, you adjust the slats to fit your comfort with ease and convenience. The sheer fabrics on sheer shadings provide a beautiful view-through and diffused natural light, and their vanes adjust so you can close out the world when you want.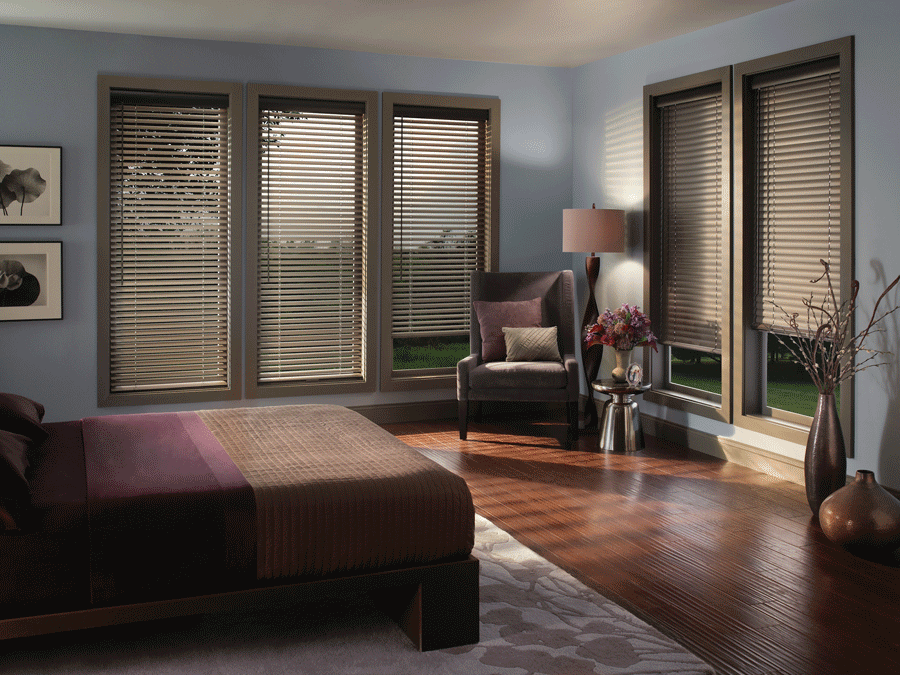 Dual-functioning shades, such as those with Duolite or A Deux, let you experience the benefits of two shades in one. With two opacities fused together into one shade or with a sheer shading and an independent room-darkening roller shade on the same headrail, dual-functioning shades give you maximum control over light and privacy. Add to that PowerView® Automation, and experience convenience and control like never before. Instantly increase or decrease your level of privacy with the tap of a button, or program your privacy blinds and shades to adjust on a schedule to meet your every need without another thought from you.
Are You Ready For Privacy Blinds and Shades?
If you're looking for privacy solutions to add comfort back into your home and life, then you're ready for the transformation that privacy blinds and shades can offer. Top down bottom up operation, levels of opacity, a range of settings, and motorization…those are just the start of all the innovative features that can upgrade your lifestyle. Our team at At Home Blinds & Decor want to help you achieve the comfortable privacy you deserve along with all of the dreams you have for your home. Let us come out for a visit. Bringing a listening ear, advice, inspiration, and product samples, we'll work with you to create the perfect atmosphere in every room. Contact us for your free, shop-at-home experience today!