Doesn't working from home sound like a dream? It's 2018, and we're seeing more and more people make this a reality. The working world has shifted gears over the past few years, making it almost a necessity to have a home office. Whether it's your kitchen table or a separate room, your home office design should help you stay focused and motivated throughout your work day. Here are a few tips for creating a functional, stylish work space.
Mood-Boosting Light
Have you noticed that you're squinting at your computer screen or struggling to see your work? You might have too much light entering your office. Bare windows can cause these issues, and the flooding light will tire you out. What about not having enough light? You'll have to strain your eyes to focus, and you certainly won't be able to get much done with a headache! Your home office design needs the right amount of lighting to help you stay energized.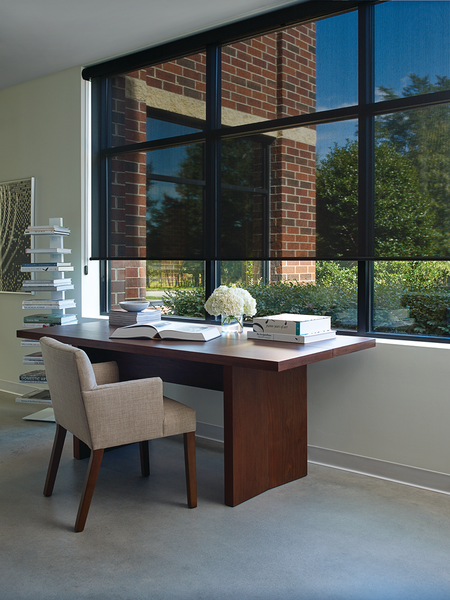 Love your view? Screen shades and solar shades are a great way to invite the breathtaking view while shielding your home office from glaring light and harmful UV rays. Reduce the intensity of the light entering while still enjoying your landscape.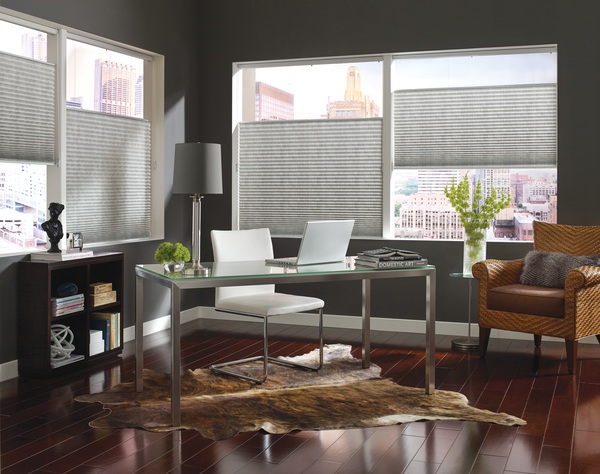 Want to stop the direct light without blocking the light? Top down shades are a great solution for your home office. The sunshine enters from the top, spreading natural light across your ceiling. The rest of the shade covers your window, fixing issues like direct sun rays and glare. The natural lighting will boost your mood and your productivity.
Not Too Hot, Not Too Cold
The temperature varies so much throughout the year, and sometimes throughout the day. Florida is known for it's bright, sunny days. We love the heat, but, have you ever tried working in an overheated space? How uncomfortable! Your home office design should stay a steady, comfortable temperature, no matter the season.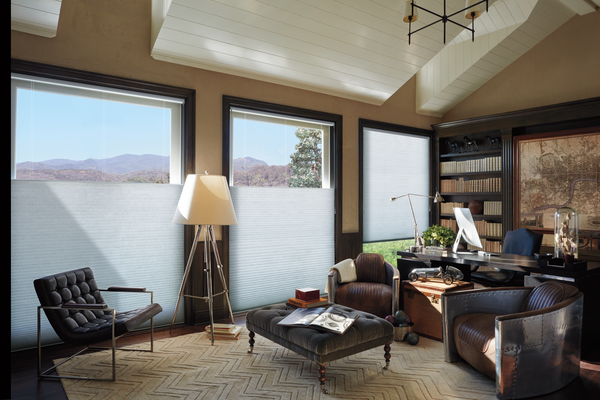 One way to ensure a comfortable environment is with energy efficient shades. They will let you control the entering light and the temperature of your office, giving you all the power over your environment. Want even more power? Incorporate motorized shades and blinds into your design. You can set schedules so that your office is ready to go when you are, or adjust your environment at the touch of a button.
Home Office Design: You Can Have It All
Working from home seems like a dream come true, but we know there are issues that you might face. You never get to "leave" work, and your personal life can blend into your work day. Take control of your home office design and make a space that's comfortable and productive for you. You can have it all with a customized design.  When you customize your office space, think about solutions for comfort, privacy, and light control.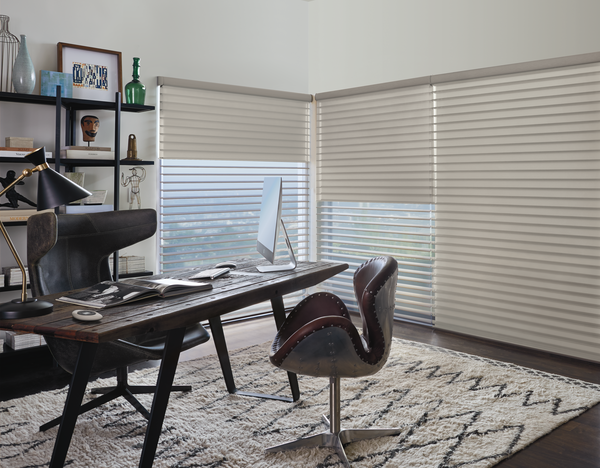 Which window coverings will work best for your space? If you need multiple options, consider a dual shade system. The two shades operate independently, but give you different results, like light filtering and room darkening. You can also incorporate shades with both sheer and blackout fabrics; all you have to do is shift the vanes to transform the ambiance. At Home Blinds is here to help you design your dream office. Come visit our showrooms or contact our team for a free, in-home consultation.