With the new season, it's time to think about refreshing your home decor! We are here to help you decorate your home, finding all of the perfect solutions, with design elements that coordinate with your home's style. For most, taking on the task of decorating your entire home can be a bit overwhelming. That's where we come in! We have a few tips and tricks to help this seem like a less daunting task–even enjoyable!
Choosing a Method That Works for You
There are two different methods we have to introduce to you. Whichever you choose to follow, will surely help you on the path to redecorating. The first is "common theme". Common theme means each room will have a similar style, be cohesive and flow nicely. This is a great method for open concept homes. With large open spaces, you want your eye to gracefully flow among all of the decor.
The second method we have to introduce to you is "spatial personality". This is just what it seems! Each room, or space, will have its own personality, styling and atmosphere to it.
Decorate Your Home: Where to Start
So, where should you start? Sometimes, just getting a project going is the hardest part. It's decision-making time. The following three factors will help you create the space of your dreams without becoming overwhelmed.
Color, Color, Color
Color is such a huge factor when it comes time to decorate your home. No matter the color palette you choose, make sure it represents you and your family's style. Foundational colors tend to come from neutrals, like beige, gray or white. Accent colors appeal to your decor style. You can go bold or subtle–the choice is a personal one!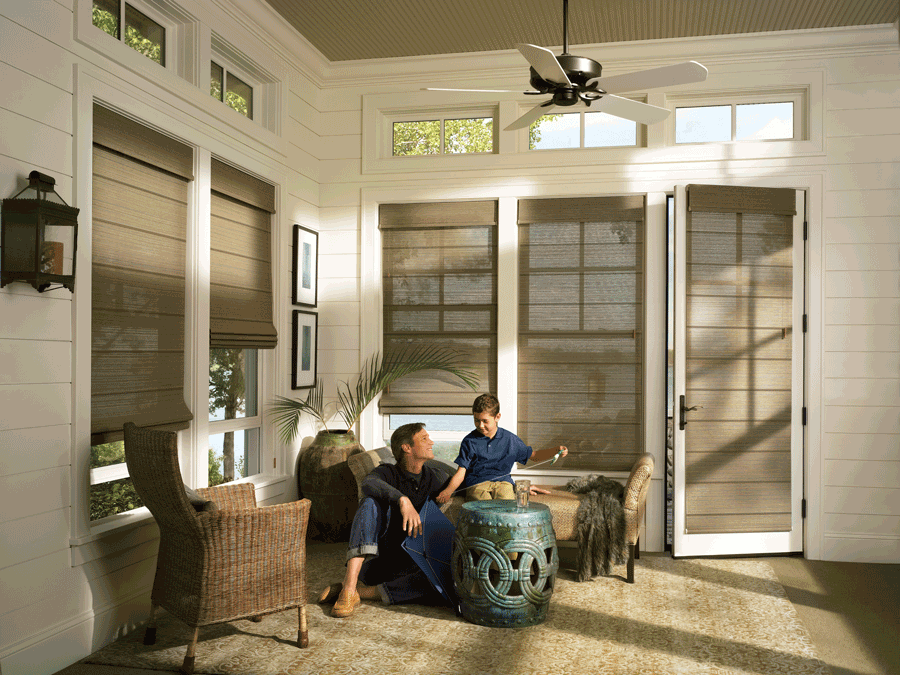 Accentuate Your Walls
Walls are a blank canvas. You can do anything and everything to them, or nothing at all beyond a simple coat of paint! Either way, they will look amazing as long as you are happy with the results. We've seen large growth in wall trends over the last couple of years, from wallpaper and wall coverings, to textured and wood covered walls.
The Perfect Window Treatments
Windows are a focal point of any room. We are here to introduce you to window treatments that will not only provide function to your space, but also add the right balance of style.
Whole House Solutions
Our window treatments are customized and versatile, truly fitting any shape, size, and angle of your windows or doors! No matter your style and color preferences, we have a wide range of fabrics for you. And, for whole house coordination, we have fabrics that cross collections. That means, windows and doors in the same shared space can feature a cohesive look.
No matter what type of shades, shutters, or blinds you're looking for, our selection will grant you the perfect fit! Our team at At Home Blinds & Decor wants to help you decorate your home. Contact us today to schedule your FREE, in-home consultation.