Your Questions on How to Cover Black Trim Windows
September 14, 2022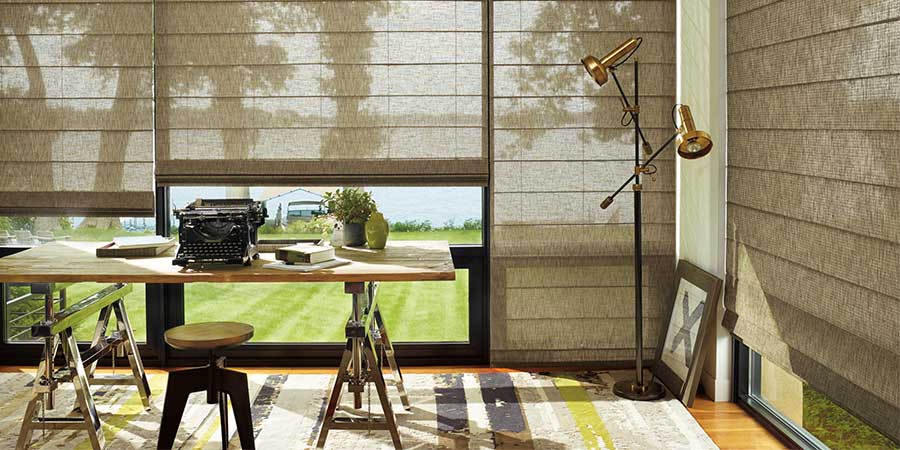 Black windows are hot on the scene in the design world. They add great visual contrast and a uniqueness that is really taking off. People are loving how they look when left bare, but wondering the best way to get privacy & light control. No need to worry–you can cover black trim windows! Let's explore some of our most frequently asked questions…
Can I cover the windows but still see the black trim?
Absolutely, yes. Covering them with the right window treatments doesn't have to take away from the stylish look of the black trim. And, it's not just blinds. All window coverings, from blinds & shades, to shutters, verticals & draperies can be customized to show off your stylish windows while giving you more control. You can choose to highlight the look of the black trim on each individual window, or on floor to ceiling windows, the shades can cover the individual sections of window, while the black trim is shown off in between shades.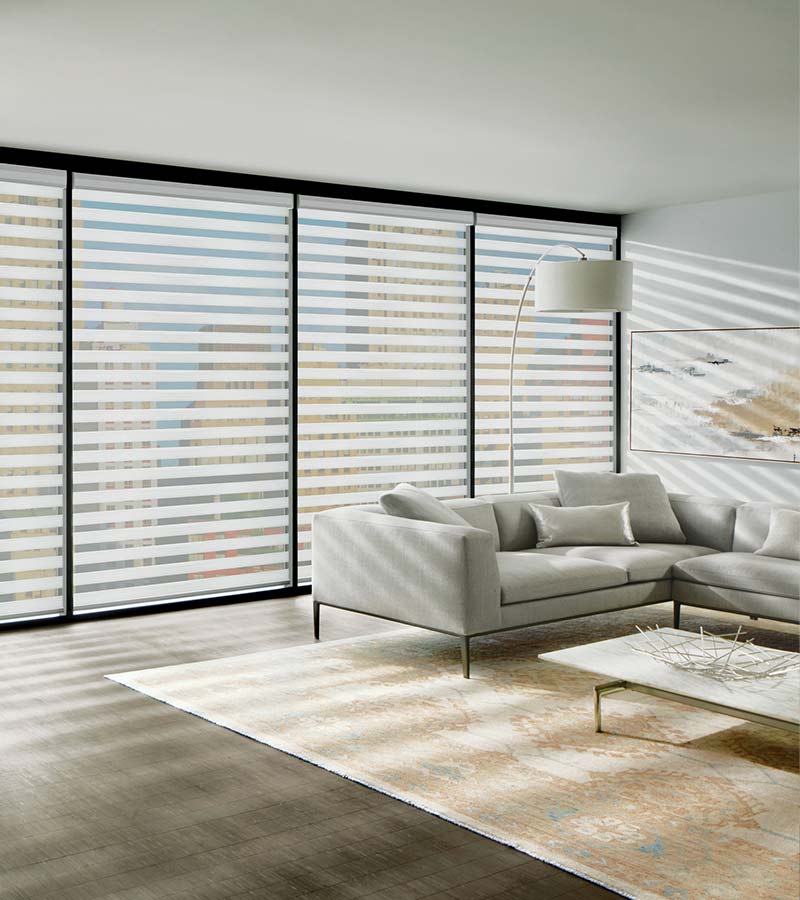 Or, you can choose to show off the black trim through the fabric. The option to have black windows installed was intentional, so you might be a little wary on covering them up. Not wanting to lose that sophisticated look? We have good news. Black trim, and even black grid windows, look great with sheer or view-through fabric treatment options. You can enjoy the look you love and keep your privacy and light control.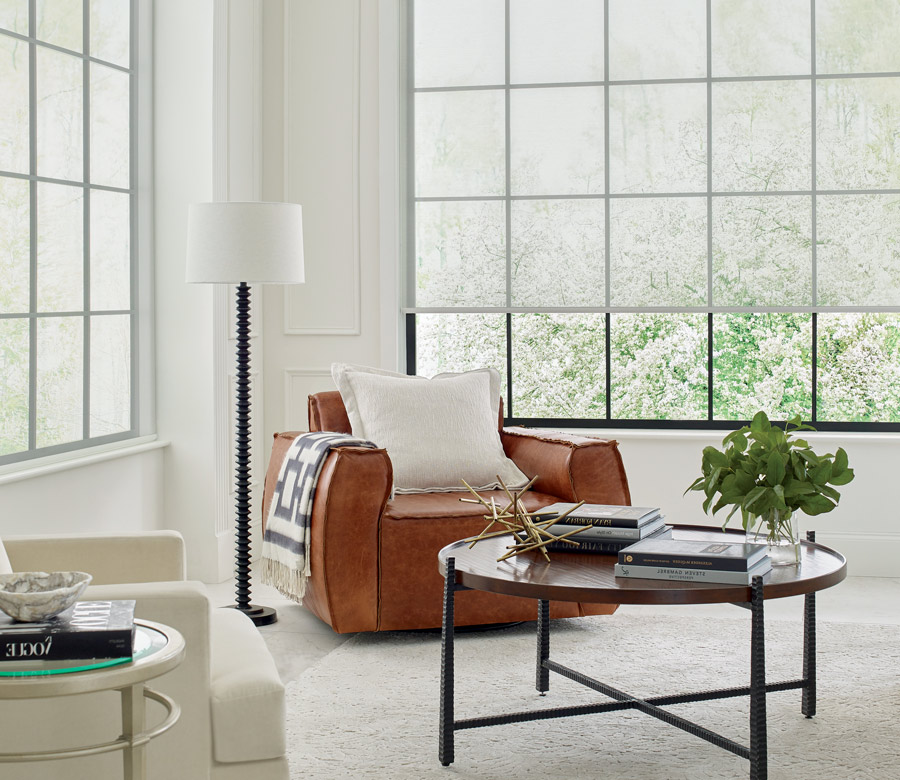 A second option is to have dual control window coverings. You can pick shades that offer two different settings, going from view-through to room darkening. Or, the dual shade feature of two shades on the same headrail can adjust so you enjoy the atmosphere and the look of the window. This will allow light and style to be seen under one setting, and then allow for complete closed-off control on the other. And, don't forget about the range of control you have in between.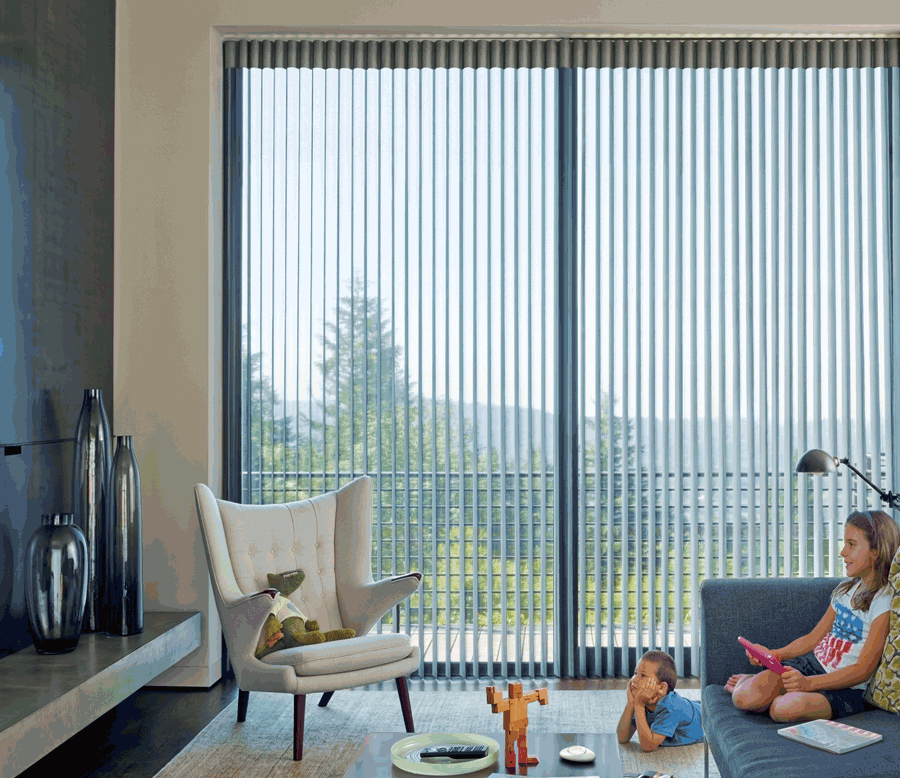 What about curb appeal?
Many people pick the black trim for the amazing curb appeal. When viewed from the inside, however, they like to tone it down. One option is to allow coverage, but have window treatments that can be easily adjusted. This way, the custom view or the look can be accomplished–all while the exterior gets the dramatic look of black trim. Enjoy portions of the black trim at the bottom, or bring top down shades into position so the contrast happens in a subtle manner at the top.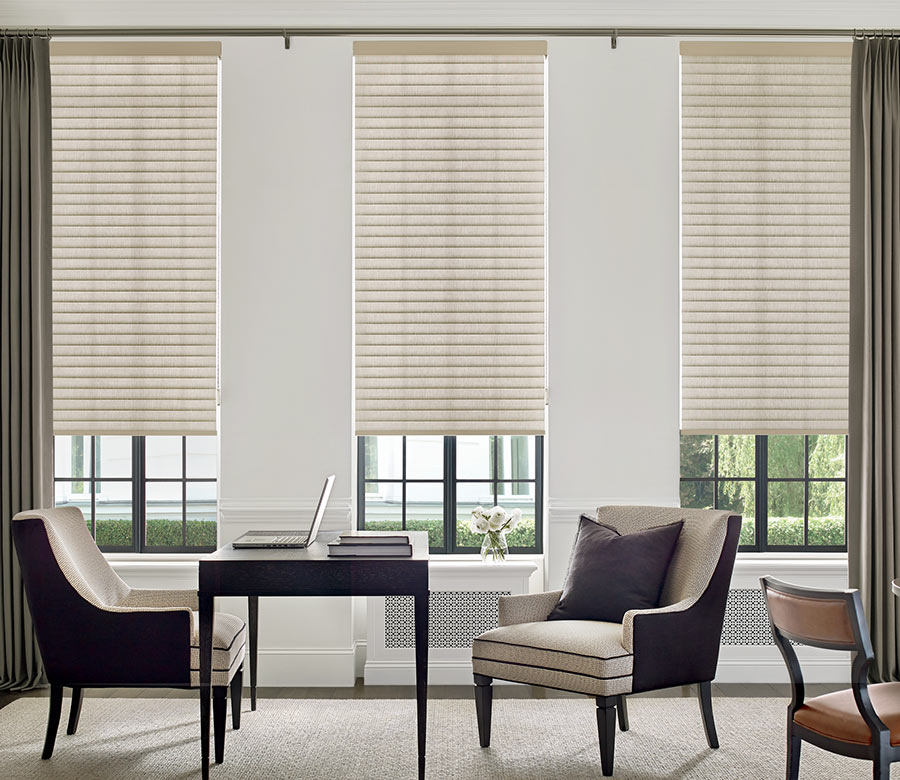 Depending on how your trim is set in your windows will determine how much is seen when shades are in place. With more extensive window depth, you may see less of the trim, while more shallow windows will feature trim closer to the interior of the home. In this case, the black trim will be visible on the edges, even while window coverings are lowered in place so you can still obtain that subtle contrast.
And, while we're discussing curb appeal, let's talk about what the shades will look like. Many window coverings are available with a neutral backing so that the exterior view is similar no matter which coverings you have in each individual room. This will allow you to keep your intended style to be shown from the outside looking in. It's important to decide if you like a style that blends or contrasts, which is another important decision when considering black trim.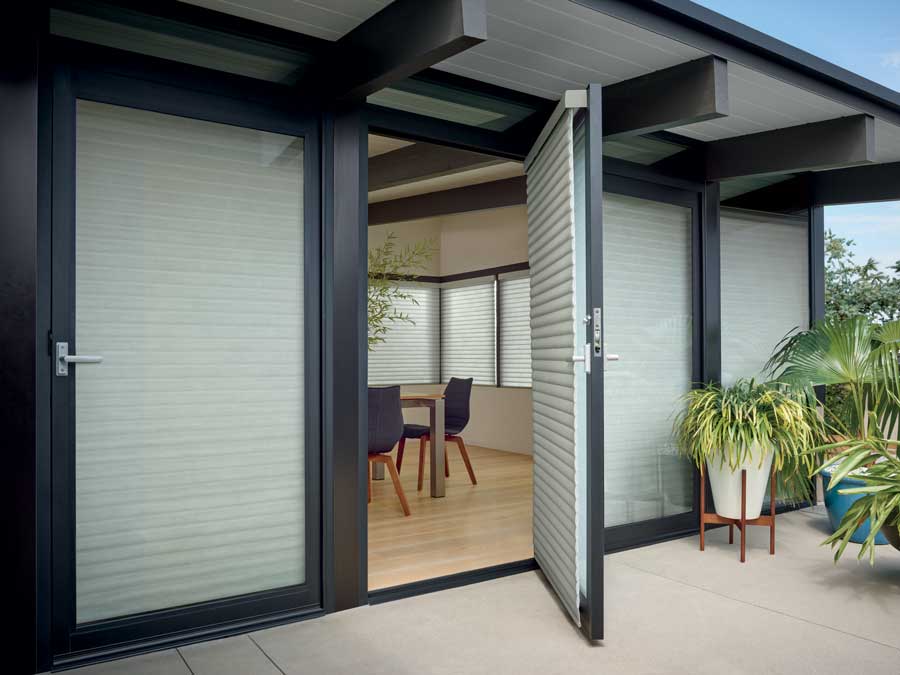 Can I make my white window trim black?
We live in a time where there are many DIY options right at our finger tips. Save yourself the hassle because we've got an even easier idea. Skip the part where you invest money and time into black windows and duplicate the look with window coverings. Blinds with dark trim will create the stunning, dramatic look you're after. Dark fabrics, black trims and hardware will all go a long way in getting you the look you love.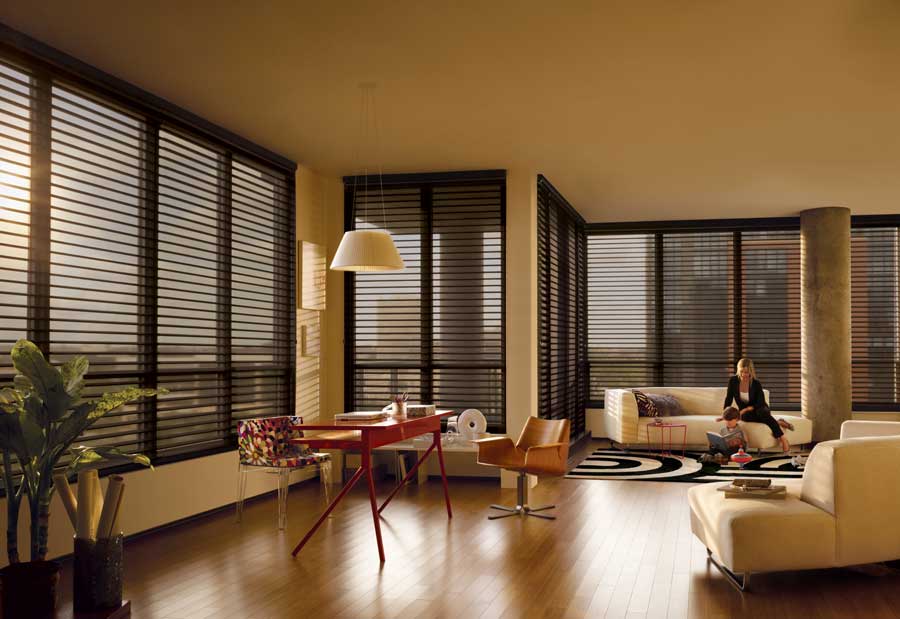 Like the idea of shutters? They are a great choice to have contrasting statement in your home without even changing the windows! Shutters are framed into the window, providing a stunning design factor, while also increasing light control, energy efficiency, privacy & more. Just like window trim, they can be designed to blend into the wall color, or stand out to make a statement.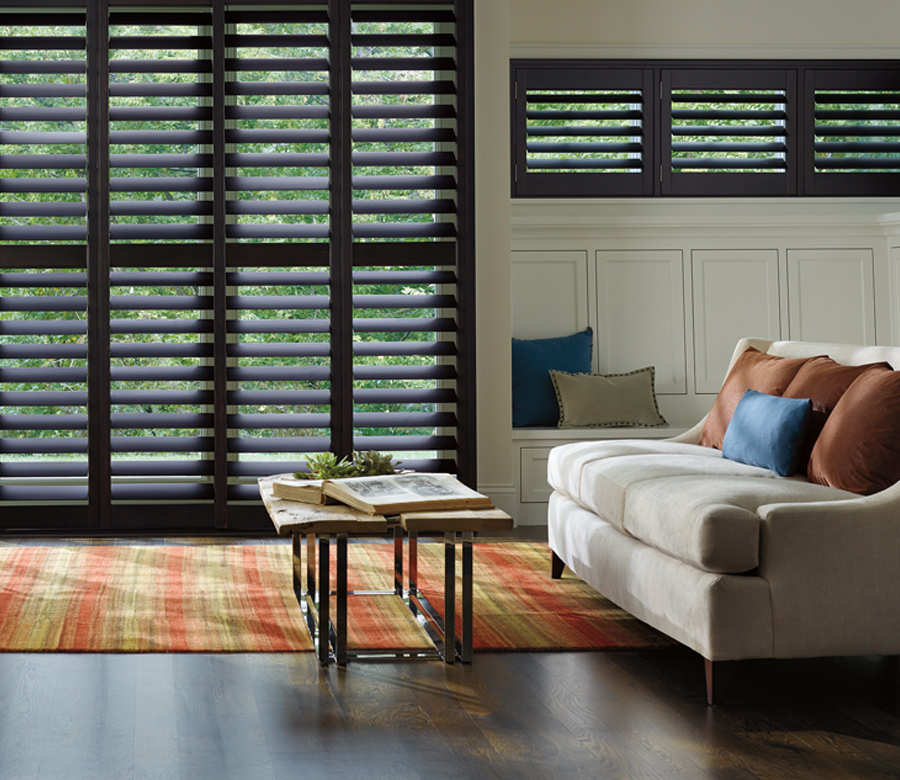 Can you tell me the best way to style black windows?
The number one way to style and cover black trim windows (or any windows) is to find the look you love! Numerous combinations and kinds of blinds, drapery, or shades can make a huge difference for a stylish splash. Don't forget to consider the solutions you'll want on top of how they look. There's no wrong answer, unless the style you choose isn't right for you, or if the coverings don't improve the comfort of your home.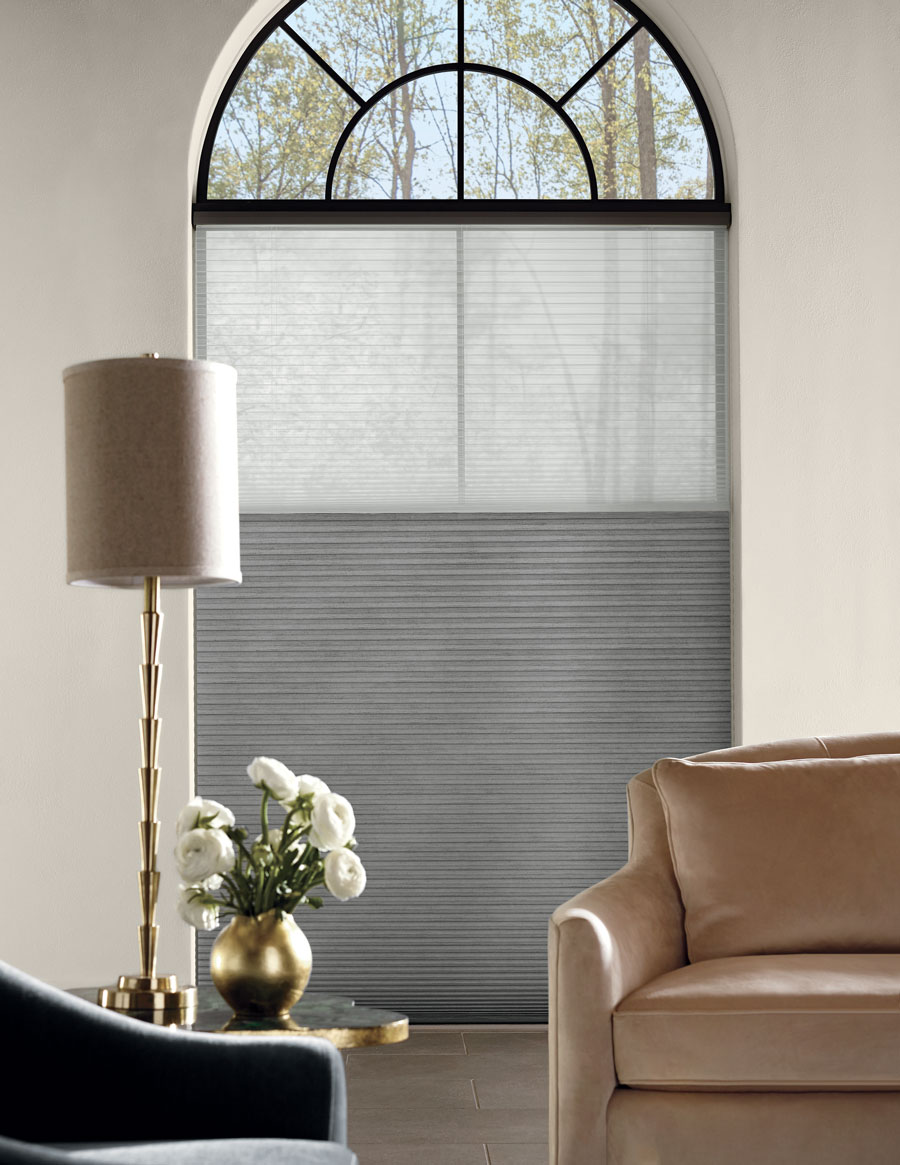 Did you find a look you love?
Our answer will always be: Our team can help! The style of black window trim is sophisticated, stylish, and design forward. We want to showcase our ability to cover black trim windows with great ideas and solutions. Stop by the Fort Myers showroom to explore features, fabrics and favorite designs. Then, we can visit your home to take measurement, chat about your upcoming projects and offer advice and inspiration. Contact us for your free design consultation with our knowledgable At Home Blinds & Decor staff. You'll be glad you did!