We've officially sprung forward, which has left us with more sunlight and longer days. We may be called the "Sunshine State," but adjusting to longer, lighter days is always a challenge. Find the perfect balance for your home with blackout solutions. Visit our Houzz page for some inspiration for blackout solutions in your home. If you want to balance the light with our favorite features, here's how…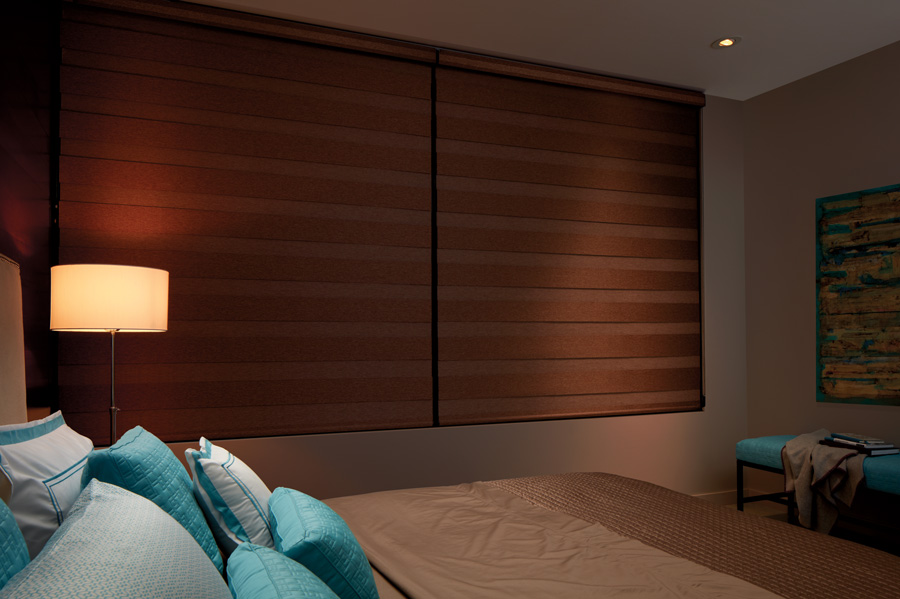 Enjoy Your Mornings
Are you a morning person? The natural sunlight can be a refreshing start to your day. But, sometimes you need those extra few minutes of sleep. Don't let the bright light disturb you. With the right blackout solutions, you can enjoy the sunshine on your own time.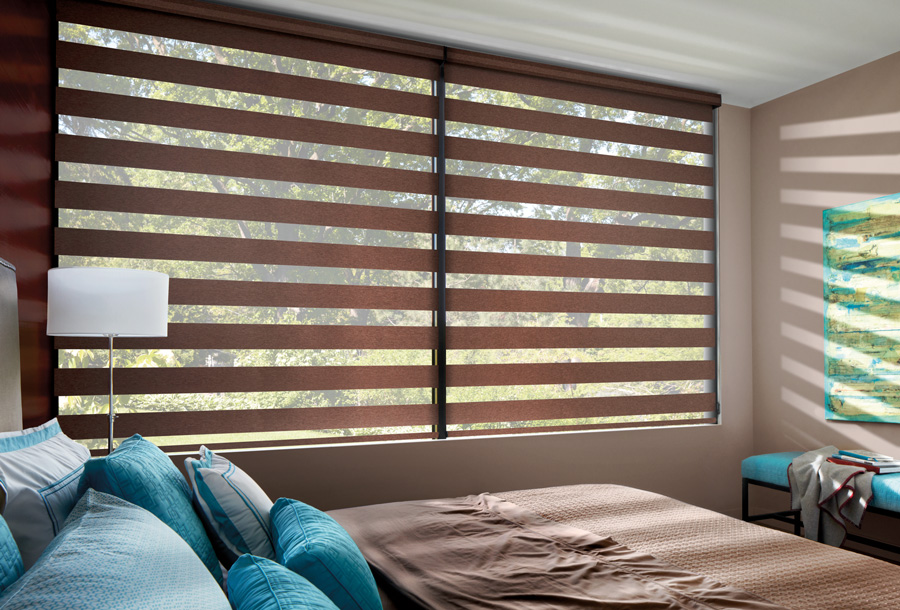 Designer Banded Shades are our newest favorite for room darkening. They block out the light in style, but also make it easy to let the sun shine through. All it takes is a quick rotation & your space is transformed. The sunlight will stream through, waking you up exactly when you want to.
Control Your Atmosphere
We already know that blackout solutions are important for comfortable sleep, but what about the rest of your home? Summer is on it's way; are you ready for the intense Florida sun? It's difficult to maintain a comfortable environment with uncontrolled light, especially with east or west facing windows! The latest innovations in window treatments will transition throughout the day, blocking out the light and filtering the sunshine.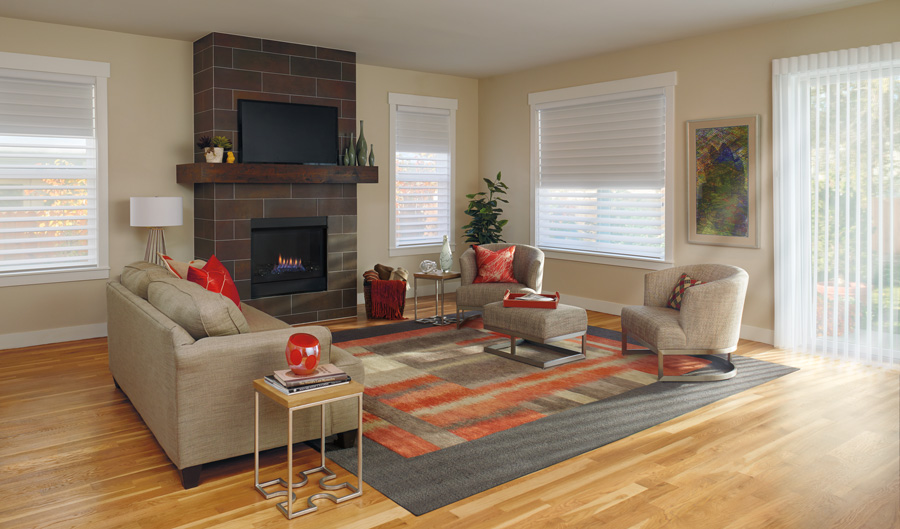 These Silhouette shades have a dual system for custom control over light and privacy. The second blackout roller shade operates independently, so you can block out the light on any level. Many of our window treatments are offered with this type of system, making it easy for you to customize your design and environment. For even more convenience, incorporate PowerView® Automation into your home. Create schedules and let your shades adjust on their own, exactly when you need them to.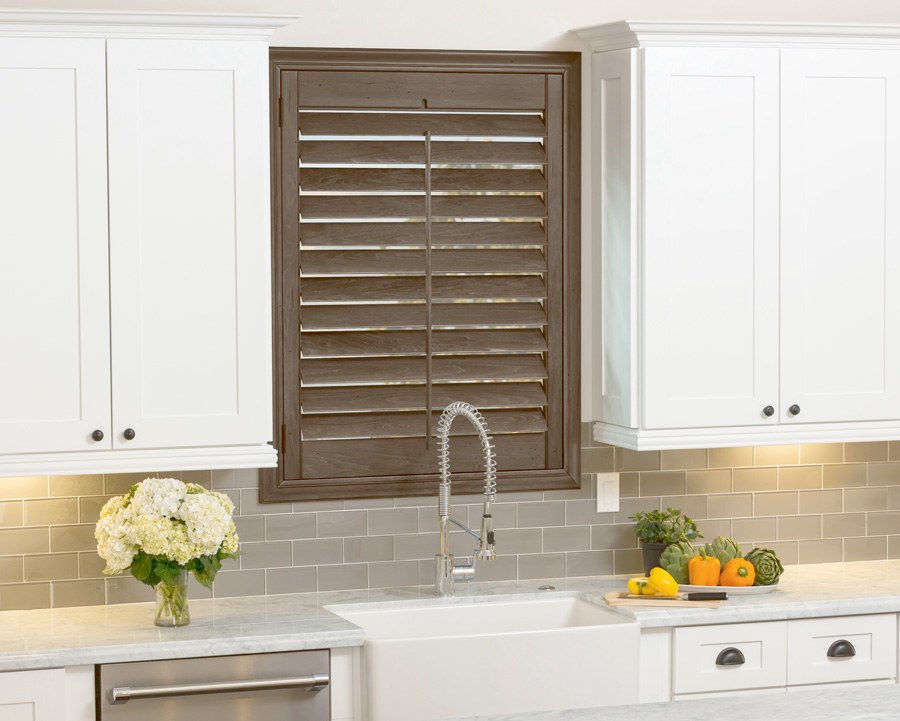 Are there certain windows in your home that you don't want to cover? You might have an incredible view or want to enjoy the natural light. Our blackout solutions will allow you to soak in your outside view while giving you the option to block out the light and protect your privacy when needed. Plantation shutters are great for simple, quick control. Adjust the louvers with the hidden tilt to open up your view, or tilt them in your desired direction to let the sun shine through.
Take Time to Relax
You've had a long day. Whether it was spent at work, chasing kids around, or running errands, you deserve to relax. But, how can you unwind if the setting sun is streaming through your windows? What you need is a peaceful environment. Blackout solutions are here to save the day! They work great in living areas, especially for those times you want to block out the light. Having a family movie night? You'll need more than light filtering. Transform your family room into a movie theater with window treatments, like the Pirouette shades pictured here. They'll get rid of glare, so you can enjoy your evening in a calming space.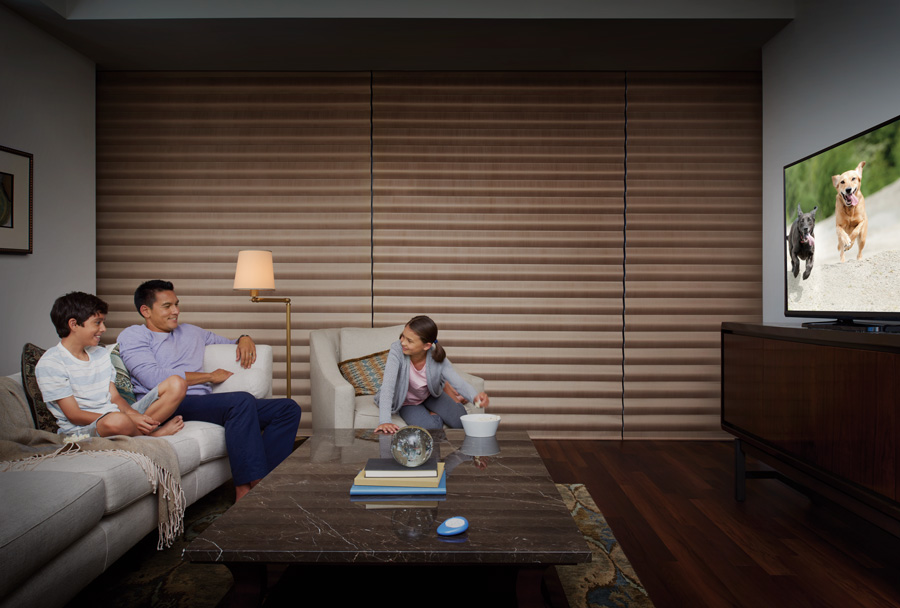 Let's Get Your Blackout Solutions
Having basic window treatments isn't enough anymore. You deserve to have custom control over your light, privacy, and design. So much is possible with our blackout solutions. We want to show you in person! Come visit one of our showrooms. Or, let us bring the showroom to you! Contact our team at At Home Blinds today for a free, in-home consultation.